Print This Post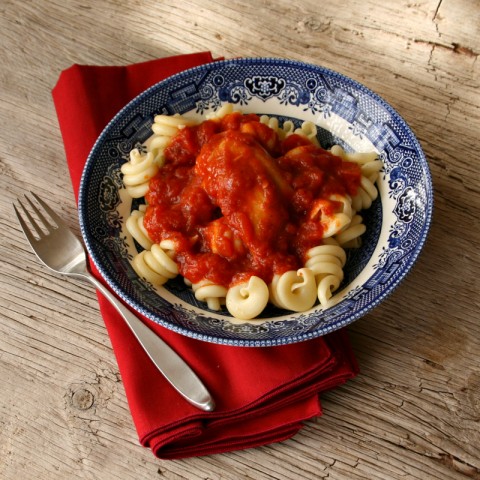 This 3-Ingredient Chicken Cacciatore got me out of a bind the other night.
A neighbor called at noon to see if her son could come over and eat dinner with us. "Sure!" is always the answer in our household!
But I hadn't been to the store and didn't want to go out. What could I make with what I had in the house, that would likely appeal to a kid whose likes and dislikes are unknown? A pasta dish!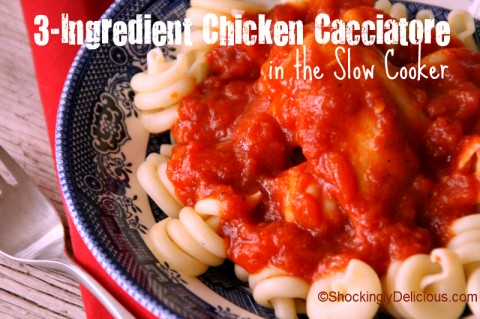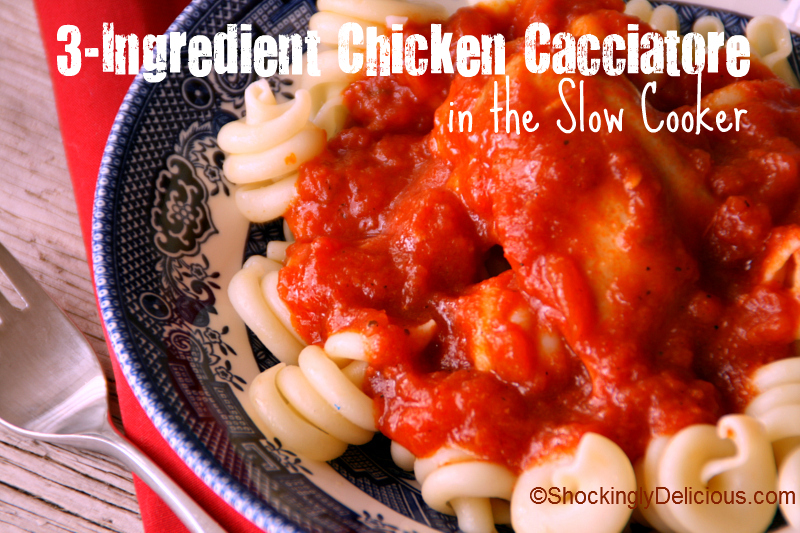 So into the slow cooker went chicken and sauce, and 4 hours later I had a delicious family dinner. Here's how good it was: Our guest and my son, both 10, each had seconds, and my husband immediately claimed the rest for his lunch the next day.
And I made it again three days later.
If I say no one is going to give me the Julia Child award for this dish, do I sound like I am apologizing for it? Because I'm not apologizing for a dish that was so easy I could throw it together with three ingredients I had on hand, and that I could let bubble by itself in the slow cooker while I worked, and that fed a crowd.
Nope. No excuse or apology, just an explanation that this is the kind of simple, comforting dish I rely on day in and day out, and that I don't even need a recipe to make. You won't either, after you make it the first time.
Here's the recipe. Consider it simply a guideline for your creative inner cook.
Recipe: 3-Ingredient Chicken Cacciatore in the Slow Cooker
Summary: Simple, comforting chicken and spicy red sauce over pasta — this easy slow cooker recipe takes weeknight dinner to a new level.
Ingredients
1 ½ pounds organic boneless, skinless chicken thighs (this is ~6 meaty thighs)
1 (25-ounce) jar Arrabbiata Sauce (I used Gina Rispoli brand, or use your favorite; see note below)
1 pound curly shaped pasta (I used Safeway Select Trottole; see note below)
Garnish: Grated Parmesan or Romano cheese
Instructions
Spray the inside of the slow cooker crock with nonstick spray. Add the chicken pieces and pour the pasta sauce over. Stir to coat all pieces.
Close the lid and cook on low 4-5 hours, until chicken pieces are cooked through. No need to open it to stir or check, until the end. (If you open it to fuss with it or stir, you will let out a considerable amount of heat and it will take additional time to regain optimum temperature and you will delay your cooking.)
About 25 minutes before you are ready to eat, heat a large pot of salted water to boiling. Boil pasta according to package directions, stopping when it is just al dente (firm to the bite). Drain and return pasta to pot, drizzling with a bit of olive oil so it won't stick. Put the lid back on until you're ready to serve.
To serve, place a portion of pasta in a wide bowl, top with a piece of chicken and some sauce to cover it all. Pass the grated cheese at the table for those who like it.
Serves 5-6.
The pasta
I found this particular shaped pasta at Vons (or Safeway). It's called Trottole, and the brand is Safeway Select. We love it for the fanciful shape! Trottole means "spins," and it looks like the outside pasta thread is spun around a center pole, like a crazy, loopy fusilli. How do they do this? It's great for pasta salads, soups, and for grabbing the sauce in any pasta dish.
The sauce
On a whim (and because it was on sale!), I bought Gina Rispoli Arrabbiata sauce. It's a full-bodied, slightly spicy sauce made from fresh onion and garlic, imported whole Italian tomatoes, crushed tomatoes and crushed red peppers. That's it! No corn syrup or added sweeteners, no fake stuff. There's a little bit of heat here, but it won't blow the top of your head off. I had three children at the table the night I served this, and they all gobbled it up, with two of them asking for seconds.
Preparation time: 5 minutes
Cooking time: 4 hours
Number of servings (yield): 5-6
Culinary tradition: Italian
My rating 5 stars:  ★★★★★