Print This Post
When you absolutely, positively, MUST have pizza — and I know that urge hits at least a couple of times a month – consider the easiest version I've ever made.
Start with a loaf of French bread as the base, a few pantry and refrigerator staples, and you'll have dinner ready before you can bribe one of the kids to set the table.
There's no need for takeout with this easy solution. Make a big green salad to go with it, and cut up some fruit to stick on the plate as well.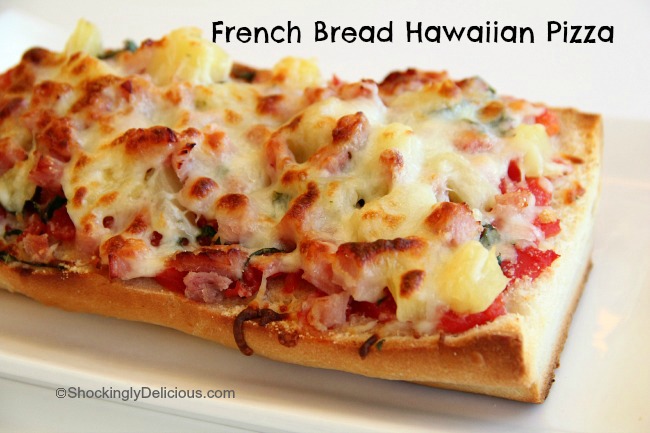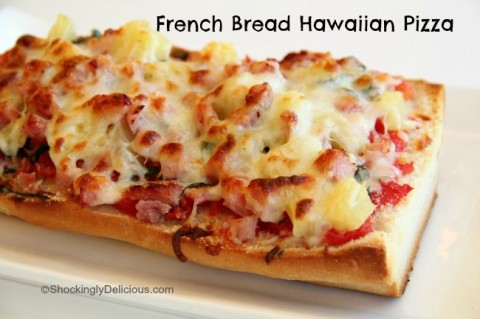 Who said Thursday night can't seem like a party?
Recipe: Easy French Bread Hawaiian Pizza
Summary: Hawaiian Pizza, complete with ham, pineapple and gooey mozzarella, gets a fast weeknight makeover with a simple loaf of French bread as the base. No need for takeout!
Ingredients
1 (1-pound) loaf French bread (large loaf, not a skinny baguette)
1 (20-ounce) can pineapple chunks in juice, drained (drink the juice or save it!)
2 (15-ounce) cans petite diced tomatoes in juice
Garlic powder
Onion powder
1 tablespoon finely chopped fresh oregano (or 1 teaspoon dried)
Fresh basil cut into a chiffonade (shred)
4 ounces chopped ham (small dice)
½ cup shredded mozzarella
2 tablespoons grated Parmesan cheese
Instructions
Heat oven to 425 F degrees. Get out a baking sheet and set aside.
Cut loaf of bread in half widthwise, and then split each half into 2 planks, so you will have 4 pizzas.
Drain the pineapple (save the juice and drink it!). Drain the tomatoes in a small colander, for 5-10 minutes. While the tomatoes are draining, open the mail, pour a glass of wine and listen to your voicemail. For gosh sakes, don't sit down at the computer to look at email or you'll never get dinner on the table!
Ready?
Lay bread cut side up on the baking sheet. Top with drained tomatoes, sprinkle lightly with garlic powder and onion powder, sprinkle with oregano and basil, and top with ham. Chop drained pineapple chunks into smaller pieces and top the pizzas with the pineapple.
Sprinkle with mozzarella and finally the Parmesan.
Bake for about 10 minutes (kitchen will smell wonderful as it bakes!). If it isn't toasty enough for you, turn the broiler on and broil for a minute or so. Don't walk away or you'll be sorry.
Remove from oven and serve.
Serves 4.
Preparation time: 15 minutes
Cooking time: 10 minutes
Number of servings (yield): 4
Culinary tradition: USA (General)
My rating 5 stars:  ★★★★★
Throughout the week, you can find the #SundaySupper food blogger team also sharing
#WeekdaySupper meals
. Getting families back to the dinner table is our mission, and I hope we inspire you to try some of our delicious recipes. You can find them on our 
Pinterest Boards
, too. Please join us there and try something!
This week's easy Weekday Supper recipes are: