Print This Post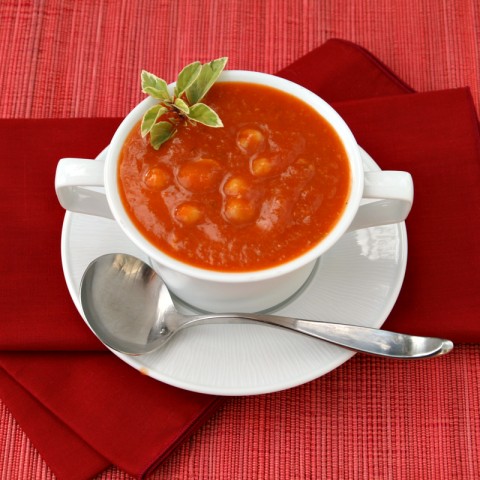 If, by 9 a.m., I don't know what's for dinner that night, I'm probably in trouble.
Because 5 p.m. will roll around before it seems possible, and three gaping maws will be presenting themselves at the kitchen table, wondering what's to eat and when it will be ready.
I'm sure you know the feeling.
And so it happened the other day that at 5 p.m., I not only had no dinner, I didn't have any great plans, either. So I flung open the pantry to find canned tomatoes and canned chickpeas (aka garbanzos) – always a good start. I also had the last of the turkey stock from a holiday turkey, and so it became clear that soup was in the offing.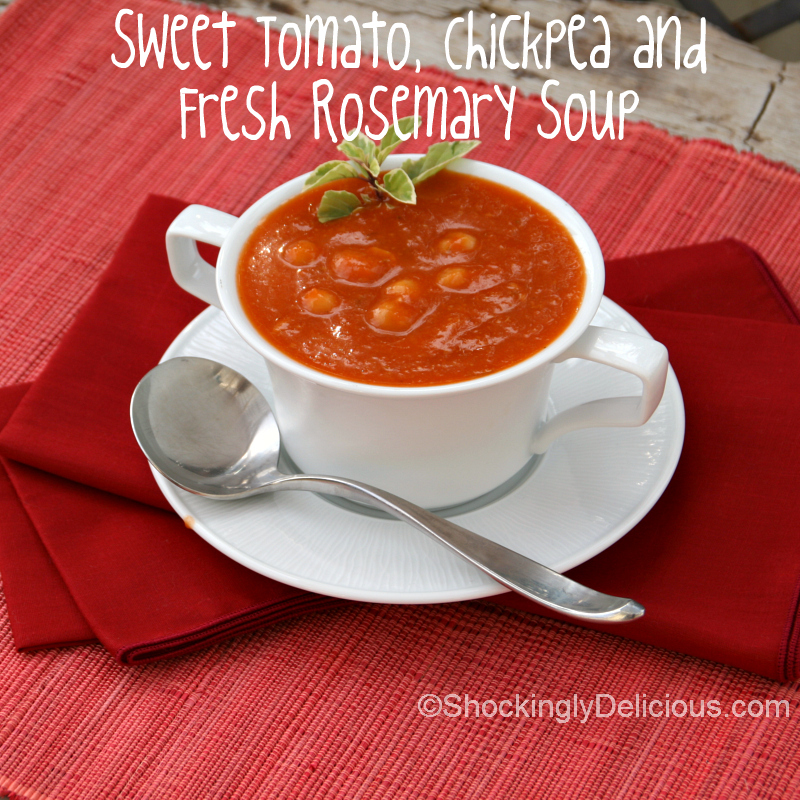 This turned out to be a wonderful dinner – sweet tomato soup fragrant with rosemary, thickened with pureed garbanzos with some left whole for interest, and a quick cheese panini to accompany. Although I used turkey stock because it was around, you could certainly use vegetable broth and make this a vegetarian or vegan meal.
The fact that it was cheap and easy — just a side benefit.
The soup was out of the pot and into the bowls in 35 minutes — just enough time for the kids to get some homework done and the professor to change some burned out light bulbs in the house. Because if mom's workin', everyone's workin.'  J  Am I right?
Recipe: Sweet Tomato, Chickpea and Fresh Rosemary Soup
Summary: Pantry staples make quick work of Sweet Tomato Soup fragrant with rosemary and thickened with healthy chickpeas (aka garbanzos).
Ingredients
2 (15-ounce) cans chickpeas
3 tablespoons olive oil
2 garlic cloves, peeled and crushed or minced
2 (3-inch) sprigs fresh rosemary, needles removed from stem and finely chopped
1 (28-ounce) can diced tomatoes in juice
1 (14.5-ounce) can diced tomatoes in juice
3-4 tablespoons honey
Pinch kosher salt
Freshly ground black pepper
4 cups homemade turkey stock (you can use vegetable stock or chicken stock if you like)
Garnish: Fresh basil but into ribbons
Instructions
Drain the canned chickpeas in a colander, and rinse them well. Set aside.
Warm the olive oil in a large soup pot over medium-low heat, and add the garlic and rosemary. Cook for a minute or two, and then add the tomatoes, honey, salt, a few grinds of pepper, half of the chickpeas and the stock. Bring to a boil over high heat; then reduce the heat to low and simmer, with the pot lid slightly ajar, for 20 minutes.
Remove the soup from the heat and use an immersion blender to purée it right in the pot. Add the remaining chickpeas and serve. Garnish with fresh basil if you like.
Makes 10 cups, or about 6 servings.
Source
I slightly adapted this from Orangette, who got it from "Once Upon a Tart…: Soups, Salads, Muffins, and More from New York City's Favorite Bakeshop and Café," by Frank Mentesana and Jerome Audureau (Knopf, 2003). Once Upon a Tart is a revered bakeshop and café in the Soho district.
Preparation time: 10 minutes
Cooking time: 25 minutes
Number of servings (yield): 6
Culinary tradition: USA (General)
My rating 5 stars:  ★★★★★ 
Want some other suggestions for #WeekdaySupper this week? Try these:
Monday | Crispy Baked Shrimp by Dinner Dishes and Desserts
Tuesday | Salmon Burgers by Noshing with the Nolands
Wednesday | 3 Bean Chili Boracho by La Cocina de Leslie
Thursday | Sweet Tomato, chickpeas and Fresh Rosemary Soup by Shockingly Delicious
Friday | Broccoli Ricotta Pasta by Family Foodie 
And check out last week's Weekday Supper recipes here –> 1/14/13- 1/18/13