Print This Post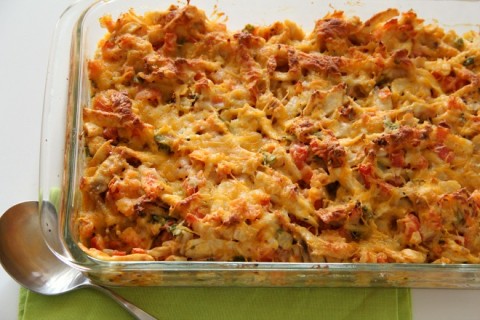 Exploring food blogs is a guilty pleasure. So much good food, so little time to make it all!
But each day, no matter what else is on the agenda, dinner looms, expectant faces are milling around the kitchen, murmuring "What's for dinner?" Eyebrows are raised, noses sniff to see if there's anything in the oven, and eyes scan to see whether the Crock-Pot is bubbling on the counter.
Even though I am an inveterate recipe hoarder, I still need ideas. So for inspiration this time, I turned to the blog In Mom's Test Kitchen, written by the charming Jaime, who says she shares simple recipes any mom can make while stepping over kids! That sounds practical and honest.
Her motto, "What the fork's for dinner?" seemed to fit my need. So, I'll bite…what's for dinner at Jaime's house?
A lot!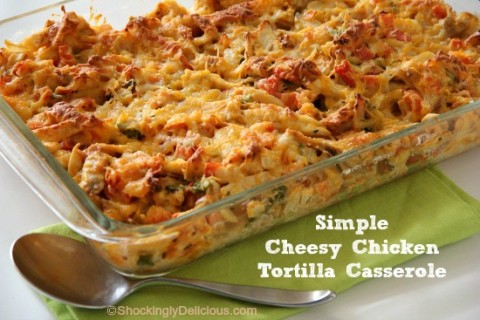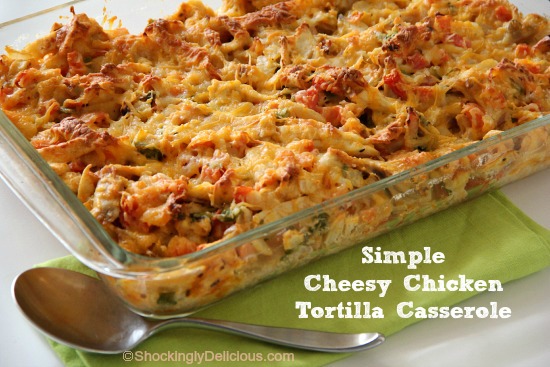 In a mood for chicken, I considered her Chicken and Cornbread Casserole (mmmm cornbread), and I am in love with the looks of her Cilantro Cream Chicken. Seriously, go over there and tell me you don't want that in your bowl right now. Her Poblano Chicken Alfredo could also go down easy at our house.
In the end, I chose her Simple Chicken Tortilla Casserole. She had me at "simple," and "casserole." To me, that meant only a few ingredients, less cleanup, and less pomp. I was all in!
I made just a few small tweaks to the recipe (didn't want to use canned soup or canned tomato, used rotisserie chicken instead of canned, added additional spices, etc.), to suit my style.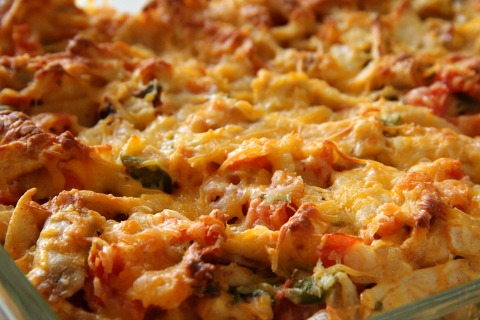 Pull up a chair to the table. Delicious dinner is served! Thanks, Jaime!
Recipe: Simple Cheesy Chicken Tortilla Casserole
Summary: All the ingredients that might go in a chicken burrito are combined in an easy, comforting casserole.
Ingredients
5 burrito-size flour tortillas
3 cups shredded rotisserie chicken (or roasted chicken)
3 (7-ounce) containers prepared Pico de Gallo (about 3 ½ -4 cups Pico de Gallo)
1 ½ cups (6 ounces) shredded Mexican blend cheese, divided use
1 cup light sour cream
1 cup low-sodium chicken broth
1 teaspoon crushed garlic
1 teaspoon Melissa's Hatch chile powder
Garnish: chopped fresh cilantro (optional)
Instructions
Heat the oven to 350 degrees. Mist a 9- by 13-inch casserole dish with nonstick spray and set aside.
Stack all 5 tortillas on top of each other. Roll the tortillas like a cigar and slice them into strips, about 1/4 – 1/2 inch wide.
Place tortilla strips in a large mixing bowl. Add chicken, Pico de Gallo and 1 cup of the shredded cheese and stir to mix.
In a 4-cup measuring cup, add 1 cup of sour cream. Add chicken broth up to the 2-cup mark, add garlic and chile powder, and stir well to combine. Pour mixture into the bowl with the chicken and tortillas, and stir to mix well.
Spoon mixture into the prepared baking dish. Sprinkle the rest of the cheese on top (it should be 1/2 cup of cheese remaining).
Bake, uncovered, for 45 minutes. The cheese will be melted and starting to brown, and the casserole will be hot and bubbling.
Serves 8.
My Secret Recipe Club Creations
Here is a list of what else I have made for the Secret Recipe Club since I joined the group. Check it out!
Preparation time: 15 minutes
Cooking time: 45 minutes
Number of servings (yield): 8
Culinary tradition: USA (Southwestern)
I was exploring Jaime's site because it was assigned to me for Secret Recipe Club.  Join us in the Secret Recipe Club this month for some delicious eats, from Jaime's blog and many others!
You can see what other cooks in the Secret Recipe Club made this month, right below here in the array of photos. Click any of them to be transported to that particular recipe!