Print This Post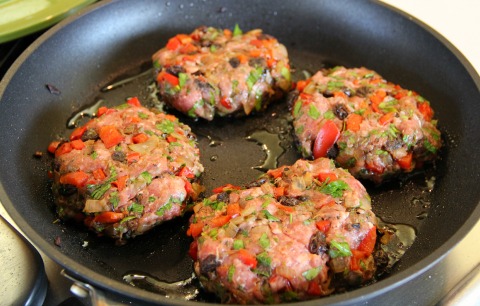 Necessity is the mother of invention, not only when it comes to putting dinner on the table every night, but also when making use of what is on hand.
What to do when confronted with a pound of defrosted ground lamb that had been so tempting on special sale at the market, but which now looked like a burden once I got it home?
Lamb patties!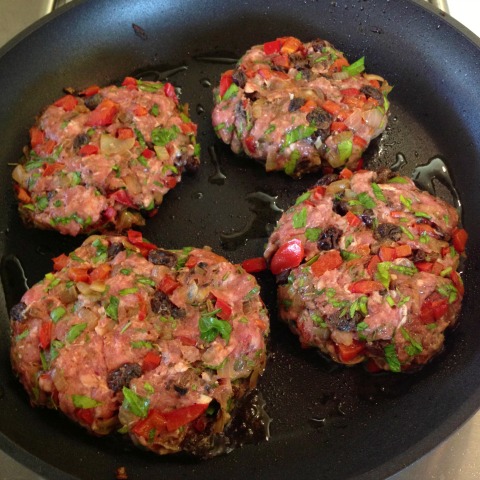 And once that idea implanted itself in my brain, I began to remember other ingredients that I had tasted in various other lamb dishes at restaurants here and there. Sautéed onions and peppers, for certain, but how about raisins for a sweet pop of flavor, rosemary from the bush out back for an herbal note, and ground allspice to bring it around to fall?
Yes.
Just yes.
Recipe: Lamb Patties with Onions, Peppers, Rosemary and Raisins
Summary: Rich lamb patties are spiked with sweet fried onions and peppers, raisins and herbal rosemary for an easy, elegant weekday supper.
Ingredients
½ cup raisins (or you could use dried cranberries)
1 tablespoon extra-virgin olive oil, plus more for pan frying
1 onion, finely chopped
1 red pepper, stem and seeds removed, finely chopped
1 teaspoon finely minced fresh rosemary
1 pound ground lamb
¼ bunch fresh Italian parsley, stemmed and chopped
¼ teaspoon kosher salt
¼ teaspoon ground allspice
20 grinds black pepper
Instructions
Place raisins in a 2-cup glass measuring cup, cover with water by ½ inch and microwave on high for 55 seconds. Remove from microwave and allow raisins to steep in hot water while you prepare the rest of the recipe.
Heat 1 tablespoon olive oil in a 12-inch skillet, add onions and red peppers and sauté for 7-8 minutes, until soft and beginning to color. Add rosemary during the last 2 or so minutes. Stir often so mixture doesn't stick to skillet. Remove from heat.
In a mixing bowl, add lamb, parsley, salt, allspice and black pepper and mix well with clean hands. Drain raisins well and add them to meat mixture. Add cooked vegetables and stir with a wooden spoon to mix well (or use your hands if you can take the heat from the vegetables).
Shape into 4 patties.
Heat another splash of olive oil in the same skillet and fry patties about 3-5 minutes per side, over medium heat.
Remove from pan and serve with your favorite vegetable side (steamed broccoli? Sautéed spinach or kale?), and some fresh fruit on the plate.
Serves 4.
Source
Dorothy Reinhold | Shockingly Delicious
Preparation time: 20 minutes
Cooking time: 10 minutes
Diet tags: High protein
Number of servings (yield): 4
Culinary tradition: USA (Nouveau)
My rating 5 stars:  ★★★★★ 
Throughout the week, you can find the #SundaySupper food blogger team sharing #WeekdaySupper meals as well. Getting families back to the dinner table is our mission, and I hope we inspire you to try some of our delicious recipes. You can find them on our Pinterest Boards as well. Please join us there and try something!
This week's easy Weekday Supper recipes are: