Print This Post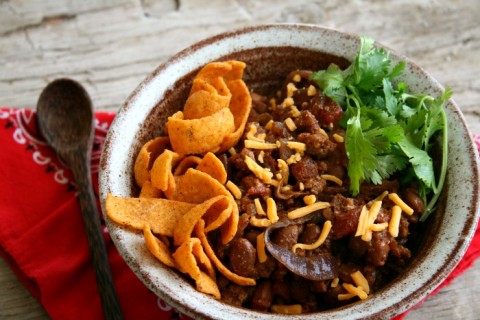 Decades ago, on a visit to Santa Fe, New Mexico, I tasted my first Frito Pie at a roadside stand.
Street food extraordinaire, this was an individual serving-size bag of Fritos, slit open, with greasy chili ladled in and topped with shredded cheese. A plastic spoon to eat it completed the meal, along with a fistful of napkins. (And a nap afterwards!)
Fast forward to today, when I had too many little tiny bags of Fritos in the cabinet – the sad discards from the lunchbox chip sack when everyone has already taken their favorites.
What to do with extra Fritos that might also translate into a quick weekday supper?
That long-ago meal popped into my head, and with a bit of a healthier take on it (ground turkey, far less fat, added tomatoes, beans for fiber, less salt, etc.) I made the somewhat cleaner 2013 edition.
And this incarnation even included the new Fritos flavor – Chili Cheese – not even dreamed about long ago.
Thank goodness for old things, and new.
Recipe: Healthier Santa Fe Frito Pie
Summary: What to do with leftover Fritos? An updated, healthier Frito Pie with ground turkey, beans and vegetables makes delicious work of them.
Ingredients
1 tablespoon grapeseed oil
1 medium red onion, thinly sliced
1 pound ground lean turkey
2 garlic cloves, crushed or finely minced
2 teaspoons Don Enrique Mild Hatch Chili Powder
1 ½ teaspoons ground cumin
¼ teaspoon kosher salt
1 (15-ounce) can diced tomato in juice
1 (15-ounce) can pinto beans, rinsed and drained
4 (1-ounce) bags Fritos Chili Cheese Corn Chips
Garnishes:

Chopped avocado
chopped fresh cilantro
chopped green onion
shredded spinach or lettuce
shredded cheddar cheese
Instructions
Heat the oil in a large skillet. Sauté the onion until softened and beginning to brown, about 7-8 minutes. Add the ground turkey and sauté until cooked through, about 7 minutes. Add garlic, chili powder, cumin and salt, and continue to cook for another 1-2 minutes, until spices smell fragrant. (This turkey mixture will be deliberately undersalted because the Fritos are salty, as is the shredded cheese for a garnish.)
Add tomatoes and their juice and drained beans, stir to combine, and continue to cook until heated through, about 5 minutes.
To serve, pour 1 bag of chips into each of 4 bowls, and top with the turkey mixture. Allow each person to personalize with their favorite garnishes (suggestions above).
Serves 4.
Source
Dorothy Reinhold / Shockingly Delicious
Preparation time: 5 minutes
Cooking time: 20-25 minutes
Number of servings (yield): 4
Culinary tradition: USA (Southwestern)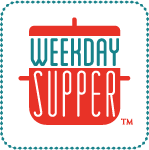 Throughout the week, you can find the #SundaySupper team sharing #WeekdaySupper meals as well. Getting families back to the dinner table is our mission, and I hope we inspire you to try some of our delicious recipes. You can also find them on our Pinterest Boards as well. Please join us there and try something!
This week's easy Weekday Supper recipes are:
Monday – Cravings of a Lunatic – Farmer's Market Pasta
Tuesday – Basic N Delicious – Salmon Tacos
Wednesday – Noshing With The Nolands – Baked Lemon Sole with Parmesan Crust
Thursday – Shockingly Delicious – Healthier Santa Fe Frito Pie
Friday – Hezzi-D's Books and Cooks – Jalapeno Popper Quiche
Looking for more Weekday Supper inspiration? Check out our delicious Pinterest board. And/or follow the #WeekdaySupper hashtag on twitter for quick and easy recipes we share throughout the week, every week. Share yours too; just remember to tweet them with the hashtag.
Have a delicious day!