Print This Post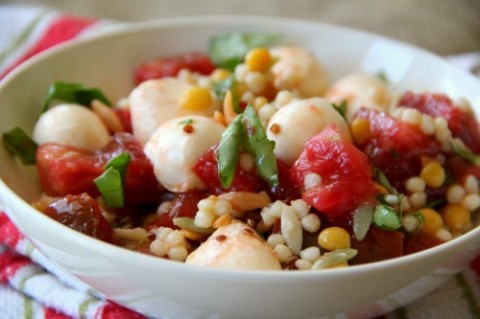 I am besotted with a grains mix from Trader Joe's. It cooks so quickly and is so interesting to eat, it makes a wonderful base for a weeknight easy dinner.
Called Harvest Grains Blend, it is a mix of Israeli Style Couscous, Orzo, Baby Garbanzo Beans and Red Quinoa. The fat couscous is chewy, the orzo soft, garbanzo nearly crunchy and the quinoa tiny and a bit gritty (in a good way!). To me, it makes for a perfectly balanced texture, and is much more flavorful than any of those grains cooked singly.
By the time the grains cook in about 10 minutes, you can have the add-ins ready, and before you know it, dinner jumps onto the table by itself. On hand I had the last of the late-summer heirloom tomatoes, some tiny fresh mozzarella balls, and a basil plant in the back yard that was going crazy, so they went in. Once I saw it, I realized it was akin to a Caprese salad, with the fresh tomato, basil and mozz, so that's how it was named.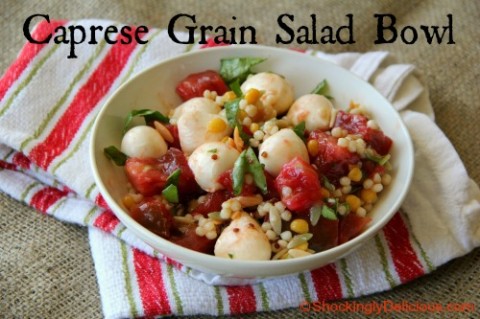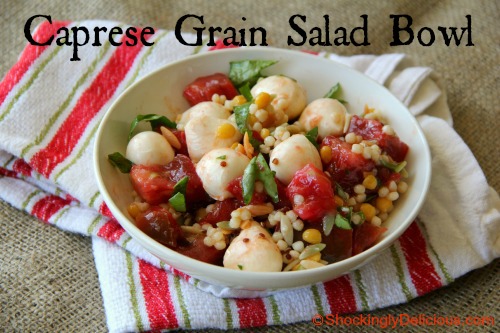 You may certainly substitute another grain that suits you if you can't find this one. There are lots to choose from, including brown rice, farro, barley, etc.
Recipe: Caprese Grain Salad Bowl
Summary: Late summer tomatoes and basil combine with fresh mozzarella balls in a grain salad reminiscent of a Caprese salad.
Ingredients
1 (16-ounce) bag Trader Joe's Harvest Grains Blend (mix of Israeli Style Couscous, Orzo, Baby Garbanzo Beans and Red Quinoa)
3-4 large heirloom tomatoes
3 tablespoons extra-virgin olive oil
Pinch kosher salt
A few grinds of black peppercorns
16 ounces small fresh mozzarella balls (Ciliegine, or cherry-sized)
1 cup fresh basil
Optional: Aged balsamic vinegar to drizzle
Instructions
Cook the grains per package instructions (about 10 minutes).
While grains are cooking, seed and chop the tomatoes, and place them in a large bowl. Drizzle with the olive oil and sprinkle with the salt and pepper. Stir to coat tomatoes. Drain the mozzarella and add it to the bowl. Wash, dry and chop or snip the basil leaves with a kitchen shears into the bowl. Stir to combine everything.
When grains are done, remove half the hot grains to a lidded container and set aside to cool. You will put these in the refrigerator for later use. Scrape and pour the remaining half of the hot grains into the mixing bowl, and stir to mix everything well. The hot grains will slightly wilt the basil and soften the cheese.
Portion into 4 wide dinner salad bowls. Pass the aged balsamic (the thick, expensive kind!) for each person to drizzle lightly if they wish. Serves 4.
Source
Recipe by Dorothy Reinhold | Shockingly Delicious
Preparation time: 10 minutes
Cooking time: 10 minutes
Diet type: Vegetarian
Number of servings (yield): 4
Culinary tradition: USA (Nouveau)
My rating 5 stars:  ★★★★★ 
Throughout the week, you can find the #SundaySupper team sharing #WeekdaySupper meals as well. Getting families back to the dinner table is our mission, and I hope we inspire you to try some of our delicious recipes. You can find them on our Pinterest Boards as well. Please join us there and try something!
This week's easy Weekday Supper recipes are: