Print This Post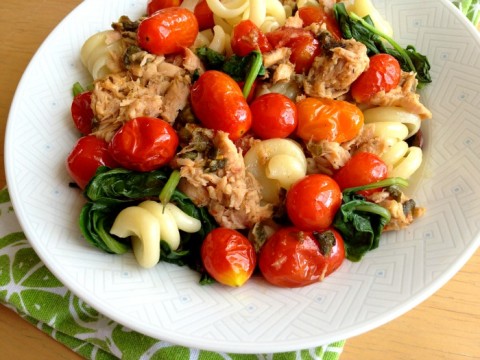 Weeknight dinners often start with pasta, but they don't have to be the same-old, same-old.
The sauce can rely on a quick trick – tiny grape tomatoes sauté up very quickly in a skillet, along with some salty capers, fragrant garlic and a bit of tuna in olive oil. The sauce practically creates itself!
The second trick is to wilt some greens before you begin the tomatoes, to make a more complete meal in a bowl.
You can have a satisfying, tasty dinner on the table in 15-20 or so minutes if you put the pasta water on to heat the minute you get in the door from work.
It's faster, cheaper, and more healthy than take-out.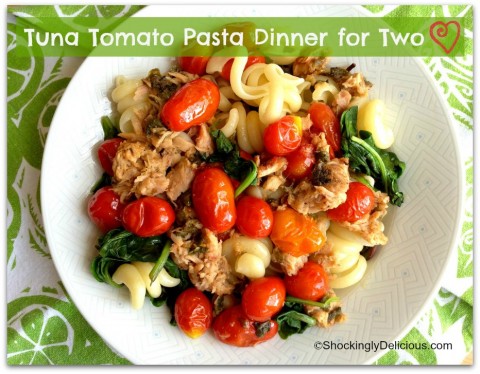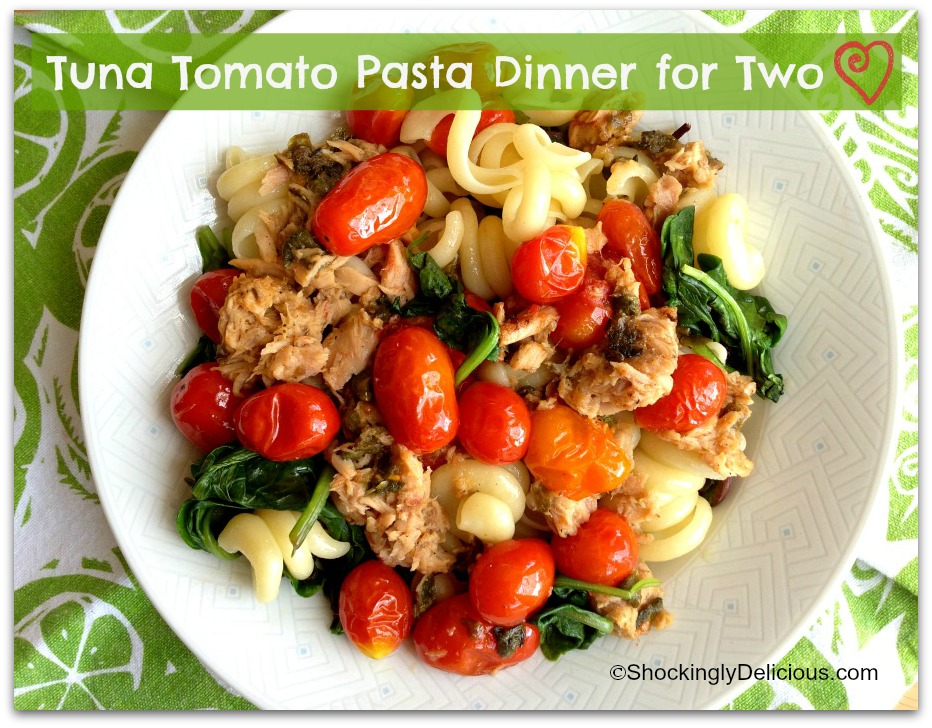 And most of all, it's much more delicious.
Recipe: Tuna Tomato Pasta Dinner for Two
Summary: Pasta and wilted greens with a quick pan sauce of grape tomatoes, capers and tuna in olive oil makes a fast, healthy and delicious weeknight dinner.
Ingredients
4-5 ounces curly pasta (I used Trottole shaped pasta)
1 (5- to 6-ounce) package triple-washed baby arugula or chard-spinach-arugula greens mix
2 tablespoons extra-virgin olive oil (I used Chilean olive oil, my new discovery!)
3 tablespoons drained capers in brine (brine discarded)
1 (12-ounce) container grape tomatoes
2 garlic cloves, crushed or finely minced
Pinch kosher salt

1 (5-ounce) can Bumble Bee Prime Fillet® Solid Light Tuna – Tonno in Olive Oil

Garnish: snipped fresh chives, if you like
Instructions
Cook pasta in lightly salted boiling water according to package directions.
While pasta is cooking, heat a large nonstick skilled and add greens (no need for any fat). Cook greens for 1-2 minutes, until wilted, stirring often. Remove greens to a separate bowl and set aside.
In the same large skilled (no need to wash it), heat olive oil on medium until shimmering. Add capers and stir-fry for 30 seconds. Add tomatoes to the skillet, turn heat up to medium-high, and stir-fry for 2 minutes. Add garlic and salt and sauté mixture for another 30 seconds, until garlic is fragrant but not burned. Add tuna and its oil and stir to combine and heat through. Turn heat off.
When pasta is done, drain it.
To serve, divide the greens between two shallow, wide bowls, add the pasta, and top with the cherry tomato tuna sauce. Snip some fresh chives on top if you like.
Serves 2.
Quick notes

I am a member of the Bee Squad for Bumble Bee tuna. Canned tuna makes an excellent protein for weeknight dinners because it is already cooked and ready to deploy.
Preparation time: 5 minutes
Cooking time: 10 minutes
Diet type: Pescatarian
Number of servings (yield): 2
Culinary tradition: Italian
My rating 5 stars: ★★★★★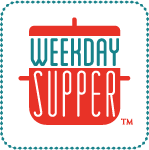 Throughout the week, you can find the #SundaySupper team sharing #WeekdaySupper meals as well. Getting families back to the dinner table is our mission, and I hope we inspire you to try some of our delicious recipes. You can find them on our Pinterest Boards as well. Please join us there and try something!
This week's easy Weekday Supper recipes are: