Print This Post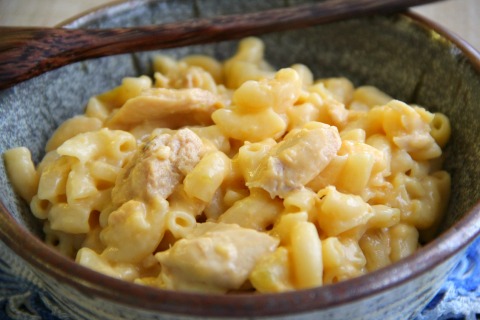 Will you revoke my membership in the food bloggers' club if I tell you how to fancy up the blue box mac 'n' cheese?
Yes, I know I'm supposed to eschew that blue box, but my kids love it, so what's an indulgent mom to do?
Add some zippy, spicy tuna, and a handful of extra cheese to make it really, really good. My son loves this after surfing, my teenage daughter loves it for lunch, and my husband loves when they leave some for him. Fat chance!
The trick is the tuna already has jalapeno pepper in it, so it adds a nice spice to the dish, and the tuna is packed in oil, which allows you to reduce the butter a bit. (And yes, we're using butter instead of the margarine they call for on the package directions. Because I said so.)
Go surfing (or hiking, or trail running, or skiing, or whatever is your choice of movement), and then enjoy the best mac 'n' cheese you've ever had!
Recipe: Jalapeno Tuna Macaroni and Cheese
Summary: Trick up the blue box macaroni and cheese with extra cheese and Jalapeno tuna for an addicting speed-scratch version perfect for lunch or weekday supper.
Ingredients
Instructions
Bring 6 cups water to a boil in a medium-sized saucepot. Stir in macaroni from package and cook 8-9 minutes, until just tender, stirring occasionally so the pasta doesn't stick to the pot.
Remove from heat, drain in a colander and return hot pasta to the pot. Add butter, put lid on and wait for a minute until butter melts. Add milk, contents of cheese packet and shredded cheese and stir gently until cheese melts.
Add tuna and its oil, stir a couple of rounds very gently to mix, but not break the tuna into smithereens. Portion into bowls and dig in!
Serves 3.
Source
Dorothy Reinhold | Shockingly Delicious
The Bee Squad
I am a member of the Bee Squad for Bumble Bee tuna. Canned tuna makes an excellent protein for quick meals because it is already cooked and ready to deploy.
Preparation time: 5 minutes
Cooking time: 10 minutes
Diet type: Pescatarian
Culinary tradition: USA (General)

Disclosure: Bumble Bee Foods sent the tuna for recipe development.