Print This Post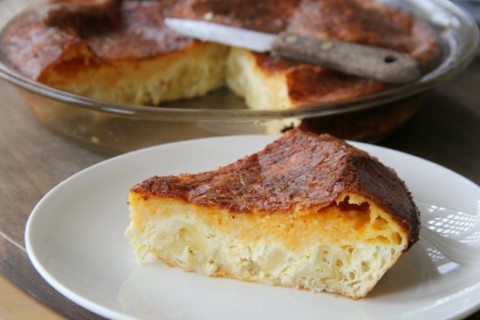 Soon enough – perhaps already? – there will be more rich, fancy food than you can wave a fork at.
In the meantime, though, we still need to get dinner on the table, don't we?
Before we cave in to the excesses of the season, let's take it easy with a weekday supper that caves in to all our comfort foods, but is deceptively simple.
Remember how we have made Impossible Pies several times before – Impossible Quesadilla Pie, Spinach Feta Greek Impossible Pie, and even an Impossible Cherry-Almond Pie for dessert?
This is a Mac 'n' Cheese Impossible Pie, using the same strategy. All of it, even the uncooked macaroni, goes into the pie plate and is baked. What emerges is a crustless quiche-like concoction that hits all the right notes.
Cheese, please!
Recipe: Mac 'n' Cheese Impossible Pie
Summary: A mash-up of the beloved classic mac 'n' cheese with a modified crustless quiche gives us a new favorite! The macaroni goes in uncooked!
Ingredients
2 cups shredded sharp Cheddar cheese
1 cup uncooked large elbow macaroni (I am using a Trottole shape here)
2-1/4 cups milk (I used 1% milk)
4 eggs
1/2 cup baking mix (I used Bisquick Heart Smart)
1/4 teaspoon onion powder
1/4 teaspoon garlic powder
1/4 cup shredded Parmesan cheese
Instructions
Heat oven to 400 degrees F. Mist a 10-inch pie dish with nonstick spray.
Sprinkle Cheddar and uncooked macaroni into the prepared pie dish.
In a 4-cup measuring cup, combine milk, eggs, baking mix, onion powder and garlic powder and mix well until combined.
Pour into pie pan, making sure that macaroni is below the surface of the batter.
Tamp down any rogue macaroni if necessary, and sprinkle with Parmesan cheese.
Bake for 35-40 minutes until pie is puffed and macaroni is tender when pierced with a fork.
Remove from oven. Pie will deflate slightly as it cools.
Cut into wedges and serve.
Serves 6.
Source
Dorothy Reinhold | Shockingly Delicious
Preparation time: 10 minutes
Cooking time: 40 minutes
Diet type: Vegetarian
Number of servings (yield): 6
Culinary tradition: USA (General)
My rating 5 stars:  ★★★★★ 
Throughout the week, you can find the #SundaySupper food blogger team also sharing #WeekdaySupper meals. Getting families back to the dinner table is our mission, and I hope we inspire you to try some of our delicious recipes. You can find them on our Pinterest Boards, too. Please join us there and try something!
This week's easy Weekday Supper recipes are: