Print This Post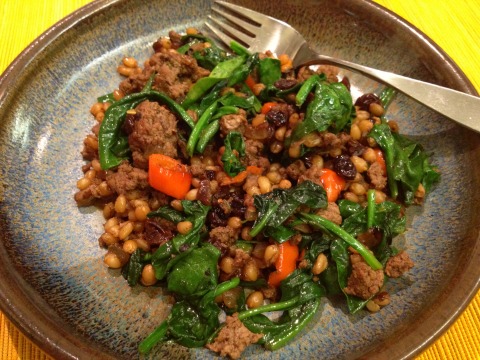 A delicious success last month with Lamb Patties inspired me to reimagine the dish as a one-skillet meal, and this turned out to be a wowser of a mid-week dinner!
One of my tricks for getting weekday dinner on the table is to do some of the work on the weekend. For example, I like to cook up a big unseasoned batch of a grain like farro or spelt on the weekend, drain it, cool it, refrigerate in a zipper-top bag and use it throughout the week for breakfast (to toss into yogurt), in lunch salads, or as a pilaf or part of dinner.
I favor the chewy whole grains like farro or spelt because it gives your mouth something to do, and stays with you longer. If you can't find it, though, feel free to use your favorite grain, such as a simple cooked brown rice. (Yes, you can pull off the same big-batch weekend cooking with brown rice and make your life easier.)
So bust out of your weeknight rut with a chewy grain, and some easy ground lamb.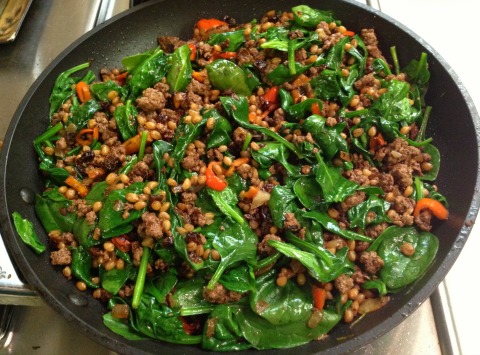 Your family will thank you for it!
Recipe: Lamb Skillet with Spelt, Spinach, Rosemary and Raisins
Summary: Rich ground lamb studded with sweet fried onions and peppers, raisins, rosemary and chewy spelt makes an easy one-skillet supper.
Ingredients
½ cup raisins (or you can use dried cranberries)
1 teaspoon extra-virgin olive oil
1 onion, finely chopped
1 red pepper, stem and seeds removed, finely chopped
1 teaspoon finely minced fresh rosemary
1 pound ground lamb
¼ teaspoon kosher salt
1/2 teaspoon ground allspice
2 cups cooked spelt (I used Bob's Red Mill brand)
2 huge handfuls fresh spinach leaves (7-10 ounces)
Instructions
Place raisins in a 2-cup glass measuring cup, cover with water by ½ inch and microwave on high for 55 seconds. Remove from microwave and allow raisins to steep in hot water while you prepare the rest of the recipe.
Heat olive oil in a 12-inch skillet, add onions and red peppers and sauté for about 10 minutes, until soft and taking on some color. Add rosemary during the last 5 or so minutes. Stir often so mixture doesn't stick to skillet. 
To the skillet add lamb, salt and allspice and cook, breaking up the lamb with a wooden spoon. It will take 5-10 minutes to completely cook the lamb so it is no longer pink. (Do not add more oil, because the lamb will release fat.)
Drain raisins well and discard water, then add them, along with spelt, to the meat mixture. Mix well.
When ready to serve, add spinach (it will look like too much, but don't worry) and cook and stir for a minute or so, just to slightly wilt the greens. You don't want or need the spinach completely wilted into oblivion.
Spoon into 4 shallow, wide bowls and serve.
Serves 4.
Source
Recipe and photos by Dorothy Reinhold | Shockingly Delicious
Preparation time: 10 minutes
Cooking time: 25 minutes
Number of servings (yield): 4
Culinary tradition: USA (General)
My rating 5 stars:  ★★★★★

Throughout the week, you can find the #SundaySupper food blogger team also sharing #WeekdaySupper meals. Getting families back to the dinner table is our mission, and I hope we inspire you to try some of our delicious recipes. You can find them on our Pinterest Boards, too. Please join us there and try something!
This week's easy Weekday Supper recipes are:
Disclosure: Bob's Red Mill sent the spelt for recipe development.