Print This Post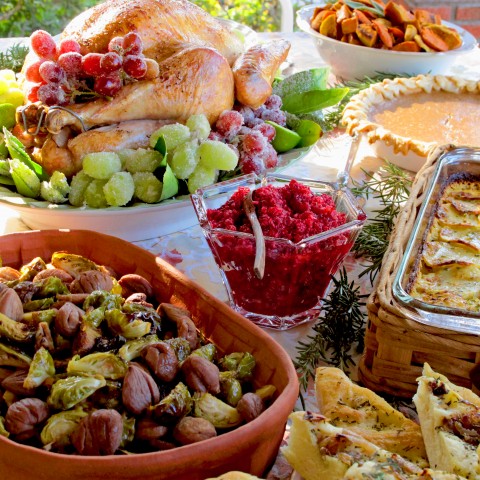 T-minus 8 days until the biggest food holiday of the year. Do you need some help figuring out what to serve for Thanksgiving dinner?
For me, the sizzle has always been in the side dishes, which I think should have starring roles.
Here is a selection of side dishes and desserts that I hope will float your Thanksgiving boat! Click the links to get the recipes.
APPETIZERS



CRANBERRY SAUCE
STUFFING
Dorothy's Southwest Stuffing won 1st place in a magazine recipe contest, and may I just say it deserved the ribbon! I nicknamed this one "self-esteem stuffing" because I can count on getting raves every time I serve it. If you say, "Southwest was so '80s," you'd be right, but who cares what decade when it's delicious?
SIDE DISHES
SALAD
KALE: This has been the year of kale, and for good reason, both from a flavor and nutritional point of view. I have two raw kale salads that are to die for, and either one would be a fab Thanksgiving leafy green – Tuscan Kale Salad, or Raw Rainbow Kale Salad of the Gods. 
DESSERTS
Hope that gives you some ideas for your own feast! And if something doesn't make the cut for Thursday, save the idea for turkey leftovers in the days following.
Happy Thanksgiving everyone!