Print This Post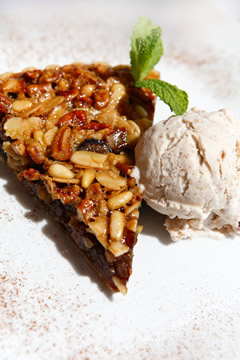 Pastry chef Kristine Bocchino is known for her homey desserts. They have hit the spot at a number of fine restaurants all over Southern California where she has manned the mixer and overseen the oven.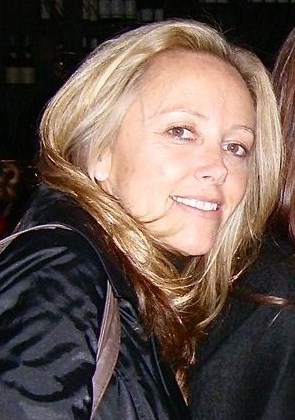 Her latest creation — an organic Nut and Mission Fig Tart — won a 1st-place  ribbon in the "professional" category in this year's Malibu Pie Contest, and it would be a fabulous Thanksgiving dessert.
Stuffed with the season's nuts and figs, this is a sticky beauty that transcends the often-cloying pecan pie.  Try it if you want to offer something a little bit different for your holiday dessert table.
You can read more about her in my column over on Malibu Patch!
Meanwhile, turn the oven on and let's get baking this tart!
Recipe: Blue Ribbon Organic Nut and Fig Tart
Summary: Studded with pecans, pine nuts, walnuts, almonds and black mission figs, this elegant tart has a filling like a pecan pie and is festive for a holiday meal or as a wonderful fall/winter dessert. It won 1st place in the 2011 Malibu Pie Festival (professional category).
Ingredients
Crust for a 9-inch tart, either home made or store-bought
1 cup natural raw cane dark muscovado sugar*
2/3 cup golden syrup*
2 tablespoons Myers's dark rum (optional, but so good)
1/2 stick (4 tablespoons) butter
3 eggs
2 teaspoons vanilla extract
¼ teaspoon kosher or sea salt
2 cups mixed unsalted nuts (pecan pieces, chopped almonds, toasted pine nuts, chopped walnuts)
12 dried black mission figs, diced
Accompaniment: vanilla ice cream or freshly whipped cream flavored with a dash of cinnamon and vanilla
Instructions
Heat the oven to 350F degrees.
Line a 9-inch fluted tart shell (with removable bottom) with your favorite family pie dough, or a store-bought dough if you're pressed for time. Put the tart shell in the refrigerator to chill while making the filling.
Filling: In a large saucepan, combine sugar, golden syrup, Myers's dark rum and butter. Bring the mixture to a boil over medium heat, and let boil for 1 minute, stirring and scraping down the sides. Take the pan off the heat and set aside for 15 minutes to cool to room temperature.
In a mixing bowl, whisk eggs until creamy and lighter in color. Whisk the eggs into the cooled syrup, then whisk in vanilla extract and kosher or sea salt.
Fill the chilled tart shell with nuts. Distribute the diced figs in the tart shell as evenly as possible. The figs will be sticky, so do the best you can.
Pour the filling mix over the nuts, filling the tart shell to just below the rim. Don't over-fill the tart or it may bubble over and make it difficult to get it out of the pan once cooled.
Bake the tart at 350F degrees for about 50 minutes, until it just barely jiggles in the center. Cool the tart completely before taking it out of the tart pan, although if you're like me, you'll test it while it's still hot just to make sure none of the edges are stuck.
Serve at room temperature or heated, with ice cream or freshly whipped cream flavored with a dash of cinnamon and vanilla.
Serves 8.
Quick notes
*Golden syrup and muscovado sugar can be found at specialty stores like Surfas in Culver City, but you can substitute corn syrup and light brown sugar if necessary.
Preparation time: 25 minutes
Cooking time: 50 minutes
Diet type: Vegetarian
Number of servings (yield): 8