Print This Post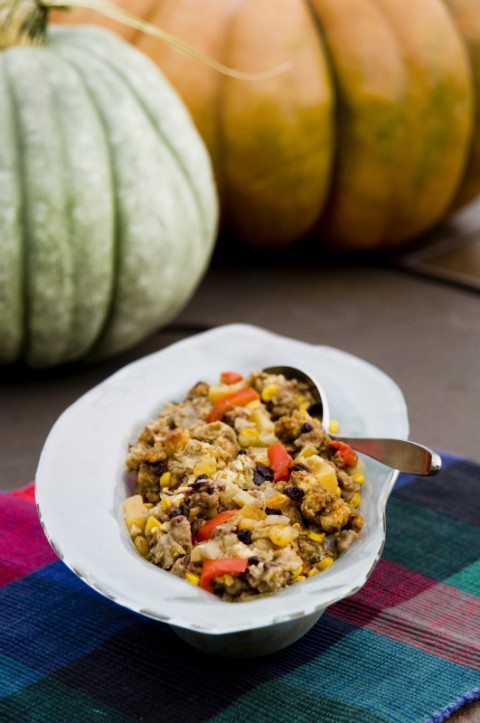 For me, the holidays are about the stuffing. Sure, there is turkey for Thanksgiving, and often turkey for Christmas (my family asks for it), but sometimes Christmas dinner might also bring duck, ham or roast beef.
Regardless, there must be stuffing.
I have a version that is so darn good I might as well call it "Self-Esteem Stuffing" because I can count on getting raves every time I serve it. This is the best stuffing I have ever made, in 25 years of making and enjoying stuffing. Everyone who eats it asks for the recipe.
How good is it? So good…
…your spouse will propose marriage again
…you will get a great new job
…people will defer to your opinion when it comes time to select the restaurant
…your children will suddenly obey you and get good grades and stop biting at preschool (OK, that part is made up)
…and you will win the lottery.
That's how good this stuffing is.
Try it with your November or December bird or other roasted meat, and sit back and practice being gracious while you receive the compliments.
Award-winning stuffing!
Speaking of compliments, this recipe just won the 2010 Malibu Times Magazine Holiday Recipe Contest! How great is that?! They had three professional chefs test the entries, so it is extra special to be chosen as the winner. Finalists' recipes were judged on a scale of 1 to 10, on the clearness/preciseness of the ingredients and instructions, ease of preparation and the delicious factor. Owner/chef David Price of Terra Restaurant said my stuffing not only met the criteria, but it was unique, and gave it a 10 for creativity!
Hope you all enjoy it. Happy Thanksgiving!
Never made stuffing? It's easy with this visual tutorial + the recipe
Here's a fairly detailed visual tutorial, because everyone deserves to have first-time blue-ribbon success with their stuffing!