Print This Post
UPDATE JAN. 2011: Sunset magazine named this one of the Top 20 Recipes of 2010, and said, "We love all our recipes, but these top 20 earned spectacular praise from our test kitchens."
We agree…these eggs taste spectacular! Thank you, Sunset!
____________________________________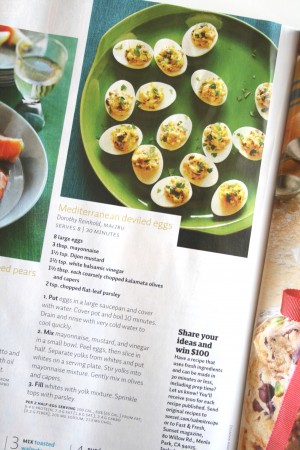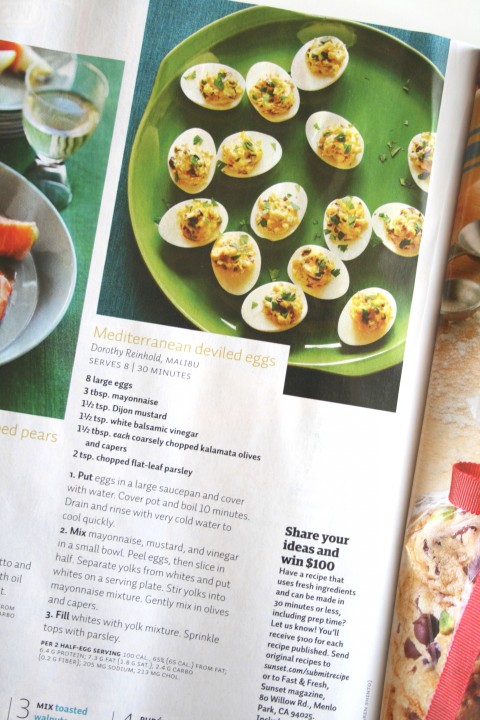 I'm delighted to tell you that my recipe for Mediterranean Deviled Eggs is published in the November 2010 edition of Sunset magazine.
You know Sunset, right? The Bible of Western Living. I grew up reading it, dreaming one day of throwing a party as swankily comfortable as those pictured in its pages, or serving food that looked as delectable as their featured Western home cooks showed, or hey, let's face it, even just being invited to a patio soiree the likes of which they threw monthly.
Guess what? Dreams come true. Sunset editors call my Mediterranean Deviled Eggs a "no-hassle appetizer," and list the recipe as one of among 15 of their all-time favorites. Well…booyah! These eggs would be a perfect Thanksgiving appetizer or lunch. They'll tide you over while you wait for the main attraction, but won't repeat any of the traditional flavors. You can make them a day ahead, as well, which is always a plus at holiday time.
I recommend you make my original recipe below. As glad as I am that Sunset published this, I always like to poke them a little because when they print your recipe, they fiddle with it and change it slightly. I usually prefer my original recipe, so use the one here.
I have 3 other recipes published in Sunset, so my oeuvre is growing! (I have always wanted to work the word oeuvre into a sentence!) See:
I seem to be on a deviled egg kick lately. We had Sweet Basil Deviled Eggs, we had Halloween Deviled Spider Eggs (boo!), and now we have Mediterranean Deviled Eggs, reeling with big Greek flavors and the salty bite of olives and capers.
These things are scary good, and you might need to step away from the appetizer table after eating one.
This is a signature Shockinglydelicious dish. I plan to bring it to several holiday potlucks, and watch eyes widen in delight as people take a bite.
You too?
Mediterranean Deviled Eggs
12 hard cooked eggs, peeled (easy recipe to hard-cook eggs here )
3-4 tablespoons mayonnaise (easy safe homemade version here; or Best Foods light version)
2 tablespoons olive oil (use seasoned oil from the sun-dried tomatoes if available)
1 tablespoon Dijon mustard
2 teaspoons balsamic (white or red) or aged wine vinegar
1/4 teaspoon dried oregano
8 drops Tabasco sauce
2 tablespoons chopped green scallion
1 tablespoon finely chopped Kalamata olives
1 tablespoon small capers in brine, drained and patted dry

Garnishes

:

2 sun-dried tomatoes packed in oil, cut into 24 slivers
slices of Kalamata olives
drained capers
Italian flat-leaf parsley
sprigs of fresh rosemary
Slice the cooked eggs in half, lay whites on a plate and put yolks in a large mixing bowl. To yolks, add mayo, oil, mustard, vinegar, oregano and Tabasco and mix well to combine (can use an electric mixer). By hand, stir in scallions, olives and capers.
Stuff the whites with the mixture. The easiest way to do this is to fill a small plastic zipper-top bag with the filling, zip it closed, cut off a tiny corner of the bag and pipe the filling out through that corner. Use all the filling for the eggs. Discard the empty bag.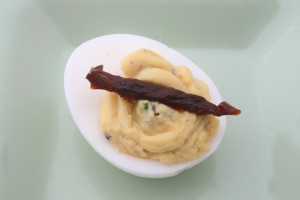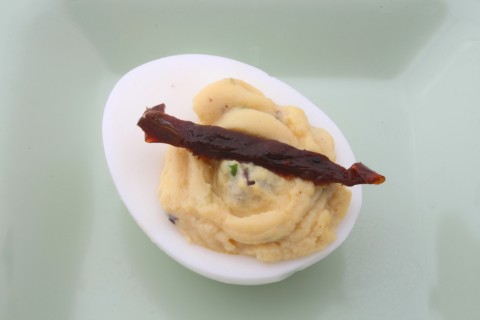 Garnish each filled half-egg with a sliver of sun-dried tomato, or an olive slice, or capers, or a leaf of parsley. Refrigerate until ready to serve. (Can be made a day ahead.)
Makes 24 deviled egg halves.
Serving suggestion
Place eggs on a bed of Italian flat-leaf parsley, or nestled onto a platter rimmed with sprigs of fresh rosemary.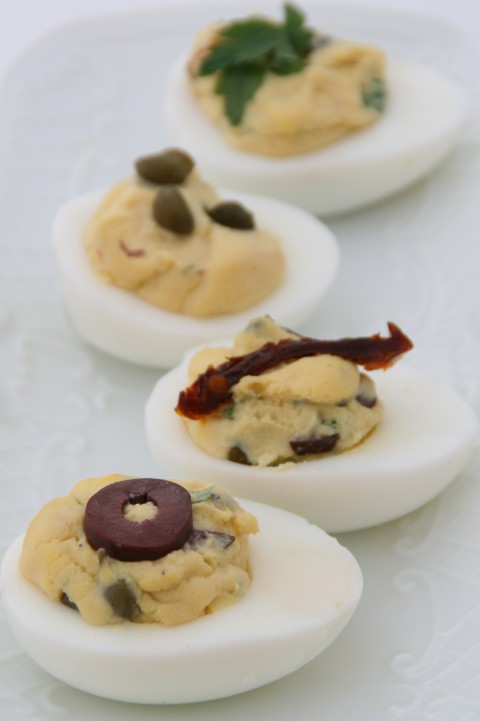 If you like deviled eggs, you might also like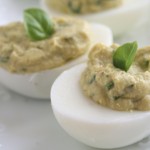 Sweet Basil Deviled Eggs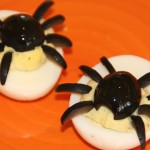 Spider Deviled Eggs