Print This Post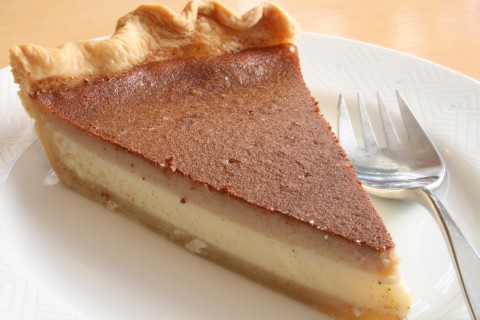 Bob Andy Pie is sweet, soft, cinnamon-spiced custard pie with roots in the Midwest Amish communities of Illinois, Indiana and Missouri.
OCT. 15, 2011 UPDATE: This delicious pie won a 3rd place
in the 2011 Malibu Pie Contest! Yahoo!
* * *
One bite of this sweet, soft, cinnamon-spiced custard pie, and my daughter, 13, said,
"Can you make this for Christmas?"
Why yes, I can, and I will! They don't call me the pie lady of Malibu for nuthin' !
It has a fabulously funny name – Bob Andy Pie – and old roots in the Midwest Amish communities of Illinois, Indiana, Missouri, but it feels right at home today, when we crave simple, comforting flavors and value the utter ease of a dessert for which you will already have all the ingredients. Some might think of it as a spiced chess pie. Others liken it to a Sugar Cream Pie, a staple that is popular in Indiana.
Why is it called Bob Andy Pie?
Bob Andy? Say what?
The common story goes that an Amish farmer came in from working in the fields, took one bite of this delicious pie and said, "This pie is as good as Bob and Andy." Bob and Andy were his two prize gelding plow horses.
That works for me! I guess it speaks to my Pennsylvania Dutch heritage.
One intriguing feature of this pie is that the ample cinnamon floats to the top while baking, making a dark top, and giving the impression of layers. It's a very pretty pie when cut!
So this Christmas, I'll use the beautiful serving dish I got from my late Aunt, I'll gaze at the ornaments my grandmother made for my family 50 years ago, and Bob Andy Pie will grace my table.
Everything old is new again. Which suits me fine.
Bob Andy Pie Recipe
3 large eggs
2 cups whole milk
1 cup granulated sugar
2 tablespoons flour
2 teaspoons ground cinnamon (I used Vietnamese cinnamon from Penzeys)
1/2 teaspoon salt
1 (10-inch) pie shell (home made, or use Pillsbury)
Adjust oven rack to lowest position and heat oven to 325 degrees. Crack eggs in a medium bowl and whisk. Whisk in milk. Add sugar, flour, cinnamon and salt and whisk into milk mixture.
Pour filling into unbaked pie shell. Bake until custard has set and crust is golden, about 50 minutes.
Remove from oven, cool and serve at room temperature or chilled.
Serves 8.
Cook's notes
Some recipes call for ground cloves, as well. If you decide to add cloves, start with a pinch, because clove flavor can be strong! Other cooks add some ground nutmeg. There is something pure and simple about the clear cinnamon flavor, though. And some recipes separate the eggs and have you whip the whites and fold them in. In my experience, this isn't necessary, and probably not original. The texture of this pie is soft, custardy and comforting.
Source
You can find versions of this recipe all over the Internet and in community cookbooks. I used and slightly adapted a version found here at the lovely ThreeManyCooks.
Update Jan. 2011
Reader Jane (see below) suggested an alternative:
— No cinnamon
— 1/2 teaspoon ground cloves
— 1/2 teaspoon ground nutmeg
I tried it and liked it! It's a stronger flavor (from the cloves), but both my husband and I really enjoyed it. My kids did not, and favored the all-cinnamon version. Suit yourself. Thanks, Jane, for the variation idea!
Pin the image below for Bob Andy Pie to your Pinterest board to save this recipe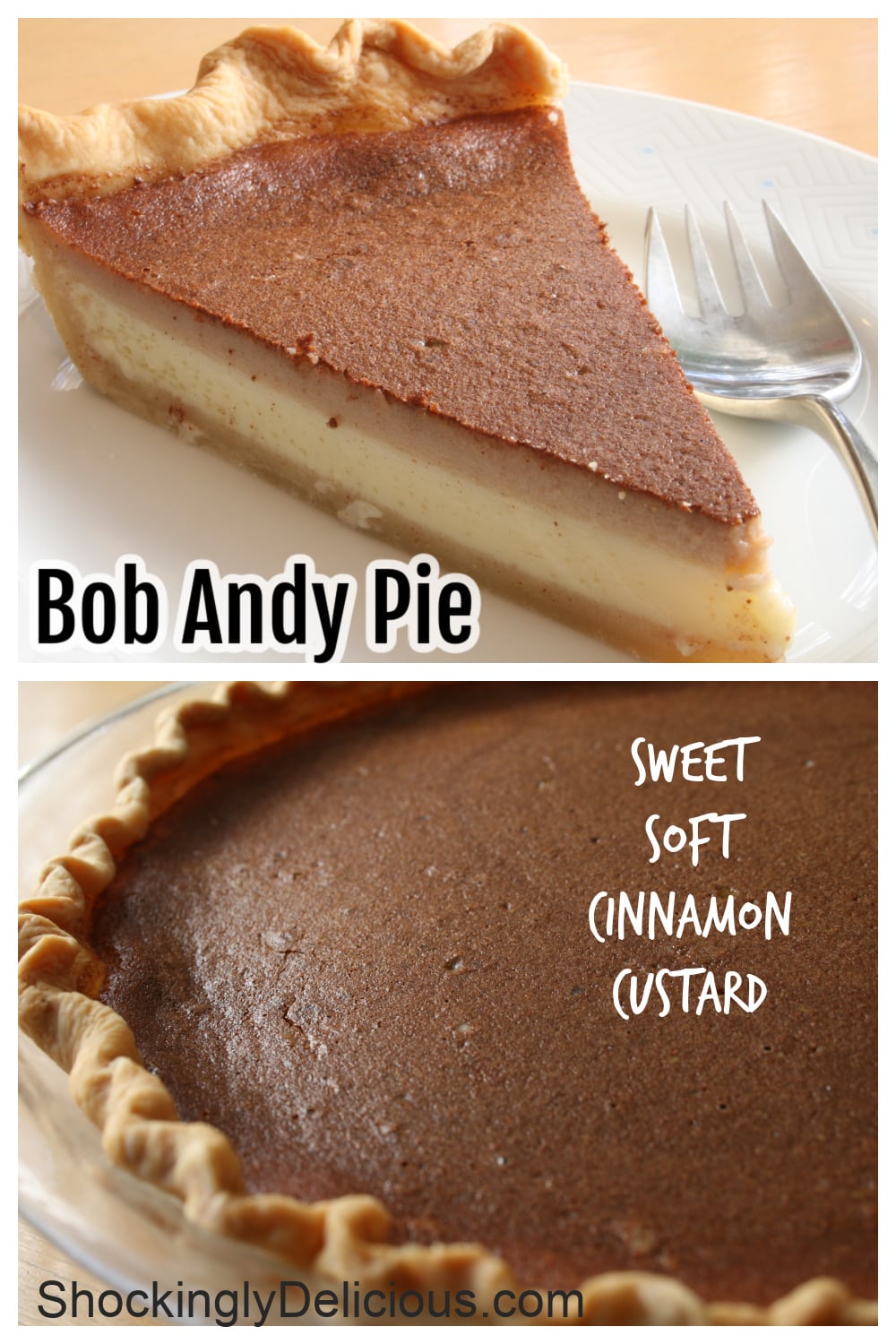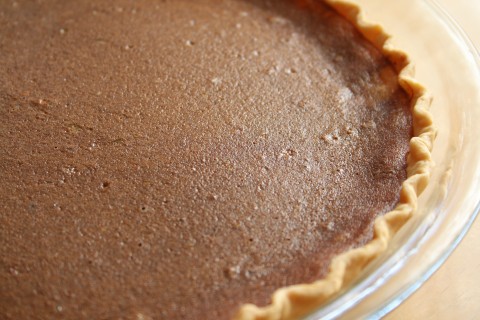 Looking for another Christmas pie to try?
Blue Ribbon Coffee-Toffee Pecan Pie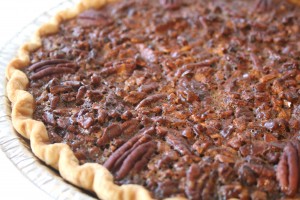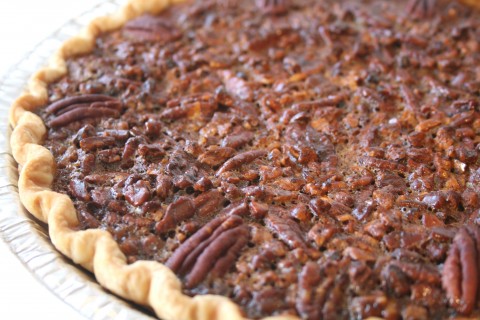 Thanks for visiting…are you hungry for more? Follow Shockingly Delicious on…
FACEBOOK | PINTEREST | INSTAGRAM | TWITTER
…for all the latest recipes, ideas and updates!
This post may contain affiliate/referral links. It is a way for this site to earn advertising fees (at no cost to you) by advertising or linking to certain products and/or services that I approve and prefer. Thank you for using my affiliate link to shop, so I can continue to bring you shockingly delicious recipes!