Print This Post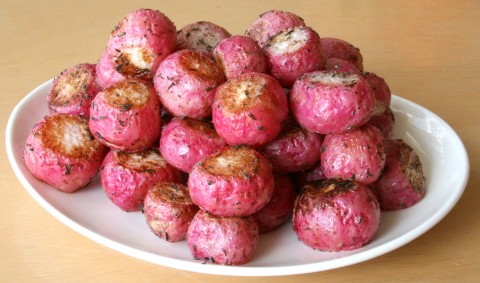 Roasting does brilliant things to vegetables. We've all had roasted potatoes, carrots, beets, parsnips, fennel, onions and other root vegetables that were so delicious as to be transcendent!
But have you ever roasted a common radish?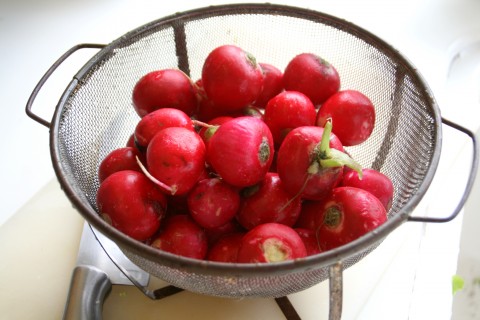 Prepare to be amazed! The same magic a hot oven works on other vegetables applies to the ubiquitous radish, too. Roasting sweetens it, tames some of the bite, and gives it a softer, fuller flavor.
The technique couldn't be easier. I learned it from Out of the Box Collective,  a Los Angeles-based grocery delivery service that brings carefully selected produce and groceries to your doorstep, accompanied by a meal plan and recipes to take you through the week. The radishes were to accompany a Cauliflower and Chard Pie.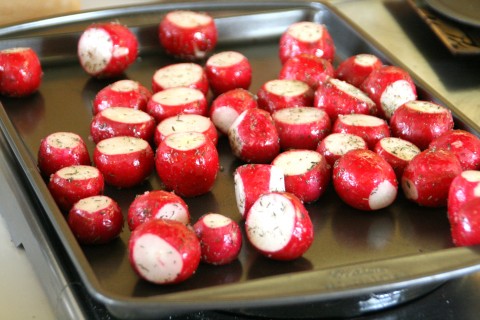 I liked them by themselves, so I never even got to the pie!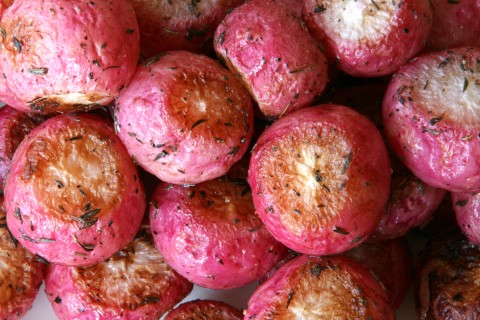 Recipe: Roasted Radishes
Summary: Roasting elevates radishes to a new plane — sweetening them, taming some of the bite, and giving a softer, fuller flavor.
Ingredients
2 bunches fresh radishes, washed, dried, stems removed
Olive oil
Salt
Pepper
Dried thyme
Instructions
Preheat oven to 450 degrees. Place a sheet tray in the oven to get it smoking hot.
In a bowl, toss radishes in oil (just a little bit), salt, pepper, and thyme. When tray is hot, toss the radishes on the tray (they will sizzle) and put the tray back in the oven.
Every 3-4 minutes or so, stir the tray so the radishes in the corners move to the middle, and vice-versa. Total cooking time should be 10-15 minutes, depending on the size of the radishes.
When ready, they'll be blistered and pink with just a little bite left to the texture.
Serve as a side dish with a drizzle of fresh olive oil, or fold into a salad.
Serves 4-6.
Preparation time: 5 minutes
Cooking time: 15 minutes
Diet type: Vegetarian
Number of servings (yield): 4-6
Culinary tradition: USA (General)