Print This Post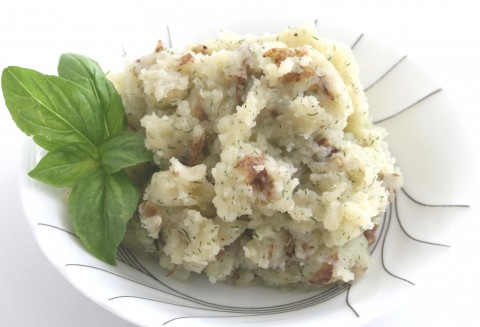 Once in your so-called life, you must cook with a fresh truffle. It is insanely expensive, but so are many things in this world, none of which will taste nearly as good. You'll spend $50 going to a mediocre movie with a pal and getting a box of artery-clogger popcorn and a drink, and I guarantee you will remember your transcendent fresh truffled dinner far, far longer than you will the movie.
I was recently inoculated with truffle fever by Erika, who threw a boffo party called Trufflepalooza, in which she served 13 courses all featuring fresh truffles to 70some guests. I am not nearly the hostess Erika is, so I wasn't even tempted to try to match her party, but that truffling gave me a powerful fungi fever.
I satisfied it in a simple, yet shockingly delicious way, with mashed potatoes that are to-die-for good. It almost doesn't matter what you serve them with; that's how good they are. Try a simple grilled steak, or roasted chicken, and just concentrate on the taters.
Because this is going to be a temple of taters, and you will definitely want to genuflect.
Rustic Truffled Mashed Potatoes with Garlic and Dill
Insanely delicious truffled mashed potatoes are to-die-for good. It almost doesn't matter what you serve them with; that's how good they are!
2 pounds Idaho russet potatoes (~4 big ones, wash but do not peel)
1 heaping teaspoon table salt
4-5 garlic cloves, peeled
4 tablespoons unsalted butter
4 tablespoons truffle oil (yes, I know it is ridiculously expensive!)
1 tablespoon fresh chopped dill (or 1 1/2 teaspoons dried dill weed)
Scant 1/2 teaspoon flaked sea salt (may need more)
Grinding of fresh black pepper
A fresh black truffle, if you can afford it (optional)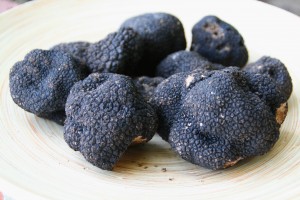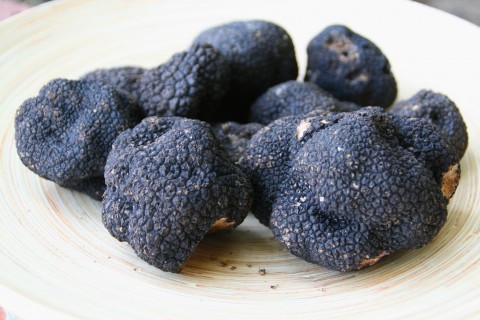 Place potatoes and salt in medium pot. Fill with water so it comes to about 1-1 1/2 inches above potatoes, and bring to a boil. Throw in garlic cloves, partially cover pot and turn heat down so it is just boiling (not furiously boiling). Boil 18-20 minutes. Remove lid and poke a bamboo tester or toothpick into potatoes to make sure they are done. If done, drain water and leave potatoes and garlic in the pot.
To the pot, add butter, oil, dill, salt and pepper, and mash a bit with a potato masher. Put lid back on pot and let potatoes rest about 3-5 minutes, so butter can fully melt into the hot potatoes. Uncover pot and mash with potato masher further, until you have desired consistency. I like to leave them a bit rustic; not too smooth. As you mash, the potato skin will break up charmingly.
Taste and adjust for salt, adding a bit more if you need it. Remember, you can always add more salt, but it is difficult to repair a dish that is too salty, so go slow on the salt.
Put lid on pot and let rest until serving time. At serving time, grate some fresh truffle over each mound of mashed potatoes on plates, and be sure to serve with a dramatic flourish. If you don't have fresh truffle, that's OK. There will still be plenty of truffle flavor infused from the truffle oil. Just make a mental note to save up for a fresh truffle, at least once in your life.
Serves 4-6, depending on appetites.