Print This Post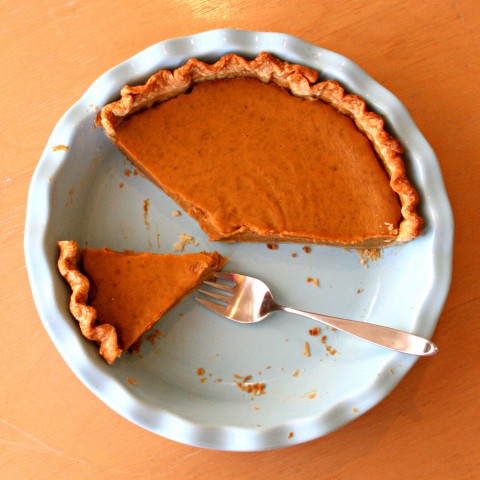 In my life, pumpkin pie is allowed to be a 12-month opportunity. We don't just keep it in Thanksgiving jail; we set it free to frolic anytime we need a comforting dessert.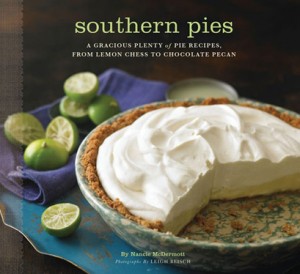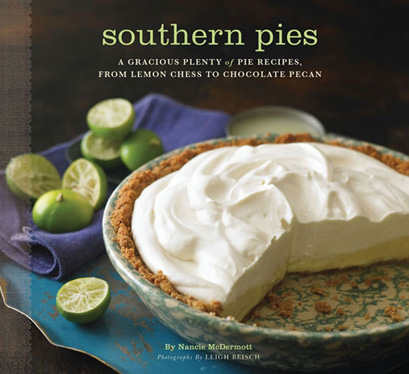 Or breakfast.
One of the pleasures of baking your own pie is having a slice staring at you from the fridge the next morning, beckoning you with sweet goodness.
This comes from the excellent book, "Southern Pies: A Gracious Plenty of Pie Recipes, from Lemon Chess to Chocolate Pecan," by Nancie McDermott, a North Carolina cookbook author who has gathered up 60+ recipes for every type of Southern pie you can imagine.
Any book sporting the phrase, "a gracious plenty" automatically wins the competition for my eyeballs.
I can't wait for summer to make her Strawberry Icebox Pie.
But for now, we're swooning over her expertly spiced pumpkin. My slight modifications, done to use ingredients I had on hand, are noted in blue.
Happy New Year!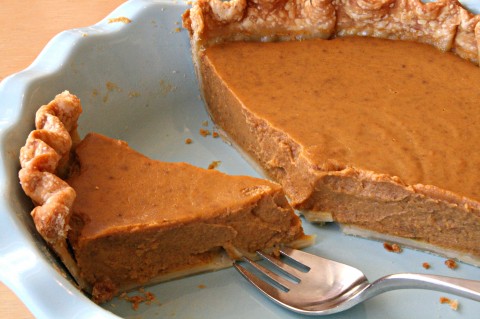 Recipe: Winchester Sun Pumpkin Pie
Summary: A creamy, expertly spiced classic pumpkin pie for Thanksgiving dinner, breakfast the next morning, or any day, really! From "Southern Pies," by Nancie McDermott. This one is a keeper!
Ingredients
Pastry for a 9-inch single-crust pie (store-bought or homemade)
3/4 cup sugar
1 teaspoon ground cinnamon
1/2 teaspoon ground ginger
1/2 teaspoon salt
1/4 teaspoon ground nutmeg
1/4 teaspoon ground cloves
2 cups pumpkin puree

(I used 1 15-ounce can, which is slightly less than 2 cups)

3/4 cup evaporated milk

(I used ½ cup cream + ¼ cup half and half)

2 eggs, beaten well
1/4 cup sorghum, pure cane syrup or honey

(I used Lyle' Golden Syrup)
Instructions
Heat the oven to 450 degrees. Line a 9-inch pie pan with crust and then crimp the edges decoratively.
In a bowl, combine all ingredients and stir everything together well into a thick, smooth filling.
Pour the filling into the pie crust, and place it on the bottom shelf of the oven. Bake for 10 minutes, and then reduce the heat to 325 degrees. Bake until the edges puff up and the center is fairly firm, wiggling only a little when you gently nudge the pan, 30-40 minutes

(my pie took 40 minutes)

. Place the pie on a cooling rack or a folded kitchen towel, and let cool to room temperature.
Quick notes
Recipe adapted from "Southern Pies" by Nancie McDermott; Chronicle Books, 2010
Preparation time: 10 minute(s)
Cooking time: 50 minute(s)
Diet type: Vegetarian
Number of servings (yield): 8
Culinary tradition: USA (Southern)
My rating 5 stars:  ★★★★★ 1 review(s)