Print This Post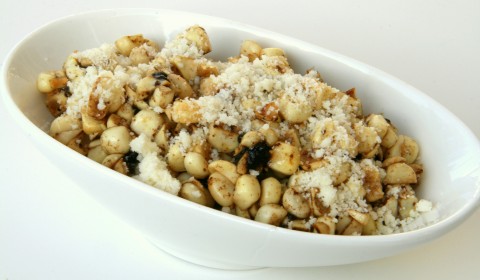 The last of the summer corn is always a bittersweet moment. While we look forward to the new season's produce, the upcoming holidays and a change in weather, we also just plain mourn the corn.
Few things can match a fresh cob of summer corn, barely cooked, the milky juices bursting out with each bite. (Well, hmmm, come to think of it, a fresh summer peach can give it a run for its money.)
So I wanted to give the last summer corn a grand send-off. I had a new ingredient – aged Black Garlic – that I wanted to use, and it turned out to be an amazing combination with corn.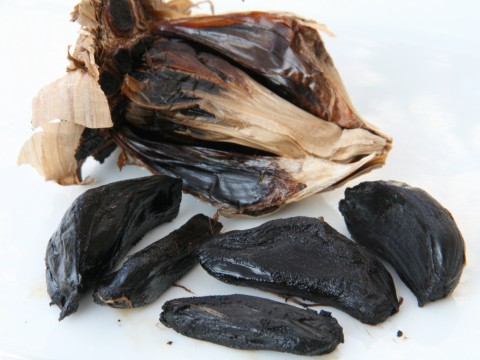 Black garlic is both sweet and savory (how is that possible?), with a rich, molassesy, fruity flavor with a mild garlic foundation sans the usual bite from fresh garlic. It's jet black and soft, like a clove of roasted garlic, and lends a complex flavor that you can't quite pinpoint. If you didn't know what it was, you might think it was rotted or spoiled only because we aren't used to seeing matte black, super soft garlic cloves. Whatever you do, don't throw it away!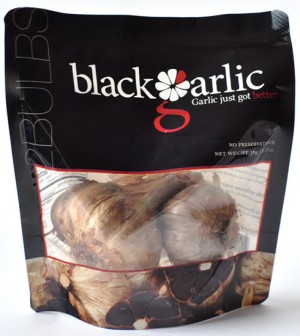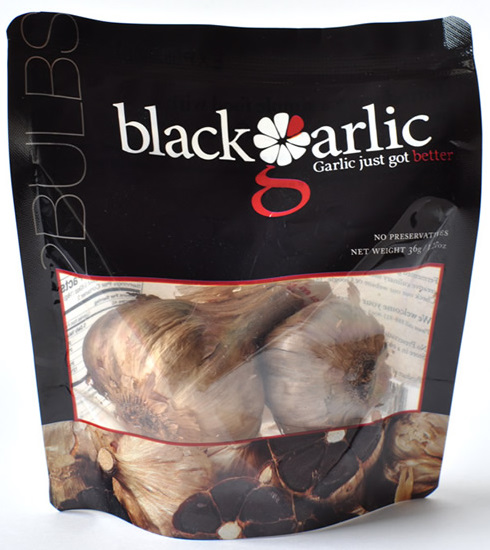 The folks at Frieda's Specialty Produce  distribute it, and it is available in the produce department at grocery stores. Ask for it if you don't see it, because it's new and trendy and so very much worth the wait.
You know the term "umami?" It describes the fifth taste. Sweet, sour, salty, and bitter were long believed to be the four identified tastes. Then along came a Japanese scientist who identified a fifth taste – glutamic acid, which he thankfully renamed "umami," which means "delicious" or "yummy" in Japanese. It's a sort of meaty, savory taste. Soy and Worcestershire sauces have it, and so do mushrooms. Ripe tomatoes and Parmesan cheese have umami, too.
Black Garlic has it in spades!
So I took the corn and married it with Black Garlic and Parmesan for an explosion of umami proportions.
See for yourself. You might want to serve this as a Thanksgiving side dish. I will.
Recipe: Corn with Black Garlic and Parmesan
Summary: The last of the summer corn gets star treatment in a bath of garlicky olive oil and Parmesan. Rich, fruity, savory Black Garlic gives is a complex taste with loads of umami. This is perfect with roast chicken or turkey (Thanksgiving, anyone?).
Ingredients
Instructions
Cut the kernels off the corn cobs and put into a microwave-safe container with a lid. You should have about 3 cups of corn (amount is not strictly important; a little more or less is fine).
In a tiny food processor, whirl the Black Garlic cloves and olive oil until the garlic is very finely chopped. You may also do this step by hand mincing the garlic, or mashing it in a mortar and pestle.
Stir the garlicky oil into the corn and micro cook it on high for 2 1/2 minutes. Remove from oven, sprinkle with Parmesan cheese, stir and micro cook another 1 minute.
Taste to see if it needs salt and add a pinch if it does. (Some Parmesan is saltier than others, so you will need to taste it for yourself.)
Stir and serve.
Serves 4-5.
Preparation time: 15 minute(s)
Cooking time: 4 minute(s)
Number of servings (yield): 4-5
Culinary tradition: USA (Nouveau)
My rating 5 stars:  ★★★★★ 1 review(s)
Other interesting recipes that use Black Garlic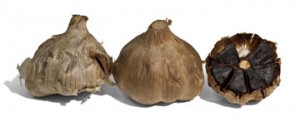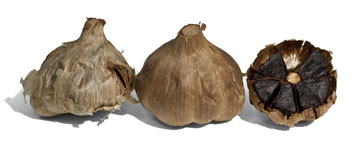 I don't want you to be afraid that you will buy it and never use it!
Beans and Greens with Shallots, Black Garlic and Cranberries
Fried Stuffed Olives with Black Garlic Aioli (I am going to make the aioli for sandwich spread, dip, etc.)
Frieda's Specialty Produce provided me with Black Garlic to sample. I was under no obligation; all opinions are my own.