Print This Post
I'm nutty for nutmeg, an intoxicating, warm spice with a complex flavor that is assertively fall and the holiday season. Nutmeg just owns November and December, doesn't it?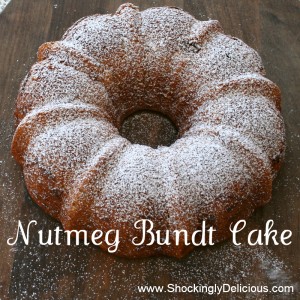 Although I used pre-ground nutmeg in my early baking years, for the past couple of decades I have been buying the actual nutmegs from Penzeys Spices and grinding them myself. I'm not one to shy away from a labor-saving product like a pre-ground spice, but ground nutmeg that has been sitting on the shelf, to me, loses flavor and pungency. If I may urge, there is one spice you should grind yourself: nutmeg.
I have a cute little nutmeg grinder that must be 20 years old, but you could use an electric spice grinder, or a hand-held microplane grater if you like. And if all you have is pre-ground nutmeg, by all means use it. My mantra is "use what you have."
I made this cake as part of the #BundtaMonth November party, hosted by Lora from Cake Duchess and Anuradha from Baker Street. This month our #Bundtamonth party bakers are:
Apple Bundt Cake with an Attitude
by Deb |
Knitstamatic
Blueberry Cinnamon Bundt Cake
by Anuradha |
Baker Street
Cardamom Bundt Cake with Rosewater Glaze
by Paula |
Vintage Kitchen
Cinnamon Crown Bundt Cake
by Renee |
Magnolia Days
Ginger Pear Bundt Cake
by Holly |
A Baker's House
Gingerbread Apple Cake
by Lora |
Cake Duchess
Gram's Fig Spice Bundt Cake with Buttermilk Glaze
by Stacy |
Food Lust People Love
Italian Anise Bundt Cake
by Karen |
In The Kitchen with KP
Maple Pecan Bundt with Maple Glaze
by Jennie |
The Messy Baker Blog
Mexican Chocolate Bundt Cake
by Alice Choi |
Hip Foodie Mom
Moroccan Inspired Olive Oil Bundt Cake with Ras El Hanout
by Laura |
The Spiced Life
Nutmeg Bundt Cake
by Dorothy |
Shockingly Delicious
Peach and Roasted Cinnamon Bundt Cake with Cinnamon Sugar
by Kim |
Cravings Of A Lunatic
Spiced Dark Chocolate with Cinnamon Glaze
by Kate |
Food Babbles
Spicy Chocolate Bourbon Bundt Cake
by Carrie |
Poet In The Pantry
If you would like to join the #BundtaMonth party this month:
Bake your Bundt for November following the theme: Spice.
Post it before Nov. 30, 2012.
Use the #BundtaMonth hashtag in your title. (Ex: title might be #BundtaMonth: Spiced Chocolate Bundt)
Add your entry to the Linky tool below.
Link back to both Lora and Anuradha's announcement posts.
That's it! Fire up your oven and get baking!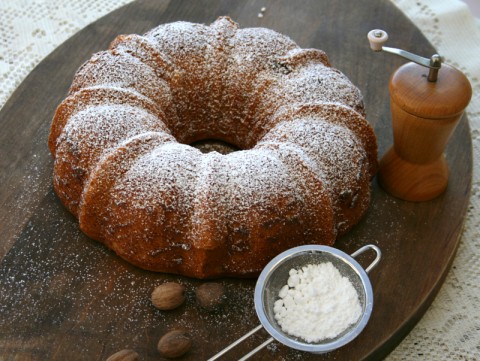 Recipe: Nutmeg Bundt Cake
Summary: Fragrant with the intoxicating smell of fresh nutmeg, this dense, moist cake shouts November, December and Fall. It is a perfectly easy holiday-time dessert. 
Ingredients
3 cups all purpose flour
5 teaspoons freshly ground nutmeg
2 teaspoons baking powder
1 teaspoon ground cinnamon
3/4 teaspoon baking soda
1/2 teaspoon kosher salt
1 ½ sticks (12 tablespoons) unsalted butter, chilled and cut into small cubes

*

2 cups packed light brown sugar
1/2 cup finely chopped walnuts (optional;

I omitted for child request

)
1 1/2 cups sour cream

(I used low-fat)

1 cup milk

(I used 1% milk)

2 eggs, beaten
1 teaspoon vanilla extract
Decoration: Confectioners' sugar, for dusting
Instructions
Heat oven to 350F°. Mist a standard Bundt pan with nonstick spray. Set pan aside.
In the bowl of an electric mixer, whisk together flour, nutmeg, baking powder, cinnamon, baking soda and salt. Add cubed butter to the dry mixture and mix on low until the butter is cut into the flour mixture, and is about the size of peas or even smaller. Mix in the brown sugar and walnuts (if using).
In a 4-cup measuring cup, add sour cream and milk (it should be at the 2 ½ cup mark). Add eggs and vanilla and whisk until well combined.
Add the wet mixture to the flour/butter mixture, and mix gently, being sure to scrape the bottom of the bowl. Batter will be thick. Scrape batter into prepared Bundt pan, smoothing the top.
Bake 45-50 minutes, until a toothpick or cake pick inserted into the center of the cake comes out clean. Remove from oven and allow to cool in pan for 20-30 minutes. Slide a knife around the outside edge just to loosen it, and invert the cake onto a cooling rack. Allow cake to cool completely and place on a serving platter.
Just before cutting to serve, dust top of cake with confectioner's sugar (aka powdered sugar), for pretty! (An easy way to do this is to put the confectioner's sugar in a small strainer and shake the strainer overtop the cake, and the sugar will drift down like snow.)
Serves 12-16.
Quick notes
*You must use the butter chilled. If it is at room temperature, you won't be able to "cut" it into the flour mixture and make crumbs.
Source
Slightly adapted from Saveur issue #134, and they based it on a recipe in "A World of Cake," by Krystina Castella (Storey Publishing, 2010).
Preparation time: 15 minutes
Cooking time: 45 minutes
Diet type: Vegetarian
Number of servings (yield): 12-16

More nutmeg?
Want another great use for freshly-grated nutmeg, to justify buying the whole nutmegs? Try my fave Heirloom Cottage Cheese Pie! It can be dessert, and I have also eaten it for breakfast the next day. Not that there's anything wrong with that.
Bundt cakes I have baked for #Bundtamonth:
Nov. 2012: Nutmeg Bundt Cake
Oct. 2012: Pumpkin Pecan Bundt Cake with Maple Glaze
Sept. 2012: Zucchini Cookie Butter Bundt Cake 
You can see a wonderful gallery of our #Bundtamonth cakes here.