Print This Post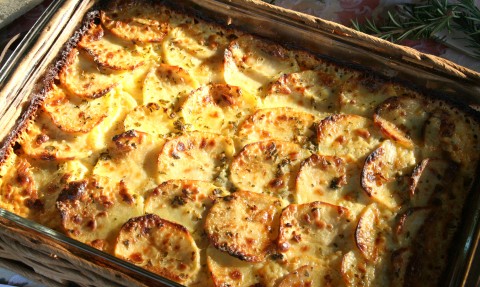 An early Thanksgiving with Los Angeles-based foodie pals allowed me to make one of my favorite, easiest, most guaranteed delicious turkey-day side dishes – Garlic and Herb Potato Gratin.
It's an elegant, richly magnificent potato dish that does the bird proud. Take a look at this groaning table of delectables and see how nicely it fits in. I also made my famous Fresh Cranberry-Ginger Relish, sitting square in the middle of the action below. (See list below for full menu with recipe links.)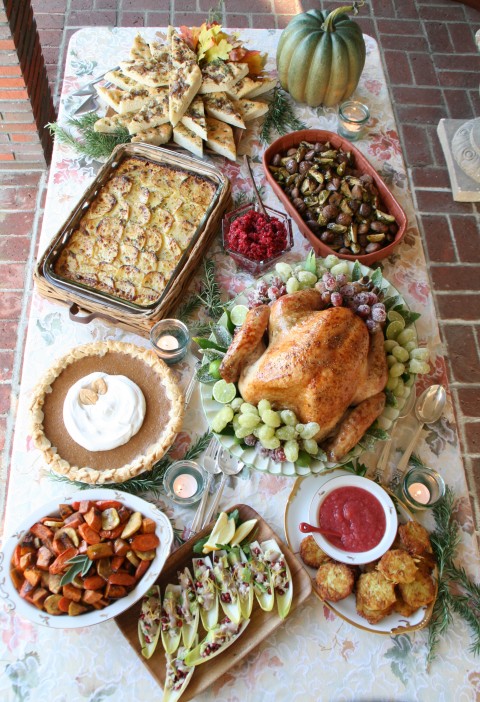 The sauce is a cinch with cream, half and half and a little secret — Boursin cheese, which is usually available in grocery stores in the deli case near the other specialty cheese. If you haven't tried Boursin before, now's your excuse, because it perfectly flavors the potatoes without any single overwhelming note. I have amped it up with a little bit more garlic and herbs, just because.
I'm calling for Idaho Yukon Gold potatoes, because I have come to prefer those with their buttery, moist flesh, but feel free to use whatever potato you favor.
A holiday-worthy gratin isn't going to get much easier than this. I'll save my kitchen time to labor over a fancy dessert. And call me when you have served the last portion, because I'll be right over to stick my head in the pan and lick it clean.
Yes, it's that good!
Recipe: Garlic and Herb Potato Gratin
Summary: A rich, comforting, elegant yet easy Garlic and Herb Potato Gratin is a perfect Thanksgiving side dish, or try it for Christmas with prime rib, or at Easter alongside ham.
Ingredients
1 cup heavy whipping cream
1 cup half and half (or whipping cream)
1 (5.2-ounce) package Boursin cheese with garlic and herbs
1 1/4 teaspoon kosher salt
2 tablespoons finely minced Italian flat parsley (about 1/3 cup leaves measured before mincing)
2 fat garlic cloves, finely minced
3 pounds organic Idaho Yukon Gold potatoes, peeled, thinly sliced (about 1/8-inch-thick slices)
Freshly ground pepper
Garnish: Fresh chives, snipped (optional)
Instructions
Heat oven to 400 degrees. Butter (or mist with nonstick spray) a 9- by 13-inch baking dish with 2-inch-high sides and set dish aside.
In a heavy medium-sized saucepan, heat cream, half and half, Boursin cheese and salt over low heat until cheese melts and mixture is smooth, stirring frequently. Sauce will thicken slightly as it heats. (Keep an eye on this so it doesn't boil over, which will make a huge mess on your stove! Trust me on this.) When sauce is melted and mixed, remove pan from heat and stir in the parsley and garlic.
Arrange half of sliced potatoes in prepared baking dish. Generously season potatoes with pepper. Ladle half of sauce mixture over. Arrange remaining potato slices atop potatoes in dish, creating a pretty overlapping shell pattern if you like. Season again with a grinding of fresh pepper. Ladle remaining sauce mixture over potatoes. Bake until top is golden brown and potatoes are tender when pierced with knife, about 55-60 minutes.
Remove from oven, garnish with snipped chives, and serve, or place hot dish on a buffet table and allow diners to serve themselves.
Serves 8-10.
Quick notes
Adults like the extra added chives; children will be grateful if you omit them so they don't have to pick off the little green things. Suit yourself!
Preparation time: 20 minute(s)
Cooking time: 1 hour(s)
Number of servings (yield): 8-10
Culinary tradition: USA (Traditional)
My rating 5 stars:  ★★★★★ 1 review(s)
Leftovers?: There won't be any, but IF there are, you can combine with broth to make a nice little soup! Or how about chop it up a little and put in a frittata, or fry an egg and gently place it atop a pile of these potatoes. Oh yeah….
See anything else on the Thanksgiving table you might like?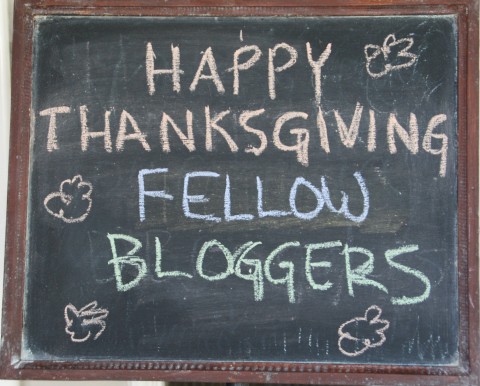 Here are the recipes for our whole feast, prepared by some of Los Angeles' finest food bloggers. All of their sites are worth a visit. Tell 'em I said hi!