Print This Post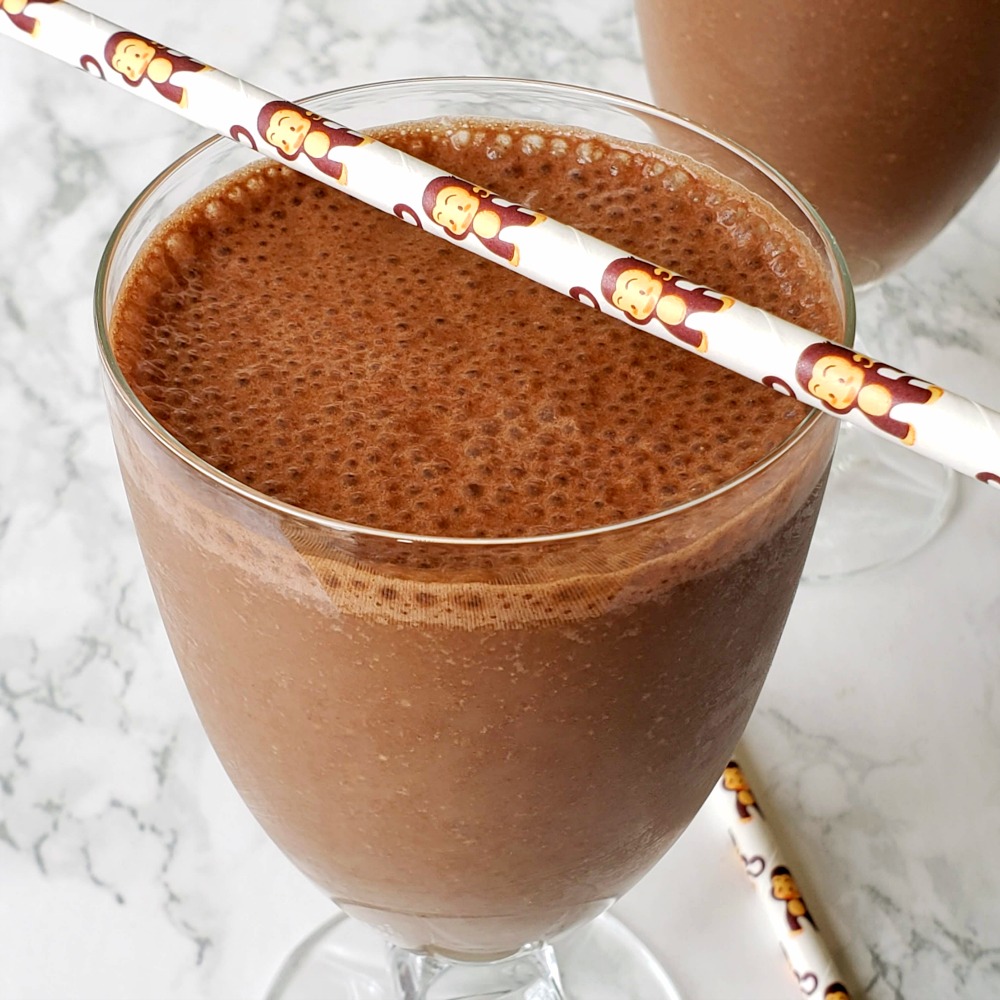 Coffee Banana Breakfast Smoothie has everything you would eat for breakfast anyway — coffee, banana, oats, a bit of milk, ground flax, all in one delicious beverage!
This post is sponsored in conjunction with #SpringSweetsWeek. I received product samples from sponsor companies to help in the creation of the #SpringSweetsWeek recipes. All opinions are mine alone.
If you think about what you have for breakfast many mornings — a cup of coffee, a banana, maybe some oatmeal or other cereal with a little milk on it, you'll realize you are halfway home to a Coffee Banana Breakfast Smoothie. Combine all of your usual breakfast foods and whirl them in a blender, and you're drinking your breakfast, in the best way.
How to make a Coffee Banana Breakfast Smoothie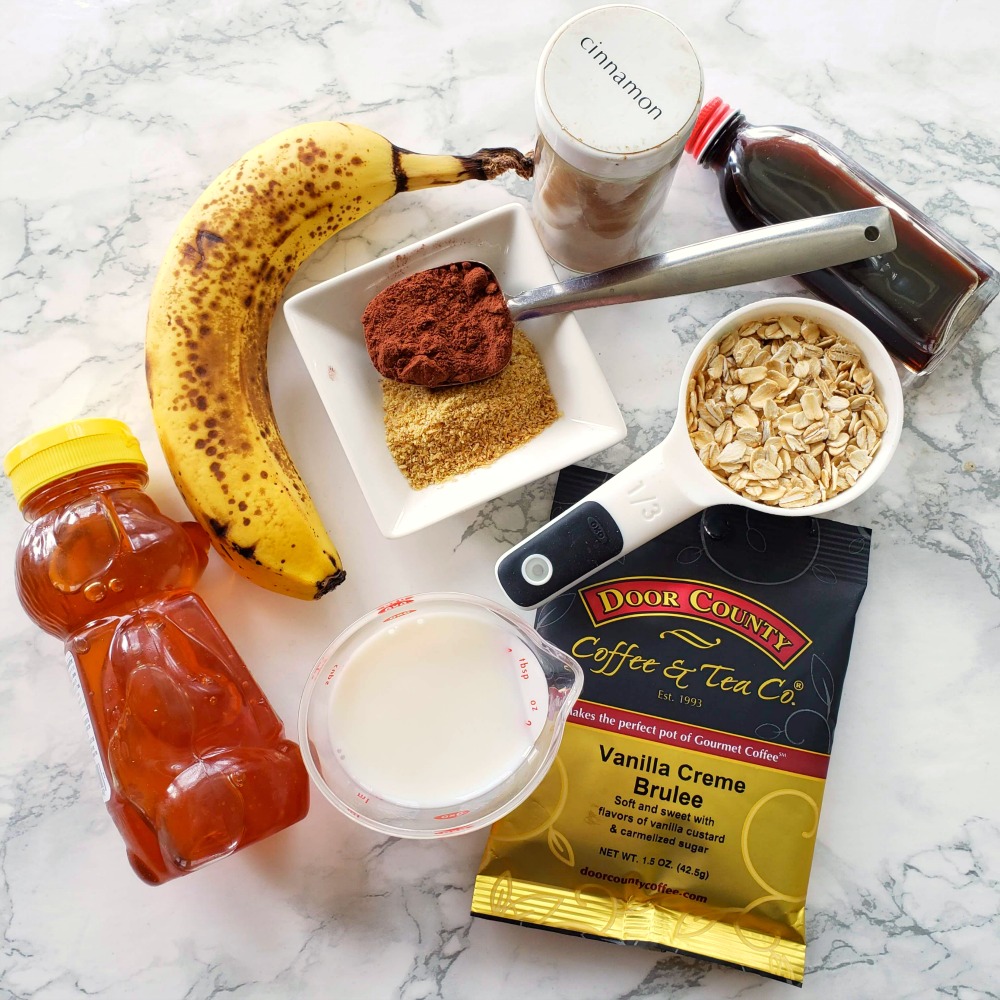 1. Assemble your ingredients.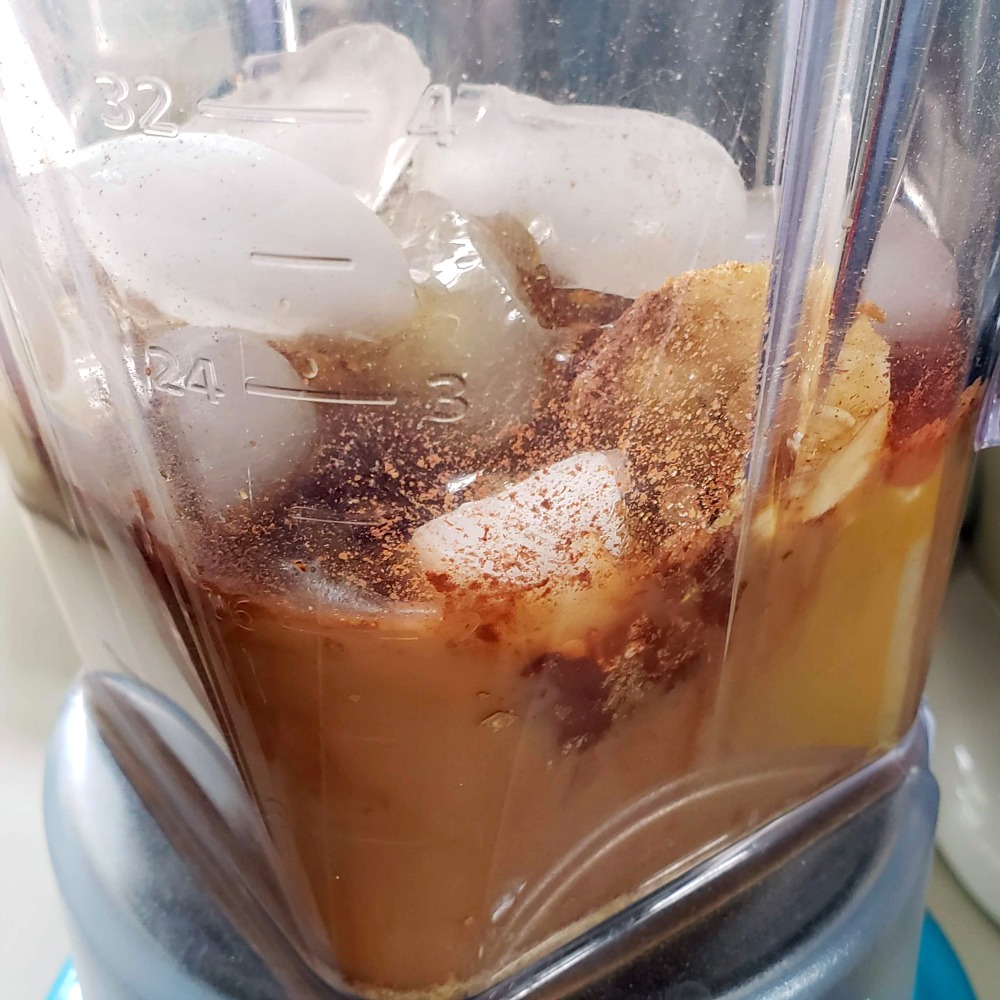 2. Whirl everything in the blender. The oats will pulverize and give it body.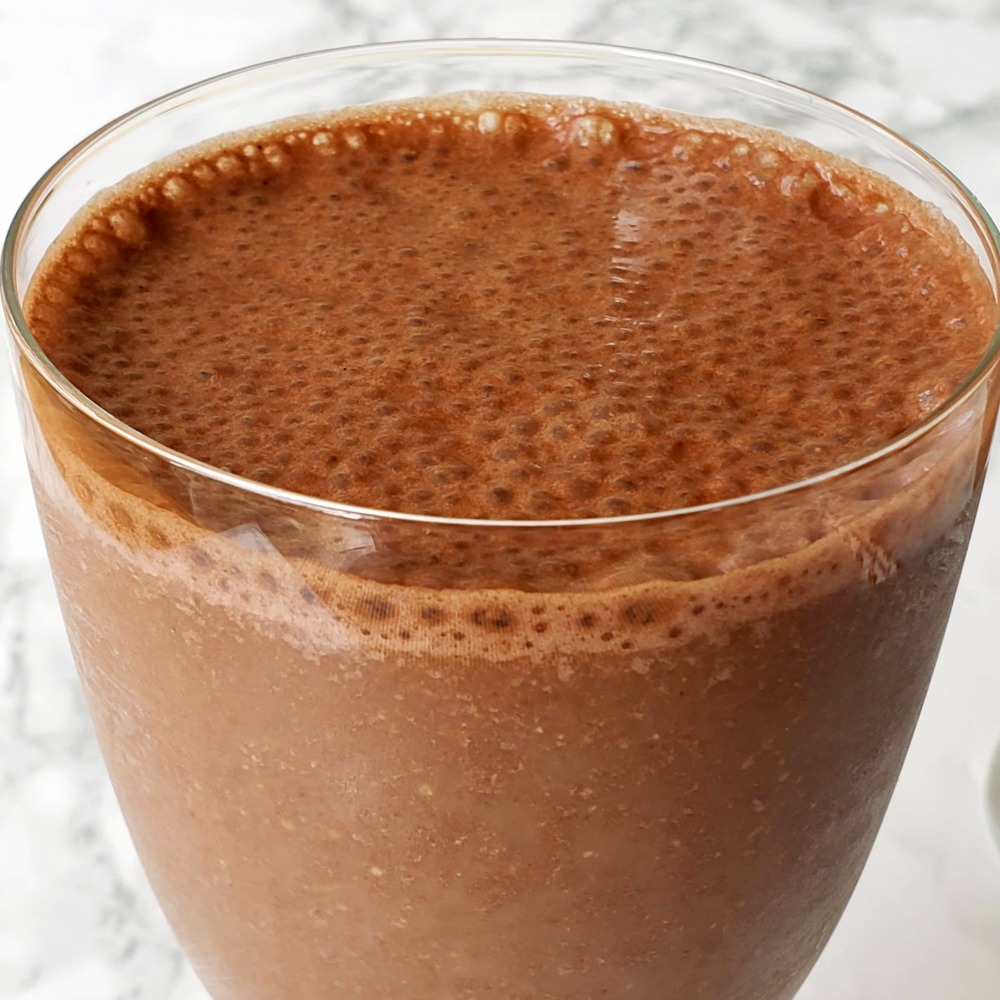 3. Pour in a glass and enjoy!
Questions and Answers about the Coffee Banana Breakfast Smoothie
1. Do banana and coffee really go together?
Yes they do! In truth, though, the banana is not an overwhelming favor here. It adds body to the beverage, but not a strong banana flavor.
2. Can I use instant coffee if I don't have any brewed coffee?
Of course you can! Simply add 1 cup of icy cold water, and your instant coffee to the blender.
3. Can I add other things to this smoothie?
You could add a tablespoon or so of peanut or another nut or seed butter, a scoop of protein powder, or a handful of cereal flakes if you prefer those over oats.
4. Can I freeze some of the components?
Yes! You would freeze the coffee in an ice cube tray. You could slice and freeze the banana. I found, though, that if I added both frozen coffee cubes AND frozen banana to the blender along with the other ingredients, it had trouble blending, and would become stuck. I'd have to add more liquid to get it whirling. Also, I rarely remember to make coffee cubes, so this is why I call for brewed coffee and ice cubes, which are always on hand.
5. Do you have other breakfast smoothie recipes?
Yes!
Spinach Protein Smoothie
Happy Morning Smoothie (Pineapple, blood orange)
Simple Green Smoothie
Watermelon Breakfast Smoothie
Orange Things Fruit & Veggie Smoothie
Tropical Green Smoothie
Red Things Smoothie
College Tour Detox Green Smoothie
Red Fruit and Vegetable Breakfast Smoothie
Vegan Immortality Smoothie
Sunday Sleepover Smoothies
Hawaiian Smoothie
Mango Orange Cream Power Smoothie
Who's ready for breakfast?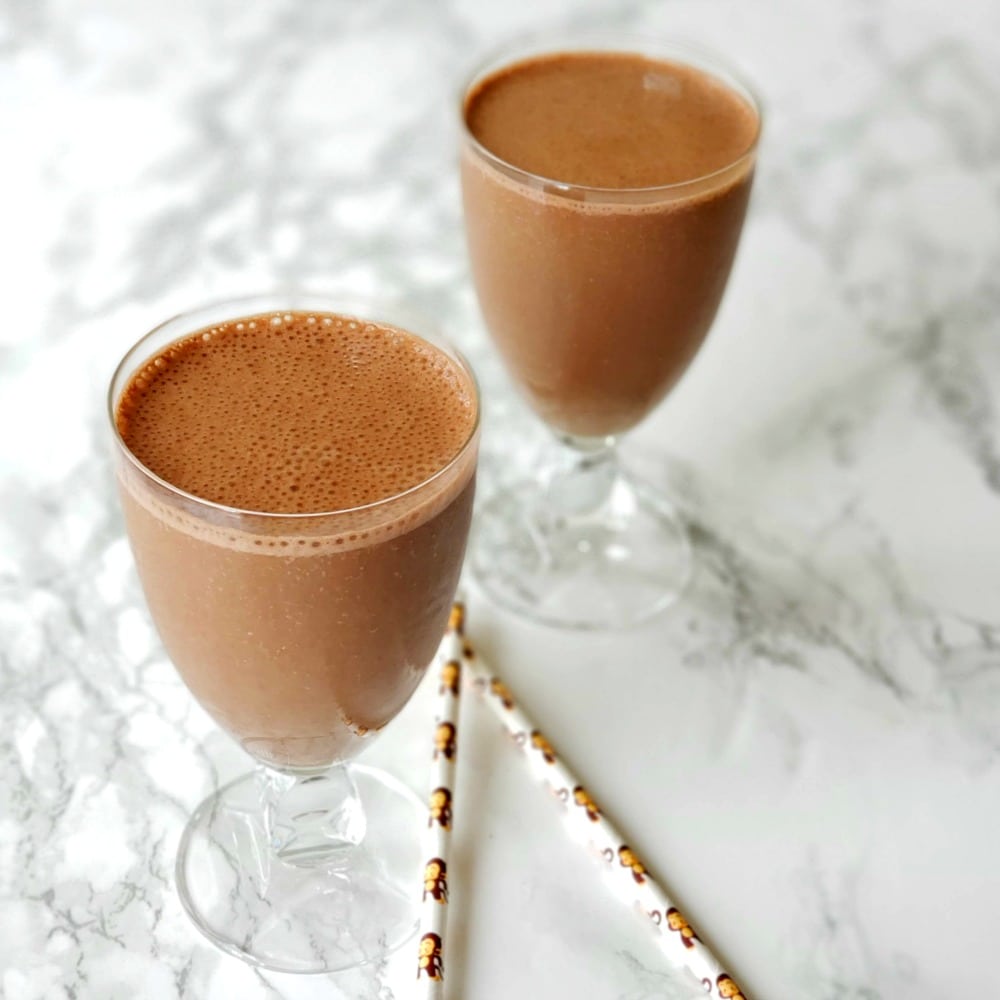 My Coffee Banana Breakfast Smoothie recipe joins others today as part of #SpringSweetsWeek 2020, in which 27 bloggers from around the country have come together to share 100 sweet recipes perfect for spring, and coincidentally, well suited to get us through these trying days.
Coffee Banana Breakfast Smoothie
Coffee Banana Breakfast Smoothie has everything you would eat for breakfast anyway -- coffee, banana, oats, a bit of milk, ground flax, in a delicious beverage!
Ingredients
1 cup brewed coffee, cooled or cold (I used Door County Vanilla Creme Brulee flavored coffee)
1 very ripe banana, peeled
1/4 cup oats (can use regular or instant oats)
1 tablespoon unsweetened cocoa powder (not hot chocolate mix)
1 tablespoon ground flax (optional if you don't have it, but it adds nutrition)
A sprinkle of cinnamon
1/4 cup milk (can use regular, soy or any non-dairy milk you like)
1 teaspoon honey (or maple syrup or date syrup)
1/2 teaspoon vanilla extract
10 ice cubes
Directions
Add all ingredients to a blender, and whirl on high speed until well combined and smooth, about 1 minute.
Taste for sweetness and add another squirt of honey or sweetener if you prefer this sweeter. It is not supposedly to be dessert-like and overly sweet.
Makes 2 servings.
Notes
Recipe source: Dorothy Reinhold | Shockingly Delicious
Substitutions for the honey: use 2-3 pitted Medjool dates, 1-2 teaspoons date syrup, or agave, or simple syrup. Substitution for flax: if you ran out, simply omit, or you could whirl in 1-2 teaspoons of chia seeds if you have them.
Banana: You can use a greenish banana if that's all you have, but the more speckled, the blacker the banana, the sweeter it will be.
Oats: You may use instant or regular oats, but don't use steel-cut oats.
Milk: Use whatever milk or non-dairy milk you like...regular, fat-free, almond milk, coconut milk, etc.
https://www.shockinglydelicious.com/coffee-banana-breakfast-smoothie/
Copyright Dorothy Reinhold | ShockinglyDelicious.com. All rights reserved.

Pin the image below to your Pinterest board to save this recipe!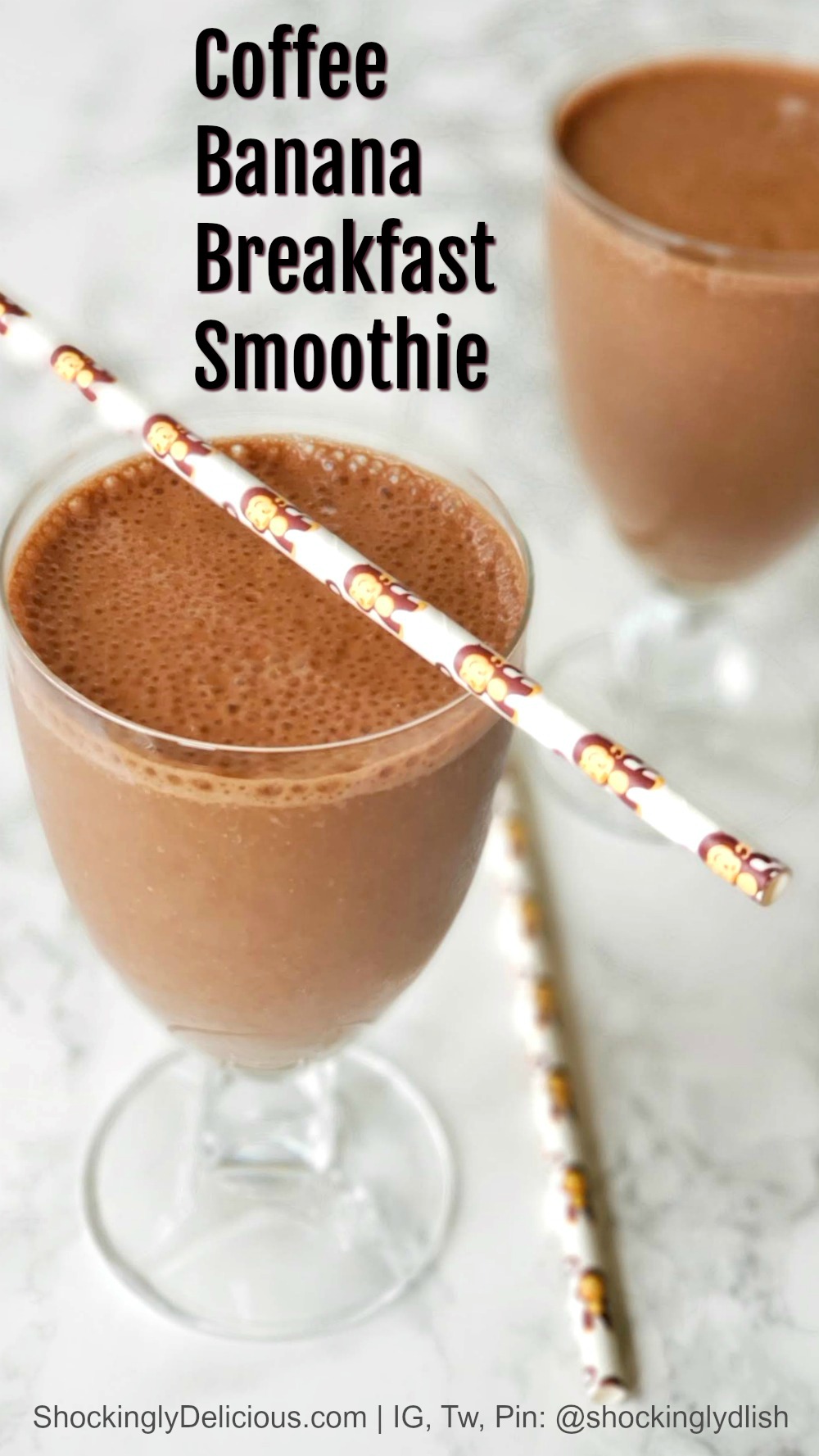 Sponsor product used in this recipe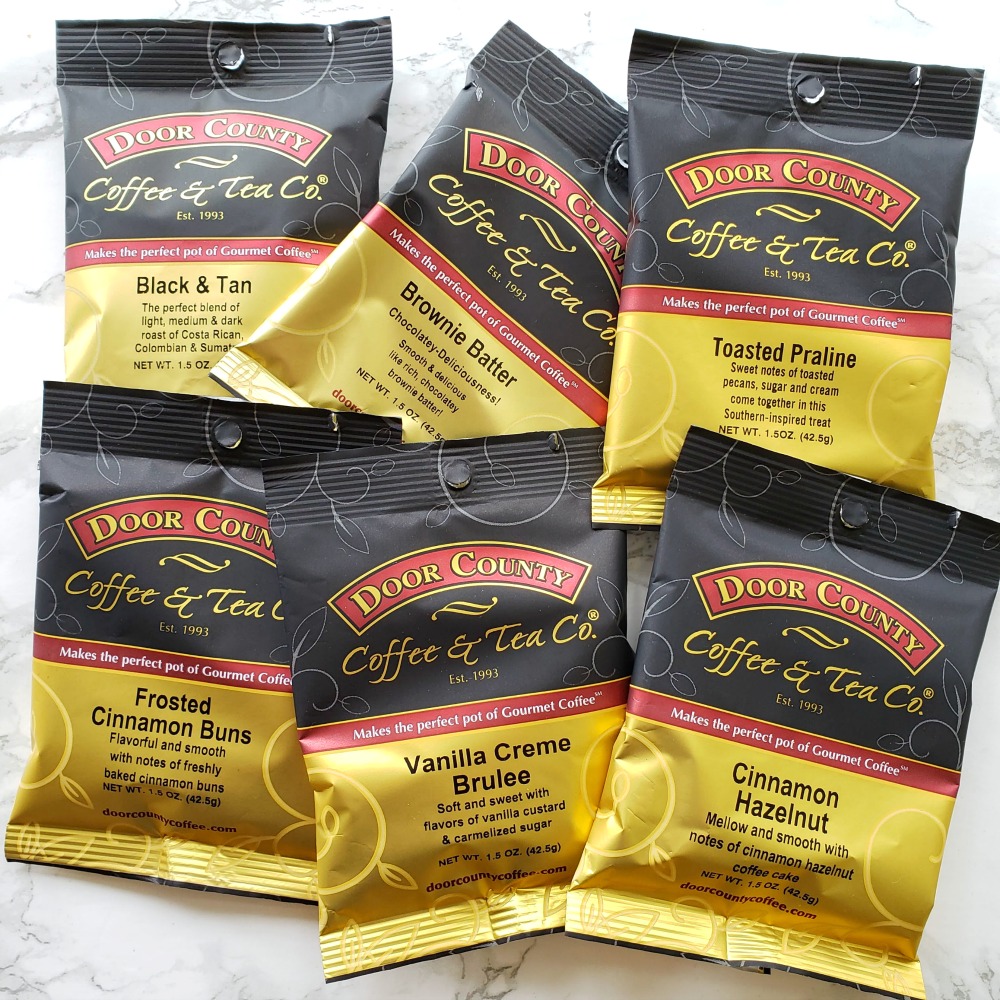 1. Door County Coffee: I made a pot of Door County Vanilla Creme Brulee flavored coffee to use in this smoothie, and my husband and I enjoyed drinking the rest. They have several flavors that are naturals to use in this smoothie — Brownie Batter, Toasted Praline, Frosted Cinnamon Buns, Cinnamon Hazelnut. Any of them will augment and underscore the flavors in here, and you'll enjoy the leftovers either hot or in a chilled coffee drink later. They have sampler packs of flavored coffees, which is a fun way to experiment to see which ones are your favorites. Anyone up for Churro, Orange Creme, S'mores or 90+ other flavors? Door County Coffee & Tea Co. is a family-owned business in Wisconsin that roasts coffee in small batches to their exact specs. They use Specialty Class 1 Arabica beans, which are the top 2% of what is grown in the world.
My Spring Sweets Week recipes:
Try them all!
1. Orange Posset
2. Greek Yogurt Tangerine Cake
3. Coffee Banana Breakfast Smoothie
4. Cinnamon Swirl Quick Bread
5. Coconut Pecan Dream Bars
Thank you #SpringSweetsWeek sponsors: Dixie Crystals, Millican Pecan, Door County Coffee & Tea Co., Anolon, Fresh April Sprinkles, Deiss Kitchenware, and Adams Extracts for providing the prizes free of charge. These companies also provided the bloggers with samples and product to use for #SpringSweetsWeek recipes. All opinions are my own.
Thanks for visiting…are you hungry for more? Follow Shockingly Delicious on…
FACEBOOK | PINTEREST | INSTAGRAM | TWITTER
…for all the latest recipes, ideas and updates!
This post may contain affiliate/referral links. It is a way for this site to earn advertising fees (at no cost to you) by advertising or linking to certain products and/or services that I approve and prefer.