Print This Post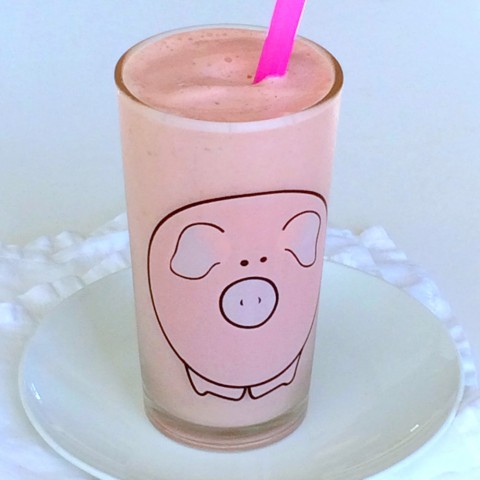 Take advantage of blood oranges in season now to make a naturally pink smoothie. Frozen pineapple and some vanilla bean yogurt make it fun!
Teenagers need lots of smoothies, or, left to their own devices, they will reach for their wallets and hit the soda fridge at the convenience store. Because we are smarter than to keep soda at home anymore, but we cannot outsmart a teenager with a debit card and a newly acquired drivers license.
So this smoothie was born not only from necessity, but because I spied a perfectly in-season blood orange in the fruit bowl.
All you need is some frozen pineapple chunks, a blood orange, vanilla bean yogurt, a splash of coconut water and some ice. And a blender. Always, a blender.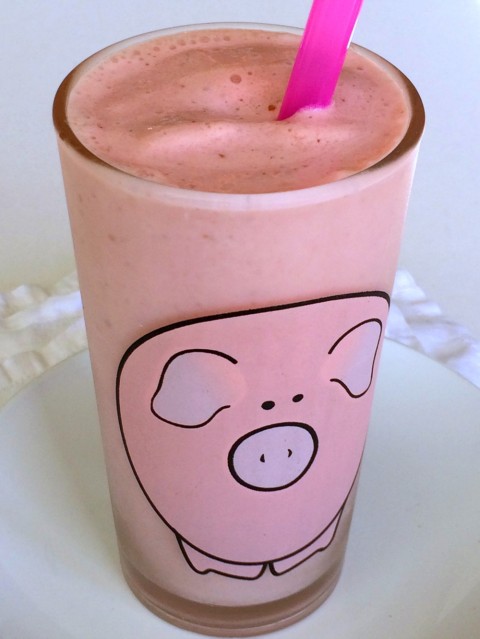 It would make a very sweet Valentine's Day breakfast, or a lovely beverage on another special day.
Let's make it, shall we?
Happy Morning Smoothie (Pineapple Blood Orange Smoothie)
Blood orange adds a gorgeous natural pink color and pineapple and vanilla bean yogurt add sweetness and spark to this Happy Morning Smoothie.
Ingredients
1- 1 1/2 cups frozen pineapple chunks
1 4- to 5-ounce vanilla bean yogurt
1 blood orange, peeled
Half a ripe banana, optional
Splash of coconut water
A glass of ice cubes
Pitted medjool date (optional, if needed for sweetness)
Directions
Add the pineapple, yogurt, blood orange, half banana (if you are using), coconut water and a glass of ice cubes to the blender. I usually fill the glass I want to serve the smoothie in with cubes about 3/4 of the way, and add that.
Whirl until smoothie-ized, a minute or so. Taste and if it is not sweet enough for you, add a pitted date or 2 and whirl on high speed to pulverize it into the smoothie. You may not need any dates.
Serves 1 teenager, or 2 people with normal appetities.
Notes
Recipe source: Dorothy Reinhold | Shockingly Delicious
Note about the banana: I list it as optional because it is great with or without it. If you have an absolutely dead-ripe banana, use it, If all you have is a greenish bananas, it's fine not to use it. Also, since nearly every smoothie has a banana in it, I wanted you to be confident that this one will be fine without it if you choose.
https://www.shockinglydelicious.com/pineapple-blood-orange-smoothie/
Copyright Dorothy Reinhold | ShockinglyDelicious.com. All rights reserved.
Other Shockingly Delicious smoothies
Thanks for visiting…are you hungry for more? Follow Shockingly Delicious on…
FACEBOOK | PINTEREST | INSTAGRAM | TWITTER
…for all the latest recipes, ideas and updates!
This post may contain affiliate/referral links. It is a way for this site to earn advertising fees (at no cost to you) by advertising or linking to certain products and/or services.
Disclosure: Melissa's Produce sent the blood oranges for recipe development.