Print This Post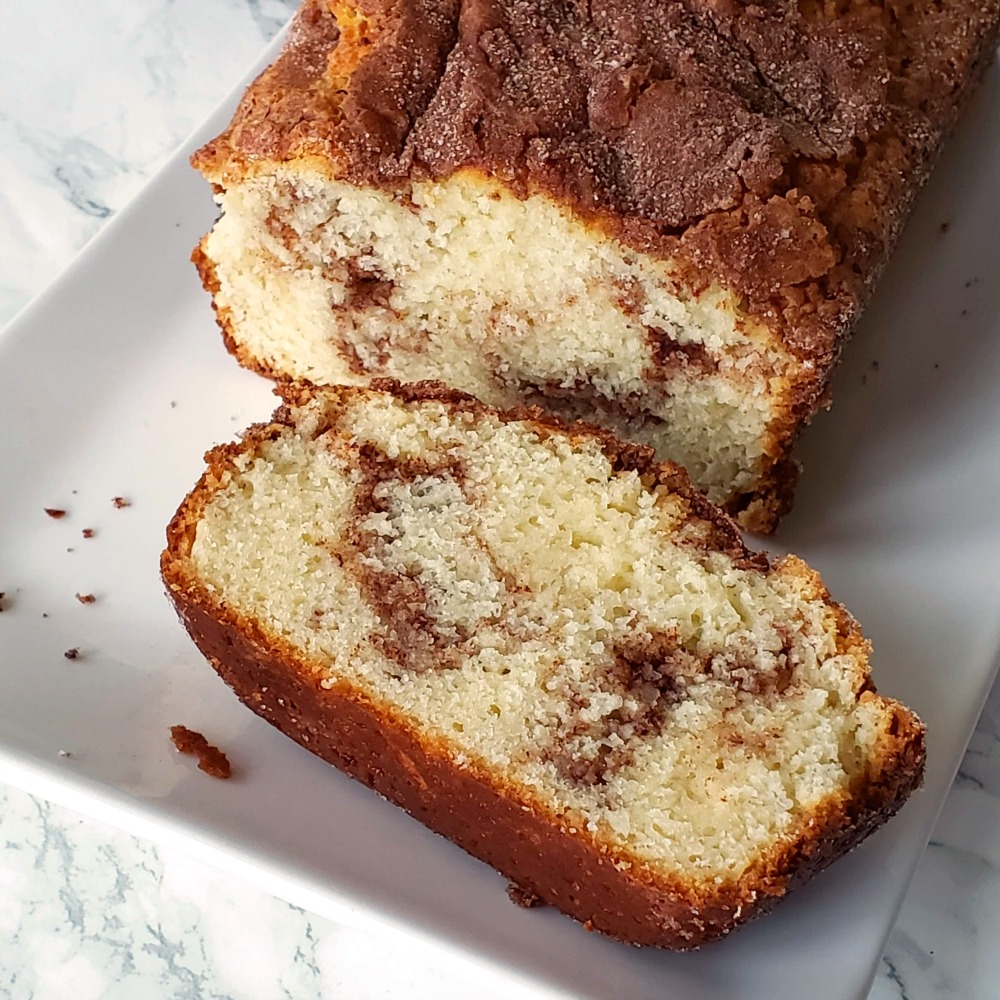 Cinnamon Swirl Quick Bread lives up to its name in flavor, beauty and speed. It's a deeply cinnamony, satisfyingly spiced bread that makes its way with ease from the breakfast table to the afternoon snack plate.

If you or your family love the occasional cinnamon roll or donut hole as a breakfast treat, you'll absolutely love this Cinnamon Swirl Quick Bread.
We devoured our first loaf plain for breakfast and a few snacks here and there. The second loaf went to a neighbor as a welcome-to-the-neighborhood gift. The third loaf stayed home and was slathered with low-fat cream cheese for breakfast, sneaked its way into some lunch sacks, and even appeared with fruit for dessert.
I'll note that this is a from-scratch pantry bread, as well, which is important these days. You'll likely have every single ingredient on hand already.
How to make Cinnamon Swirl Quick Bread
1. Assemble your ingredients and tools. This is always a good idea, no matter what you are making.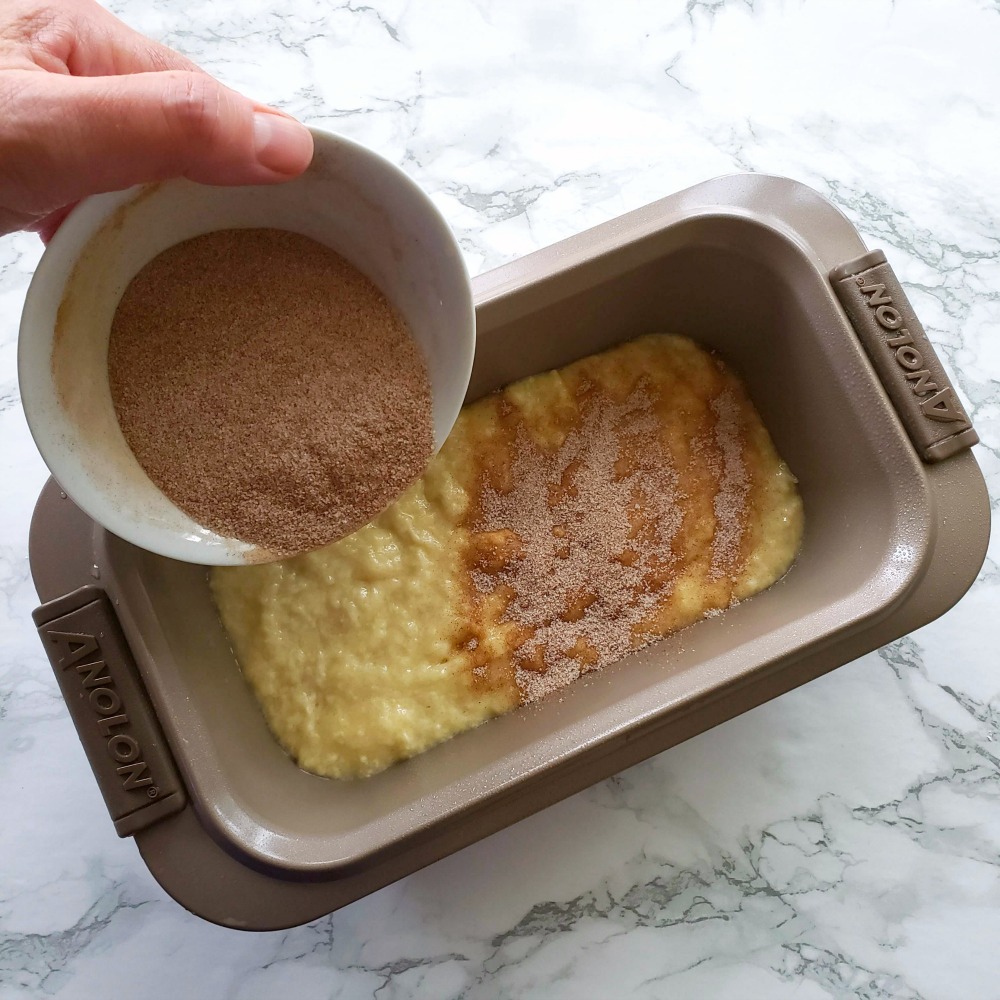 2. Mix up the batter and pour a layer into the pan. Mix up the cinnamon sugar mixture and pour a layer over the batter. Repeat.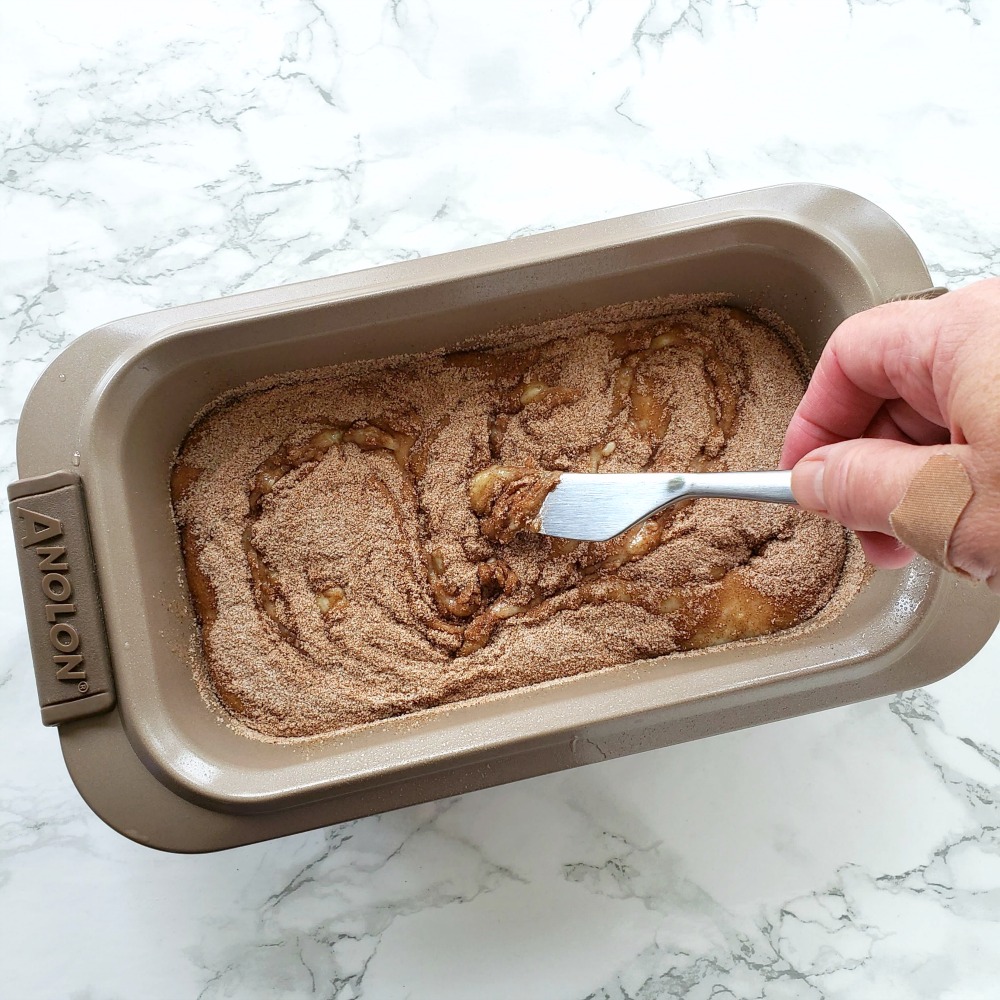 3. Use a butter knife to swirl the cinnamon sugar for a marbled effect inside the bread.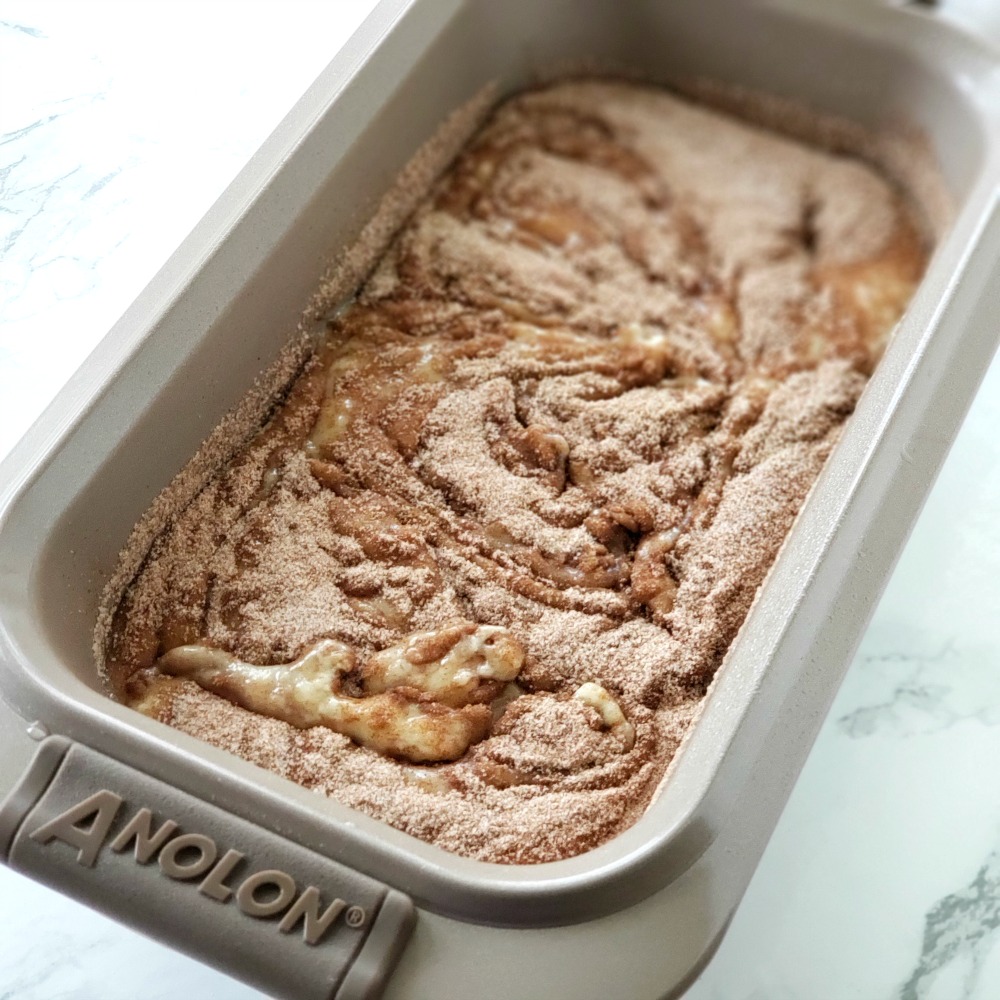 4. Swirled and ready for the oven!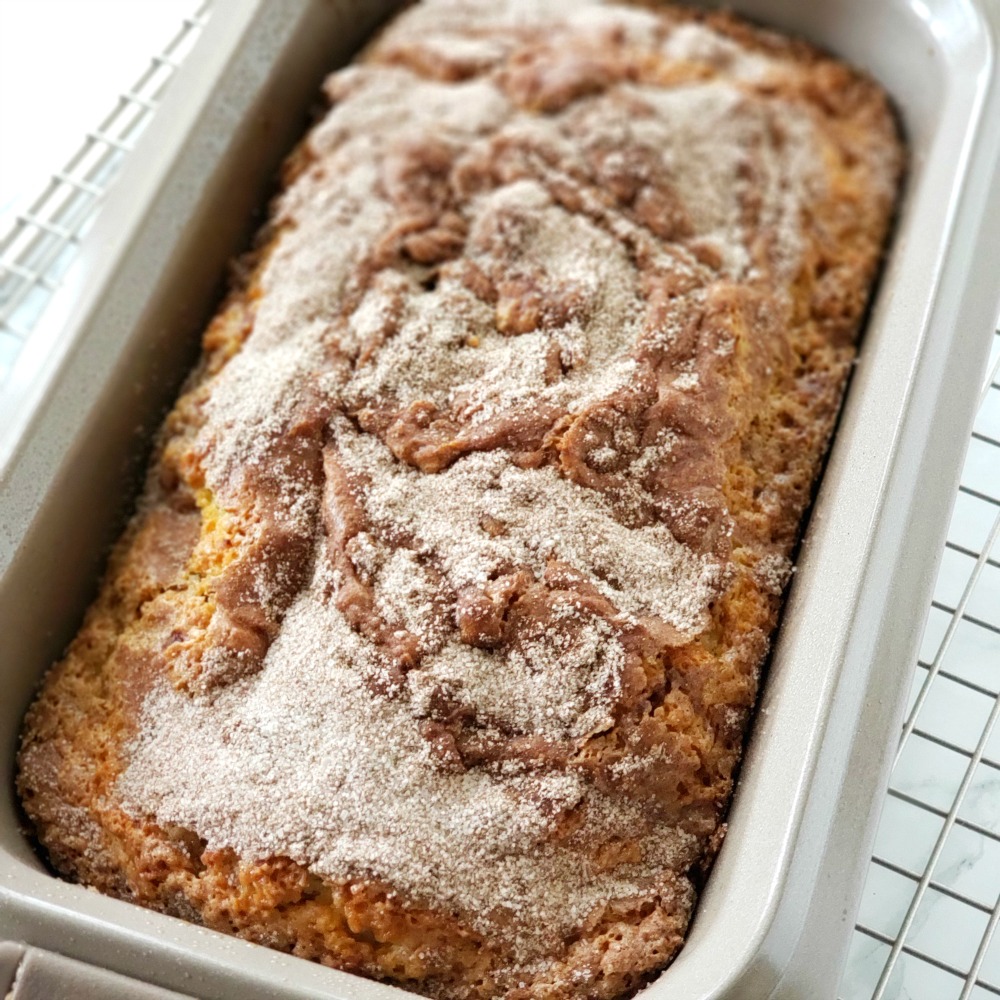 5. Baked and cooling on a rack.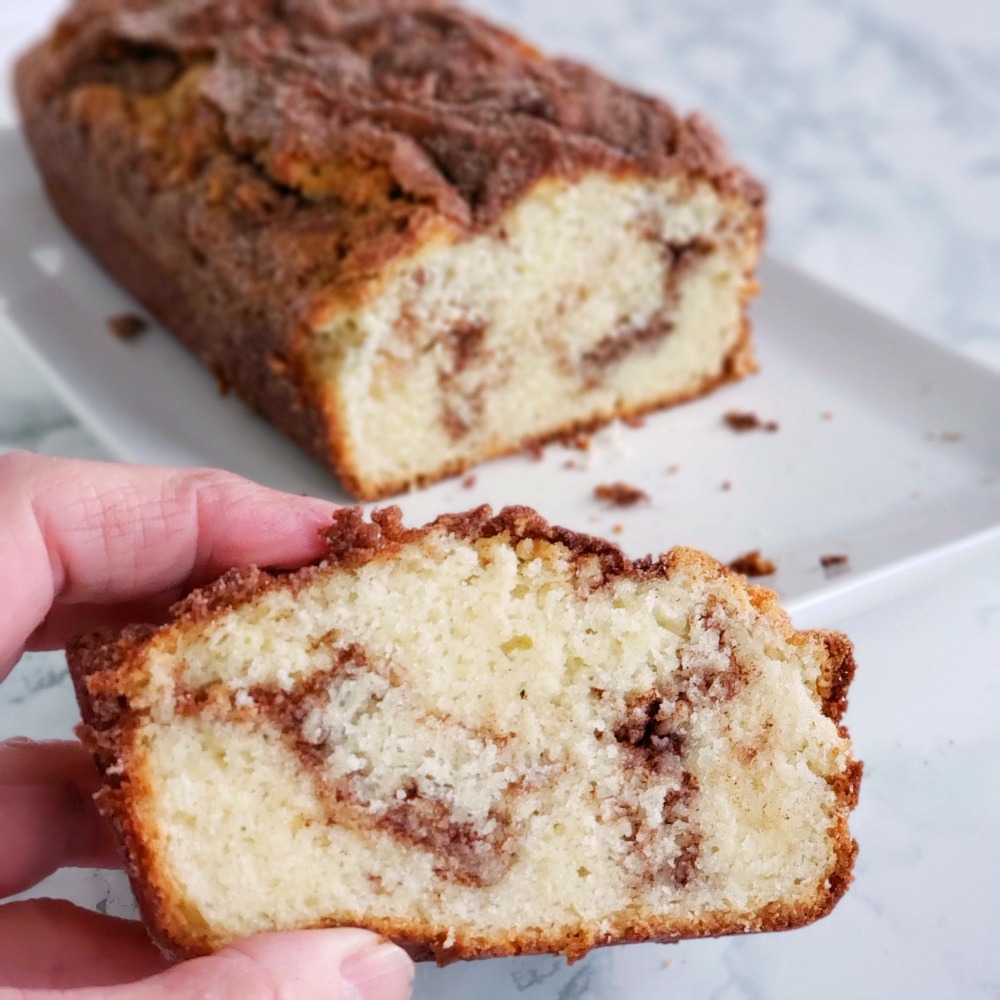 6. For best slicing, wait a day to cut into it. It will be hard to wait. I forgive you if you don't.
Questions and Answers about the Cinnamon Swirl Quick Bread
1. Does it matter what sort of cinnamon I use?
I encourage you to use Saigon or Vietnamese Cinnamon, because I find it the most pungent, strongest, richest and sweetest, but I always say, "Use what you have, or what you prefer." If you know you prefer Korintje cinnamon (more mellow) or Ceylon cinnamon (less strong, no bite), go for it. And if you find a jar or metal container of cinnamon in the store that is just labeled "ground cinnamon," you'll be absolutely fine. This is not a bread that puts on airs.
2. What kind of milk can I use?
I usually bake with low-fat cow's milk because that's what I have on hand, but feel free to use full-fat milk, or any of the unsweetened non-dairy milks you prefer.
3. Why do you call for olive oil?
I really like the way light flavored olive oil bakes up in coffee cakes, cakes and quick breads. You won't taste any strong olive flavor, but you'll get the health benefits of olive oil. You could use canola, vegetable or grapeseed oil if you prefer — any flavorless oil.
4. What does it mean to marble it?
You want to hold a butter knife vertically, insert it into the batter (that has the cinnamon sugar mixture in the middle and on top), and swirl a couple of times. This will create a marbled effect so the inside layer looks pretty, instead of dividing the bread exactly in half with a layer of sugar.
5. What does it mean to be called a Quick Bread?
A quick bread is bread that has no yeast, but uses other leavening agents (such as baking soda, baking powder or eggs) to make it rise. And because it has no yeast, it mixes up into a batter like a cake batter, rather than a stiffer dough like a yeast dough. It can be mixed and immediately baked, whereas a yeast bread needs to be mixed, left alone to rise, deflated, left alone again to rise again and then baked. So we can rename this a SUPER quick bread!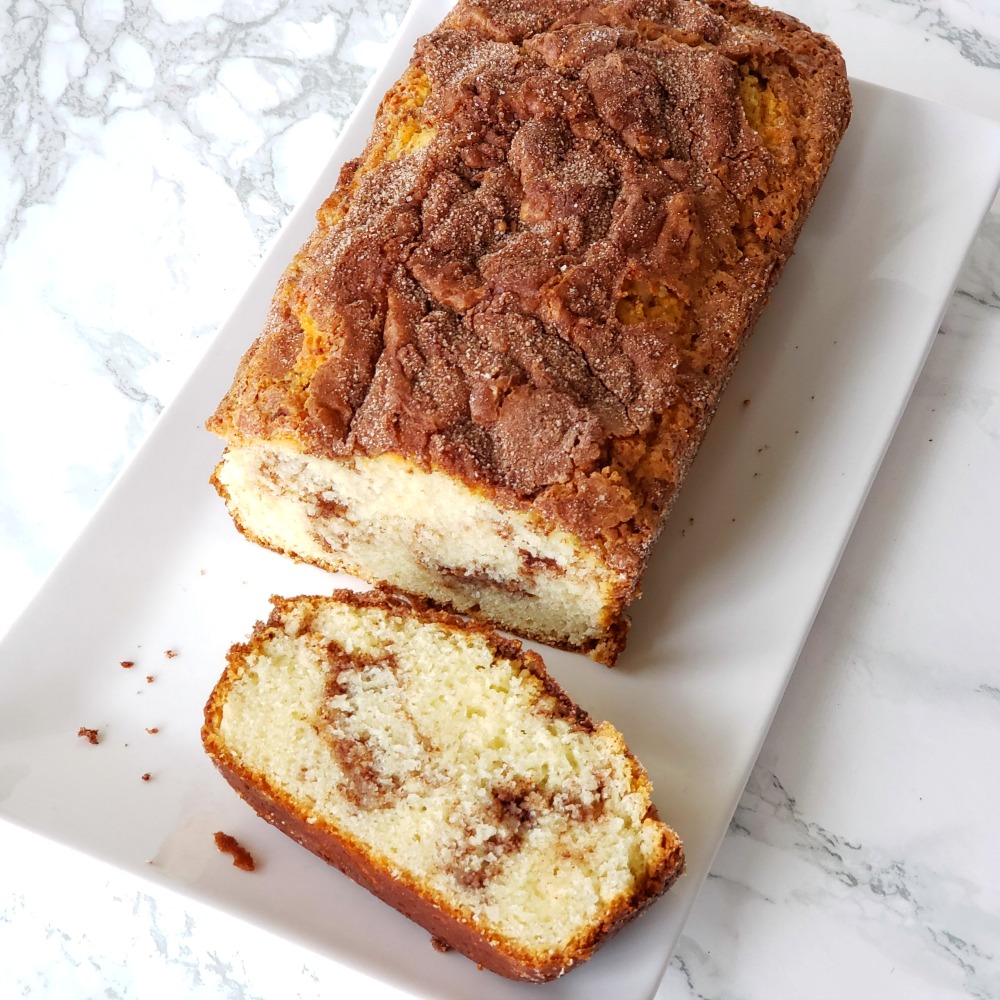 Cinnamon Swirl Quick Bread
Cinnamon Swirl Quick Bread lives up to its name in flavor, beauty and speed. It's a deeply cinnamony, satisfyingly spiced bread that makes its way with ease from the breakfast table to the afternoon snack plate.
Ingredients
1 1/3 cups granulated sugar (divided use)
1 tablespoon ground cinnamon
2 cups all-purpose flour
2 teaspoons baking powder
1/2 teaspoon salt
1 cup milk (low-fat is fine; use whatever regular or non-dairy milk you prefer)
1/3 cup light flavored olive oil or vegetable oil
1 egg
Directions
Heat oven to 350F degrees. Grease and flour a 9- by -5-inch loaf pan and set aside.
Mix 1/3 cup sugar and the cinnamon in a small bowl; set aside.
In a large mixing bowl, combine flour, baking powder, salt and remaining 1 cup sugar. In a large measuring cup, combine milk, oil and egg, beating with a fork to combine. Add milk mixture to flour mixture, stirring by hand just until moistened; do not over-stir or bread will be tough.
Pour half the batter into the prepared pan. Sprinkle with half the cinnamon sugar mixture. (Yes, it will seem like a lot, but do it.) Repeat with remaining batter and sprinkle with the rest of the cinnamon sugar mixture (you will use it all). Draw the tip of a knife gently through batter a couple of times to marble it. (If you run the knife through too many times, you risk stirring it all together instead of getting a marbling effect, so do this step gently.)
Bake for 50 minutes or until a toothpick stuck in the center comes out clean. Cool in pan for 15-20 minutes. Loosen edges, remove from pan and place on a wire rack. Cool completely. Wrap and store bread overnight before slicing, if you can.
Slice gently. Makes 12 slices.
Notes
Recipe source: Dorothy Reinhold | Shockingly Delicious
Slicing: You may eat it immediately after it cools of course, but it slices better if you can wait overnight. It also seems to improve with age and keeps well unrefrigerated, so if it is still around 2 days later, all the better and consider yourself lucky!
https://www.shockinglydelicious.com/cinnamon-swirl-quick-bread/
Copyright Dorothy Reinhold | ShockinglyDelicious.com. All rights reserved.
Pin the image below for Cinnamon Swirl Quick Bread to your Pinterest board to save this recipe!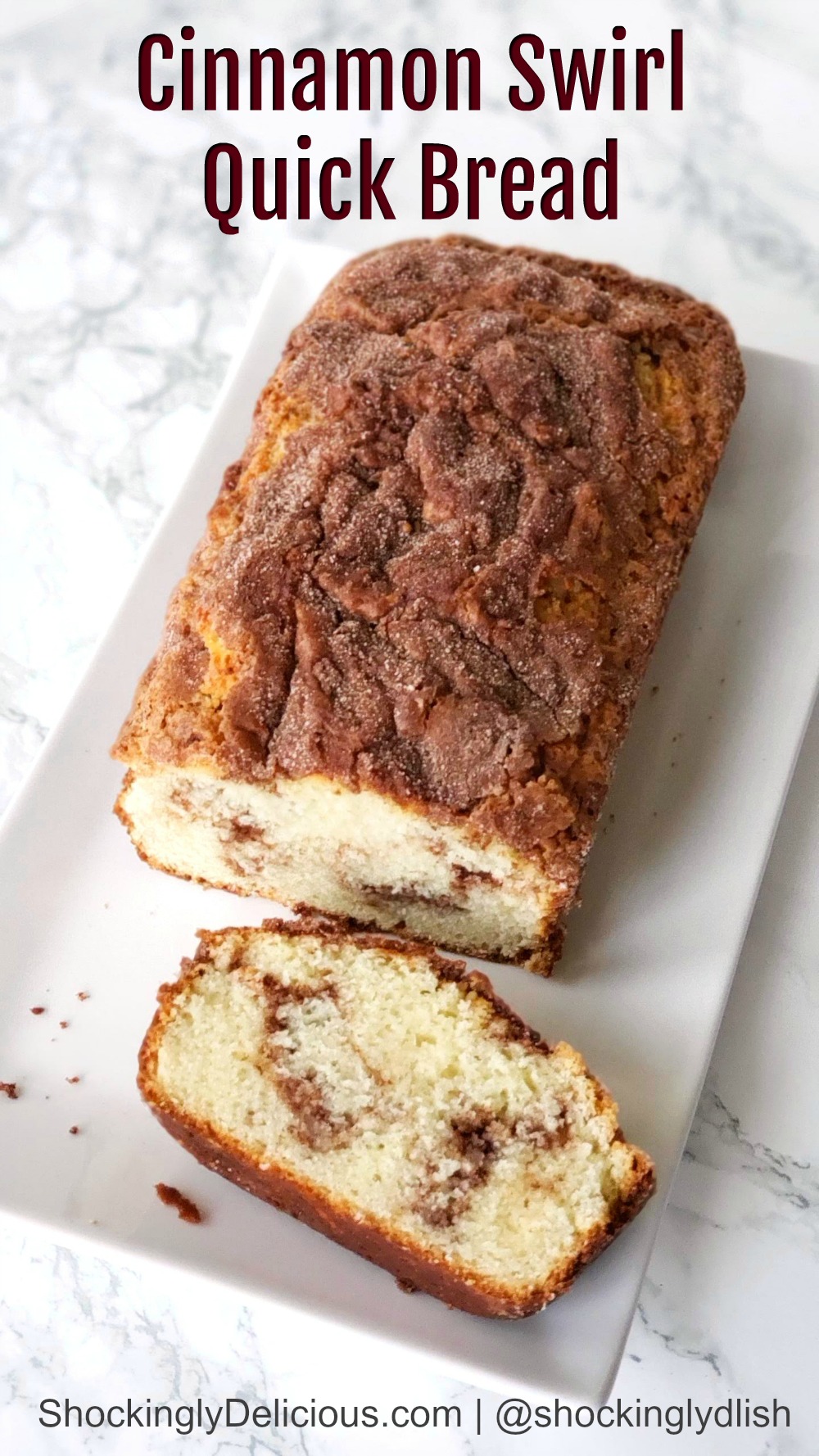 Shockingly Delicious spring sweets recipes:
Try them all!
1. Orange Posset
2. Greek Yogurt Tangerine Cake
3. Coffee Banana Breakfast Smoothie
4. Cinnamon Swirl Quick Bread
5. Coconut Pecan Dream Bars
Thanks for visiting…are you hungry for more? Follow Shockingly Delicious on…
FACEBOOK | PINTEREST | INSTAGRAM | TWITTER
…for all the latest recipes, ideas and updates!
This post may contain affiliate/referral links. It is a way for this site to earn advertising fees (at no cost to you) by advertising or linking to certain products and/or services that I approve and prefer.