Print This Post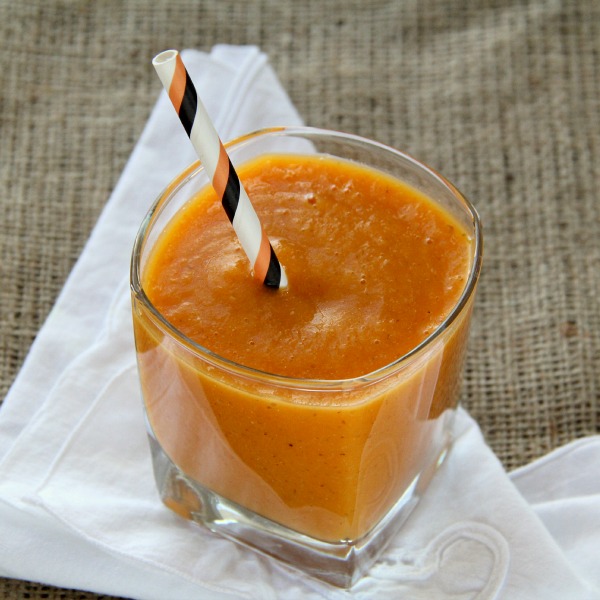 Tired of green smoothies and red smoothies? How about a neon orange smoothie?
This tastes as good as it looks, and once again, if you start your day with some fruits and vegetables, you're getting a leg up on your nutritional needs.
The trick to making smoothies easily in the morning it to prep a couple of ingredients in a batch on the weekends, and have them to use all week long.
Carrots: If you will be using carrots in your smoothie, it's best to cook them the night before so they are cooled and ready. I do this simply in the microwave, for 1-2 minutes, until tender.
Chia: I like to add chia seeds to my smoothies for body and nutrition. However, chia are gritty when added that morning. I cover them with substantial water and allow the seeds to soak overnight. The outside of the seed absorbs water and turns gel-like. In the morning, you simply measure a couple of tablespoons of this chia gel into the blender container.
Dates: Unless you have a blender with super powers, such as a Vitamix, your smoothies made in a normal blender will benefit from dates that have been soaked in boiling water. Simply pit some dates, snip them with a kitchen shears, and cover with boiling water in a jar. Allow to sit overnight, then refrigerate for storage. To use, measure a tablespoon or so of this date slop into the blender container. This will sweeten your smoothie without adding refined sugar.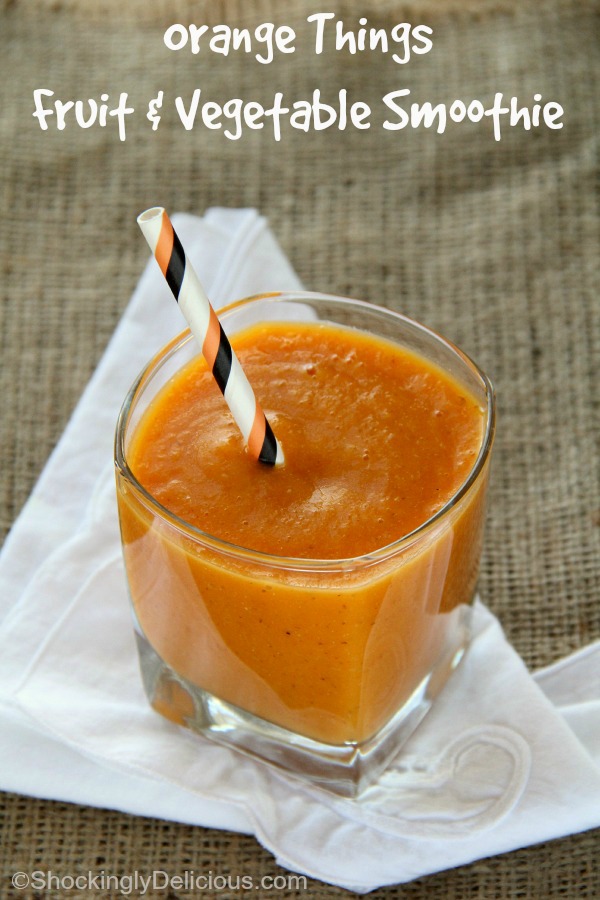 Good morning!
Recipe: Orange Things Fruit & Vegetable Smoothie
Summary: All things orange and healthy combine for a vegan, gluten-free, dairy-free explosion of flavor and neon color. Wake up!
Ingredients
1 Ataulfo mango, peeled, seeded and chopped
1 cup frozen peaches
1 orange, peeled, seeded and chopped
2 carrots, peeled, sliced and cooked
1 ripe banana
1 cup coconut water
1 tablespoon soaked Medjool dates
2 tablespoons soaked chia seeds
½ teaspoon vanilla extract
Instructions
The night before: Microcook the carrots for a couple of minutes until tender. Remove, cool and refrigerate. Put 4-5 tablespoons chia seeds in a lidded jar, and cover with water x3. Remove pit and snip 4-5 dates into small pieces with kitchen shears and put into a lidded jar. Cover with boiling water, cover and allow to stand.
In the morning: Add mango, peaches, orange, cooked carrots, banana, coconut water, 1 tablespoon of the soaked dates (there will be some left over for tomorrow's smoothie!), 2 tablespoons of the soaked chia (there will be some left over for tomorrow's smoothie!) and vanilla extract in blender container. Put lid on and whirl for 1-2 minutes, until well combined and smooth. Taste and add another tablespoon dates if it isn't sweet enough for you.
Serves 2-3.
Recipe source
Dorothy Reinhold | Shockingly Delicious
Other Shockingly Delicious smoothies
Preparation time: 10 minutes
Cooking time: 3 minutes
Diet type: Vegan
Diet tags: Low calorie, Reduced fat, Gluten free
Number of servings (yield): 2-3
Culinary tradition: USA (General)
My rating 5 stars:  ★★★★★