Print This Post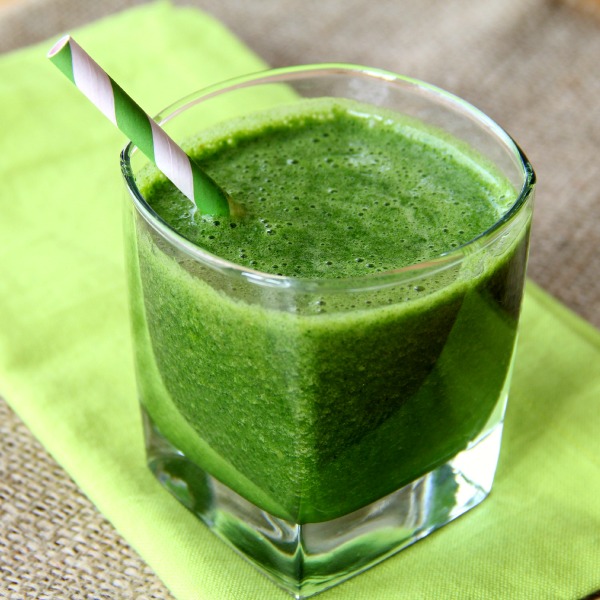 If you're the parent of a high school junior (or senior), you probably just returned from the only "vacation" you're getting this year – a tour of your child's prospective colleges. And you'll understand why I put the word vacation in air quotes.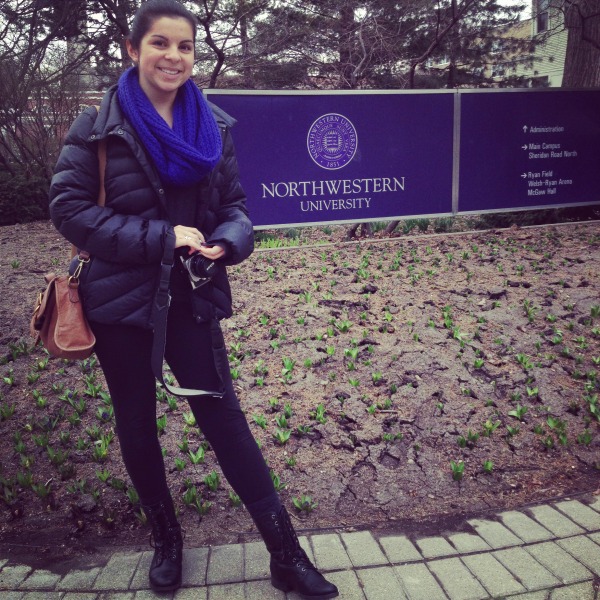 We just got back from the Windy City, where Northwestern and U of Chicago were on our rounds.
The whirlwind tours, the generalized worry (will I get in, will I fit in if I go here, do I like it, how do I tell if I like it, can I get around the city?) and general crazy-making for parents (is that my little baby asking all those sophisticated questions of the tour guide? can we actually afford this?) can take over your mind.
Now back at home, we need a detox from the tour. Are you with me on that?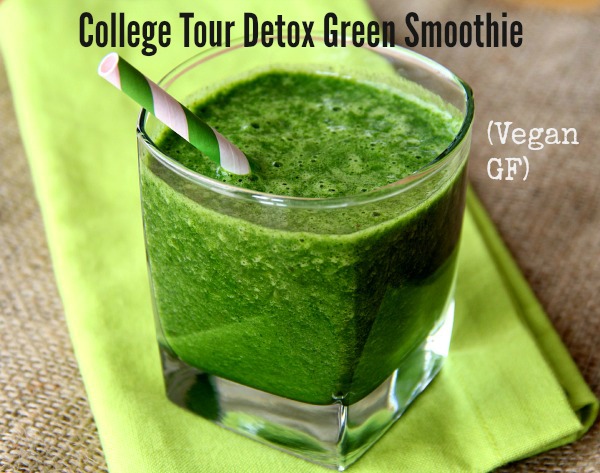 Deep, cleansing breaths. All will be well.
Recipe: College Tour Detox Green Smoothie (Vegan)
Summary: Naturally sweet from dates and fruit, verdant with healthy kale, this is breakfast of champions to scare away the college tour demons.
Ingredients
3 Medjool dates
4 leaves dinosaur kale (aka black kale, Cavolo Nero, Tuscan kale), center rib removed
1 overripe banana
5-6 ounces apple juice
2 small tangerines, skin removed and separated into segments
Splash of vanilla extract (about ¼ teaspoon)
7-10 ice cubes
Instructions
Tear dates in half, remove pit and soak in boiling water for about 10 minutes. (See note below about dates.)
While dates are soaking, fill a large bowl with hottest water possible from the tap (or boil enough water for the dates and the kale and use that), and submerge kale leaves. Allow them to soak while the dates are soaking. After 10 minutes, remove kale from hot water. (See note about kale below.)
When ready to make smoothie, add drained dates, kale, banana, apple juice, tangerine segments, vanilla and 7 ice cubes to the blender container. Whirl on highest speed for 1-2 minutes, until everything is well combined, bright green and thick. Add a couple more ice cubes and whirl again if you like.
Pour into 2 glasses and enjoy!
Note on dates and kale
If you're using a high-speed blender with super powers, such as a Vitamix, you can make a very smooth smoothie effortlessly. If you are using an average blender like I have, you should chop the dates and kale finely before adding them, so they mix in more easily. You don't want date chunks left at the bottom of the container!
Recipe source
Dorothy Reinhold | Shockingly Delicious
Preparation time: 15 minutes
Diet type: Vegan
Diet tags: Low calorie, Reduced fat, Gluten free
Number of servings (yield): 2
Culinary tradition: USA (General)
My rating 5 stars:  ★★★★★