Print This Post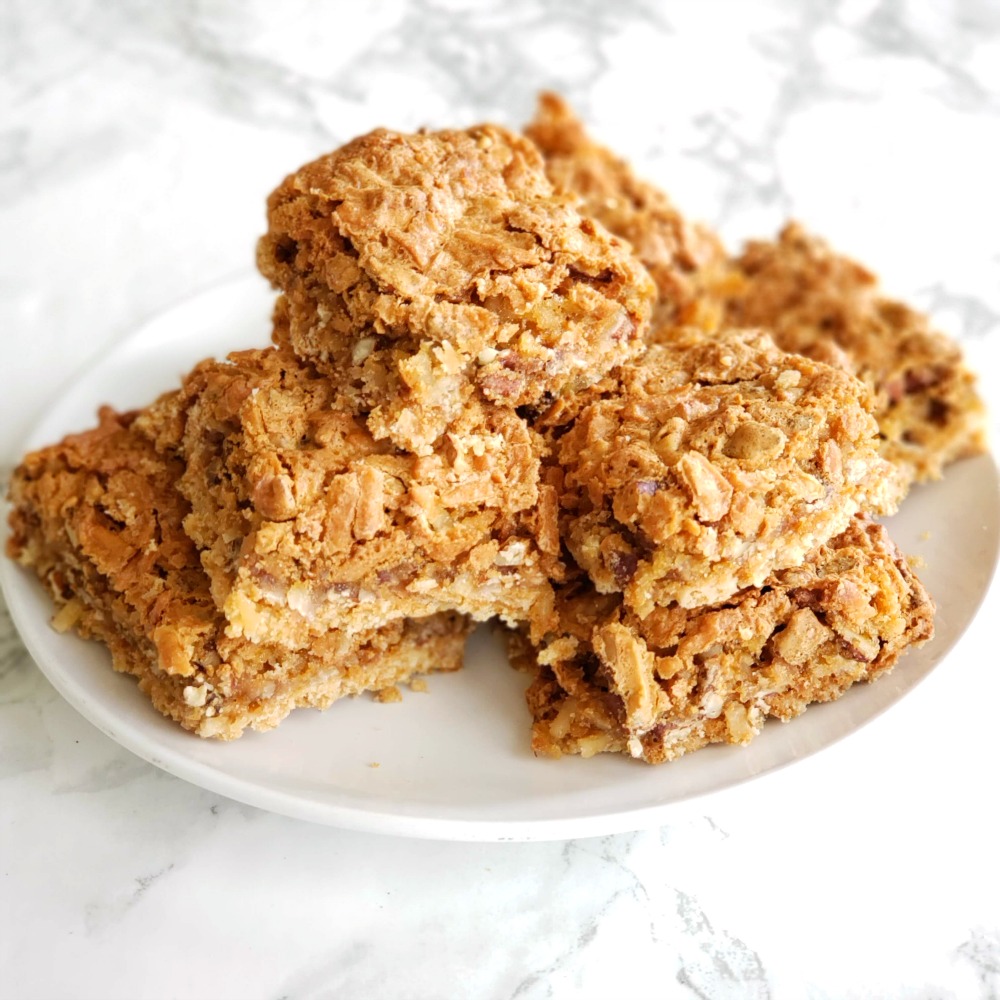 Coconut Pecan Dream Bars are for coconut lovers. A bit like a chewy little coconut chess pie in bar form, they'll make you swoon.

Raise your hand if you're in the coconut lover's club with me. I might be president; I'm willing to be co-president with anyone else who feels as I do. I'll try anything that has coconut in it, and probably come back for seconds.
How to make Coconut Pecan Dream Bars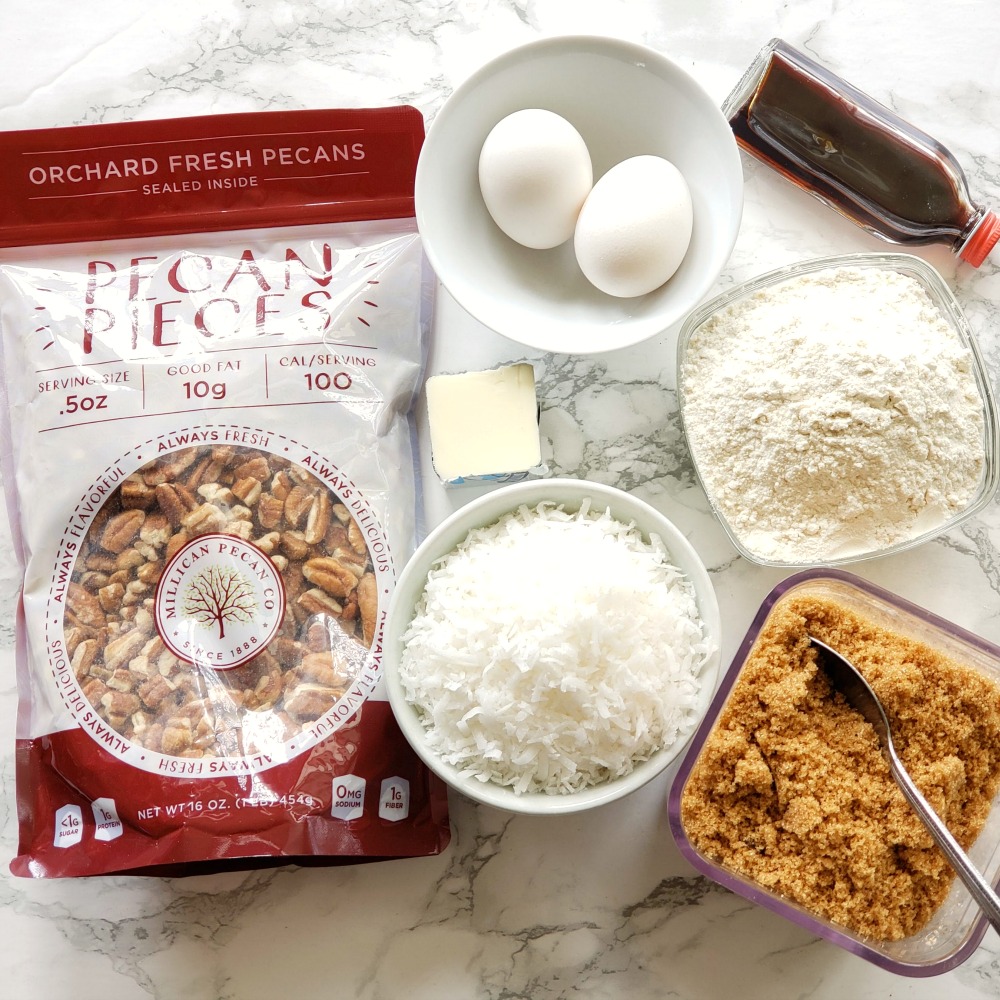 1. Assemble your ingredients and tools. This is always a good idea, no matter what you are making. That way you won't be in the middle of the recipe and suddenly realize you're missing something. Not that I have ever done that.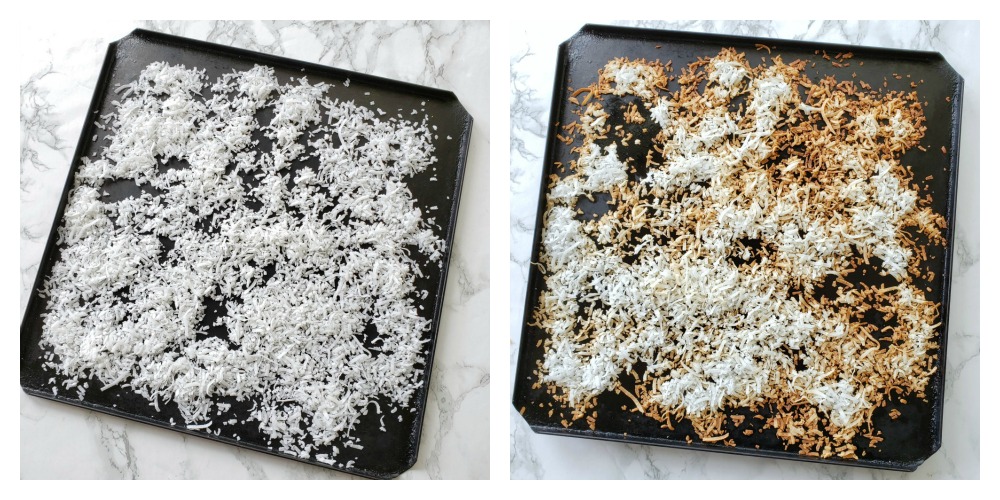 2. Toast the coconut in the oven. This makes it taste more nutty. It can burn easily, so don't walk away while you're doing this.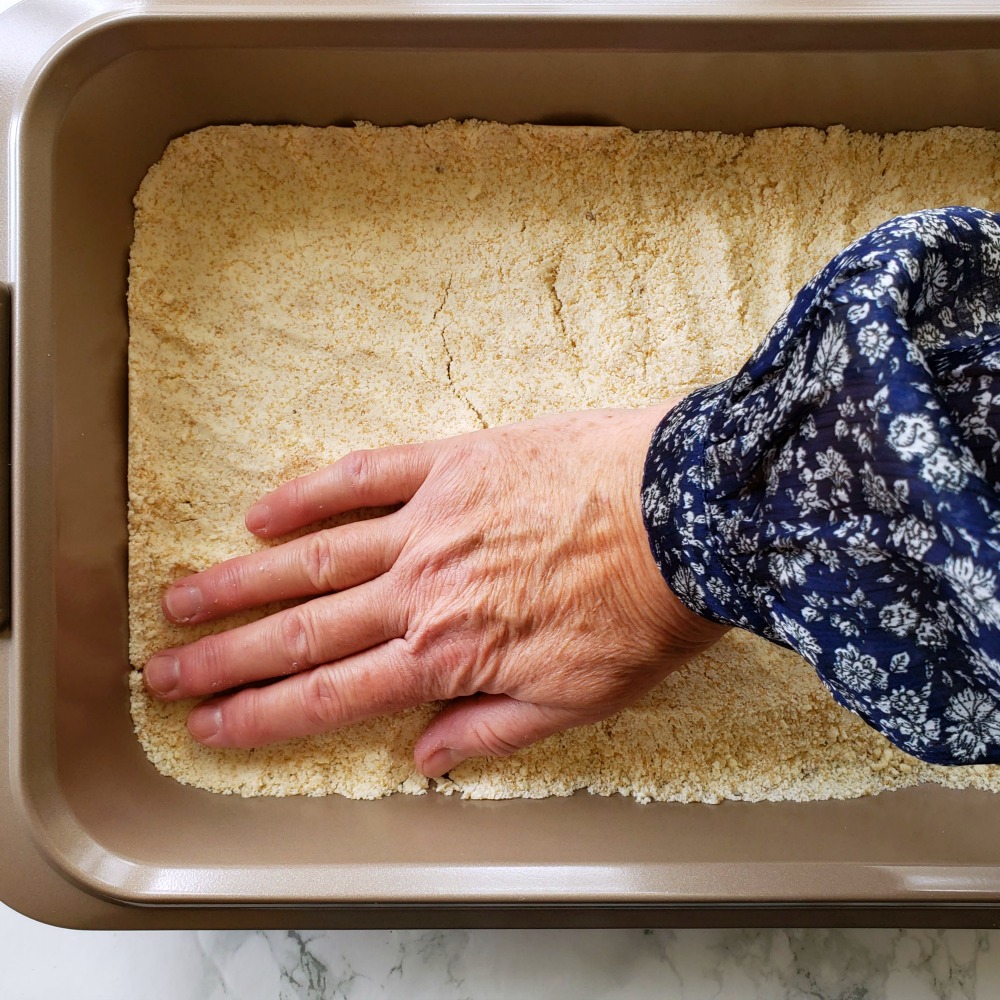 3. Mix crumbs for crust and press into a baking pan, then par bake. Par bake means bake for a few minutes.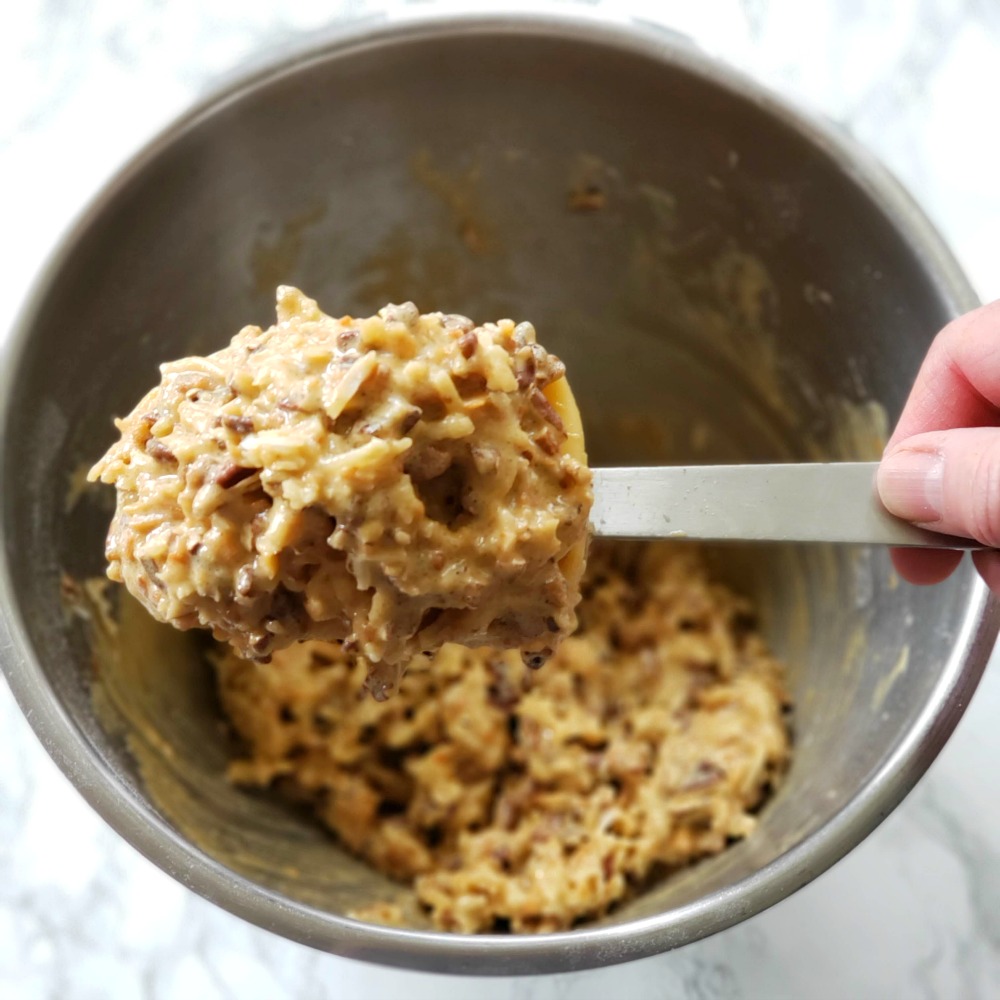 4. Mix filling ingredients, and stir in coconut and pecans by hand.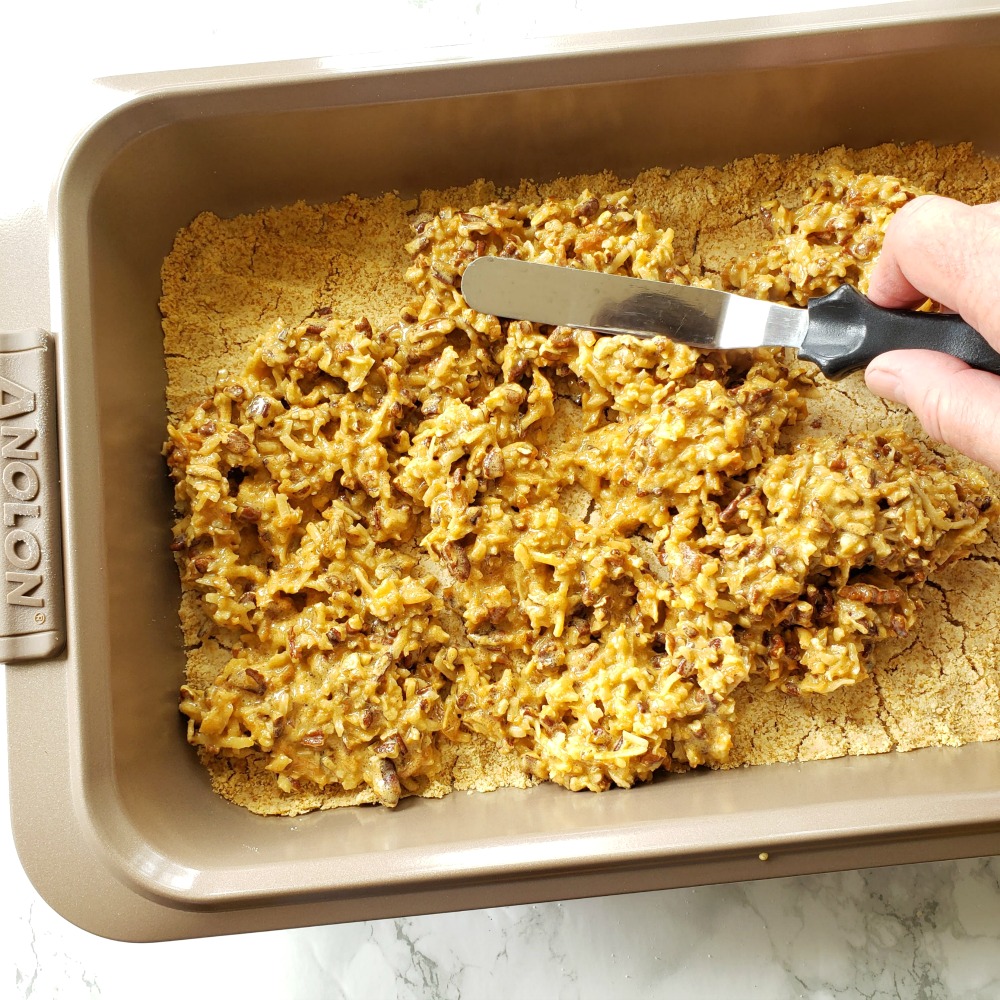 5. Spread filling gently over par baked crust.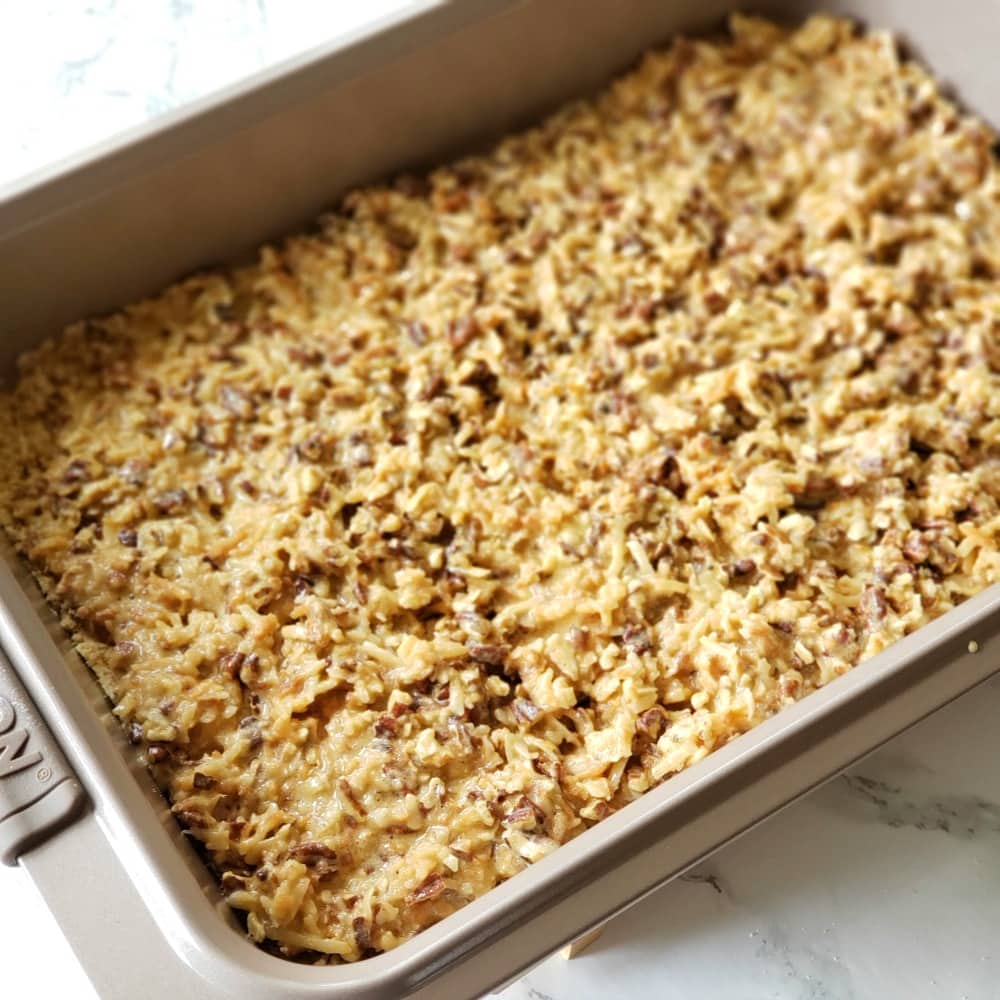 6. Looks good enough to eat at this point, right? Wait…bake it again.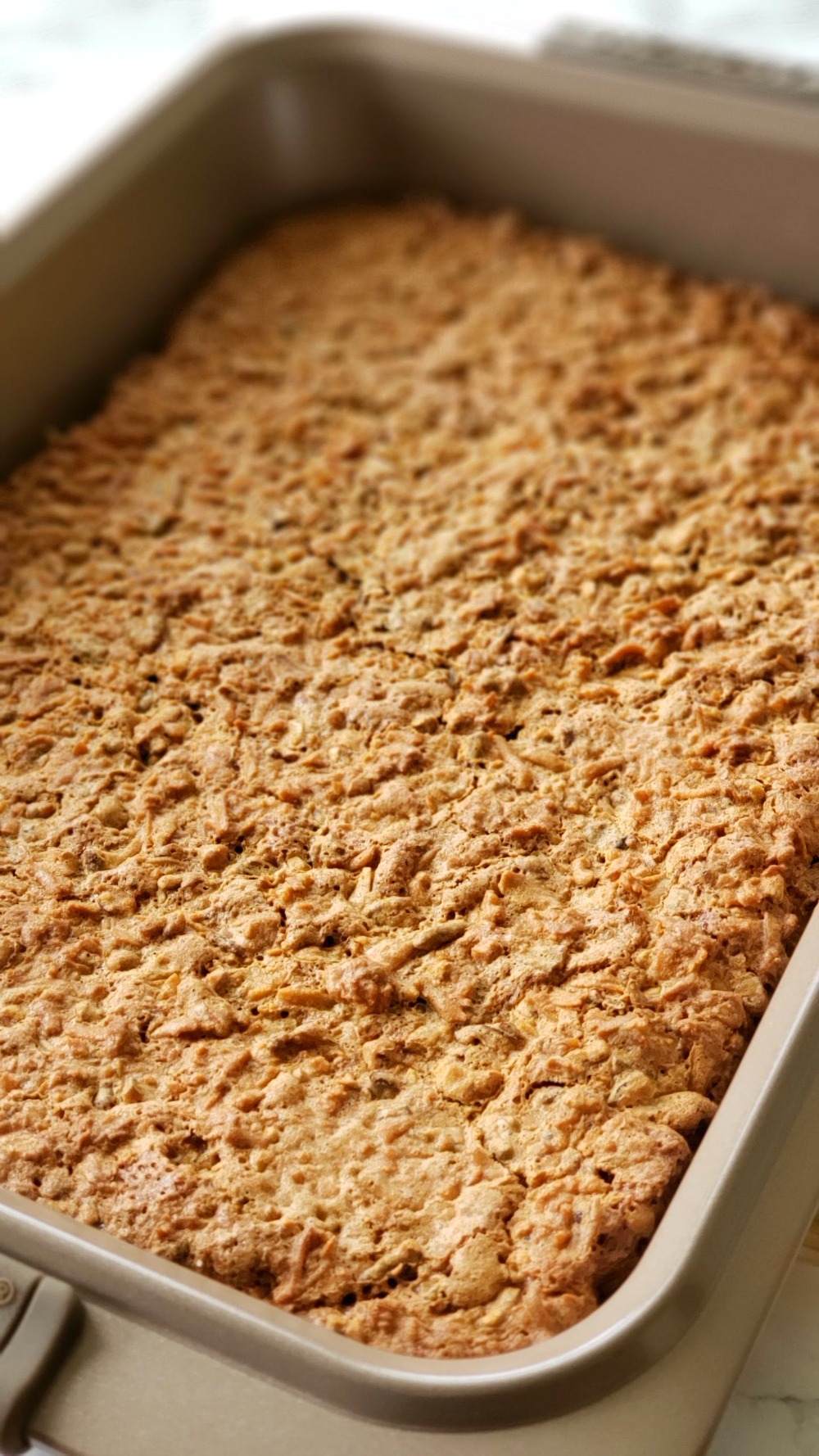 7. Cool bars a bit, but cut them while still warm.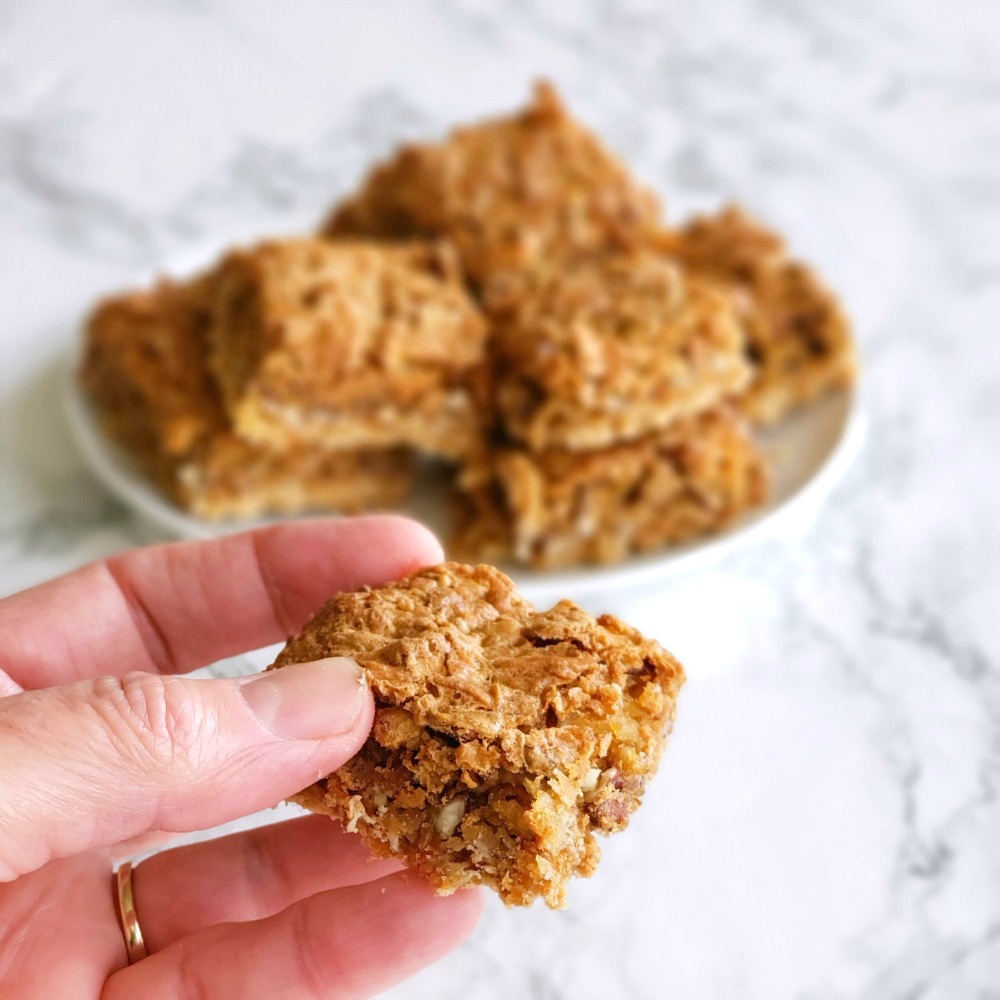 Coconut Pecan Dream Bars are for coconut lovers. A bit like a chewy little coconut chess pie in bar form, they'll make you swoon.
Ingredients
1 1/2 cups flaked coconut
1 1/4 cups flour
1 1/4 cups firmly packed brown sugar
1/4 cup butter (add a pinch of salt if you are using unsalted butter)
2 eggs
1/2 teaspoon baking powder
1 teaspoon vanilla
1 cup chopped pecans
Directions
Heat oven to 350F degrees. Spread coconut out on a cookie sheet and toast it in the oven. Keep an eye on it, checking frequently, because coconut burns easily. It will only take a minute or 2.
When any section of it begins turning light brown, take the pan out and dump the coconut onto a plate to cool. Leave oven on.
Combine 1 cup of the flour and 1/4 cup of the sugar. Cut in the butter until the mixture is the consistency of cornmeal. I do this with an electric mixer on low, but you can do it with a pastry cutter, or a couple of forks, or even your fingers. Press these crumbs firmly into an UNgreased 9- by 13-inch baking pan.
Bake for about 11-12 minutes.
While crust is par baking, in the same mixing bowl (no need to clean it), beat eggs until light, a minute or 2. Add remaining cup of sugar gradually, beating constantly until mixture is light and fluffy, a couple of minutes. Add remaining 1/4 cup of flour and baking powder to the bowl, and fold into egg-sugar mixture (I do this by hand). Add vanilla, coconut and nuts and fold in by hand until thoroughly mixed.
Remove crust from oven, and spread coconut pecan mixture gently over crust. I use a small offset spatula to do this. Return pan to oven and bake 15-18 minutes, until lightly browned on top.
Remove from oven, set pan on a heat-proof surface and allow bars to cool in pan for 15-30 minutes. Cut into bars while warm.
Makes about 24 squares.
Notes
Recipe source: Adapted from a recipe shared with my by friend Cassy Cohen.
https://www.shockinglydelicious.com/coconut-pecan-dream-bars/
Copyright Dorothy Reinhold | ShockinglyDelicious.com. All rights reserved.
Pin the image below for Coconut Pecan Dream Bars to your Pinterest board to save this recipe!

Other Shockingly Delicious spring sweets recipes:
Try them all!
1. Orange Posset
2. Greek Yogurt Tangerine Cake
3. Coffee Banana Breakfast Smoothie
4. Cinnamon Swirl Quick Bread
5. Coconut Pecan Dream Bars
Thanks for visiting…are you hungry for more? Follow Shockingly Delicious on…
FACEBOOK | PINTEREST | INSTAGRAM | TWITTER
…for all the latest recipes, ideas and updates!
This post may contain affiliate/referral links. It is a way for this site to earn advertising fees (at no cost to you) by advertising or linking to certain products and/or services that I approve and prefer.