Print This Post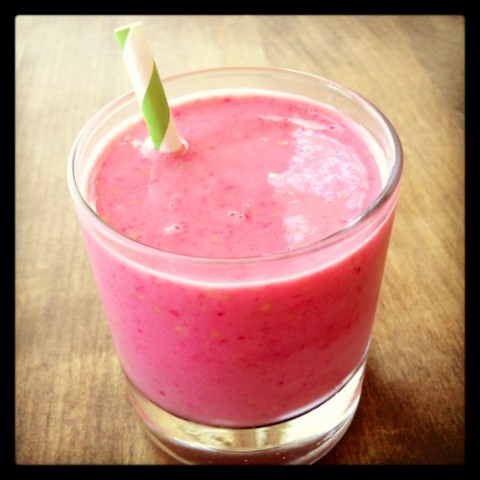 What, no pancakes? Nah, mom's too lazy.
So two 6th graders can easily whip up their own smoothies, with a couple of easy ingredients that you might already have in the refrigerator.
And the fact that it looks like bubble gum? Total bonus!
Recipe: Sunday Sleepover Smoothie
Summary: Shockingly pink, fast and easy to make, this healthy smoothie is the perfect kid-made sleepover breakfast.
Ingredients
1 ripe banana
1 (6-ounce) container organic Discoll's Raspberries
1 (6-ounce) container Chobani Mango Low-Fat Greek Yogurt
2 splashes orange juice
1 teaspoon vanilla extract
1 cup crushed ice
Instructions
Add all ingredients to a blender, put the lid on tightly and whirl until smooth, about 15-30 seconds. Marvel at the incredible color!
Pour into 2 glasses and enjoy!
Serves 2.
Source
Nick Reinhold | Shockingly Delicious
Preparation time: 5 minutes
Diet type: Vegetarian
Diet tags: Gluten free
Number of servings (yield): 2
Culinary tradition: USA (General)
My rating 5 stars:  ★★★★★ 
Disclosure: Driscoll's Berries provided the raspberries for recipe testing.