Print This Post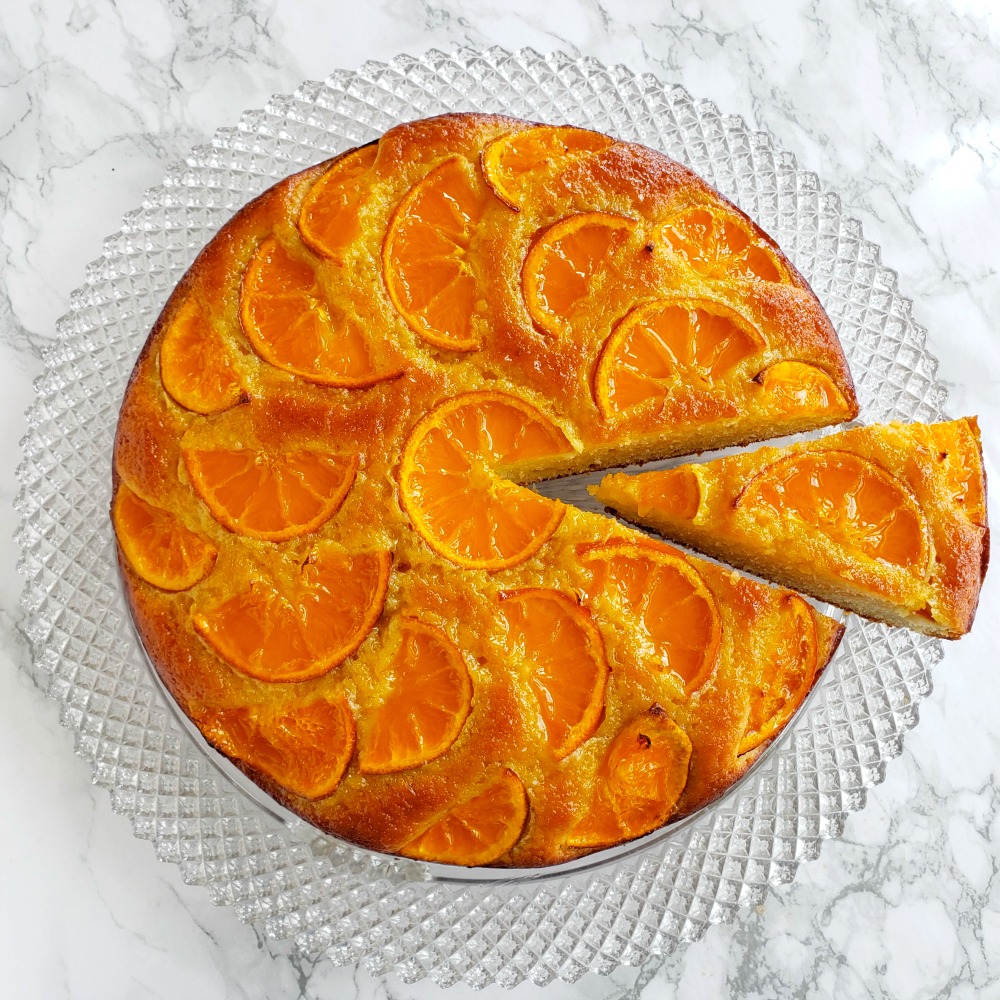 Greek Yogurt Tangerine Cake is one of the prettiest cakes around, and easiest, too! It's a simple cake made moist with yogurt and olive oil, and dressed with what turn into baked candied tangerine slices on top.
There were big eyes and no talking around the table when I first made and served this delicious cake.
Then, finally, my husband said, "WOW! This is unbelievably good!"
That's what you want to hear, amIright?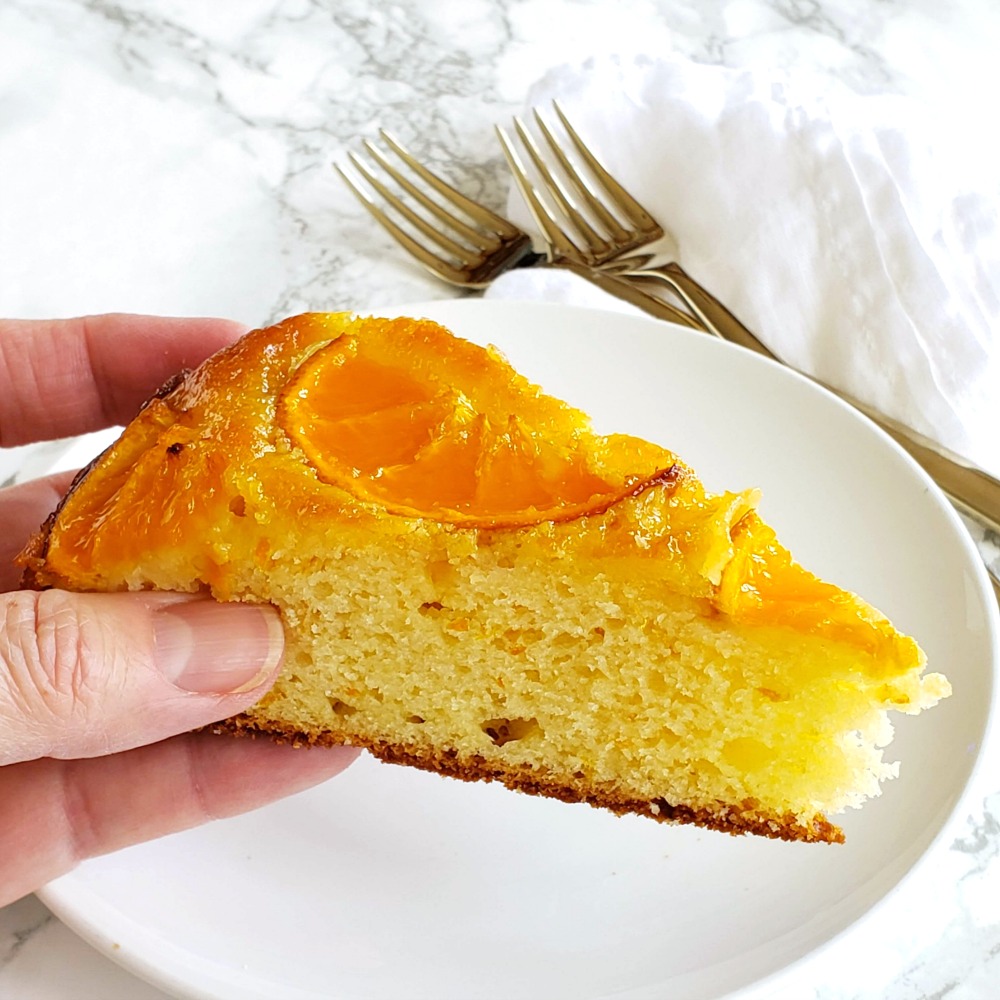 This cake checks all the boxes: pretty, easy, moist, packed with bright citrus flavor, and sweet but not cloying. It makes a perfect dessert, or a snack with tea, or I have been known to eat it for breakfast. (Shhh….) It's a wonderful cake to take to a friend or serve at a party, because it makes 10 nice-sized pieces. And it tastes as good or even better the next day, if people will leave it alone that long.
Spring or Easter brunch anyone? (And are you appreciating my mother's glass English Hobnail cake plate the cake rests on? I just learned that is what it is called.)
How to make Greek Yogurt Tangerine Cake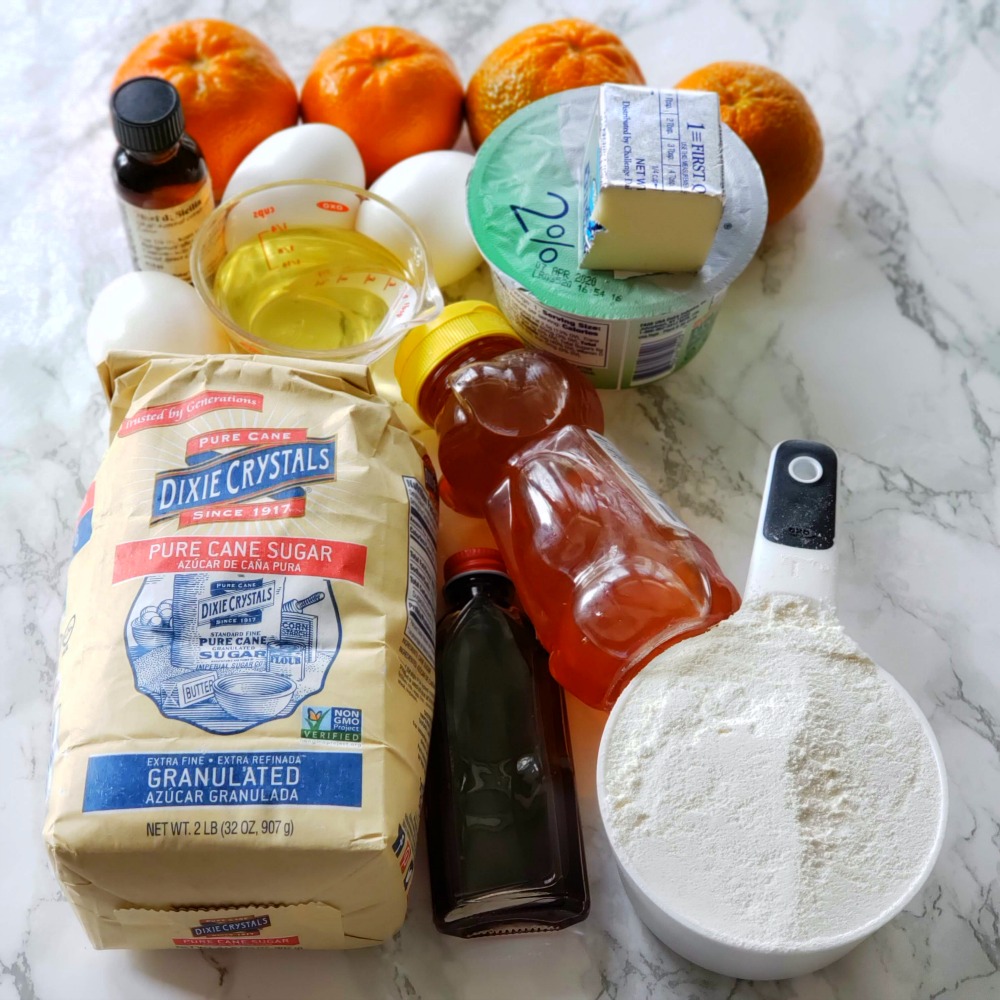 1. Gather your ingredients. For this cake, you will need:
Sugar
Tangerines
Butter
Light-flavored olive oil
Eggs
Vanilla extract (and Fiori di Sicilia flavoring if you have it)
Greek yogurt
Flour
Baking powder
Salt
Honey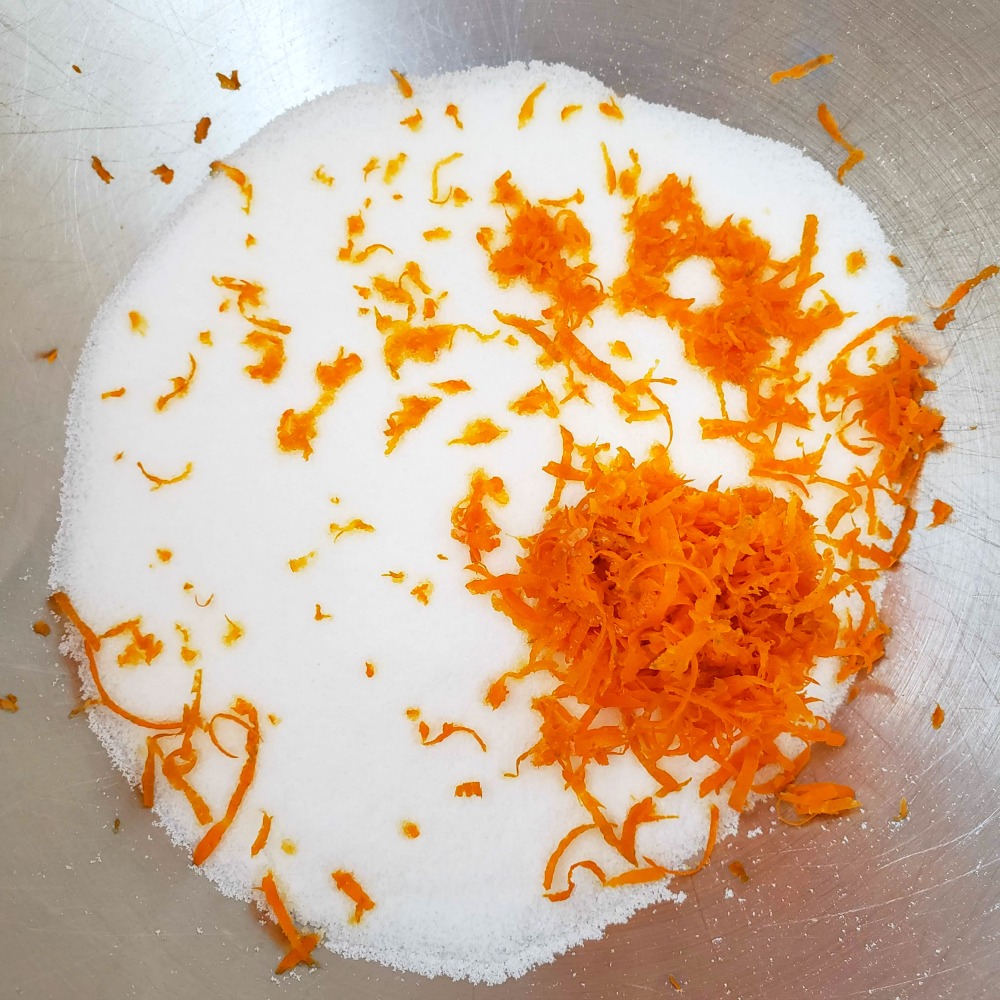 2. Zest 2 tangerines with a rasper-type microplane tool and mix the zest into the sugar, for best flavor.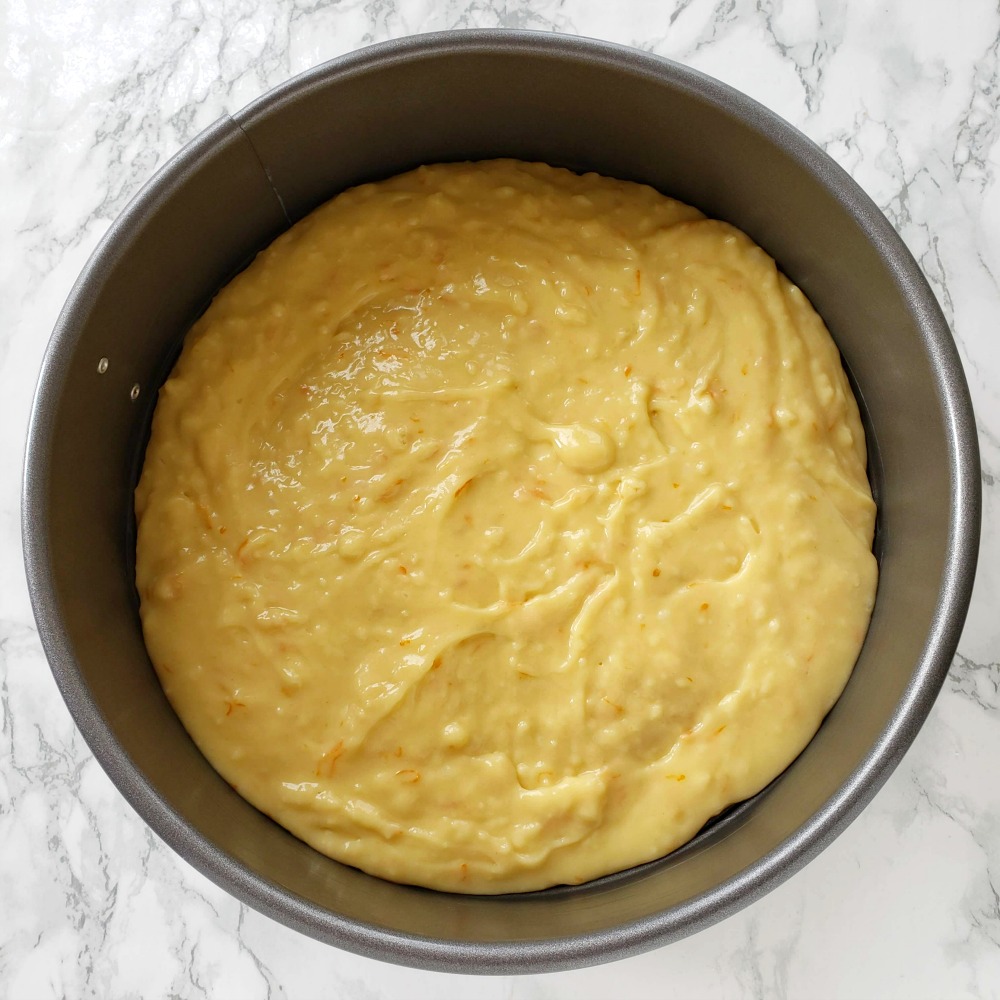 3. Mix and pour batter into prepared springform pan.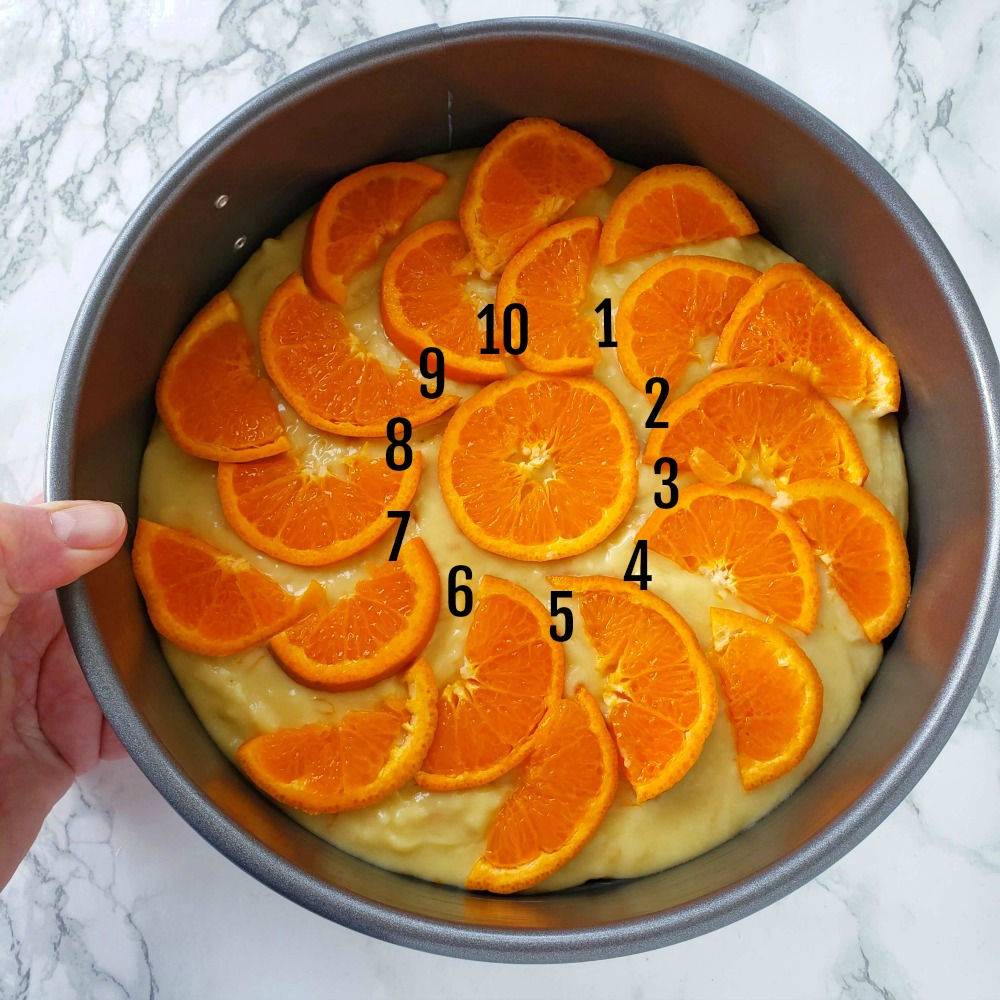 4. Lay tangerine half moons on the top in a decorative way. I like to start with a circle in the center, and fan out half moons around it. I intend to cut between each half moon. I have numbered the photo in the places where I will cut, so you can see my thinking. This will help me make 10 pieces out of it, and also helps to have an entire intact half moon on each slice.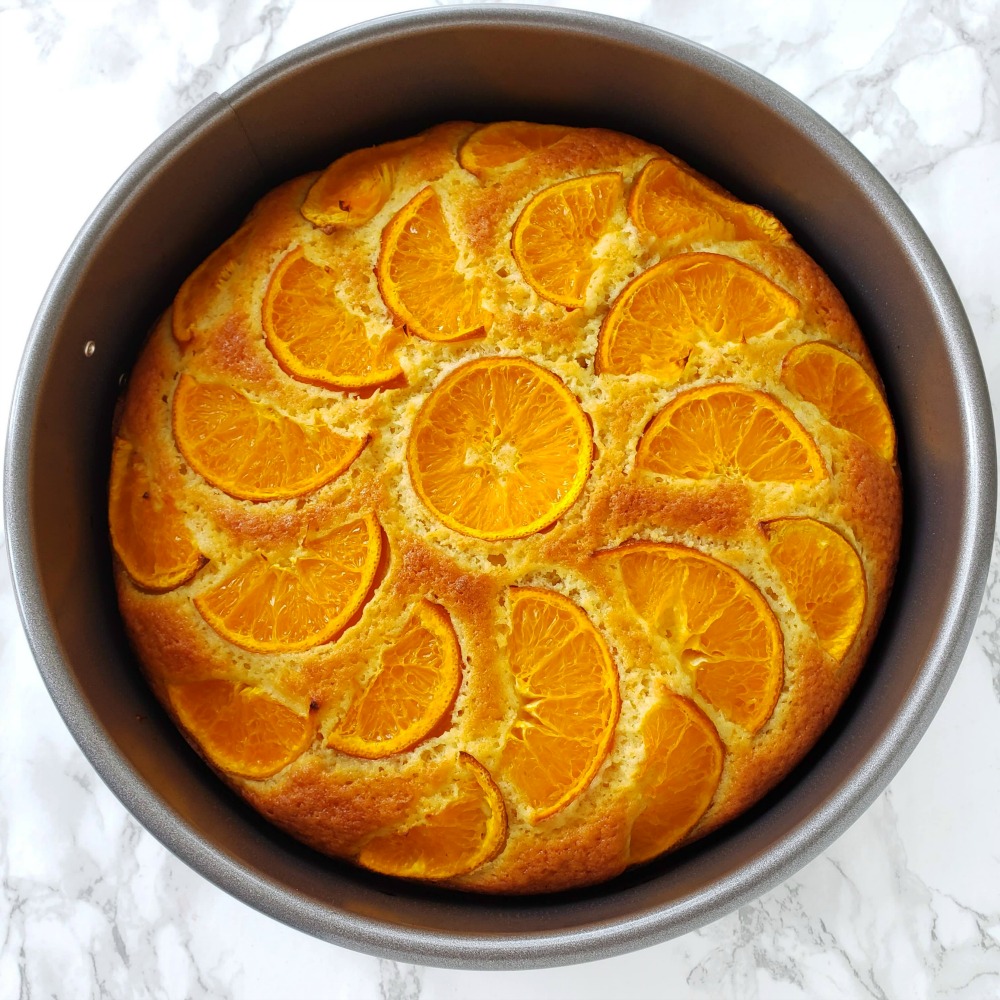 5. Baked and out of the oven.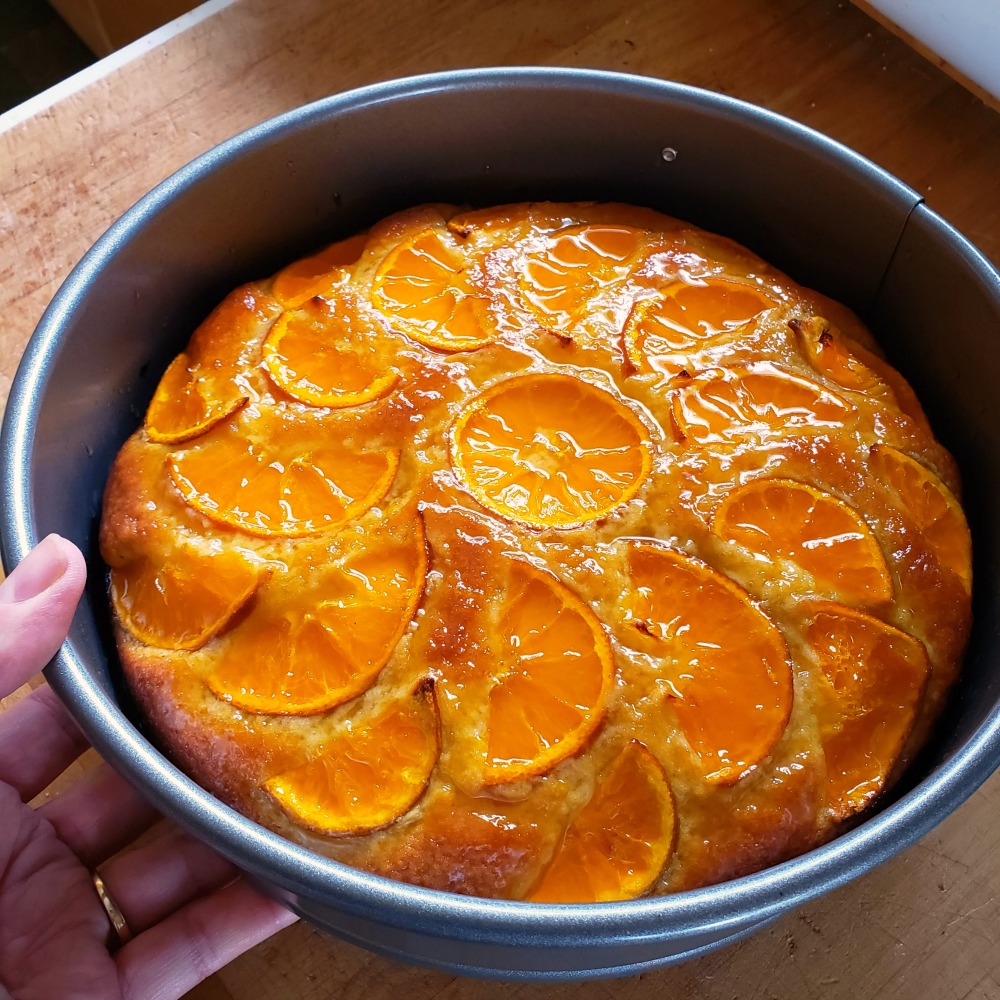 6. Glazed and ready for prime time!
Questions about Greek Yogurt Tangerine Cake
Can I use oranges instead of tangerines for this cake?
Of course! Oranges, even blood oranges, would work perfectly. Since oranges are generally larger than tangerines, watch how much juice you have for the glaze, and how many slices you have to top the cake (don't put so many slices on top that you have a double layer).
Can I bake this in another size pan?
Yes! You could bake it in a 8- or 9-inch layer cake pan, or even an 8-inch-square baking dish. I'm using a Springform pan because it is very easy to get the cake out of the pan, with no breakage.
How far ahead can I make the cake?
Because it is a slightly dense, moist cake (partly due to the glaze that soaks in), this tastes wonderful the day you make it, AND the next day or two later. I'm not sure I've ever had any around longer than that. I wouldn't be afraid of freezing a piece or 2, if I needed to.
What is Fiori di Sicilia, and do I really need it?
Let me be honest…yes, you do. If you are a baker, you do. Fiori di Sicilia is a strong citrus-y extract, and it smells like a cross between vanilla, orange and a flower — mysteriously intoxicating! You can use it to flavor cakes, cookies, pie, meringues, quick breads, pancakes, panettone and pandoro…basically whatever you are baking. It comes in a tiny bottle, which will last you forever because a little goes a long way, and you keep it in the refrigerator.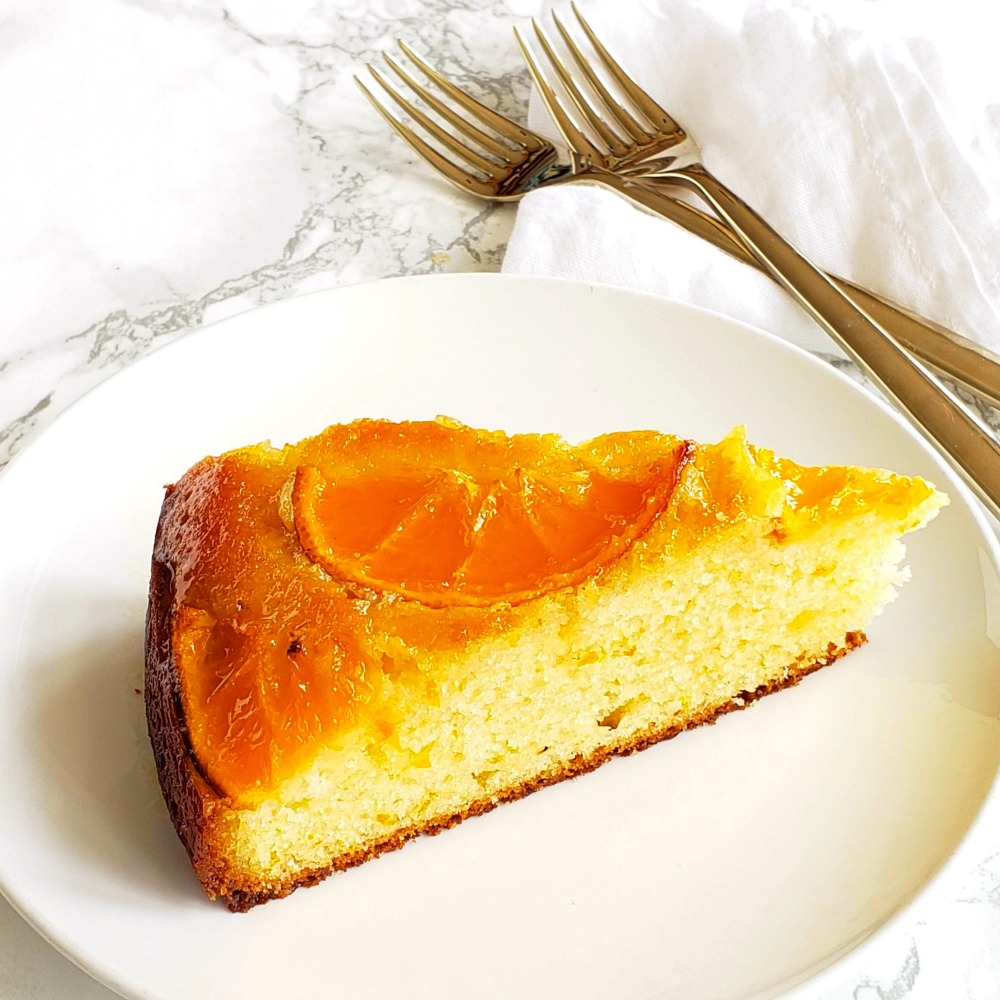 Let's bake!
Greek Yogurt Tangerine Cake
Greek Yogurt Tangerine Cake checks all the boxes: pretty, easy, moist, packed with bright citrus flavor, and sweet but not cloying. It makes a perfect dessert, or a snack with tea, or a breakfast treat. It's a wonderful cake to take to a friend or serve at a party, because it makes 10 nice-sized pieces. And it tastes as good or even better the next day, if people will leave it alone that long.
Ingredients
Cake

1 cup granulated sugar (I used Dixie Crystals)
2 tangerines -- zested (save zest) and then cut in half and juiced (save juice to use in Glaze for topping).
1/4 cup (4 tablespoons) unsalted butter, melted
1/4 cup light-flavored olive oil
3 eggs
1/4 teaspoon Fiori di Sicilia flavoring, or use orange extract or orange oil
2 teaspoons vanilla extract
1/2 cup Greek yogurt (plain, not flavored)
1 1/2 cups all-purposed flour
2 teaspoons baking powder
1/4 teaspoon salt
.

Honey Tangerine Glaze / Topping

2 tangerines, very thinly sliced, rind an all. Do not peel
2 tablespoons unsalted butter, melted
2 tablespoons honey
Saved juice from 2 tangerines used in cake
Directions
Heat oven to 350F degrees. Lightly grease a 9-inch springform pan with either nonstick spray or butter. Set aside.
In the bowl of an electric mixer, add sugar and zest from 2 tangerines and mix on low for a minute or so. (This will infuse the sugar with tangerine flavor.) Add in butter, olive oil, eggs, Fiori di Sicilia flavoring and vanilla and mix on low until well combined, a minute or so. Add yogurt and mix on low for 30 seconds or until well blended.
Add flour, baking powder and salt, and stir in by hand. Spoon batter into prepared pan.
Cut the 2 tangerines for topping into very thin slices, rind and all. Flick away any seeds, but there shouldn't be any or many. I like to cut the slices into half moons, so I can decorate the cake in such as way as to delineate where the cake should be cut. But keep the slices whole and round if you prefer that. Lay the slices onto the top of the cake.
Bake for 50-55 minutes, until cake springs back when gently pressed with fingertips. Remove from oven and set on a heatproof surface to cool.

Make glaze / topping:

While cake is baking, in a small saucepan, heat the butter, honey and the juice that you saved from the 2 tangerines you zested for the cake. Simmer it for 3-4 minutes. Set aside.
When cake is out of the oven and has cooled for at least 30 minutes (or longer), you may gently drizzle the syrup on top. I do it with a small soup spoon, allowing the glaze to soak in before adding more to the top of the cake. It should absorb pretty quickly.
Makes 10 servings.
Notes
Recipe source: Adapted from a recipe by Marcy Goldman, Betterbaking.com
Note on tangerines: This cake uses 4 tangerines. 2 get zested and juiced (the zest goes into the cake, the juice goes into the glaze), and the other 2 are thinly sliced to lay atop the cake before baking.
https://www.shockinglydelicious.com/greek-yogurt-tangerine-cake/
Copyright Dorothy Reinhold | ShockinglyDelicious.com. All rights reserved.
Pin the image below for Greek Yogurt Tangerine Cake to your Pinterest board to save this recipe!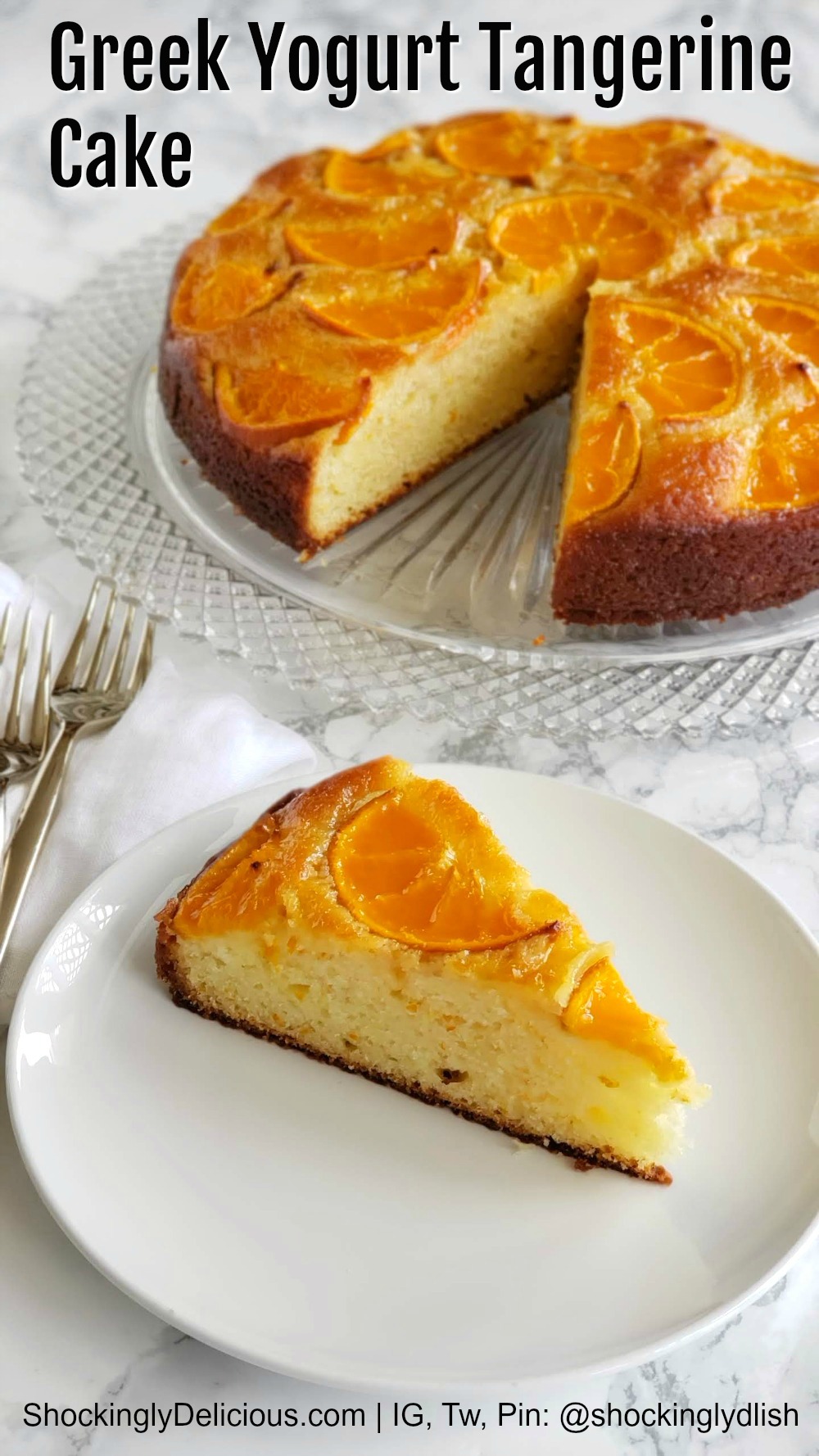 Seriously, don't you want this beauty on your table?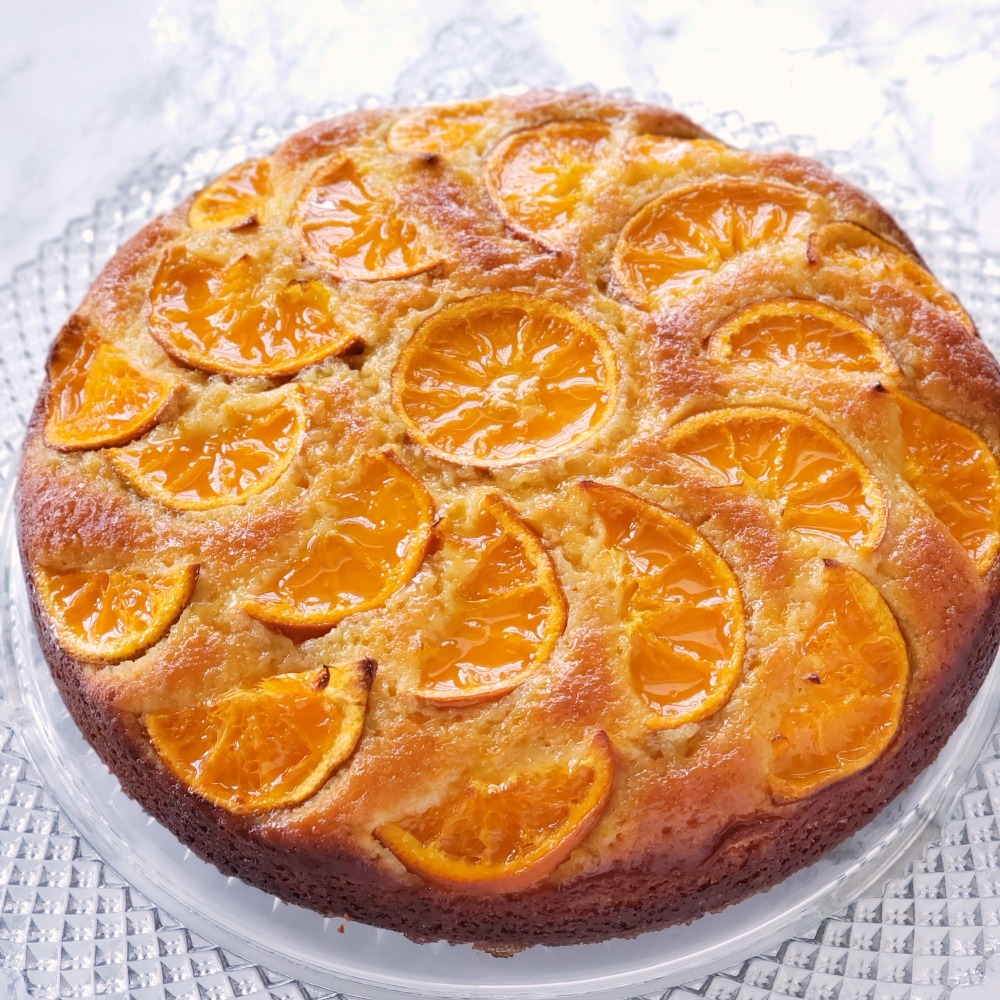 More Shockingly Delicious spring sweets recipes:
Try them all!
1. Orange Posset
2. Greek Yogurt Tangerine Cake
3. Coffee Banana Breakfast Smoothie
4. Cinnamon Swirl Quick Bread
5. Coconut Pecan Dream Bars
Thanks for visiting…are you hungry for more? Follow Shockingly Delicious on…
FACEBOOK | PINTEREST | INSTAGRAM | TWITTER
…for all the latest recipes, ideas and updates!
This post may contain affiliate/referral links. It is a way for this site to earn advertising fees (at no cost to you) by advertising or linking to certain products and/or services that I approve and prefer.