Print This Post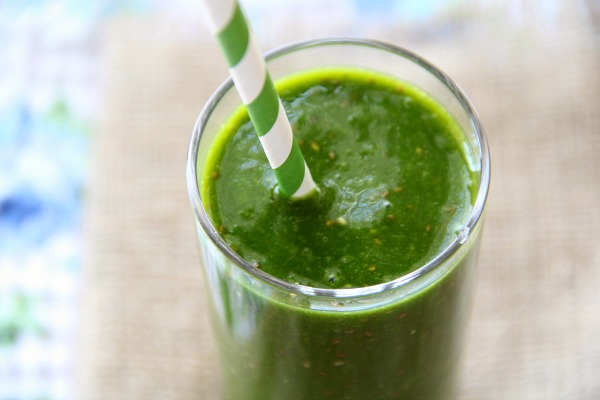 Ask my kids. It's easy to be green if your mom makes you a shot of green smoothie for breakfast.
 The alarm rings far, far too early for teenagers at our house. 6 a.m. rise and shine, except it's hard to be shiny when you are comatose.
To make sure they get some vegetables in before dinner, I have taken to making up green smoothies for breakfast. This one, with its tropical flavors, was particularly popular.
Recipe: Tropical Green Smoothie
Summary: Hints of Hawaii sweeten this healthy green smoothie that goes down easy for breakfast.
Ingredients
1 (5-ounce) clamshell Earthbound Farm Organic Power Greens (or your choice of greens)
1 mango, skinned, seeded and diced (or about 1 cup frozen mango chunks)
1/2 a banana
1 cup coconut water
1 (6-ounce) can pineapple juice
2 tablespoons chia seeds (*see note below)
1/2 teaspoon vanilla extract
Ice cubes (optional)
Instructions
Combine all ingredients in a blender and whirl until smooth. If you want it colder, whirl in a couple of ice cubes.
If making the night before, store in the refrigerator.
Serves 2-3.
*Chia seed note
If you are drinking the smoothie immediately, you might like to grind the chia seeds first. It takes chia seeds about 20+ minutes to hydrate if they are left whole, so if I am making this the night before and keeping it in the refrigerator for breakfast the next day, I can throw them in whole. If I am making it that morning and serving immediately to people who don't like possibly gritty seeds in their drink, I will grind them before adding. As they hydrate, chia absorb water and the outside of the seed gets gel-like. Pretty cool.
Recipe source
Adapted from and based on a green smoothie I had at the blogging conference Big Traveling Potluck 2, prepared by Earthbound Farm.
Preparation time: 5 minutes
Diet type: Vegan
Diet tags: Reduced fat, Raw
Number of servings (yield): 2
Culinary tradition: USA (General)
My rating 5 stars:  ★★★★★ 
Save
Save