Print This Post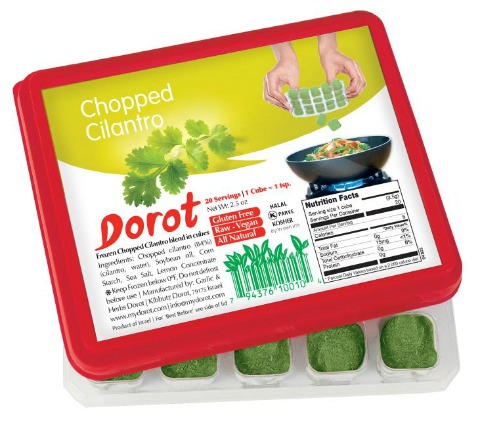 1. Dorot frozen herbs and spices
I'm a big user of fresh herbs, which we are blessed to have in abundance in Southern California, but all too often I buy a bunch, use part of it, and then it rots into slimy oblivion in the produce drawer in the fridge. Are you with me? I can't be the only one. A company called Dorot has solved the problem, with frozen herbs and seasonings that come frozen in neat litltle freezer trays (like tiny ice cube trays). You pop a frozen cube of herbs out into the pot or pan, and away you go, without thawing.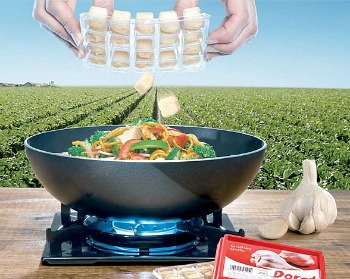 The herbs are non-GMO, gluten-free, and of course have all the vitamins and benefits natural to fresh herbs. I used the cilantro cube in my mashed avocado for a quick guacamole, stirred into olive oil for a quick sauce for roast salmon, and in a pot of brown rice to make green cilantro rice. A ginger cube went in my pitcher of lemonade (my daughter will pay $5 for a glass of ginger lemonade at the local raw restaurant!), the garlic and ginger cubes got tossed in my Asian stir-fry concoctions, and the dill cube in my scrambled eggs for breakfast and later in my dinner mashed potatoes. Honestly, these little nuggets saved me lots of prep and cleanup time, and were extremely convenient, allowing me to be creative without the penalty of  extra herb work. $2.49 (+ or -); sold nationally in both chain grocery stores and local stores. Walmart carries it under the name "Pop & Cook."
♥ ♥ ♥
2. Zippy maple syrup
Faithful reader Don McDonell had a great idea when he was having "breakfast for dinner" the other day with some hot sausage patties. As he tells it, "I heated up the maple syrup and rough-chopped a Habañero pepper and let it infuse for about 10 minutes. WOW it was good! Had it with waffles and fried eggs over easy along with the sausage. Yummy!" Don, that's brilliant, and I'm so happy you shared so we all can try it. Those who aren't quite as pepper-loving as Don might try a jalapeno or serrano pepper. I adore the sweet-savory combo, and I'm going to try this!
♥ ♥ ♥
3. Black-eyed Peas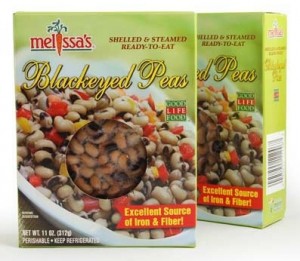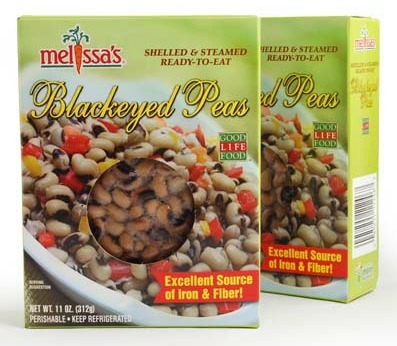 I know black-eyed peas are traditional on New Year's Day to ensure good luck, but honestly, they're so flavorful and good for us, we should eat them all year long. I have been, with these shelled and steamed, read-to-eat Blackeyed Peas from Melissa's Produce. This season already I made quesadillas, potato salad, hummus, Cowboy Caviar, sweet potato b-e pea bowl, and who knows what else I will concoct! Throw them in a salad, toss them in soup, they're good in everything. $3.99-$4.49 / 11 ounces.
♥ ♥ ♥
4. Nocciolata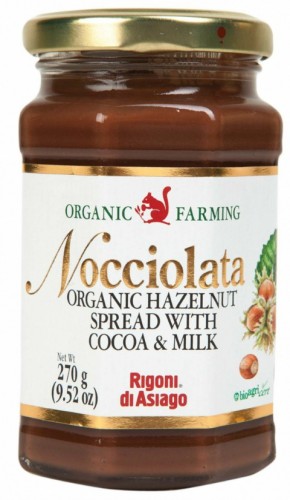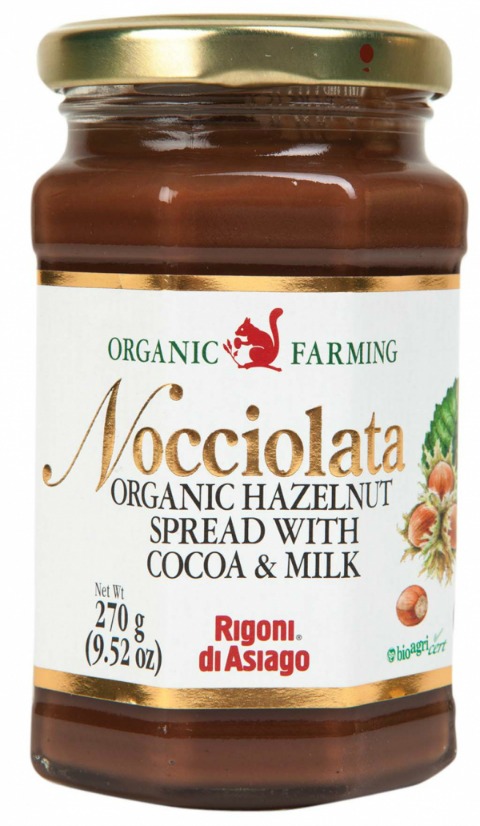 Fans of Nutella will be happy to know there's a competitor that beats the original on a number of fronts. It's called Nocciolata, and it is certified organic, kosher with no trans fats, palm oil, artificial colors, flavors or gluten. What it does have is dark chocolate from the Antillean Islands, Italian hazelnuts (16%), brown sugar, skim milk and Bourbon vanilla extract. I tried it and love the flavor. It's going to be awesome in my Nutella Hot Chocolate, my Nutella Ice Cream and my Nutella Meringues. $4.99 / 9.5 ounces.
 ♥ ♥ ♥

5. Greek Cream Cheese
New to me is Green Mountain Farms Greek Cream Cheese, which combines cream cheese and Greek yogurt for a tangy, rich flavor with only one-half the fat, four times the protein, and the healthful addition of live and active cultures. You can sub it for regular, low fat or Neufchatel cheese, and we enjoyed it as a schmear on a bagel, on morning Banana Bread, and I think it would be wonderful used in a frosting for carrot cake. Maybe I could have two pieces then! Oh wait, how about in dip, too? It comes in a regular 8-ounce block ($2-$3), a whipped version, and plain or flavored spreadable versions.
♥ ♥ ♥
6. Botanical Teas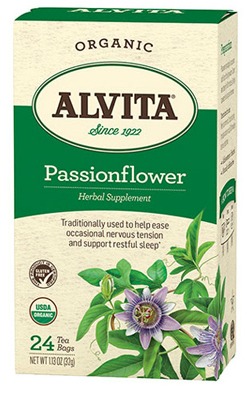 We're always looking for refreshing drinks around here that don't contribute calories, sugar or a bunch of weird chemicals, as in soda. To my rescue have come these botanical teas from Alvita. What are botanicals? Chamomile, Red Clover, Passionflower, Ginger-Peppermint, Raspberry, and Green Tea. I've been quietly making a pitcher and keeping it in the refrigerator, refilling as needed, and I see it disappearing. That tells me everything. I particularly like the Passionflower variety, which has a bit of a smoky undertone, and is said to promote sleep. Don't know about you, but I need help staying asleep these days. The Ginger-Peppermint variety is soothing to the stomach, and Raspberry is just plain fun! These are certified organic, gluten-free and kosher, in boxes made using 100% recycled paperboard, and the English pillow-style teas bags are oxygen-bleached, not chlorine-treated. I feel blissful just thinking about them.
♥ ♥ ♥
7. Smarter #3pmSnack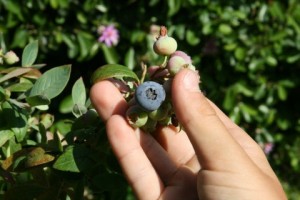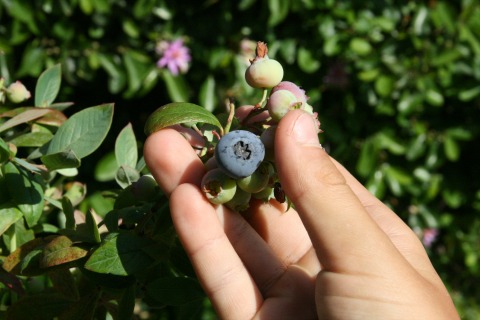 Driscoll's berries is encouraging us to incorporate one small change for better health. They suggest better snacking, of course, by replacing a naughty snack with their delicious fresh blueberries. We like them after school, straight out of the carton, as blue ants on a log, or I find that if I kebab them on a toothpick and leave them casually on a plate on the counter, they are the first things to go. Follow #3pmSnack on Twitter for more healthy snack ideas, and enter the Driscoll's sweepstakes for a chance to win a Vitamix blender and berries for a year. I'm not sure which of those I want more! How about I win one, and you win the other?
♥ ♥ ♥
8. Polenta in a tube
Have you tried the pre-cooked, heat-and-serve polenta yet? It's from Frieda's Specialty Produce, and it's so, so good! It's gluten-free, fat-free, vegan, non-GMO, organic and 100% delicious as an alternative to pasta or bread or whatever starch you were thinking of eating. It is shelf-stable, so it won't take up refrigerator room until you open it. I slice it and pan fry it in a little olive oil, but you could also broil it, or slice and top with your favorite pasta sauce, or some cheese, or use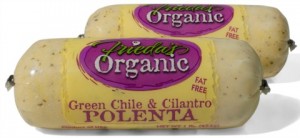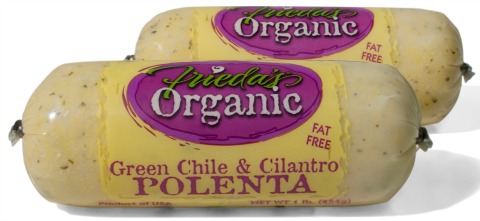 it in lasagna instead of noodles…you get the picture. I do love my Easy Oven Polenta, but when I don't have time to make that, I love the convenience of pulling this off the shelf. I enjoyed both the Green Chile & Cilantro, and the Mushroom & Onion flavors. $3.99 / 1 pound.
♥ ♥ ♥
9. Crunchies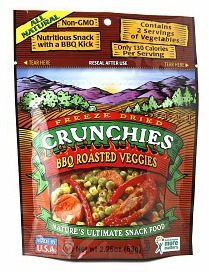 I discovered these at the Produce Marketing Association convention in New Orleans in October, and can't get them off my mind. They're called Crunchies, and they're freeze-dried fruits and vegetables made by a special process where water is removed in a refrigerated vacuum, leaving only the essence of the vegetable or fruit, with a crunchy texture. Mixed Fruit (apples, blueberries, peaches, strawberries, mangoes, raspberries) has no sugar added, no fat, 25 calories per serving, is raw, gluten-free and non-GMO. Salted Edamame has 8g of protein per serving. BBQ Roasted Veggies is non-GMO, 130 calories per serving, and each 2.25-ounce bag contains 2 ears of corn, 1/4 cup peas, 1 carrot, 2/3 of a red bell pepper, 2/3 of a tomato, soybean oil, spices, natural flavors and spice extractives. None have preservatives, and it takes 8-10 pounds of fresh vegetables to make 1 pound of Crunchies. We're eating them for snacks, to sprinkle on oatmeal in the morning, and my husband has his eye on them for his next ulta-light backpacking trip!
♥ ♥ ♥
10. Your laugh for the day (or the week!)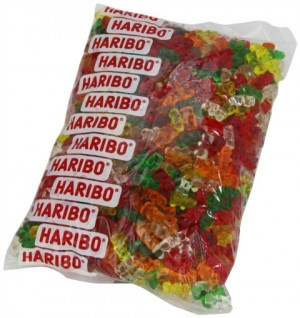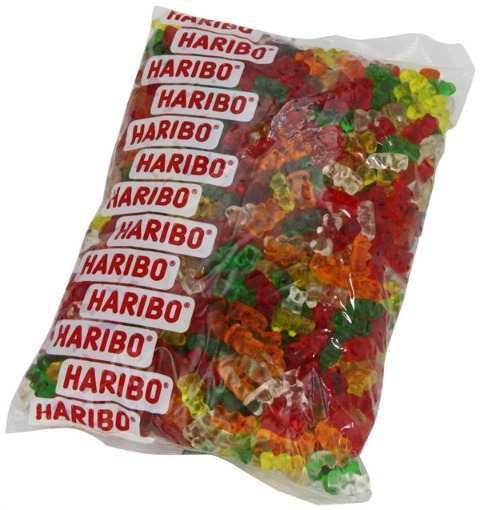 Confession: I have always been a sucker for a good poopy joke and this is the BEST! You know how some people are at their most clever when they are writing comments for products on the Internet? Take a gander at the "explosive" amusement that erupted about this 5-pound bag of sugar-free Gummy Bears. Warning: Do not read this aloud at work and certainly don't read this while drinking a beverage in front of your computer screen.
♥ ♥ ♥
11. Banana Breakfast Cake with Pecan Streusel Topping
I feel like a broken record about this coffee cake, but it is REALLY, TRULY GOOD! Husband loves it, kids love it, neighbors love it, I love it. I made it 6 times in 8 days (no lie!), and I have bnanas rotting on the counter ready to make it again. Do you believe me yet? Get some kefir and make it (or instead of kefir, use plain Greek yogurt thinned with a little milk)!
♥ ♥ ♥
12. Lemon curd in a sandwich?
I made a jar of Meyer lemon curd for my 16-year-old neighbor Josh, who enjoys it on a Lemon Cheesecake Bagel. His mom Deborah, however, put it to different use, in a chicken salad sandwich! Get this: she poached chicken and shredded it for salad, added water chestnuts for crunch, sliced grapes, walnuts and bound it with a bit of mayo, lemon curd and Dijon mustard. But Deborah, an intuitive, enthusiastic, creative cook, went a step further…she panini-ed it, with a smear of pesto on the crusty roll, a crumble of feta and her chicken salad, all heated to perfection in the panini grill. Lunch, or better yet dinner, never had it so good!
Disclosure: Dorot,  Melissa's Produce, Nocciolata, Green Mountain Farms, Alvita, Driscoll's, Nona Lim, Frieda's Specialty Produce and Crunchies sent samples for review. There was no expectation of a positive review, and all opinions are my own.