Print This Post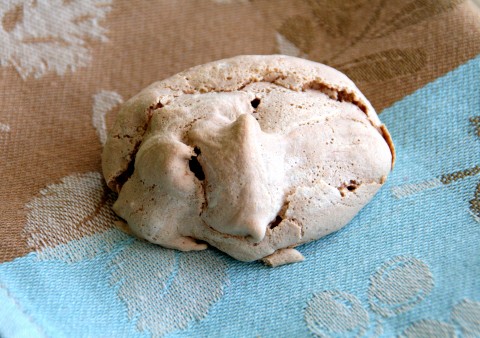 My mother is a wonderful cook, and it was truly my good fortune to be able to learn at her elbow in the kitchen.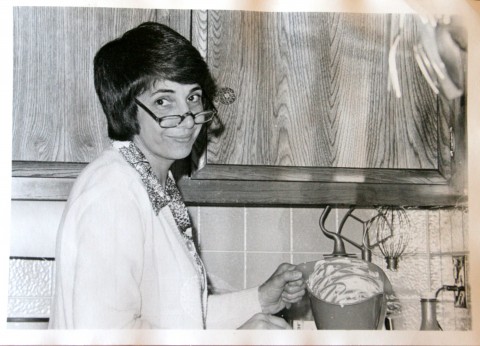 I recall cooking a bit in Brownie Scouts and Girl Scouts, and feeling like I really earned those cooking badges, but frankly, it was the everyday chopping and coring, scraping and stirring, boiling and baking to help my mom make dinner for our family of 6 that taught me the ways of the kitchen.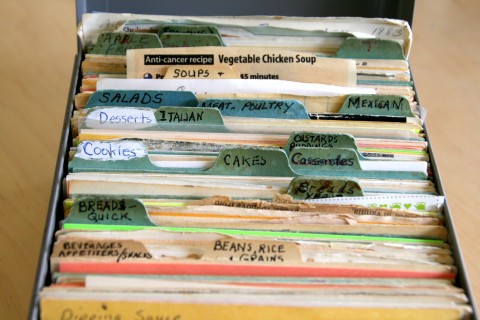 So, as Mother's Day nears, I am mindful that I want to pass the same life skills on to my own daughter, who is now 14.
Pay it forward, culinarily.
She chose this beguiling recipe for Nutella Meringues from the Toronto-based blog Cream Puffs in Venice. Isn't it great how a Canadian kitchen can inspire a Southern California teenager?
These crisp sweets combine the best of two beloveds for my girl – Nutella and airy meringues.
There are only a couple of ingredients, but lots of bowls and spoons to lick and plenty of kitchen techniques to convey.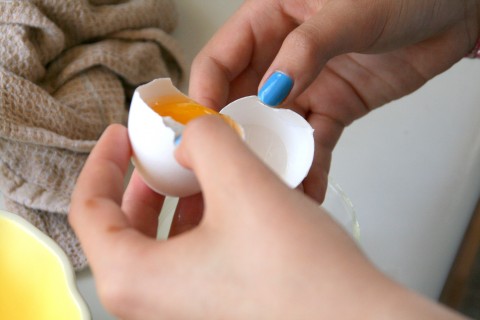 You have to learn how to crack and separate eggs. (Blue fingernails optional.)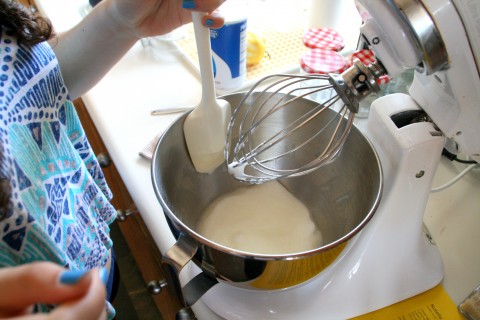 When are the whites foamy?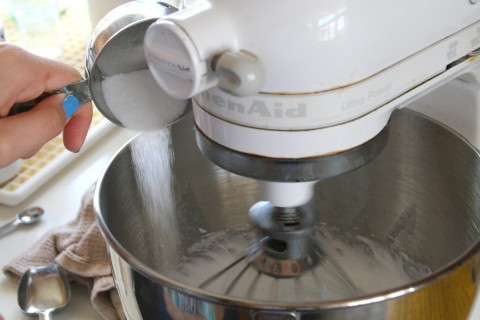 You must be patient as you add the sugar.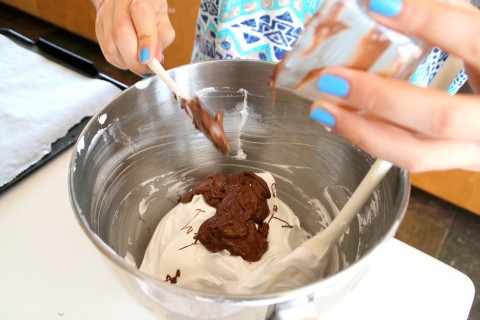 You can glob in the softened Nutella…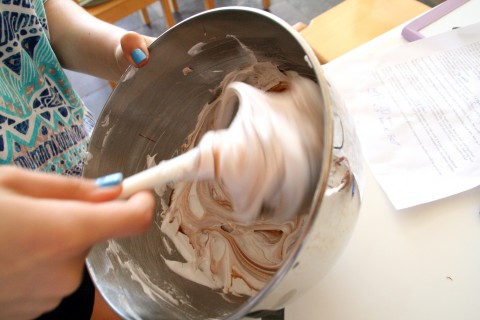 …but then you must fold it gently for the marbled effect.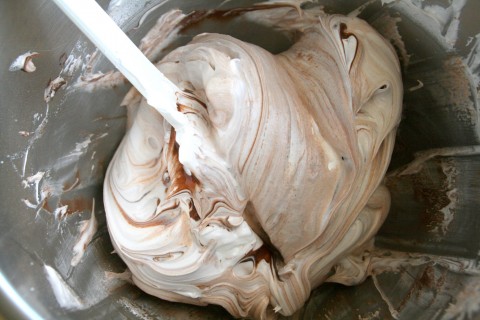 You are going for a marbled effect, so don't over stir.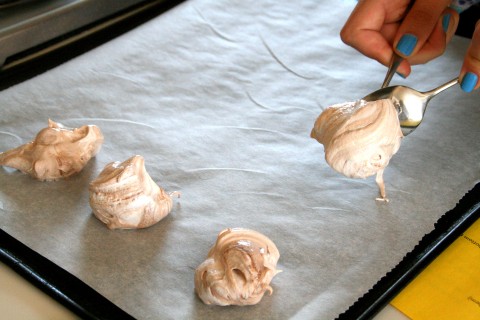 Two spoons are most efficient for forming the mounds.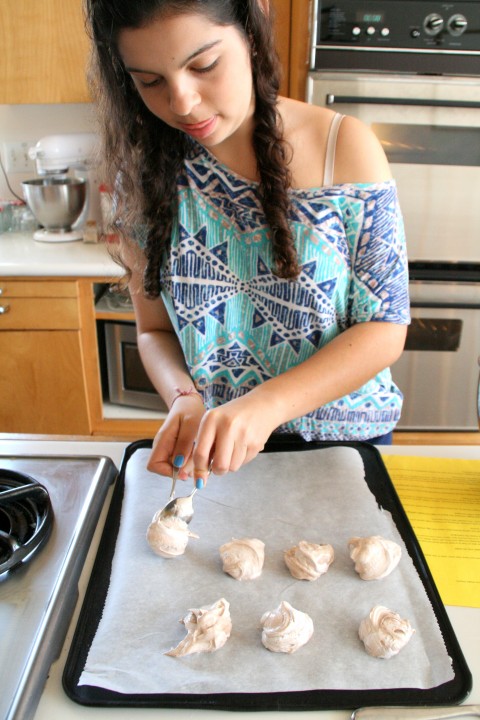 Space them neatly on the parchment paper.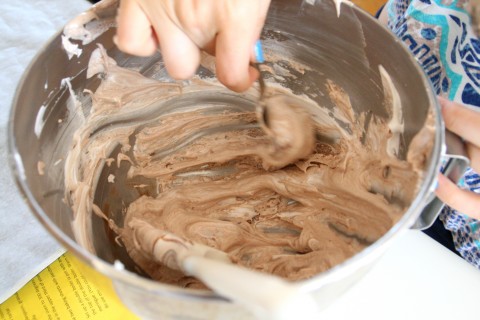 Work relatively quickly so the whites don't deflate.
Consistent size is the key to even baking.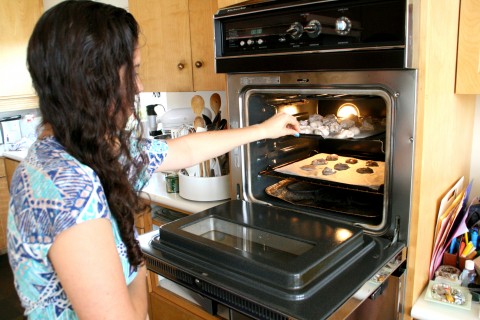 Don't be afraid of the hot oven!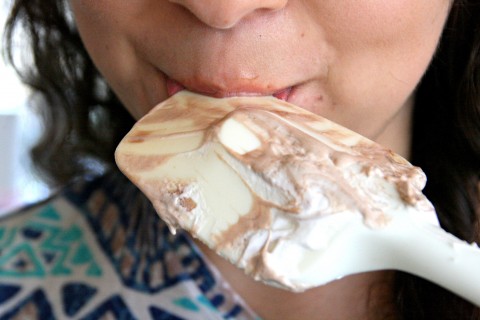 When all is done, you may lick the bowl and beaters (if you have no immune issues; remember, this is raw egg whites. See note below in recipe.).
Thanks, Mom, for teaching me to cook so many decades ago.
I'm repaying your delicious gift, and passing it along.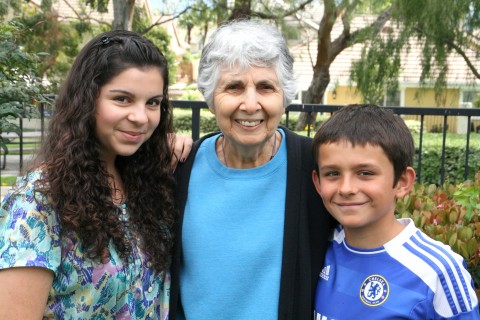 Happy Mother's Day! 
Recipe: Nutella Meringues
Summary: Light, airy and tasting delicately of chocolate hazelnut, these meringues are a Nutella dream come true. They're great by themselves or a cup of coffee or tea, and also wonderful with fresh strawberries.
Ingredients
1/4 cup Nutella
3 large egg whites, at room temperature (Safest Choice pasteurized eggs preferred)
A pinch of cream of tartar
A pinch of salt
1/2 cup + 1 tablespoon granulated sugar
Instructions
Preheat the oven to 300 degrees F. Make sure you have one oven rack in the bottom third of your oven and one in the upper third of your oven.
Line two baking sheets with parchment paper and set aside.
Measure Nutella into a glass cup and warm slightly in the microwave (10-20 seconds), just to loosen it slightly. Set Nutella aside to cool as you make the meringue.
In the bowl of a stand mixer fitted with the whisk attachment, place the egg whites. Beat on medium-high speed until they are completely foamy. Add the cream of tartar and the salt and continue whipping at medium-high speed until, when you lift the whisk attachment, soft peaks form. This should take a few minutes.
Once you have reached the soft peak stage, increase the speed to high and begin adding the sugar a few spoonfuls at a time (this should take a few minutes). Once all the sugar is in, the meringue should be very thick (almost stiff) and when you left the whisk firm peaks should remain and it will be glossy.
Remove the bowl from the mixer and drop in all the Nutella. With a rubber spatula, gently fold the Nutella into the meringue three or four times. You're aiming for a swirled effect so don't over mix. This will also help avoid deflating the meringue.
Using two spoons, drop the meringue onto the parchment-lined baking sheets in large dollops.
Place trays in the oven for 10 minutes. After 10 minutes, immediately lower the heat to 200 degrees F. and rotate the trays. Bake for 1 hour.
After 1 hour, check the meringues by sacrificing one; break it open and see if it is completely dried out. If so, then turn the oven off and leave the meringues in the oven for a few hours to cool with the oven. If the meringues still look a bit wet, then continue baking for another 20 minutes or so. Either way, once fully baked, turn off the oven and leave the meringues in there for 3 hours.
When you remove the meringues from the oven they should be completely dry and cool and will sound hollow when you tap the bottoms.
The meringues will keep in an airtight container for a week.
Makes 40.
Source
We saw this recipe at Cream Puffs in Venice. If you click over there, be sure to take note of her "Magazine Monday" series, where she cooks her way through her pile of food magazines. Brilliant!
Eggs
Have you ever heard of Safest Choice eggs? They're pasteurized in the shell (amazing technology). If your kids like to eat the batter before baking, like mine do, they would be a good choice for this recipe.
Preparation time: 15 minutes
Cooking time: 1 hour 30 minutes
Diet type: Vegetarian
Number of servings (yield): 20 (2 cookies per serving)
My rating 5 stars:  ★★★★★