Print This Post
The lore of eating Hoppin' John on New Year's Day, at least in the southern United States, is that it brings prosperity and good luck.
The black-eyed peas are symbols of pennies or coins, and the collard greens eaten alongside symbolize green money.
I'm all in favor of prosperity and luck – let it rain down on us! — so who am I to argue with this tradition, even if I don't exactly live in the south?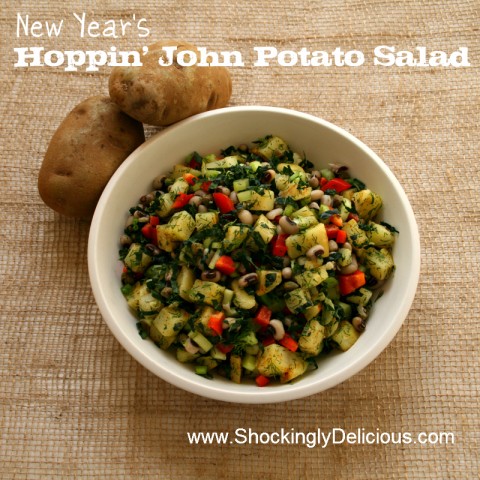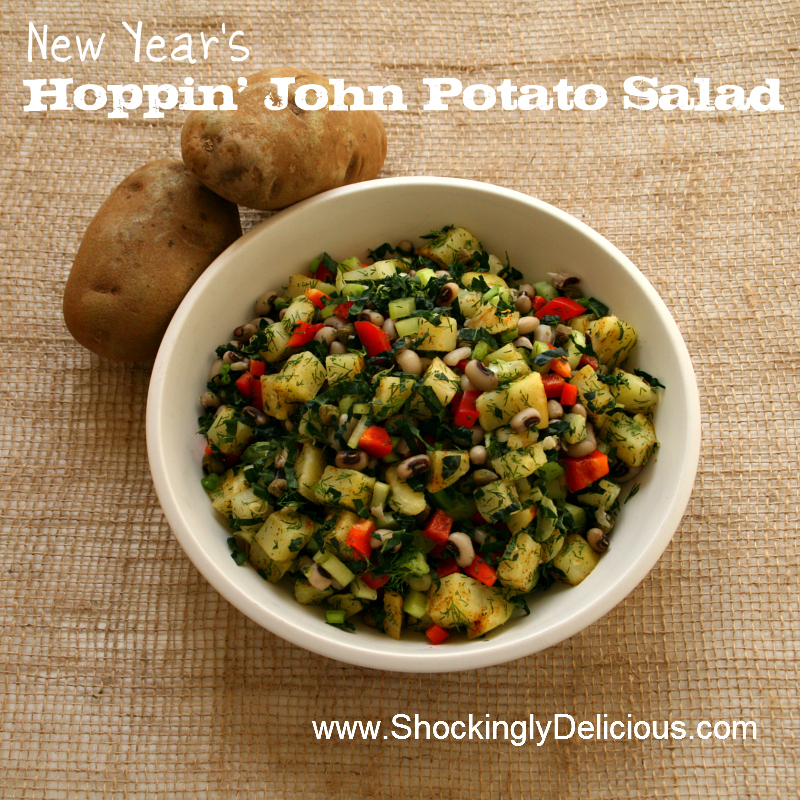 However, I am one to push the envelope, so when the folks at the Idaho Potato Commission asked me to create a recipe for New Year's Day, I decided to take a slight detour from the Hoppin' John cooked dish to make a light, bright Hoppin' John Salad, where potatoes stand in nicely for the traditional cooked rice, shredded raw Tuscan kale subs for the cooked collards, and we use a lemony vinaigrette instead of burdening our salad with mayo. I've left off the bacon that traditionally goes into cooked Hoppin' John, but you can certainly add some cooked, diced bacon if you like.
I made it one Sunday morning, and we ended up eating it all for lunch! It's on my Jan. 1 brunch menu, too.
Happy New Year, and most of all good luck and good fortune to you all!
Recipe: New Year's Hoppin' John Potato Salad
Summary: Black-eyed peas and kale signify prosperity and good luck, and potatoes sub for rice, in this "saladized" version of the traditional Hoppin' John eaten on New Year's Day.
Ingredients
1 pound Idaho russet potatoes (about 2 large potatoes), peeled and cut into 1/2-inch dice
Seasoned salt
2 ribs celery, thinly sliced (about a heaping ½ cup)
1/2 a red bell pepper, seeded and diced
4 tablespoons drained capers
4 green onions, thinly sliced (use both green and white parts)
4 medjool dates, pitted and finely minced
2 leaves lacinato kale (aka Tuscan, or Cavolo Nero, or Black or Dinosaur kale), center rib removed and cut into a chiffonade (sliced into thin ribbons)
2 tablespoons finely minced fresh dill (remove thick stem first)
1 Meyer lemon (both zest and some juice will be used) or use a regular lemon
1 cup cooked black-eyed peas
Dressing
1/4 cup olive oil
2 tablespoons white balsamic vinegar (or use white wine vinegar or apple cider vinegar if you can't find white balsamic)
1 tablespoon Dijon mustard
2 teaspoons Meyer lemon juice (from lemon above) or use regular lemon juice
1 teaspoon crushed or pressed garlic
Grinding of fresh pepper
Instructions
Cook potatoes: Place potatoes in a covered, microwave-safe container, sprinkle very lightly with seasoned salt, and microcook on high for 4 ½ minutes (at 1100 watts). Test them with a fork (they should be tender but not mushy), remove from microwave and set aside, uncovered, to cool.
Assemble salad: While potatoes are cooking, to a large bowl add celery, bell pepper, capers, green onions, dates, kale, dill and the zest of the lemon. (Use a microplane zester for best results in removing zest without the white pith.) Toss ingredients well to combine. Add black-eyed peas and potatoes to the bowl.
Make dressing: In a tall-sided bowl or large glass measuring cup, add olive oil, vinegar, mustard, lemon juice, crushed garlic and pepper. Whirl with an immersion blender for a few seconds until well combined. (If you don't have an immersion blender, put dressing ingredients in a regular blender and whirl.)
Pour two-thirds of the dressing over the salad in the bowl, and stir gently to combine (gently because you don't want to break up the peas or the potatoes). Taste and add more dressing, if needed, and adjust seasoning to your liking (adding a pinch of salt, a splash more vinegar, lemon juice or oil, to your taste). Give it one more gentle stir.
Transfer salad to a serving bowl.
Serves 4-5.
Serving temperature: A reader asked if this should be served chilled or warm. I say room temperature! I think many things taste better at room temp, and this is one of them. But if you prefer your potato salads chilled at serving time, by all means put it in the refrigerator. And of course, store it in the refrigerator if you make it the day before, or for the leftovers.
Variations
To save time, use a bottled vinaigrette if you don't want to make your own dressing.
Preparation time: 20 minutes
Cooking time: 5 minutes
Diet type: Vegetarian, Vegan
Diet tags: Reduced fat, gluten-free
Number of servings (yield): 4-5
Culinary tradition: USA (Nouveau)
My rating 5 stars:  ★★★★★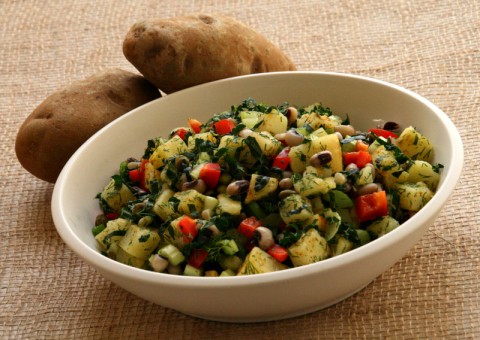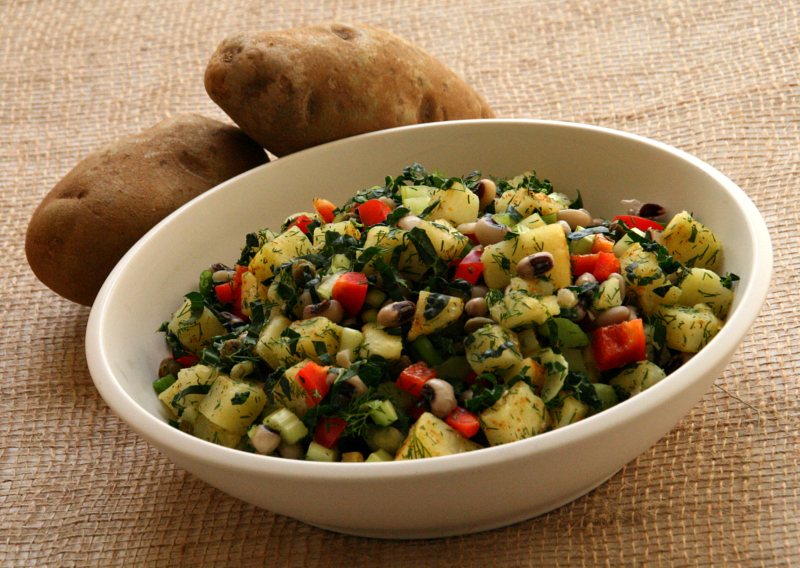 The Idaho Potato Commission hired me to create this recipe. Melissa's Produce sent the black-eyed peas for recipe testing.