Print This Post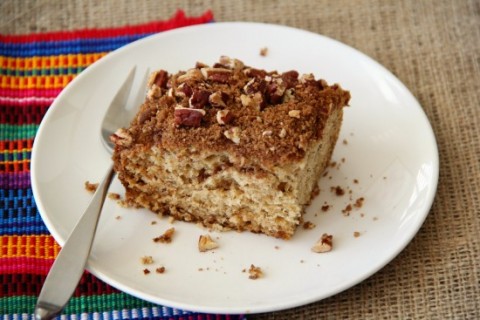 If banana bread married coffee cake, this would be the offspring, and what a beautiful baby it is!
It takes a simple, cinnamon-inflected snack cake much like my beloved Old-School Sour Cream Banana Bread, and tops it with a toasted pecan streusel.
Like the sound of that? My family did, and my neighbors enjoyed it so much they called after the first piece and hinted for more!
Happy to oblige.
In fact, I made this cake 4 times in 7 days. Make that 5 times in 7 days, since I just popped another one in. That's how good it is. Now go turn on your oven.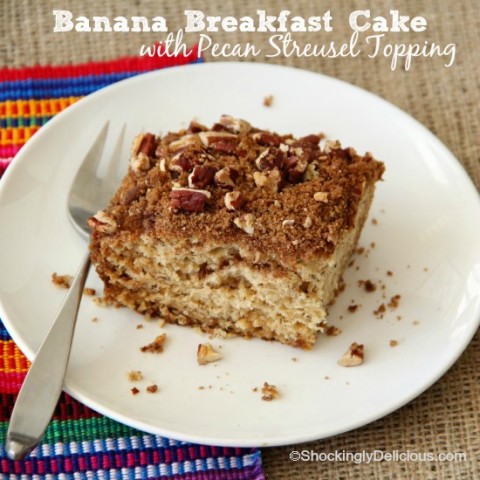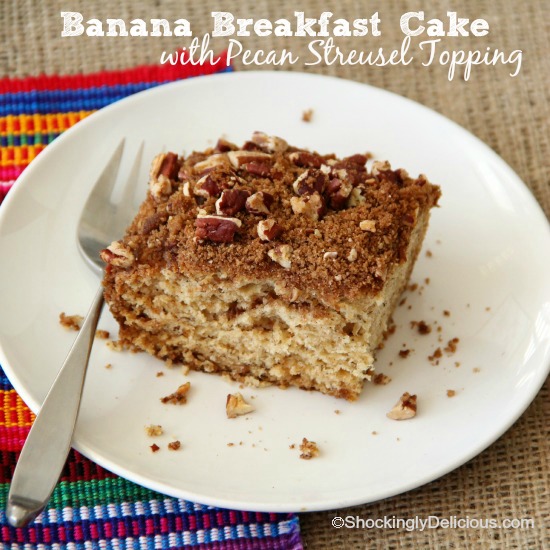 I used my new favorite goat milk kefir in here, and it worked out perfectly. I also subbed olive oil instead of butter, and you know what? I like it better that way!
Recipe: Banana Breakfast Cake with Pecan Streusel Topping
Summary: Banana bread marries coffee cake for a delicious breakfast cake with all-important streusel topping. Goat milk kefir makes it tender!
Ingredients
Pecan Streusel
¼ cup brown sugar, packed
3/4 cup chopped pecans
¾ teaspoon ground cinnamon
Instructions
Heat oven to 350 degrees. If using butter, unwrap the butter and place butter in a mixing bowl. Use the butter wrapper to grease an 8-inch-square baking dish, and set dish aside. If using olive oil, mist baking dish with nonstick spray and set aside.
To the bowl with the butter (or olive oil if using that), add the sugar and using an electric mixer on medium speed, cream butter (or olive oil) and sugar until light and fluffy. Add the egg, vanilla and bananas and mix until incorporated. Mixture might look a little curdled, which is OK.
Add salt and cinnamon and mix well. Add baking powder and baking soda and mix well. Add half the flour and mix just until flour is incorporated. Add kefir and mix just until incorporated, then add the rest of the flour and mix just until flour is combined in. Do not overmix.
Pour-scrape batter into prepared dish, and smooth the top. Batter will be thick.

Make Pecan Streusel

: In a separate bowl, add brown sugar, pecans and cinnamon, and stir well to combine. Sprinkle evenly over top of cake batter.
Bake for 35-40 minutes, until a toothpick inserted in the center comes out clean.
Remove from oven, cool completely and cut into 9 pieces. Store in a covered container in a single layer, at room temperature.
Serves 9.
What is goat milk kefir?
Goat milk kefir is a naturally cultured probiotic beverage with live and active cultures. It is generally thinner than yogurt (some people think of it as drinkable yogurt), mild yet slightly tangy, a source of calcium, protein and essential minerals and is gluten-free. Because of the fermentation, little lactose remains in the kefir so people with lactose intolerance are often able to tolerate kefir. Kefir is a popular drink in Europe, and gaining popularity here. For cooking, it can be used as a substitute for buttermilk in baking, or half and half or cream as it is in this pumpkin pie, and can be stirred into granola for breakfast.
Source
Adapted from Banana Pecan Breakfast Cake from "Lick the Bowl Good," by Monica Holland (2013 Skyhorse Publishing).
Preparation time: 15 minutes
Cooking time: 40 minutes
Diet type: Vegetarian
Number of servings (yield): 9
Culinary tradition: USA (General)
My rating 5 stars:  ★★★★★ 
Disclosure: Redwood Hill Farm sent the kefir for recipe testing.