Print This Post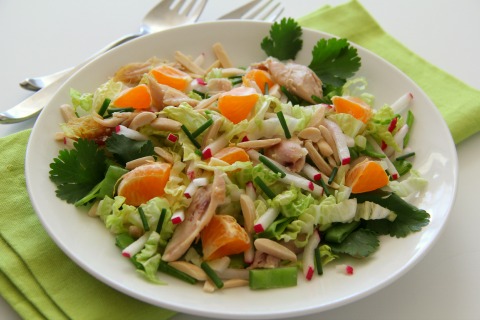 Drop our family into any restaurant and no matter what else is on the menu, my kids, age 11 and 16, will automatically want to order a Chinese Chicken Salad.
Which isn't to say that they always like it. Chinese Chicken Salads are like chili recipes, or kugel recipes, or guacamole recipes – everyone has their own version, their own way they prefer it, and the way they think it tastes best.
Our way always includes a lot of crunch; there's nothing worse than a soggy salad. So when I was playing around in the kitchen trying to create a new version for them at home, I decided to include some cute Radish MiniSticks, which give crunch and just a hint of zippy flavor without overpowering tender taste buds.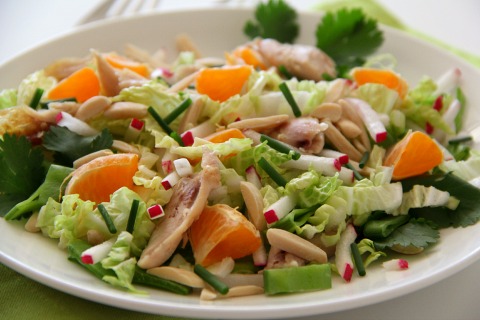 The trick with kids and salads is that not everyone likes everything, so if you just toss it all in a big salad bowl and then serve from that bowl, you might have a kid who rejects the entire salad simply because of one ingredient. So I build my salad in individual shallow bowls or on plates, customizing it to each kid. One adores cilantro and one despises it, so I simply leave it off that kid's salad. The same might be true for almonds, or for green onions, for that matter. I'm lucky that they both like nearly everything, so the salads are identical except for the cilantro. A drizzle of dressing on each plate at the end takes care of that aspect.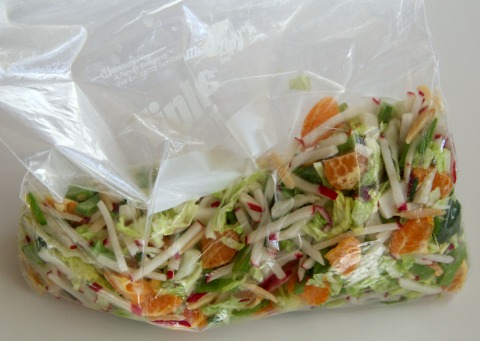 Another make-ahead trick: My daughter likes to take salads to high school for lunch, so I will toss the undressed vegetable salad ingredients in a zipper-top plastic bag so that she can pull her portion from that the next morning when she packs her lunch. She can then add some chopped chicken and nuts at that time, and tuck in a tiny jar of dressing. If you put the nuts in the plastic bag with the vegetables, they would lose their crunch in storage overnight. But having the salad chopped and ready in a bag makes it extremely likely she'll grab a healthy lunch!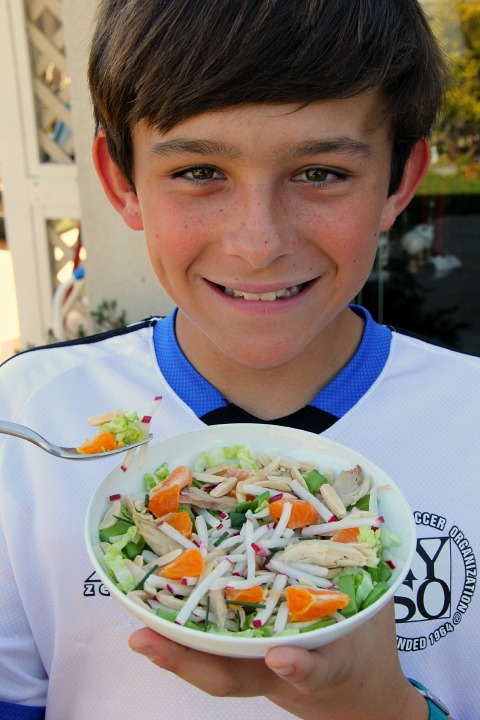 My son grabbed the bag of Radish MiniSticks, ate some and said, "These are crunchy and good!" Hey, I'll take that! And I'll add some to his lunch, as well, in a little bag or jar.
If you're looking for the Radish MiniSticks, there is a store locator here.
Recipe: Chinese Chicken Radish Salad
Summary: A modern adaptation of a classic Chinese Chicken Salad, with Radish MiniSticks supplying serious crunch.
Ingredients
4 Napa cabbage leaves (about 4 ounces), shredded
15 snow peas, sliced
1 green onion, sliced
1 cup shredded or chopped roast chicken
1 (4-ounce) bag Dandy Radish MiniSticks
2 clementines, tangerines or mandarins, peeled, segmented and chopped
Garnishes
¼ cup slivered toasted almonds
¼ cup chopped fresh cilantro
¼ cup crispy chow mein noodles (optional)
Bottled Sesame-Ginger Vinaigrette
Instructions
If everyone likes everything, you may put all salad ingredients in a large salad bowl and toss to combine. If you have individual preferences, build the salad on individual plates in the order given, leaving off anything that one person doesn't like.
When salads are built to preference, add garnishes and drizzle with dressing. Enjoy!
Serves 2 as a main-dish salad, or 3-4 as a side salad.
Source
Dorothy Reinhold | Shockingly Delicious
Preparation time: 15 minutes
Number of servings (yield): 2
Culinary tradition: USA (General)

Disclosure: Duda Farm Fresh Foods sent the Radish MiniSticks for recipe development and compensated me for this post. All thoughts and opinions are my own.