Print This Post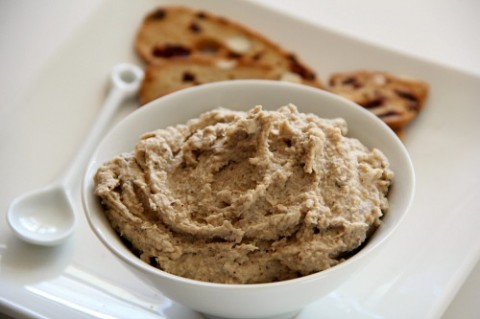 Just in time to usher in the New Year with a welcome dose of good luck, I bring you Black-Eyed Pea Hummus (aka Hoppin' John Hummus).
I figured if we could make hummus with chickpeas, we could make it with my beloved earthy black-eyed peas, and also take advantage of the New Year's lore of said peas guaranteeing good luck.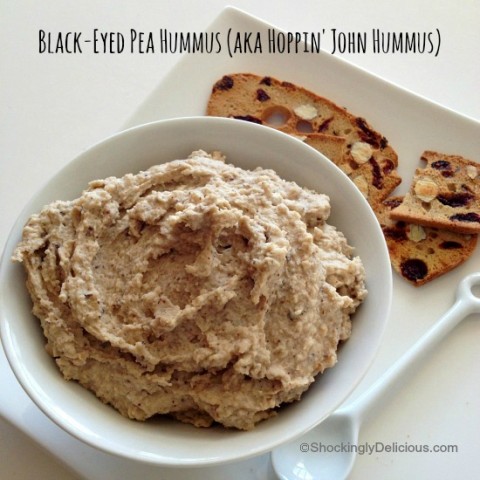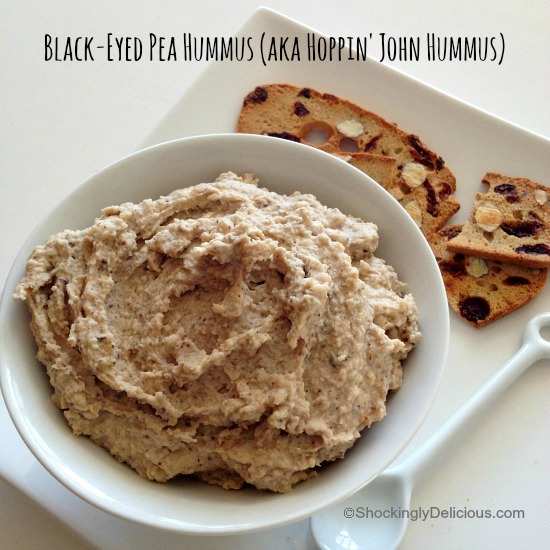 You know what? I might like it even BETTER than chickpea hummus. Don't tell the chickpeas I said that.
Recipe: Black-Eyed Pea Hummus
Summary: Homemade hummus — this time with black-eyed peas for New Year's good luck — is perfectly seasoned with caramelized shallots and garlic, warm spices and a shot of lemon juice. Use fresh vegetable dippers.
Ingredients
1 (11-ounce) container Frieda's fresh Blackeyed Peas (found in the produce section)
3 tablespoons extra virgin olive oil, plus additional
1 large shallot, peeled and finely minced
4 fat garlic cloves, divided use
2 tablespoons tahini (sesame seed paste)
3 tablespoons fresh Meyer lemon juice
1 teaspoon ground cumin
1/2 teaspoon ground coriander
1/8 teaspoon kosher salt

For dipping

: Toasted pita bread wedges, tortilla chips, or vegetables (beet slices, radish slices, broccoli florets, carrot sticks, cherry tomatoes)
Instructions
Rinse blackeyed peas and cook following instructions on package — simmering in water for about 15 minutes. Drain and discard cooking water.
While peas are cooking, add 3 tablespoons olive oil to a skillet. Sauté shallots for 5 or so minutes, until lightly brown. Add 3 pressed garlic cloves and sauté for another minute or two.
Add contents of skillet, including oil, to the bowl of a food processor. Add peas, tahini, lemon juice, cumin, coriander and salt. Whirl for a minute or so until it forms a paste, adding another tablespoon of olive oil and 1-3 tablespoons of water if needed to get it moving. Press the final garlic clove (raw) and add it, whirling for another 30-60 seconds, adding another tablespoon of water if you need to, for proper consistency. The final result should be like thick paste or frosting.
Taste and adjust seasonings, adding another pinch of salt if needed, or more lemon juice, of even more garlic if you like it that way. The final result should be to

your

liking! Feel free to add another tablespoon of water if it isn't a loose enough puree for you.
Transfer to a serving bowl, and surround with vegetable dippers, crackers, pita or whatever you want to use to dip.
Serves 6-8.
Source
Recipe by Dorothy Reinhold | Shockingly Delicious
Preparation time: 25 minutes
Cooking time: 15 minutes
Diet type: Vegetarian, vegan
Diet tags: High protein
Number of servings (yield): 6-8
Culinary tradition: Fusion of Middle Eastern and U.S.
My rating 5 stars:  ★★★★★
Disclosure: Frieda's Produce sent the Meyer lemon for recipe development.