Print This Post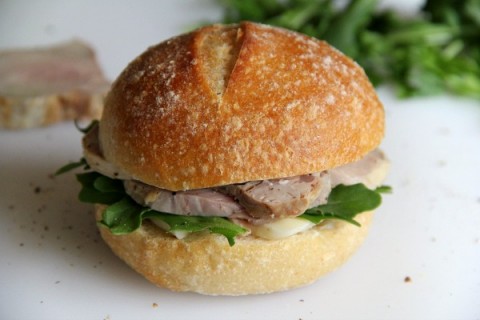 The best dinners always leave leftovers for lunch the next day, right?
Here's my new strategy for a dinner that gets us beyond the standard roast chicken, and a lunch that whisks us away from a turkey sandwich.
First, get a marinated pork tenderloin. If you haven't yet discovered these in the meat case, look for them. They make getting dinner on the table in 30 minutes actually do-able.


I used Smithfield Marinated Pork Tenderloin in Portobello Mushroom flavor. Since it's already seasoned, you remove it from the package, drain and put it in a 350-degree oven for about 20ish minutes. For the best flavor, "think pink" and cook the tenderloin until just pink in the center, around 145 degrees. Take it out, slice and serve. I usually serve it with mashed potatoes and a salad or some wilted greens (kale, spinach, bok choy…whatever I have on hand). Dinner – done!
Ah, but here's where it gets even better. Leftovers get repurposed into a panini the next day.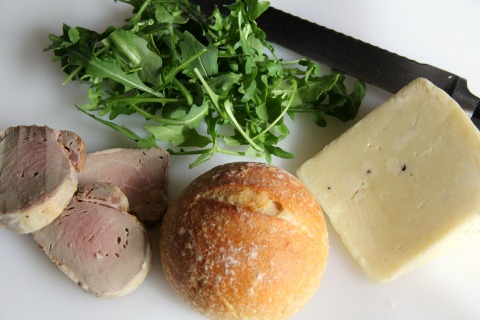 Let's assemble the ingredients.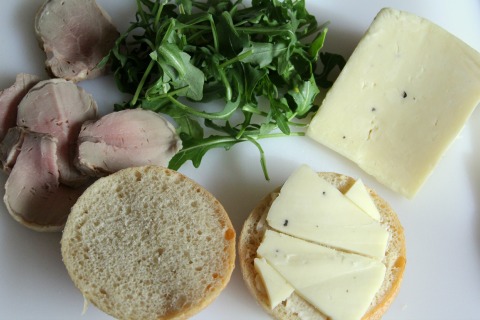 I simply stuff a sourdough roll with some flavorful cheese (this time I used a truffle cheese to further amplify the mushroom flavors)…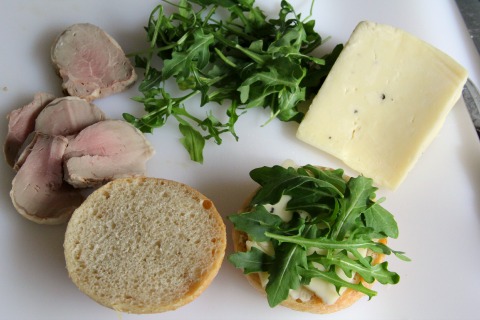 …a few sprigs of peppery arugula to give it some oomph…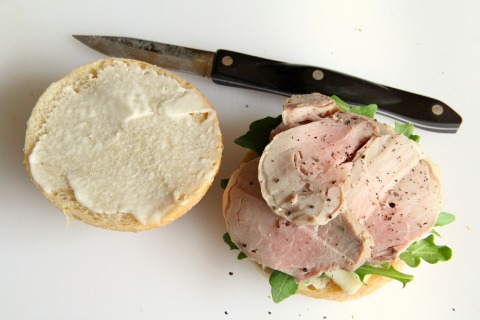 …the cold sliced pork and a slight slather of mayo and some pepper.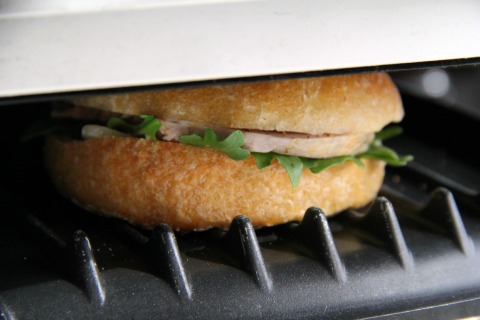 Stick it in the George Foreman for a few minutes until the cheese melts and the bread gets crispy. If you have a special panini press, all the better, but I say use whatever tools you have on hand. I let it cool and then pack in the lunchbox.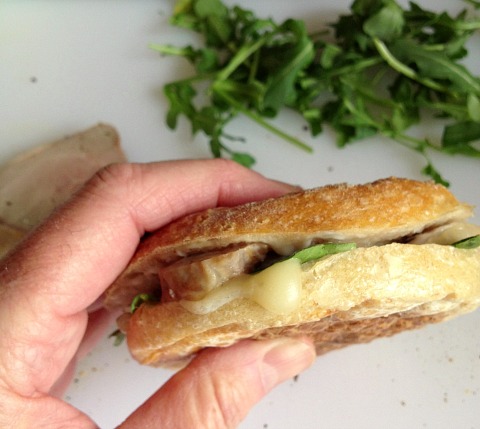 The lucky recipient can eat it as-is at noon, or if he has access to a microwave, can give it a quick jolt to get the cheese warm again.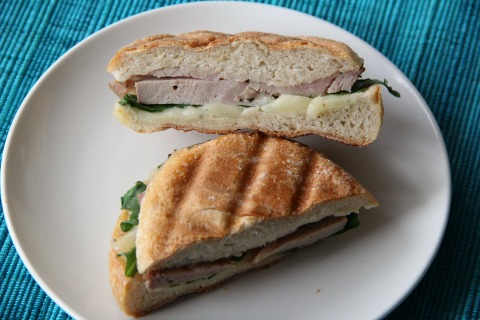 Are you ready for a memorable lunch? Join me!
Recipe: Portobello Pork Panini
Summary: Mushroom-marinated pork tenderloin combines with rich truffle cheese and peppery arugula for a memorable panini.
Instructions
Slice the roll in half, and very lightly spread cut sides with mayonnaise if you wish. (Optional; the sandwich will be delicious without it, too.) Add cheese, pork slices, arugula and a grinding of fresh pepper.
Close the sandwich and grill it for 5+ minutes, until the cheese is melted and the bread crisps.
Remove, cut in half and serve!
Serves 1.
Source
Dorothy Reinhold | Shockingly Delicious
Preparation time: 5 minutes
Cooking time: 5 minutes
Number of servings (yield): 1
Culinary tradition: USA (General)
My rating 5 stars:  ★★★★★ 
Disclosure

: Smithfield sent product for recipe development and compensated me for this post.