Print This Post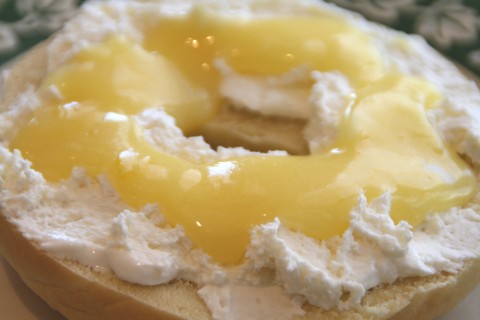 Here's the latest breakfast infatuation:
1. Split and toast a bagel.
2. Spread hot half bagel with whipped cream cheese (will melt slightly in a good way).
3. Dollop generously with Meyer Lemon Curd that you have made yourself with your own two hands, a few lemons and eggs, some sugar and butter.
4. Take a bite, close your eyes (or allow eyes to roll back in your head, whichever you like), and give thanks to the heavens for lemons. (Forgive me…little rhyme crept in there. 😀 )
Now, rewind, and let's get crackin' on the world's easiest lemon curd. Lemon curd is a sweet, tart, intensely lemony spreadable conserve that is used on scones, toast, as a filling for tarts, cookies or cakes, and at my house, is eaten while standing at the refrigerator when I think no one is looking. That's when it is best!  Oh yes, and on bagels for breakfast.
Many recipes call for you to use a double boiler, or to make the curd and then whisk butter into it at the end, or to strain it when done. All those extra steps can really discourage an eager cook. But this easy recipe, which I gleaned from Elinor Klivans in a 1998 Fine Cooking magazine (and also have seen elsewhere on the web, like at the site of darling and clever food blogger and baker Robyn over at Earthbound Chronicles), is the simplest lemon curd I've seen. Let's just call it foolproof lemon curd. I made it four times, and it works like a dream, with no egg curdling, no lumps, and no problems of any kind. That's my kind of cooking — delicious and problem-free! The hardest part of this recipe was making cute labels for the jars.
This is Klivans' recipe, but I have reworded a few things for ultimate clarity, and her timing seemed a tad off to me and others, so I fixed that.
Go pick some lemons off your tree; if you have a Meyer Lemon tree, there might still be a few on there. If you don't, use regular lemons. If you are buying them, try to find organic lemons since you will be using the zest as well as the juice. [Note: this recipe was included in the "Grow Your Own" roundup for August 2010 ]
Here's a quick visual tutorial, so you can see there is no tricky stuff going on. Have I not also convinced you by my clever yellow highlighting?
Meyer Lemon Curd
3 ounces (6 tablespoons) unsalted organic butter, at room temperature
1 cup granulated sugar
2 large eggs
2 large egg yolks (save whites for another use)
2/3 cup fresh organic Meyer lemon juice (4-5 lemons, depending on size)
Grated lemon zest from 1 lemon (about 1 teaspoon)
In bowl of electric mixer, beat the butter and sugar about 2 minutes on medium. While beating, slowly add the eggs and yolks and beat on low for 1 minute. Add lemon juice and beat on low until combined; mixture will look curdled, but don't worry, it will smooth out as it cooks.
Pour mixture into a medium, heavy saucepan and cook on low until it looks smooth, stirring frequently. (The curdled appearance disappears as the butter in the mixture melts.) Increase the heat slightly to medium-low and cook, stirring constantly, until the mixture thickens, about 5-7 minutes. You can check for doneness with an instant-read thermometer (it should read 170°F), and mixture should leave a path on the back of a spoon. Don't let the mixture boil.
Remove the pan from the heat and stir in the lemon zest. Pour lemon curd into clean jars, put lids on, and allow curd to cool for 15 minutes on the counter. Then move jars to the refrigerator to finish cooling; the curd will thicken further as it cools. Covered tightly, it will keep in the refrigerator for a week and in the freezer for 2 months. (My observation is you will be lucky to get a week out of it in the refrigerator, because this stuff is so wildly good you will put it on everything! So good luck with a week. I have not yet tested the freezing idea, but will report back when I do.)
Makes about 2 cups.
Variations
For lime curd, substitute fresh lime juice and zest for lemon.
What else to use lemon curd in?
This great, simple recipe for Lemon Whip! It has only two ingredients, and is perfect on fresh berries.