Print This Post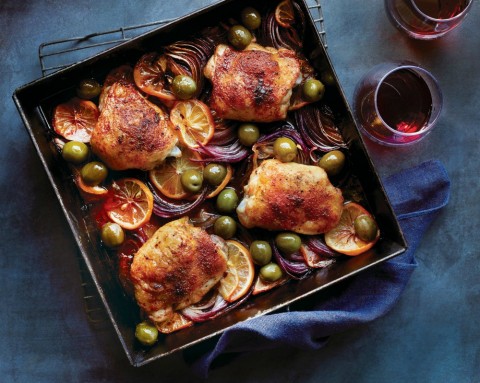 Meaty chicken thighs boast a deep orange color, roasting atop a succulent bed of red onion and sliced Meyer lemon.
Put down that rotisserie chicken from the grocery store. Instead, grab some thighs from the meat counter, a Meyer lemon from the produce bin, and a jar of smoked paprika from your cupboard (yes, you should keep this item stocked!), and get ready for some smells that will bring all the boys to the kitchen. And the girls. And the pets.
This is a winner winner chicken dinner, extraordinaire!
It highlights Meyer lemons, one of the crown jewels of California's citrus harvest (a cross between a lemon and a mandarin oranges), along with aromatic pimentón de la Vera (smoked paprika) from Spain. You'll serve the pan juices from the chicken, and eat the lemon and onion slices with it as well (or not; your choice).  From just a few simple ingredients, a memorable dinner is born.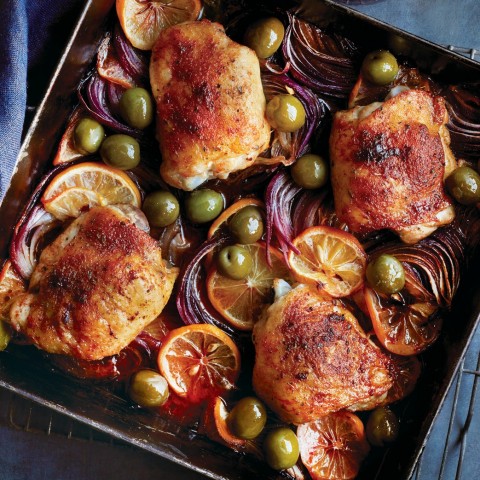 This is best seasoned and left to sit in the refrigerator overnight, before roasting. Start it tonight, and you'll have a head start on tomorrow's dinner!
And pour one of California's magnificent wines to go with. Suggestions are in the recipe card!
Roast Chicken with Meyer Lemon and Smoked Paprika
Roast Chicken Thighs with Meyer Lemon and Smoked Paprika: Meaty chicken thighs boast a deep orange color, roasting atop a succulent bed of red onion and sliced Meyer lemon.
Ingredients
4 bone-in, skin-on chicken thighs, about 1 1/2 pounds (750 g) total
1 tablespoon extra virgin olive oil

Spice Rub:

1 1/2 teaspoons kosher or sea salt
1 1/2 teaspoons dried oregano, crumbled
1 1/2 teaspoons garlic powder
1 1/2 teaspoons pimentón de la Vera (Spanish smoked paprika)
1 Meyer lemon (or navel orange), ends removed, then thinly sliced
1 small red onion, halved and thinly sliced from stem to root
24 green olives (optional)
Directions
Coat the chicken thighs all over with the olive oil. In a small bowl, combine all the rub ingredients, mixing well. Sprinkle on both sides of the chicken. Set the seasoned thighs on a rack over a plate or tray and refrigerate, uncovered, for 8 to 24 hours. Remove from the refrigerator 30 minutes before roasting.
Position a rack in the upper third of the oven and preheat the oven to 425°F (220°C). Choose a shallow baking dish just large enough to hold the thighs in a single layer without touching. Put the lemon and onion slices in the baking dish and toss them together. Remake them into a flat bed and set the thighs directly on top.
Roast the chicken for 20 minutes, then baste with the pan juices. Continue roasting until the chicken skin is well browned and crisp and the onions and lemons are just beginning to caramelize, about 20 minutes longer. Add the green olives, if using, about 10 minutes before the chicken is done.
Let the chicken rest for 15 minutes before serving to allow the juices to settle.
Serves 4.
Notes
Recipe source: "Wine Country Table: With Recipes that Celebrate California's Sustainable Harvest," by Janet Fletcher (Rizzoli, 2019). Recipe and photo used with permission from the publisher.
WINE SUGGESTION: California Cabernet Sauvignon, Merlot or Pinot Noir (generous fruit aromas, lively acidity and plenty of depth).
SUBSTITUTION FOR MEYER LEMON: Use half regular lemon and half orange or tangerine or mandarin. It won't be exact, but you'll get close.
https://www.shockinglydelicious.com/roast-chicken-thighs-with-meyer-lemon-and-smoked-paprika/
Copyright Dorothy Reinhold | ShockinglyDelicious.com. All rights reserved.
About the cookbook
This recipe comes from a new cookbook, "Wine Country Table: With Recipes that Celebrate California's Sustainable Harvest," by Janet Fletcher. More than simply a cookbook, this 50-recipe book takes readers on a wine country road trip of California, which of course is the leading wine and food destination in the U.S. It also provides suggested sustainable wine pairings to bring out the best in each harvest dish—so it's sure to engage everyone from beginners to advanced wine lovers. It is written by award-winning Napa Valley author Janet Fletcher, who showcases the diversity of our state's wines and regions, as well as its agricultural bounty. These are produce-driven recipes that define our wine regions — California cuisine, indeed! It would make a wonderful gift for a wine lover or enthusiast in your life.

Pin the image below to your Pinterest board to save this recipe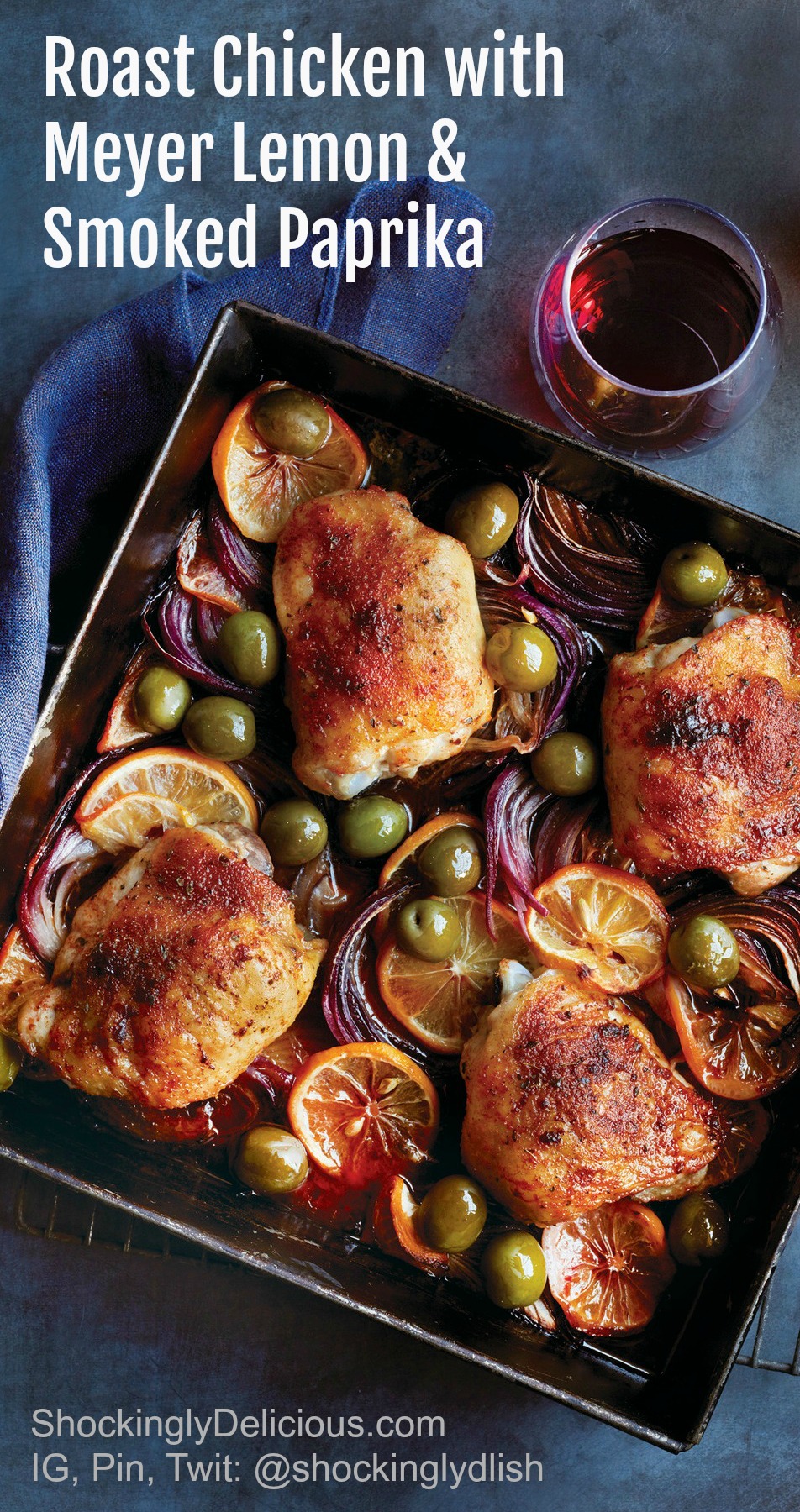 The publisher sent a copy of the cookbook for review.
Thanks for visiting…are you hungry for more? Follow Shockingly Delicious on…
FACEBOOK | PINTEREST | INSTAGRAM | TWITTER
…for all the latest recipes, ideas and updates!
This post may contain affiliate/referral links. It is a way for this site to earn advertising fees (at no cost to you) by advertising or linking to certain products and/or services that I approve and prefer.