Print This Post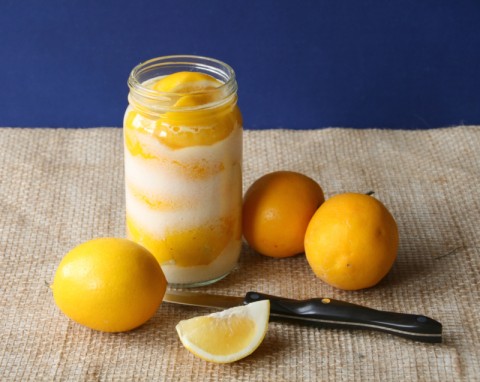 If you are lucky enough to have Meyer lemons, count your blessings.
A treasure of the winter season, this citrus is thought to be a cross between a lemon and a mandarin or orange, and has a heady, perfumed fragrance and a slightly sweet lemony taste that makes it very special, indeed. I prefer Meyers over other lemons whenever I can snag some from a neighbor with a tree.
And if you have Meyer lemons, you are a mere fortnight away from the most delicious, unique, easy condiment imaginable – Preserved Lemons. Two ingredients and two weeks — that's all you need for Preserved Lemons.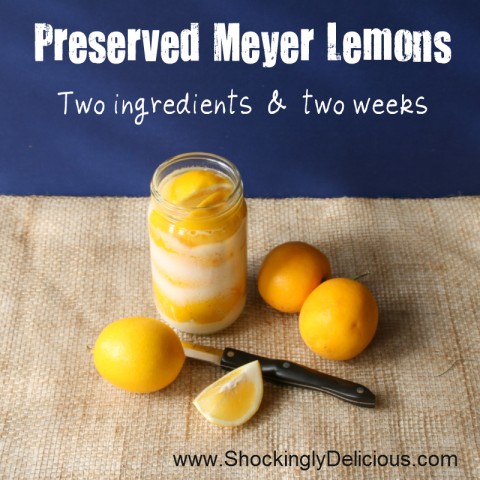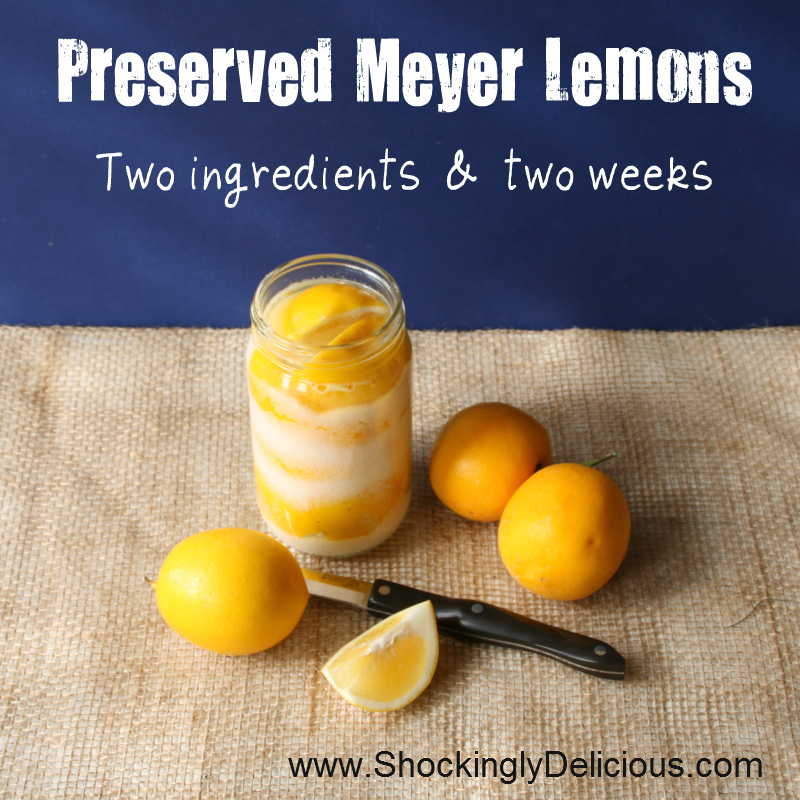 Preserved lemons are lemons that have been pickled in salt, commonly used in Indian and North African cooking, especially in Moroccan cuisine. But the uses in the American kitchen are many, and this is well worth the mere few minutes it takes to cut and stuff the lemons into a jar, and the two weeks of unattended fermentation time.
I made Preserved Lemons not only because I had several Meyers on hand, but because I was thumbing through a wonderful cookbook – "The Whole Foods Kosher Kitchen," by Levana Kirschenbaum ($39.95), and invariably, every recipe I wanted to make called for Preserved Lemons!
So I figured first things first. Let's make Preserved Lemons, and then I'll get to work on the other dishes.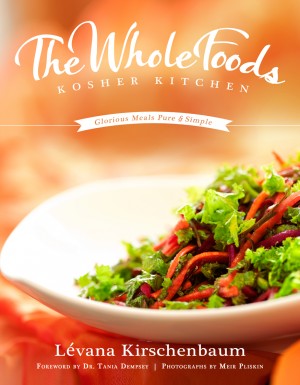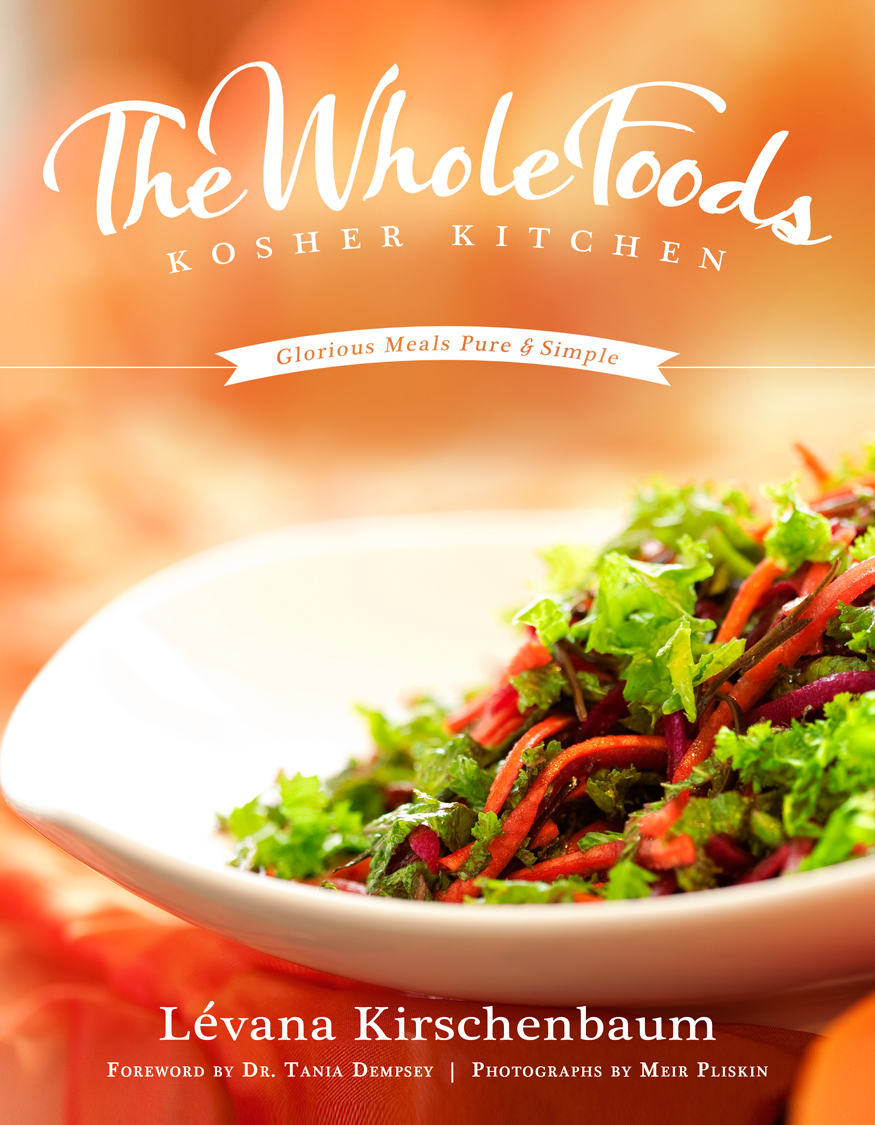 This is a wonderful, authoritative cookbook that may well become a kitchen bible for you. It's a hefty 399 pages, chock full of real food for real people who like to eat really well. Levana, a restaurateur, master chef and cooking teacher, espouses whole foods, healthy foods and delicious foods, none of which are mutually exclusive. Her native Moroccan cuisine makes a strong showing in the book, as well as many other cuisines. She also includes extensive, helpful indexes for gluten-free foods and a Passover index, as well as suggested menus to put it all together (a vegan dinner, dinner for a crowd on a budget, fun foods dinner, for example).
This book would be a fabulous holiday gift for a loved one passionate about cooking (Hanukkah anyone?), or a young person just starting out who wants to get off on the right foot in the kitchen. You could spend years cooking your way through this resource, and never get bored. The gorgeous color photos help by enticing you to try something you might otherwise overlook.
I'd like to cook her entire chapter on grains and pasta (Barley, Lentil and Kale Pilaf; Pasta with Broccoli and Salmon; Linguini with Fennel Tuna Sauce), and her inventive vegetable dishes are where I will probably start (Broccoli Cauliflower Kugel; Cooked Tomato Salad; Plantains, Squash and Apple Bake).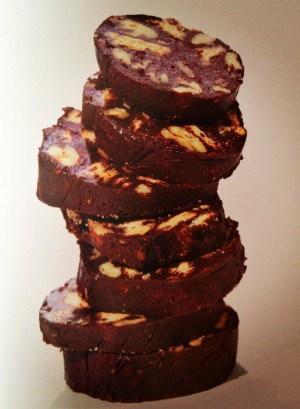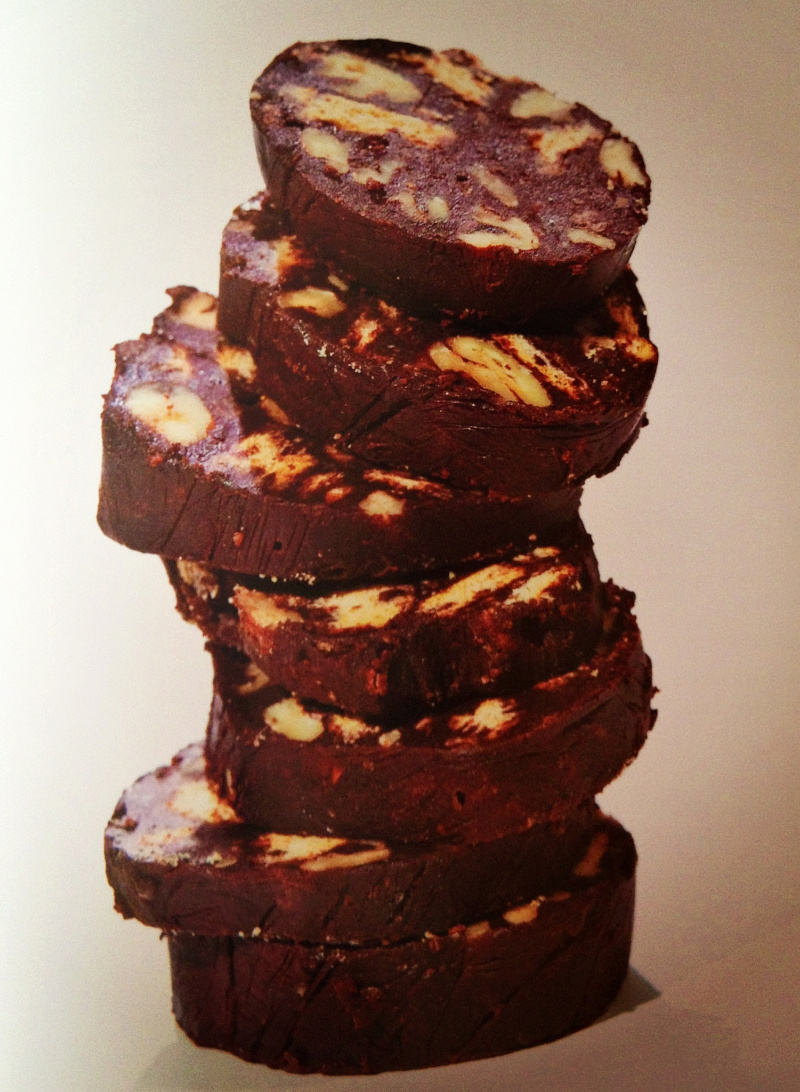 Just don't even get me started on her Chocolate Salami!
But it is her Potato, Olive and Tomato Tajine that initially drew me in. It calls for Preserved Lemon, thus my need to make that first.
Her directions are clear, clean and practical. My lemons are fermenting as we speak, awaiting their delicious fate. I will be back to regale you with the Potato, Olive and Tomato Tajine in a couple of weeks when the lemons are done!
In the meantime, put up a jar or two of these lemons while Meyer lemons are in the markets. You can thank me later. It will end up being a gift to yourself.
Recipe: Preserved Meyer Lemons
Summary: Preserved Lemons, also called lemon pickle, is a traditional condiment in Moroccan and Indian cuisines.
Ingredients
10-12 Meyer lemons
Coarse sea salt (I used kosher salt because that's what I had on hand)
Instructions
Wash and dry the lemons thoroughly. Remove any green points attached to the ends of the lemons. Cut them in quarters lengthwise. Place 2-3 pieces in a clean, wide-mouth quart sized glass jar, top with a thick layer of salt. Repeat: Lemon, salt, lemon, salt, and so on, all the way to the top, pressing down hard as you go to draw out the juice. Don't worry if the juices don't appear immediately; they soon will, with all that salt. The lemons should be totally submerged by their own juice, and reach all the way to the top of the jar. Top with an extra layer of salt to ensure that no lemon skin is exposed (or it may mold). You will need 2 jars. Put the lids on the jars and close tightly.
Place the jars in a dark, cool place (Levana keeps hers under the sink; I put mine in a labeled paper bag and keep it in the dark pantry). They will be ready in two weeks, at which point they should be refrigerated. So after the two weeks of pickling at room temperature, store the jar of lemons in the refrigerator.
To use, take out a quarter of a lemon at a time. Discard the pulp (or put it back in the jar to use later), rinse the skin thoroughly, and mince the skin. Add to fish and chicken dishes, bean soups, salads and salsas.
Makes about 2 quarts.
Source
"The Whole Foods Kosher Kitchen," by Levana Kirschenbaum ($39.95).
Variations
Levana calls for regular lemons in the book, and of course you may use regular. I called for Meyer lemons because they are special and I love them. If you don't like them or have them, use regular lemons. Don't let the lack of Meyer lemons stop you; just make this!
Preparation time: 5 minutes
Fermenting time: 14 days
Diet type: Vegetarian
Culinary tradition: North African, Moroccan, Indian
My rating 5 stars:  ★★★★★