Print This Post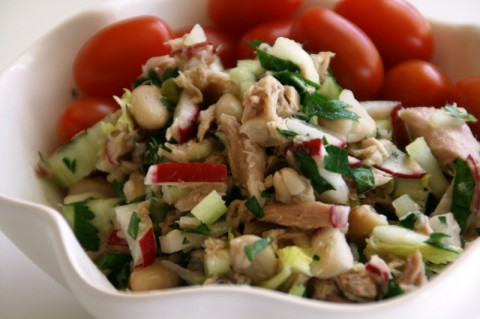 This is a very clean, fresh tasting salad perfect for lunch or a light dinner. It squeaks a little when you eat it (know what I mean?) — a charming characteristic.
It's also a fabulous way to use up items apt to be rotting in the frig veggie drawer – radishes, celery (including some leaves!), cukes and Italian parsley. If you are blessed with access to Meyer lemons, by all means use them for the juice. And be sure to buy the Italian tuna in olive oil. You'll use the oil for the dressing, so there is nothing wasted, and it tastes so much better than average canned tuna.
My kids (8 and 12) gobbled it down. Your mileage may vary on that, but give it a try. They had no idea there were radishes in it.
The inspiration comes from KitchenDaily.com, but I have tweaked some amounts and the method, because I like a chopped salad. You can see their original here.
I make this quickly in the morning after breakfast, store it in the frig, and dinner is ready when we walk in the door at night. Serve with a roll and a handful of cherry tomatoes. Sliced fresh mango is (always!) nice for dessert.
Recipe: Lemony White Bean, Tuna and Celery Salad
A clean, fresh-tasting lunch or dinner salad that squeaks a little when you eat it! Tuna, cannellini, tomatoes, crunchy celery, cucumber and radishes are joined by fresh herbs, and dressed with the flavorful olive oil from the canned tuna along with a splash of lemon. 
1 (15-ounce) can cannellini beans, rinsed well and drained (can use red kidney, white northern or garbanzos instead)
2 (5- to 7-ounce) cans imported tuna in oil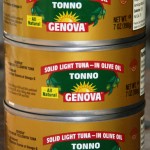 2-3 celery ribs, thinly sliced, plus some chopped celery leaves
1/3 cup finely chopped red onion (can use white or yellow onion)
4-5 radishes, finely chopped
1/2 smallish cucumber, peeled, seeded and finely chopped
1/2 cup flat-leaf Italian parsley leaves, chopped
3-4 tablespoons Meyer lemon juice (can use regular lemon)
Pinch coarse sea salt
Grind of black pepper
Garnish: grape or cherry tomatoes
In a large bowl, add beans, tuna with oil, celery and leaves, onion, radishes, cucumber and parsley. Mix lightly to combine. Add 3 tablespoons lemon juice, salt and pepper, and mix lightly again. Taste and add the an additional tablespoon lemon juice if you like.
Portion salad in wide, shallow bowls or onto medium plates, with tomatoes as a garnish on the side.
Serves 4.