Print This Post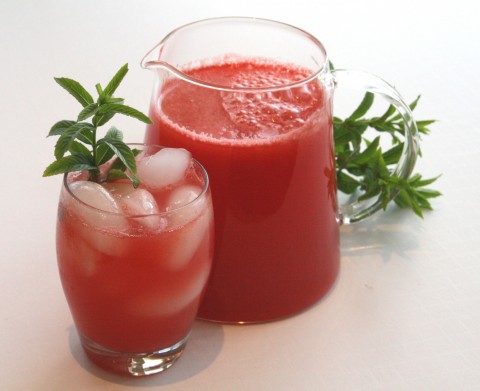 This is one darn cute pink drink!
Aguas frescas are "fresh cold waters" in Spanish, and it means a refreshing Mexican drink made from liquefied fruit. Watermelon makes a classic version, and adding some Meyer lemon juice creates an interesting watermelon lemonade that isn't too sweet.
It is a perfect So Cal alternative to iced tea or plain lemonade.
Agua Fresca Watermelon Lemonade
4 pounds watermelon
1/2 cup Meyer lemon juice (can use regular lemons)
2 cups water
4-5 tablespoons sugar
Cut watermelon into slices and remove the rind. Cut slices into chunks. You should have about 8 cups of watermelon chunks.
In two batches, whirl watermelon chunks in a blender until liquefied (if you do it all at once, your blender lid will blow off, so don't!). Pour slushy watermelon pulp through a mesh strainer into a pitcher. Allow to drain for several minutes, until all that is left is pulp. Discard the pulp. You should have about 3 1/3 to 3 1/2 cups watermelon juice.
Add lemon juice, water and 4 tablespoons sugar to the pitcher and stir until sugar is dissolved. Taste and add the remaining tablespoon (or more) of sugar if your palate wants it.
Pour over ice, with a mint sprig for garnish, sit back and cool off!
Serves 4-6 (about 6-ish cups).
Looking for more lemonade?
The Best Homemade Lemonade
Blackberry Lemonade
Strawberry Basil Lemonade