Print This Post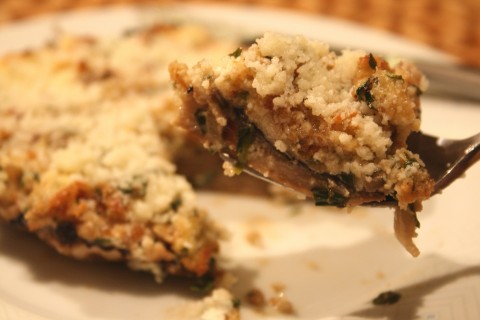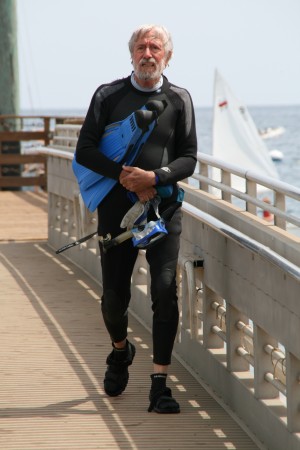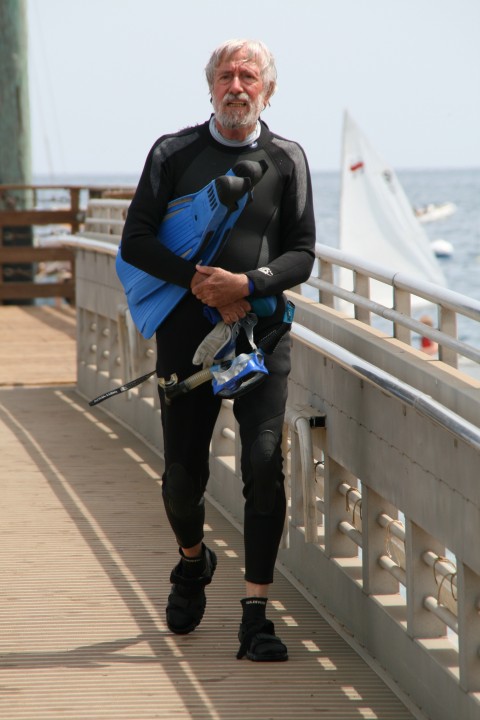 My friend Jean-Michel Cousteau (yes, THAT Cousteau!) sent along a recipe for the most delicious Boursin Mushrooms, and you must make them!
We'll get to the recipe in a minute, but first, let's talk all things Cousteau. An enduring memory of my childhood was watching National Geographic TV specials as famed ocean explorer Jacques Cousteau plied the ocean in his ship Calypso, adventuring and showing a young suburban Southern California girl what it actually looked like under the sea. I can still see his wiry visage in my mind's eye, red cap on his head to ward off the chill.
Flash forward four decades, and, improbably, I have earned the right to call Jean-Michel Cousteau, 72, the eldest son of Jacques Cousteau, my friend.
For the past six summers, we have spent a week together at his Jean-Michel Cousteau Family Camp at Howland's Landing on Catalina Island. A highlight of our trip each year is the chance to snorkel with Jean-Michel in the crystal waters off Emerald Bay. The water may be bracingly cold, but the sights under the surface are magical, with waves of undulating kelp, orange Garibaldi darting about, starfish if you can hold your breath and get to the bottom, and an octopus, if you know where to look. And you get bragging rights for a whole year: "I snorkeled with a Cousteau!"
My family happily signs up for this camp each year because it is a memorable place of sleeping bags, flashlights, star-gazing, kayaking, hiking, snorkeling, sailing, and traditional activities like archery, tie-dying, crafts and a talent show. Each night, Cousteau and his scientific partner biologist Dr. Richard Murphy regale campers with tales of their latest adventure, oceanography lectures or talks about the activities of the Ocean Futures Society.
Ocean Futures is Jean-Michel's global organization designed to explore the ocean, inspire and educate people to act responsibly for its protection, document the critical connection between humanity and nature, and celebrate the ocean's vital importance to the survival of all life on our planet. Join his cause like I did, if you like. A membership would make a unique holiday gift, wouldn't it?
And that's how we come to Jean-Michel's personal recipe, which he sent to members of Ocean Futures as his thank-you for their great support over the years.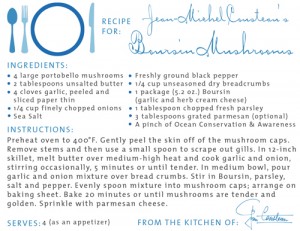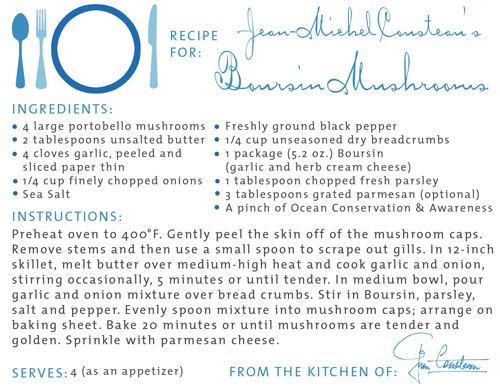 Jean-Michel makes the mushrooms on special occasions or when the team is on expedition in a location where he can get the ingredients. The Ocean Futures staff always begs him for his mushrooms and he loves to cook, according to Carrie Vonderhaar, chief expedition photographer for Ocean Futures.
"The team always talks about his mushrooms. They are wonderful!" said Carrie. "After he gave me the recipe, I went home and made them. Yum!  But somehow when JMC makes them they taste better – I think HE is the special ingredient! 🙂 "
Indeed, Holly Lohuis, a research/education associate for Ocean Futures, also sings the praises of JMC's 'shrooms. "I love Jean-Michel's Boursin Mushroom recipe. It is his signature dish! I have fond memories of Jean-Michel cooking these mushrooms for the entire film team while on expedition in New Zealand, filming killer whales. We were all staying in a rental house and had the opportunity to cook many of our meals. Jean-Michel did not hesitate to offer to cook for us one night and this was one of his favorite recipes he had memorized. It was easy to prepare for the entire team. But I think it took us two grocery stores to finally find the Boursin cheese!"
Since Holly is vegetarian, she says she loves Portobello mushrooms. "I think they are a great substitute for the texture and taste of meat. And I do sometimes crave meat. The combination of melted cheese on top of the mushrooms makes this one a favorite of mine, too, when cooking for guests."
On expedition, Jean-Michel will use medium-sized mushrooms and serve them as a main course along with a salad on the side (there are lots of vegetarians on the team). If he serves them as an appetizer, he cuts them in quarters after baking.
I think you could spread Boursin on dirt and it would be good…Boursin makes anything taste better, so I was eager to try these. They're completely delicious, and would make a great non-meat dinner on a Meatless Monday.
Boursin Mushrooms
Source: From the kitchen of Jean-Michel Cousteau. My changes and additions in Portobello brown.
JMC says the most important part of the recipe is to peel the skin off of the mushrooms. If you leave the skin on, he says the mushrooms will have a bitter taste.
4 large Portobello mushrooms
2 tablespoons unsalted butter
4 cloves garlic, peeled and sliced paper thin
1/4 cup finely chopped onions

(I used 1/2 cup, which is about 1 small onion)

1/4 cup unseasoned dry breadcrumbs 

(I used 1/2 cup fresh breadcrumbs)

1 (5.2-ounce) package Boursin (garlic and herb cream cheese)
1 tablespoon chopped fresh parsley 

(I used 2-3 tablespoons)

Sea salt 

(ha ha! That's funny…sea salt from a Cousteau!)

Freshly ground black pepper
3 tablespoons grated parmesan (optional) 

(I used 4 tablespoons—1 for each mushroom)

A pinch of Ocean Conservation & Awareness

(Why not 2 pinches?)

Garnish: Toasted pine nuts (my addition)
Heat oven to 400 degrees. Gently peel the skin off of the mushroom caps. Remove stems and then use a small spoon to scrape out and discard gills. (Again, very funny for a Cousteau to be scraping GILLS!)
In a small skillet, melt butter over medium-high heat and cook garlic and onion, stirring occasionally, 5 minutes, or until tender.
Add breadcrumbs to a medium bowl. Pour garlic and onion mixture over breadcrumbs. Stir in Boursin, parsley, salt and pepper. Evenly spoon mixture into mushroom caps and spread to the edge (a small offset spatula makes quick work of this). Line a baking sheet with parchment and arrange mushroom caps on baking sheet. Bake 20 minutes or until mushrooms are tender and golden and filling is hot. Sprinkle each cap with parmesan cheese and a sprinkle of toasted pine nuts (optional, but the pine nuts give a nice little crunch).
Serves 4 as a main dish, or serves 16 if you cut them into quarters as an appetizer.
Note
It is easier to peel the mushrooms than you might think. I had never done that, and the skin came right off with a little tug from a knife. I made 3 peeled and 1 unpeeled to test, and although Jean-Michel is adamant about peeling them, I am not sure I would say the skin-on version was more bitter. The skinless mushrooms were certainly more refined, though! Suit yourself, but definitely make these!