Print This Post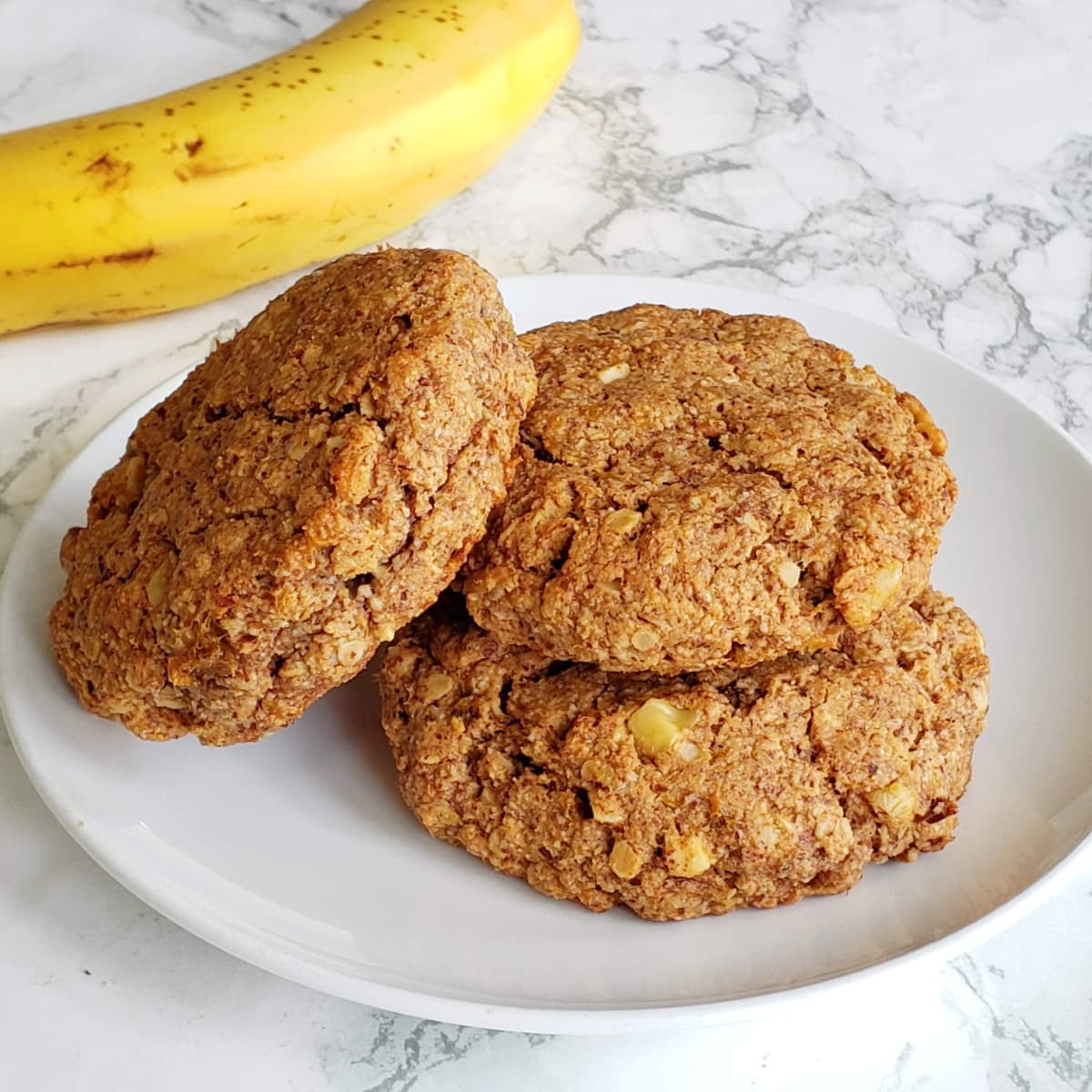 Roasted Banana Almond Butter Breakfast Cookies are slightly sweet, deeply nutty, and very satisfying even for those who need breakfast on the go. Convenience meets nutrition and flavor!
My favorite kind of recipes are "accidentally" vegetarian or vegan. By that I mean they have a bunch of delicious ingredients, but none of them are animal-based and the dish doesn't actually suffer for it at all.
An example is these Roasted Banana Almond Butter Breakfast Cookies, which, let's face it, are already winning based on the pairing of the word breakfast with the word cookie. They're not dessert, so they don't need eggs and butter, the usual cookie mix-ins. Instead, ripe, roasted bananas and a splash of maple syrup keep them sweet, almond butter, 2 kinds of nuts and coconut oil supply the fat, and oats contribute the body.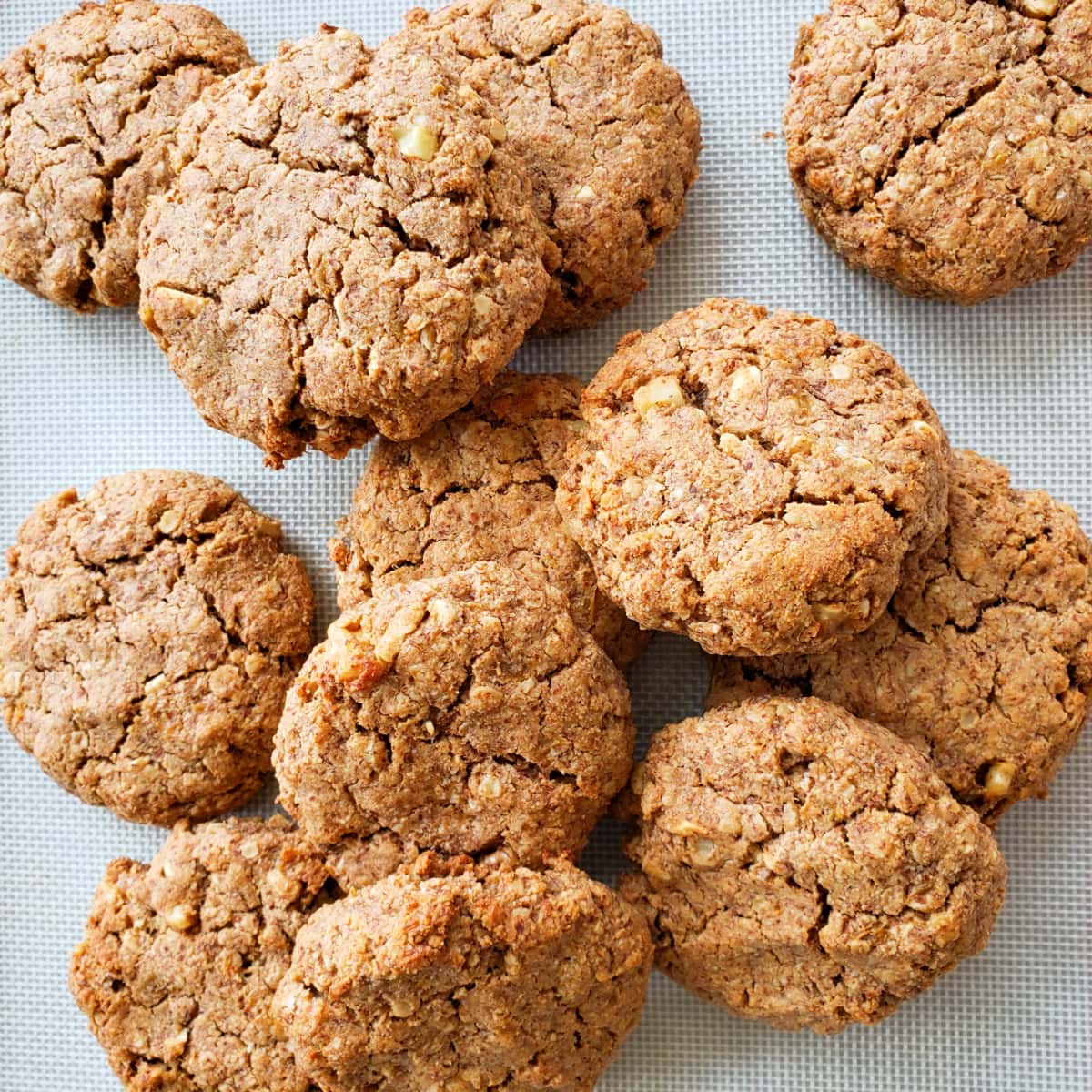 What's not to like? If you're trying to eat more vegetarian or vegan in this new year, or you've joined those who are using this month as #Veganuary to give themselves a jump-start, pull out your baking sheet, turn on the oven, and get breakfast baking. This recipe is dairy-free, gluten-free, vegetarian and more specifically, vegan, without sacrificing flavors and satisfaction. I hope you'll find it a good reason to get out of bed!
How to make Roasted Banana Almond Butter Breakfast Cookies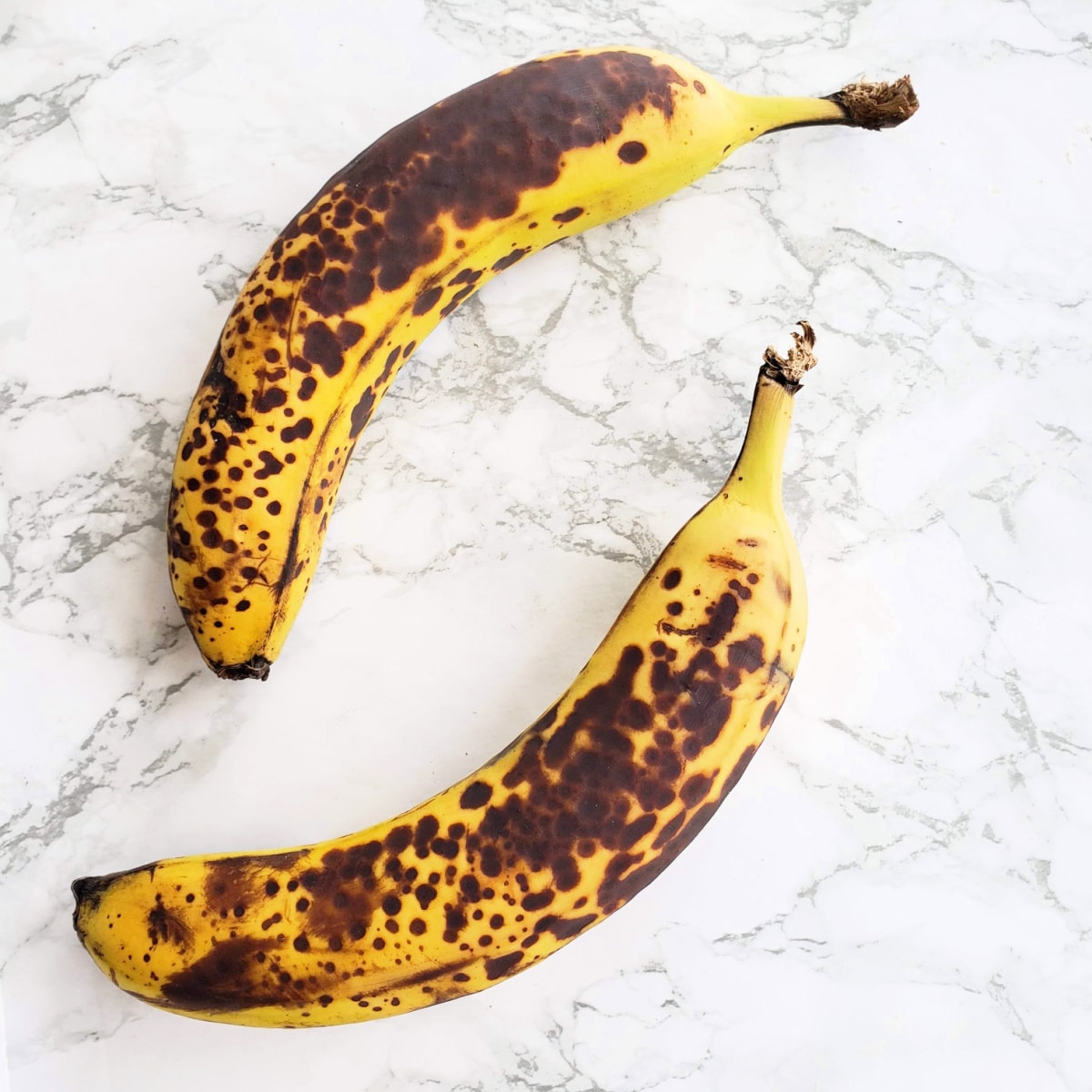 First, make sure your bananas are really ripe. Lots of black spots is what you want, which means they are sweet.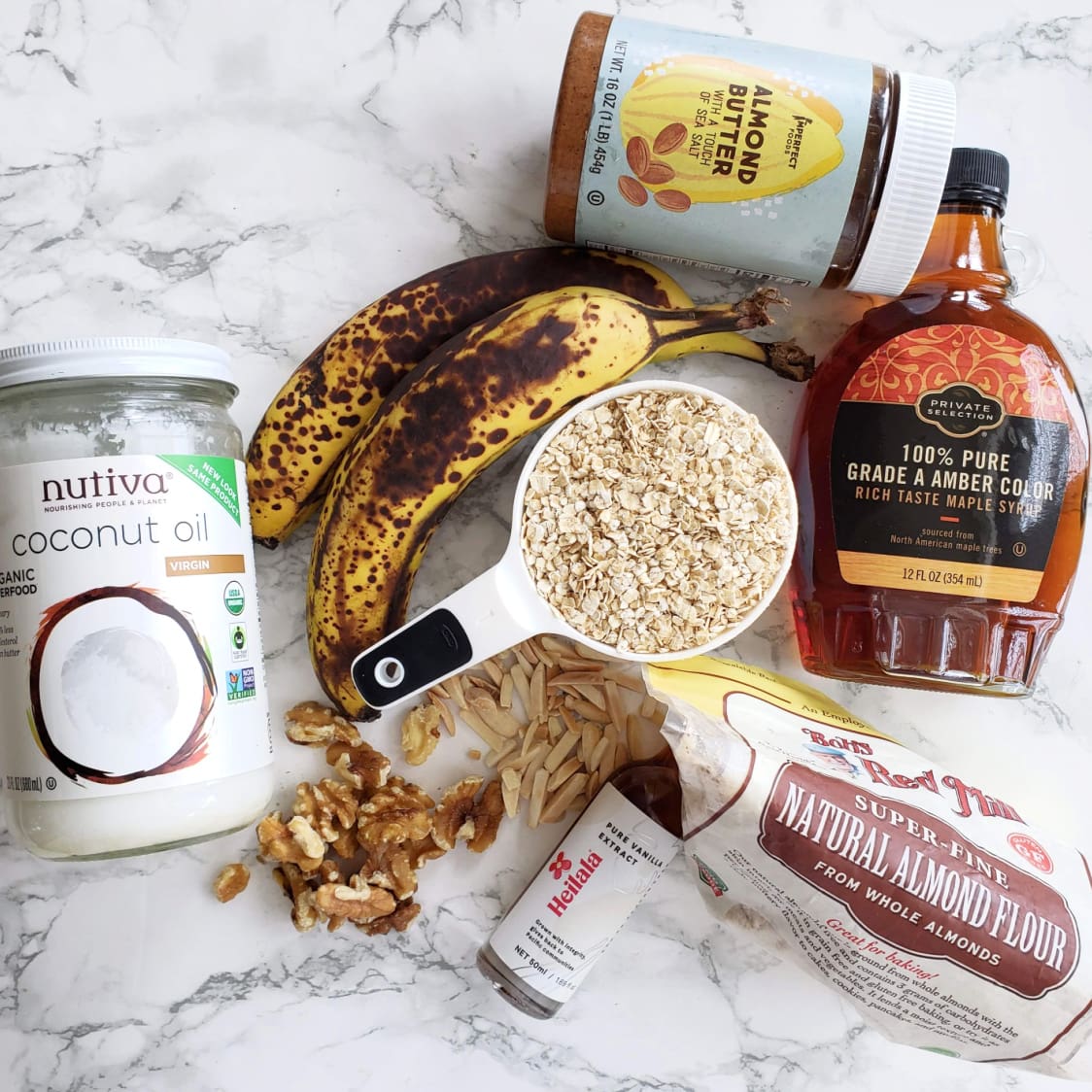 Gather your ingredients so you know you have everything ready to go.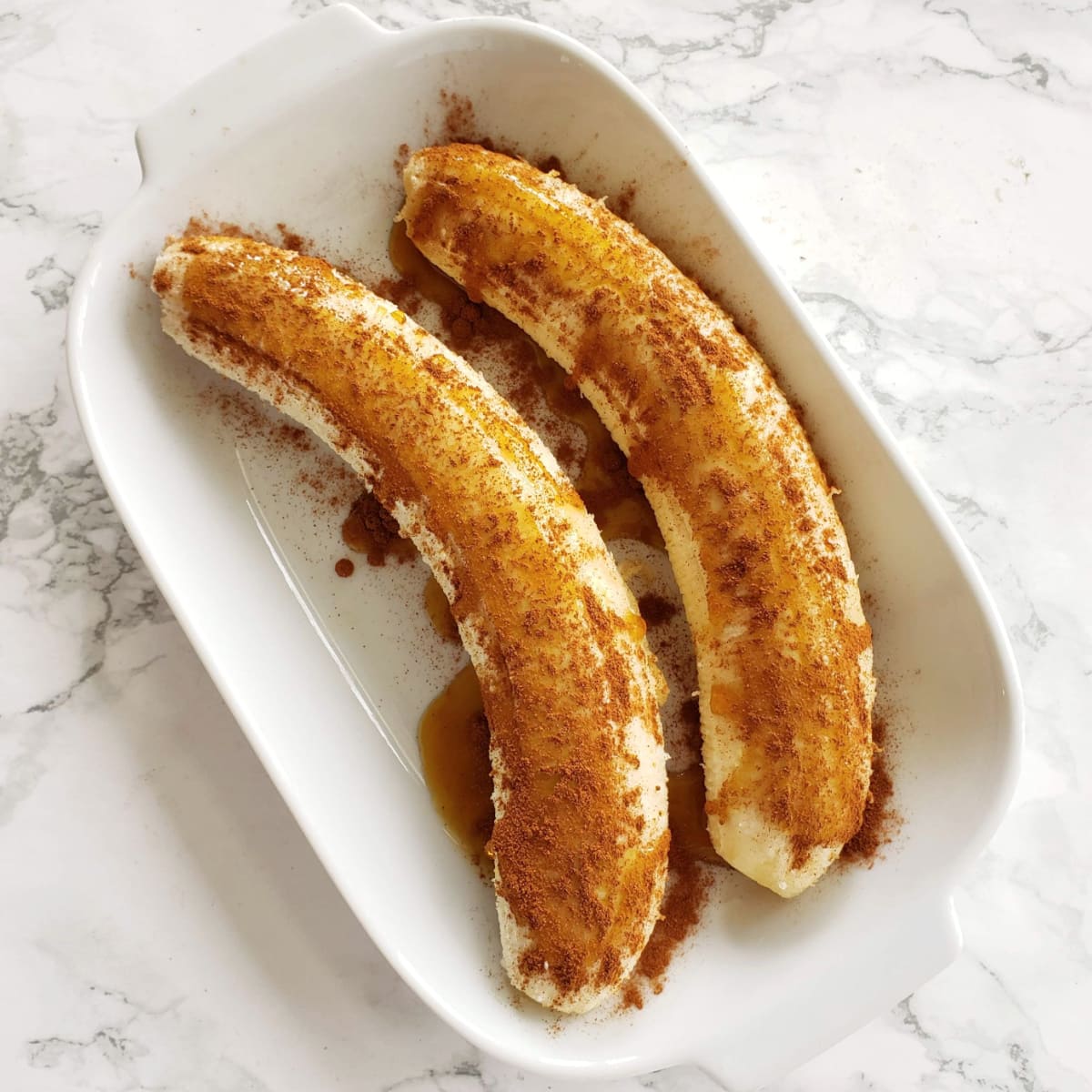 Put your bananas in a small baking dish, drizzle with maple syrup and sprinkle with cinnamon.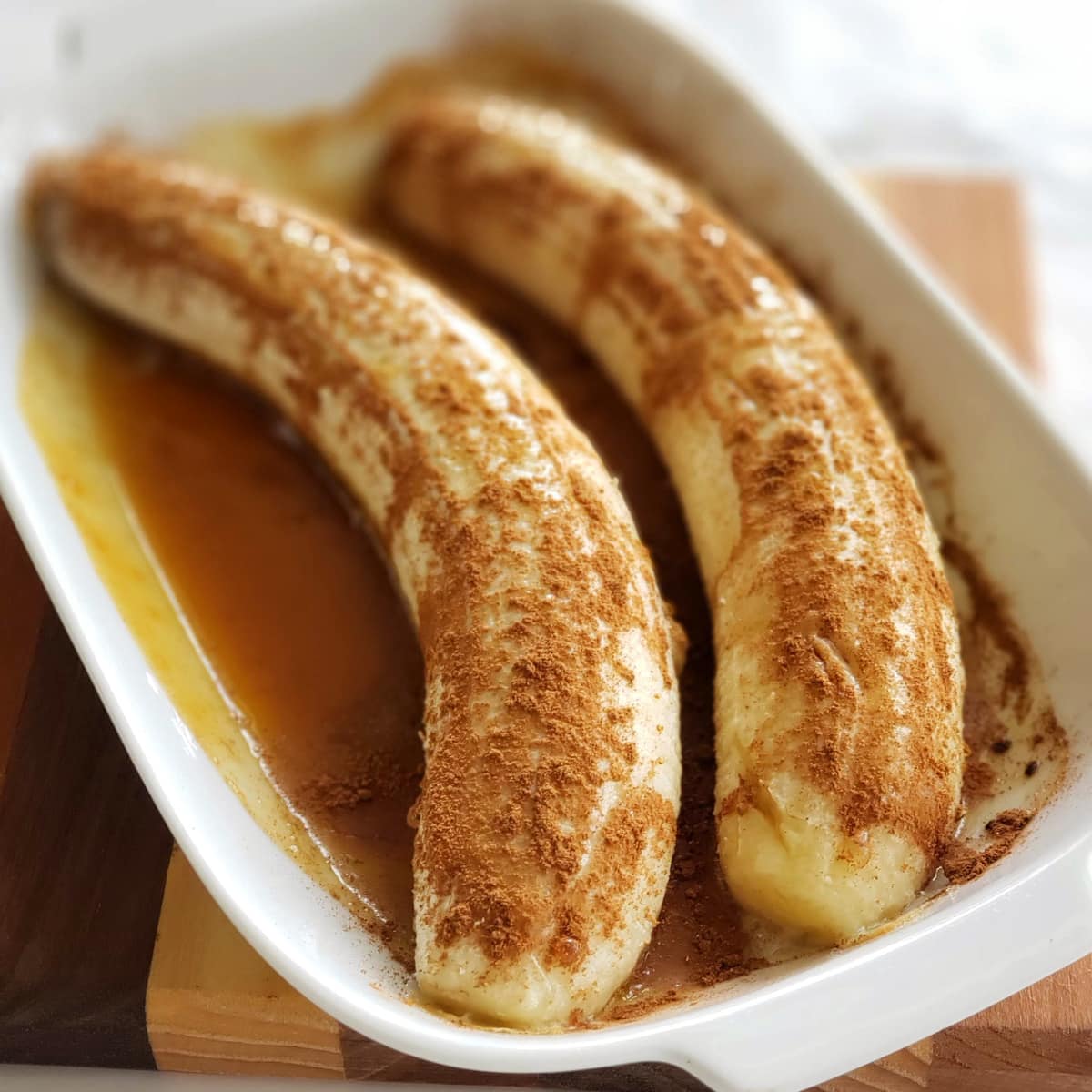 They'll look the same after baking — they hold their shape — but there will be more juice.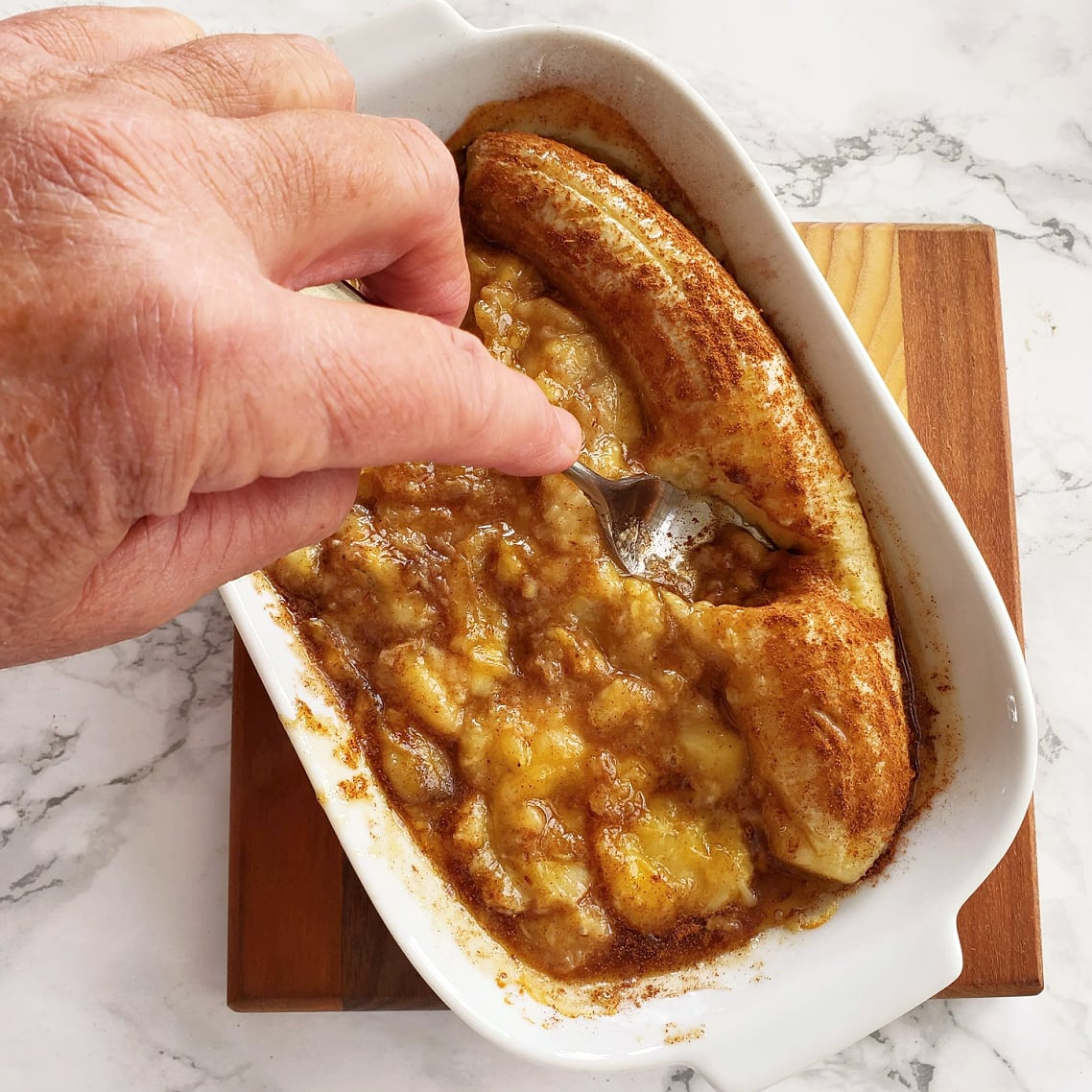 They're easy to mash with a fork after they're baked.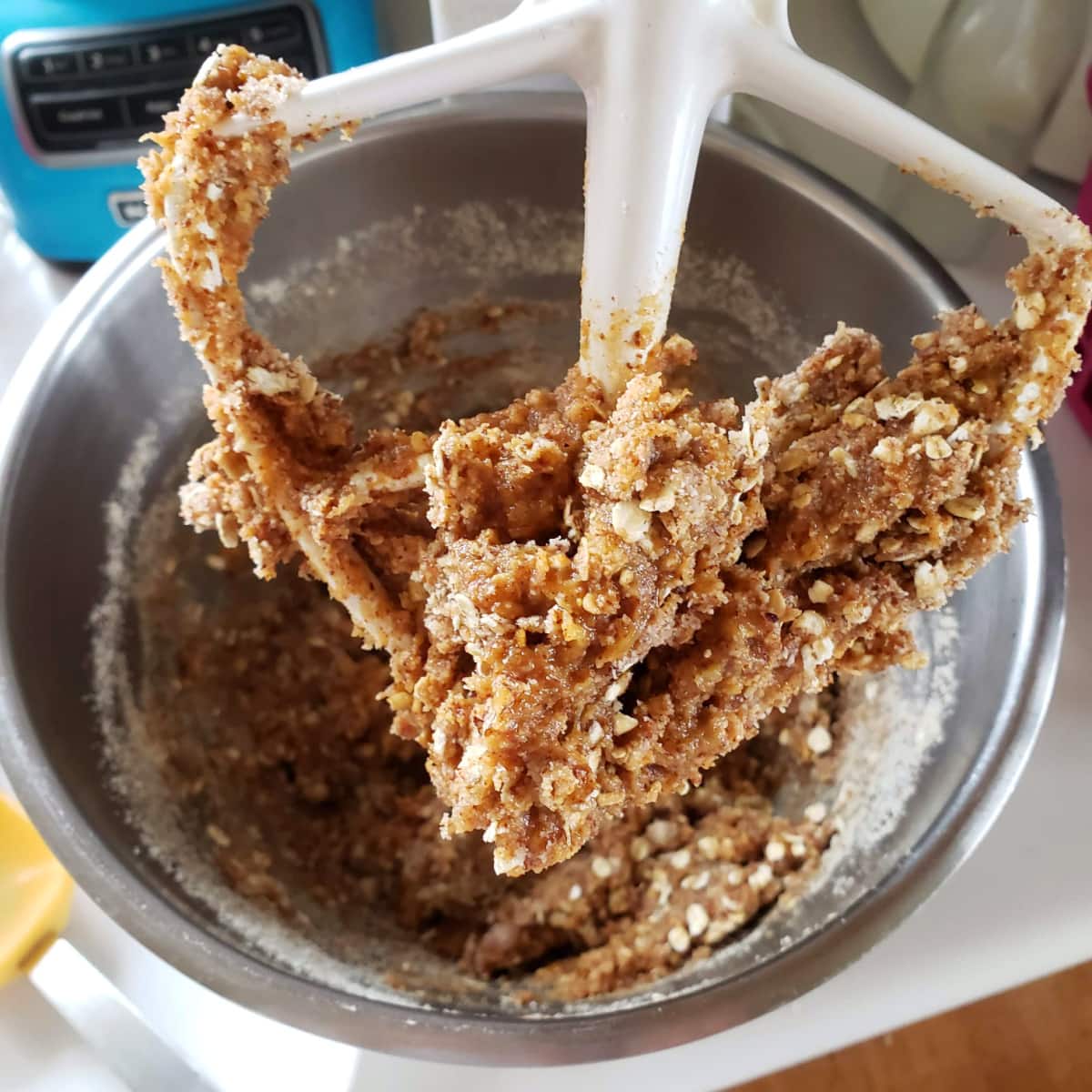 Mix the dough. I used a stand mixer, but you can just use a wooden spoon if you like. The batter will be quite thick.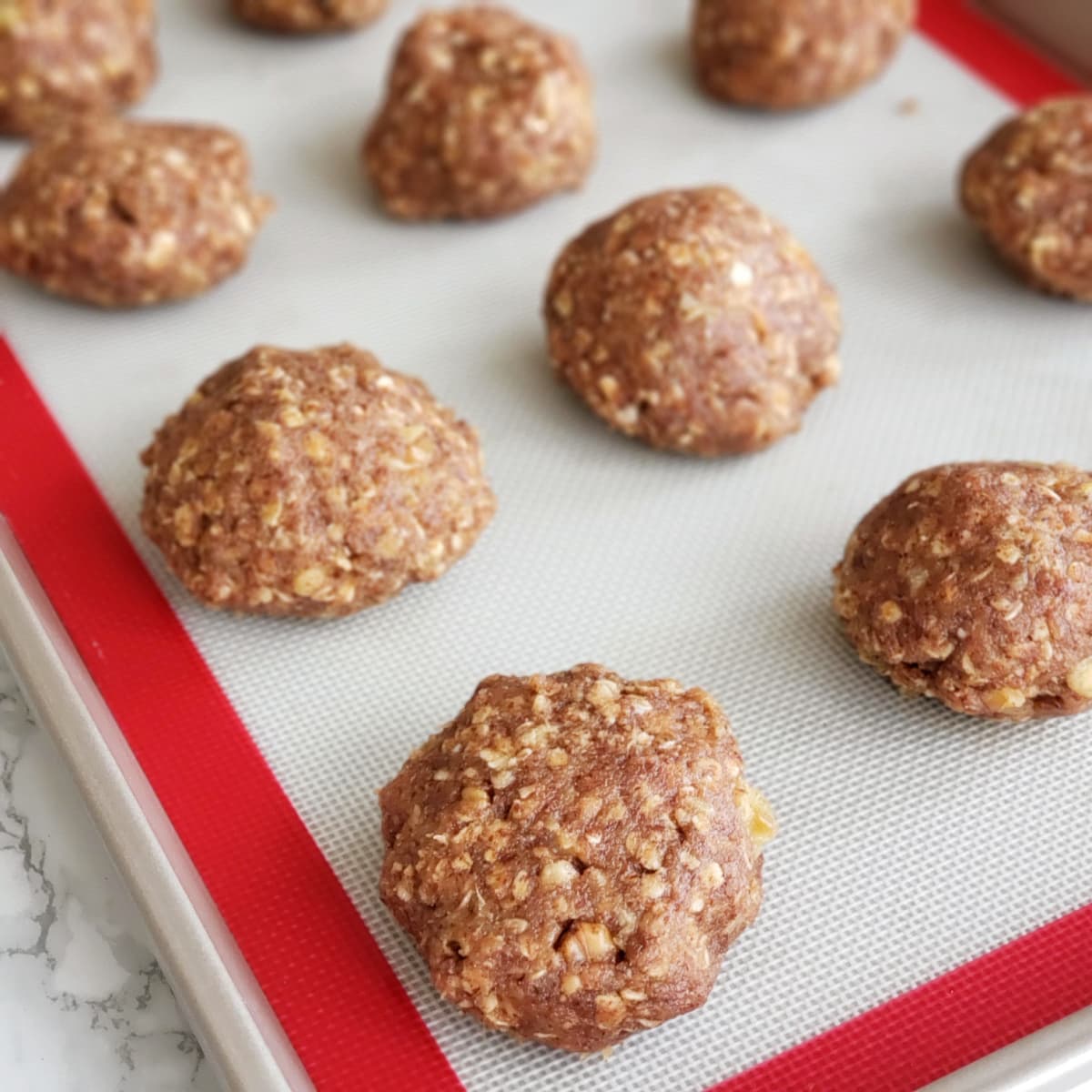 Roll the 12 cookies into balls and put them on a Silpat-lined baking sheet.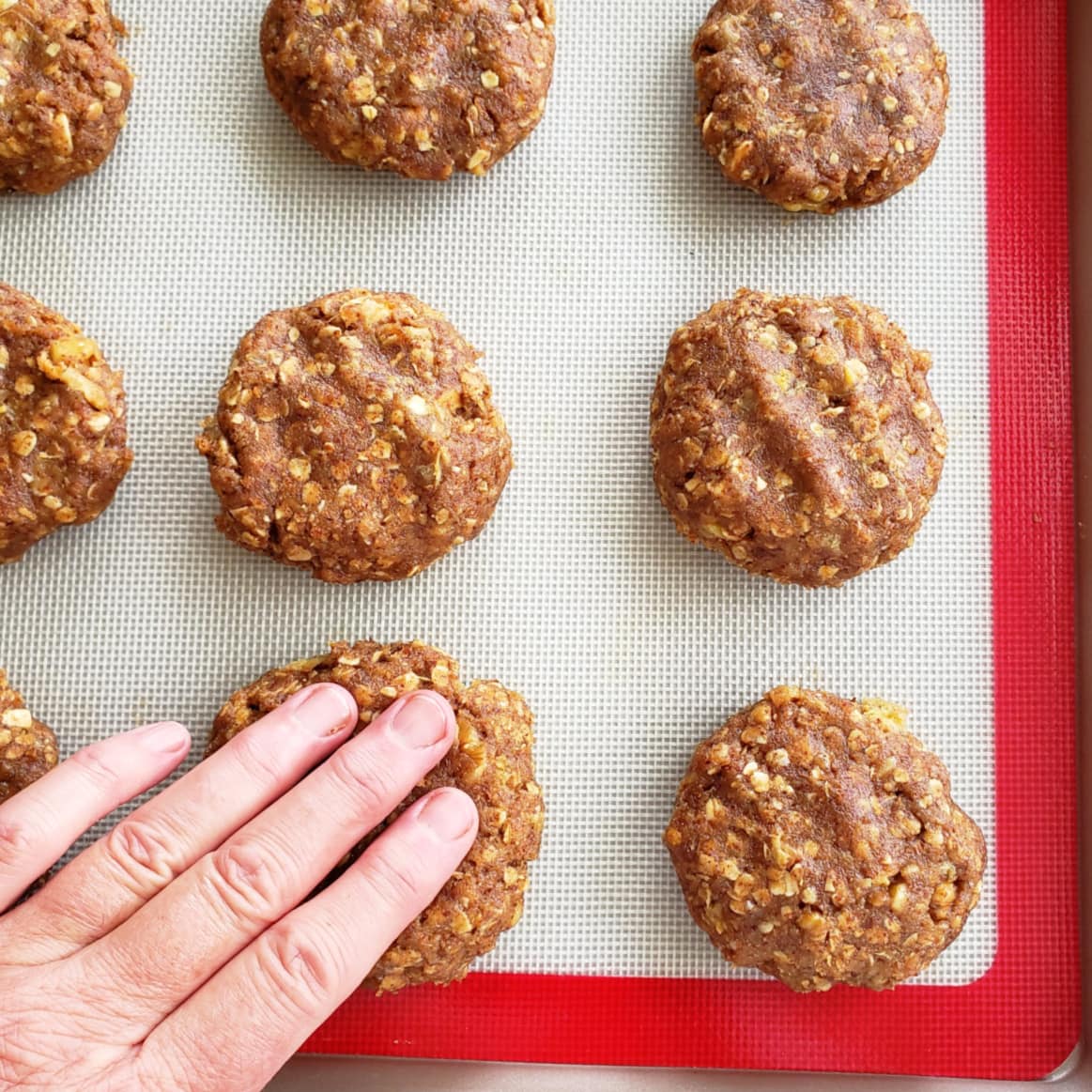 Press and shape cookies with your hands. They won't spread out while baking.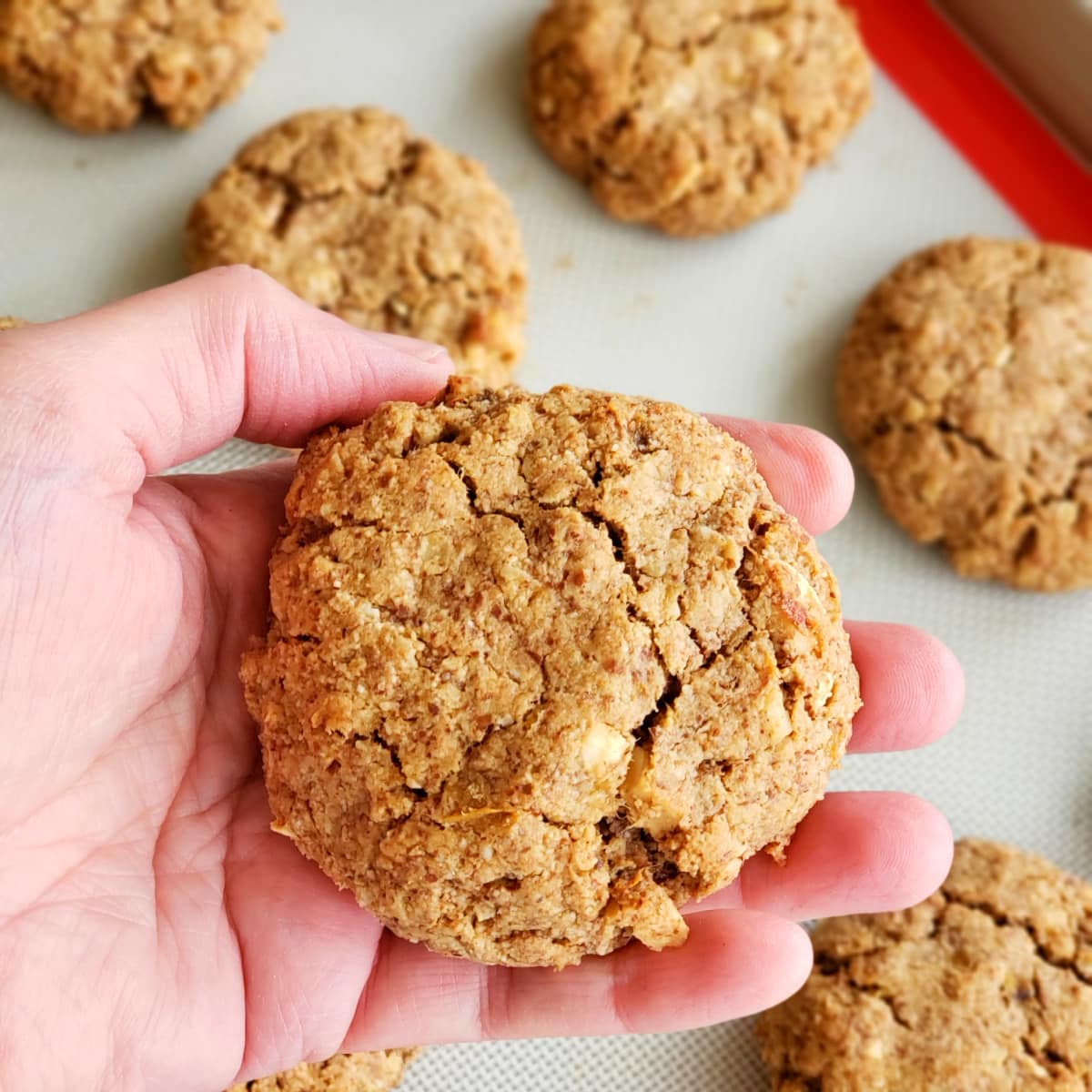 It's a good-sized breakfast cookie…no skimpy portion here!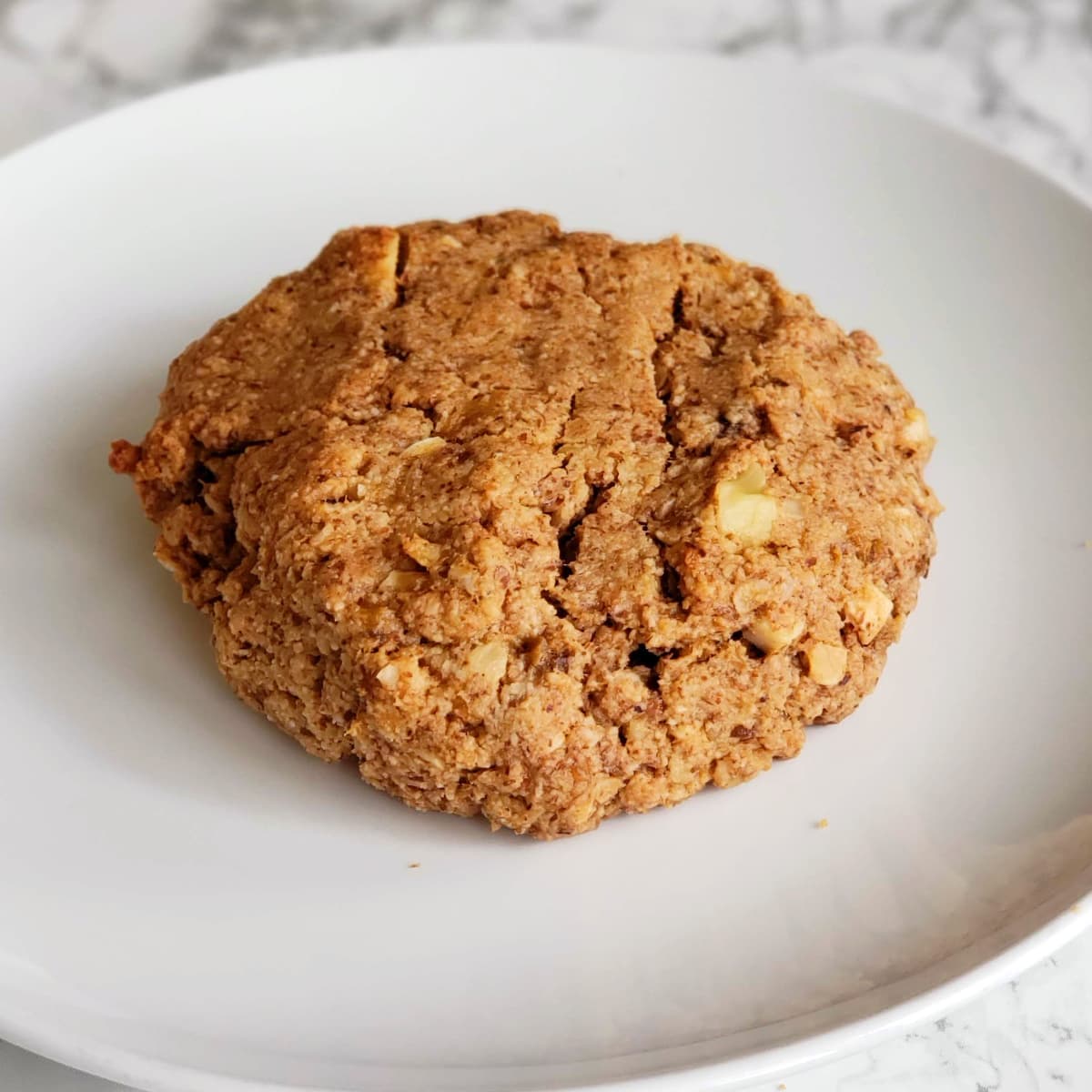 Let's make some Roasted Banana Almond Butter Breakfast Cookies! Tomorrow morning will be here before we know it.
Roasted Banana Almond Butter Breakfast Cookies (Vegan)
Roasted Banana Almond Butter Breakfast Cookies are slightly sweet, deeply nutty, and very satisfying even for those who need breakfast on the go. Convenience meets nutrition and flavor!
Ingredients
2 bananas, peeled
3 tablespoons maple syrup, divided use
Pinch of ground cinnamon (1/4 teaspoon or so)
1 cup quick-cooking rolled oats (or quinoa flakes)
2 cups superfine almond flour (natural or blanched)
1/2 teaspoon baking powder
1/2 teaspoon baking soda
1/4 teaspoon sea salt
1 cup unsweetened creamy almond butter
2 tablespoons coconut oil, melted
1 1/2 teaspoons vanilla extract
1/4 cup finely chopped raw almonds
1/4 cup finely chopped raw walnuts
Directions
Preheat oven to 400°F.
Place whole bananas in a small baking dish. Drizzle 1 tablespoon of the maple syrup over the bananas and sprinkle with cinnamon (I used at least 1/4 teaspoon). Roast in the oven for 15 minutes (juices will be golden brown). Remove baking dish from the oven and set aside to cool.
Reduce oven temperature to 325°F.
In a large mixing bowl, mix together the oats or quinoa flakes, almond flour, baking powder, baking soda, and salt.
Mash the cooled bananas with the back of a fork, and scrape them into another small mixing bowl. Add the almond butter, coconut oil, 2 tablespoons maple syrup, and vanilla to the bananas; stir to mix well.
Pour the banana mixture and chopped nuts into the dry ingredients and stir until combined. You don't have to worry about overmixing this dough since there's no wheat flour/gluten involved. It will be extremely thick and sticky.
This dough will make 12 large cookies, so I like to portion it by roughly cutting the dough in half with a bench scraper or spatula right in the mixing bowl, and then each half into half, so you will end up quartering the dough. Each quarter of the dough will make 3 cookies, totaling 12. Scoop out the dough and roll it into balls with your hands. Place the balls on a baking sheet lined with a Silpat or parchment paper, 1 inch apart. Gently flatten into rounded disks. These cookies do not flatten or spread while cooking, so it's important that you shape them the way you want them before baking. Make sure all the cookies are relatively the same size, so they bake evenly.
Bake for 18 minutes or until the cookies are lightly golden brown on the bottom. Do not wait for the tops to turn golden brown or they will be too dry. Also worth noting, the dough is already medium brown in color, so the tops might not appear to be a different color after baking.
Remove tray from the oven and let cool completely before enjoying with your favorite morning beverage.
Makes 12.
Notes
Recipe source: Just ever so slightly adapted from "The Nutritionist's Kitchen," by Carly Knowles, MS, RDN, LD © 2020 by Carly Knowles. Reprinted in arrangement with Roost Books, an imprint of Shambhala Publications, Inc. Boulder, CO.
https://www.shockinglydelicious.com/roasted-banana-almond-butter-breakfast-cookies/
Copyright Dorothy Reinhold | ShockinglyDelicious.com. All rights reserved.
Pin the image below for Roasted Banana Almond Butter Breakfast Cookies to your Pinterest board to save this recipe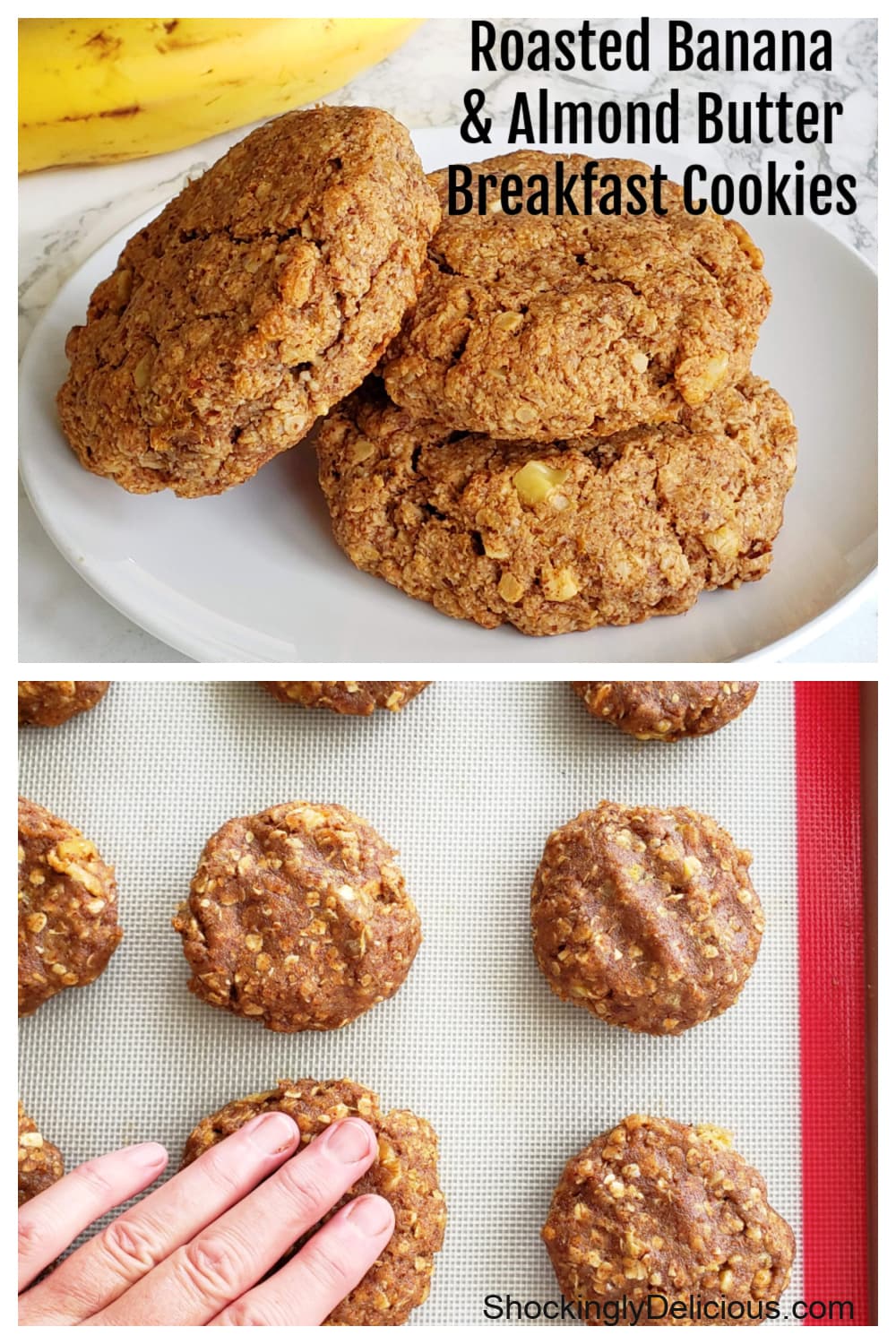 The cookbook
The recipe comes from a new book, called "The Nutritionist's Kitchen: Transform Your Diet and Discover the Healing Power of Whole Foods," by Carly Knowles, MS, RDN, LD. The author clearly explains how a balanced diet can support your health, and how certain foods can prevent chronic disease and help you maintain optimal health. It's an approachable, science-based guide, with 60 recipes that you'll want to cook your way through. I found myself aspiring to eat the way she advises, with sweet, savory, salty, crunchy, creamy and flavorful food as part of a balanced life. This book is about inclusion, not deprivation. There's no morally wrong food in her opinion; food is inherently neutral. So when you are able to remove judgments about whether a certain food is good or bad, you can make better decisions about eating to satisfy your own hunger, satiety, desire and need for self-care.
So try these Banana Almond Butter Breakfast Cookies, or anything from the list below. My food blogger friends and I joined together to showcase vegan recipes, so choose one or more recipes to add to your January #Veganuary meals.
Other Shockingly Delicious vegan recipes perfect for #Veganuary!
Looking for more nutritious breakfasts?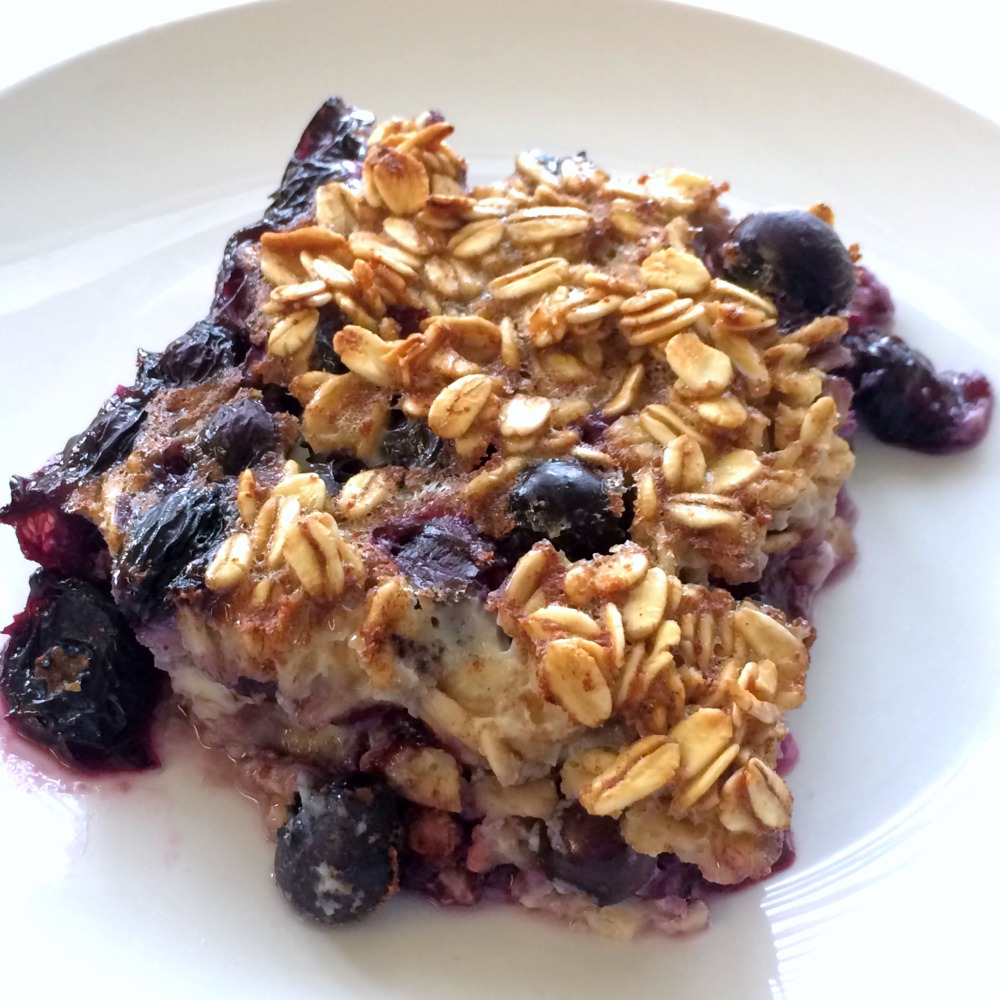 Banana Blueberry Baked Oatmeal
Thanks for visiting…are you hungry for more? Follow Shockingly Delicious on…
FACEBOOK | PINTEREST | INSTAGRAM | TWITTER
…for all the latest recipes, ideas and updates!
This post may contain affiliate/referral links. It is a way for this site to earn advertising fees (at no cost to you) by advertising or linking to certain products and/or services that I approve and prefer. Thank you for using my affiliate link to shop, so I can continue to bring you shockingly delicious recipes!