Print This Post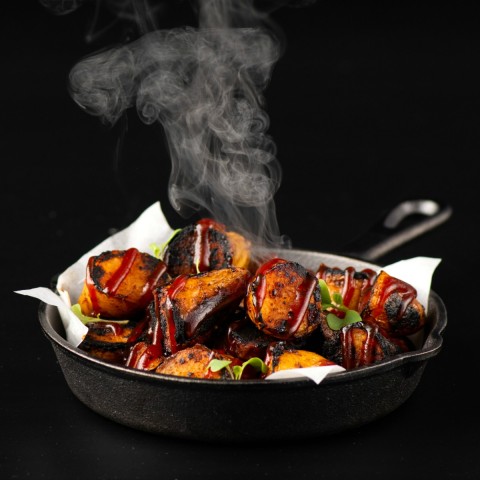 Burnt Ends doesn't have to mean meat! Vegetarian and vegan eaters can also enjoy the idea of Burnt Ends, by subbing crispy potatoes for the usual brisket.
In barbecue restaurants, "Burnt Ends" usually mean the crispy, charred trimmings from a beef brisket — the dried-out, super-smoky, caramelized pieces around the edge that are trimmed off so the brisket can be easily sliced for serving.
They're tasty, chewy, prized bits from the barbecue joint (anyone here from Kansas or Texas?), and are served in sandwiches, stews, beans, over fries, etc.
But even if you're eating plant-based, you can still have finger-lickin' BURNT ENDS.
How to make Plant-Based Burnt Ends
Before your guests arrive, cook fingerling potatoes in a pot of boiling water with garlic, thyme, lemon and a touch of liquid smoke.
When they are fully cooked, toss them in your favorite BBQ spice rub, then roast them in the oven until crispy. Drizzle with some BBQ sauce.
Serve extra sauce on the side for dipping.
Bring on the big game!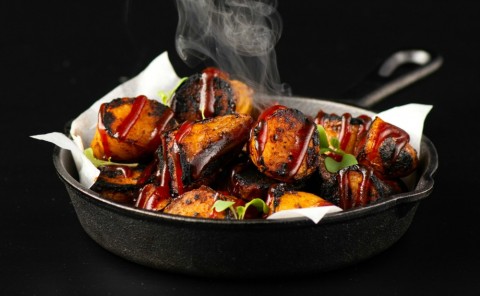 This BBQ-ish recipe is dedicated to Kansas City Chiefs fans, although all are welcome to eat it of course! I've never met a person who didn't like spuds.
And for those who know that I spent my career as a newspaper editor, writing "burnt" instead of "burned" nearly killed me.
Smoky Burnt Ends Potatoes
Burnt Ends doesn't have to mean meat! Vegetarian and vegan eaters can also enjoy the idea of Burnt Ends, by subbing crispy potatoes for the usual brisket.
Ingredients
2 pounds fingerling potatoes, cut in half vertically
1 gallon cold water
3 garlic cloves
1 tablespoon kosher salt
1/2 lemon, sliced
1 sprig fresh thyme
1 tablespoon liquid smoke
3/4 cup BBQ dry rub (recipe below)
3 tablespoons vegetable oil
1 cup BBQ sauce
1/4 cup green onions, sliced

BBQ Dry Rub

1/2 cup brown sugar
2 tablespoons granulated sugar
1 tablespoon kosher salt
1 1/2 tablespoons chili powder
2 tablespoons smoked paprika
1 tablespoon ground black pepper
1/2 tablespoon ground cumin
1/2 tablespoon granulated garlic
1/2 tablespoon onion powder
12 to 3/4 teaspoons cayenne pepper
Directions
In a large pot add the potatoes and cover with the cold water. Add the garlic, salt, lemon, thyme, and liquid smoke.
Bring the water to a boil and reduce to a simmer, cook the potatoes until they are just fork tender (About 30 minutes).
Remove from the heat, drain, and discard the lemons, garlic, and thyme. Allow the potatoes to cool slightly while the dry rub is prepared. Heat oven to 375F degrees.
Toss the potatoes with the vegetable oil gently so they do not break up. Sprinkle the dry rub on the potatoes liberally. You may not need the whole batch of dry rub; save any extra in a jar in the spice cabinet.
Line a baking sheet with parchment paper or foil. Arrange the seasoned potatoes on the baking sheet aluminum foil. Place the potatoes in the hot oven and roast for 45 minutes or until they are nicely caramelized and golden. Remove the potatoes from the oven and allow to cool 3-5 minutes before serving.
To serve, place potatoes on a serving dish and drizzle with your favorite BBQ sauce. Garnish with chopped green onions and enjoy.

BBQ Dry Rub

: Mix all the ingredients together in a bowl. Place in an airtight container and reserve for a variety of uses.
Notes
Recipe source: Chef RJ Harvey Photo credit: Potatoes USA Used with permission.
https://www.shockinglydelicious.com/smoky-burnt-ends-potatoes/
Copyright Dorothy Reinhold | ShockinglyDelicious.com. All rights reserved.
Pin the image below to your Pinterest board to save this recipe!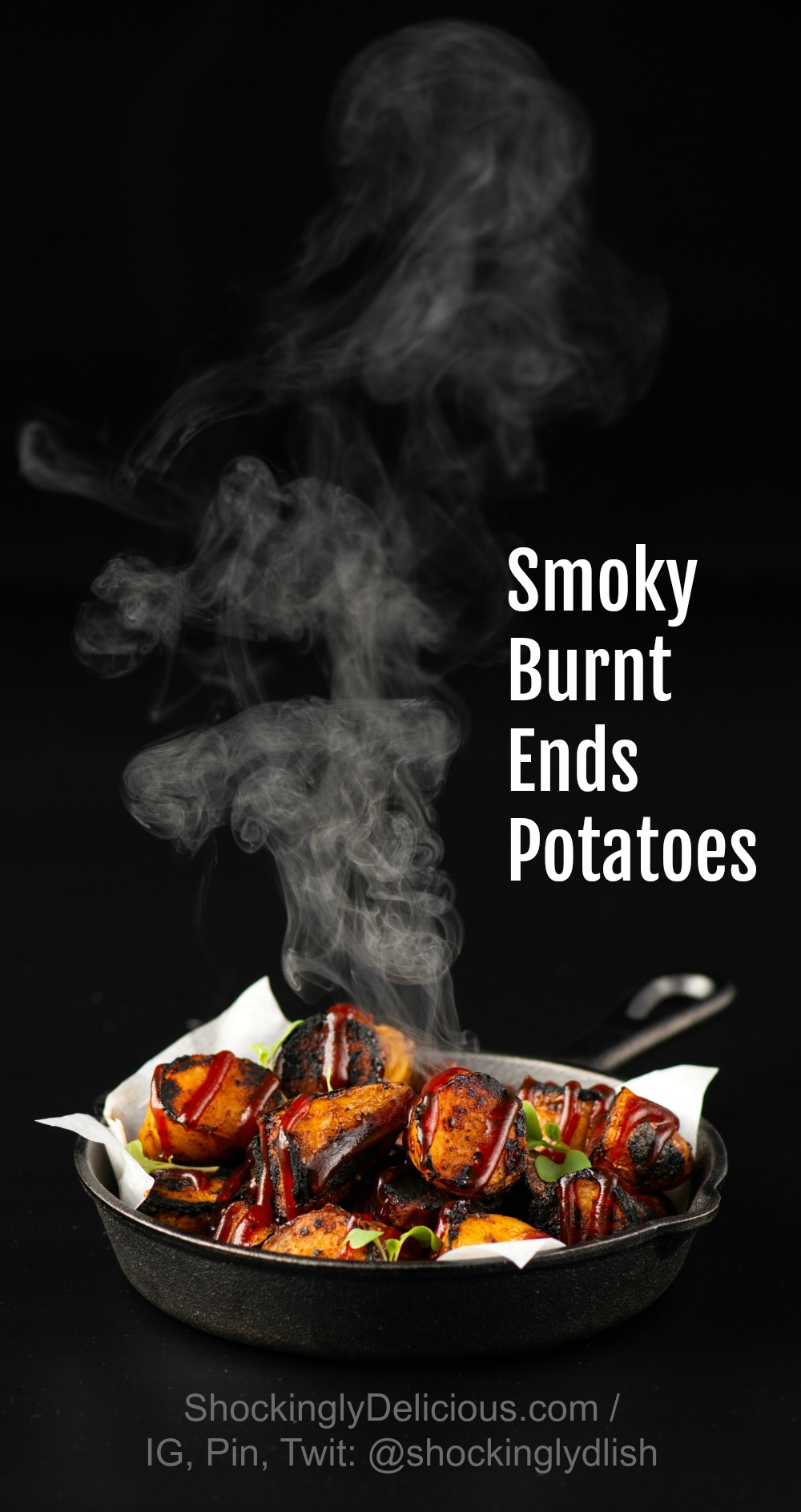 Thanks for visiting…are you hungry for more? Follow Shockingly Delicious on…
FACEBOOK | PINTEREST | INSTAGRAM | TWITTER
…for all the latest recipes, ideas and updates!
This post may contain affiliate/referral links. It is a way for this site to earn advertising fees (at no cost to you) by advertising or linking to certain products and/or services that I approve and prefer.