Print This Post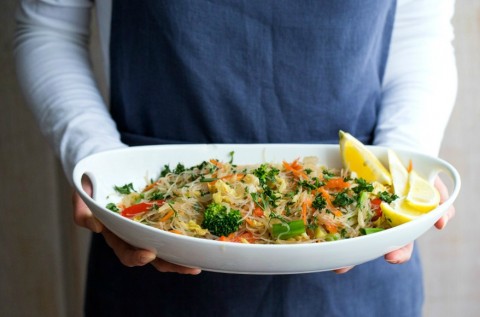 Stir-Fried Cellophane Noodles is known as vegan pancit, a colorful Filipino vegetable-laden noodle dish sure to be a crowd-pleaser. It's as good at room temperature as it is served warm, and can be made a day ahead. I absolutely fell in love with this dish based on the photo alone. I mean, look at those noodles, and all those vegetables!
I immediately wanted it for dinner, and then for lunch the next day. And the next. Perhaps even for breakfast too (maybe that's just me?).
It's called Stir-Fried Cellophane Noodles, aka vegan pancit.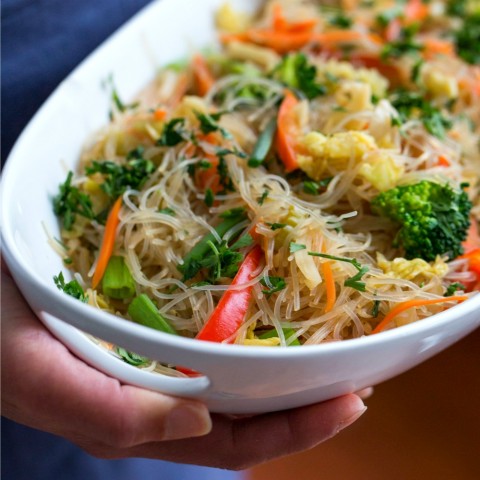 Patricia Tanumihardja describes it this way:
"Pancit, the universal Filipino crowd-pleaser, is usually made with egg noodles or rice noodles. This version, pancit sotanghon, uses bean thread noodles, commonly known as cellophane noodles or glass noodles. Cellophane noodles sometimes end up being too bland or too chewy, but I've circumvented this by soaking the noodles in vegetable stock first to both soften them and amp up their flavor. Enlivened by the tang of lemons, this dish is sure to be a hit at your next potluck or party."
And now I want to throw a party, or go to a party, with this as my offering. The best dishes make you want to share them with others, right?
Don't be afraid of the long list of ingredients. This is mostly chopped vegetables with a few aromatics and a bit of soy sauce and lemon for seasoning. You don't even have to cook the noodles, you just soften them in hot broth.
Get your knife out and let's get cooking!
Stir-Fried Cellophane Noodles
Stir-Fried Cellophane Noodles is known as pancit, a colorful Filipino vegetable-laden noodle dish sure to be a crowd-pleaser. It's as good at room temperature as it is served warm, and can be made a day ahead.
Ingredients
4 cups (1 liter) low-sodium vegetable stock
1 (8-ounce or 250 g) package cellophane noodles (bean thread noodles)
2 tablespoons vegetable oil
2 tablespoons minced garlic
1 cup (150 g) sliced yellow onion
2 cups (200 g) chopped broccoli (cut to a similar size as the other vegetables)
4 cups (400 g) shredded cabbage
2 teaspoons fine sea salt, divided
2 large carrots with their green tops, peeled and cut into matchsticks (remove tops and reserve)
1 large red bell pepper, sliced
2 stalks celery, chopped
1/2 teaspoon freshly ground black pepper
1 teaspoon granulated sugar
3 green onions (scallions), cut into 1-inch (2.5 cm) pieces
1/4 cup (60 ml) soy sauce
3 tablespoons freshly squeezed lemon juice, plus lemon wedges for serving
.

Garnish:

Washed, chopped carrot tops
Chili paste such as sambal oelek
Directions
Bring the vegetable stock to a boil over high heat in a medium pot. Remove from the stove and add the cellophane noodles in batches, allowing the noodles to soften before adding more to the pot. Let the noodles soak until they are soft and the stock has been absorbed, about 20 minutes.
Swirl the oil into a large wok or skillet and set over high heat until shimmering hot. Fry the garlic and onions until aromatic and the onions turn translucent, about 1 minute. Add the broccoli, followed by the cabbage and 1 teaspoon of the salt. Next, add the carrots, then the bell pepper, then the celery, stirring for about 30 seconds between each addition.
Add the remaining 1 teaspoon salt, black pepper and sugar. Keep stirring and cooking until the vegetables are cooked to your liking, 3 to 4 minutes more.
Fluff the noodles to loosen the strands and toss them into the wok with the green onions. Stir to combine, then add the soy sauce and lemon juice and stir to coat. Taste and adjust seasonings as needed. When the noodles are heated through, dish onto a large serving platter. Garnish with the reserved carrot tops; serve with lemon wedges and chili paste in small dishes on the side.
Serves 4-6.
Notes
Recipe source: From "Farm to Table Asian Secrets," by Patricia Tanumihardja (Tuttle Publishing; 2017: $15.95 paperback.
Photo credit: Sarah Culver.
Tips
--Pancit is a potluck favorite for many reasons: It's an easy dish to make to feed a crowd, and it can be made a day ahead and reheated on the stove before serving. Plus it's just as tasty served at room temperature.
--If you have some on hand, sprinkle fried shallots and fried garlic over the noodles before serving.
--Although it's not traditional, feel free to throw in tofu, mushrooms or egg to make this dish more substantial.
https://www.shockinglydelicious.com/stir-fried-cellophane-noodles/
Copyright Dorothy Reinhold | ShockinglyDelicious.com. All rights reserved.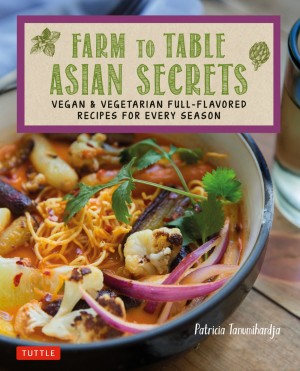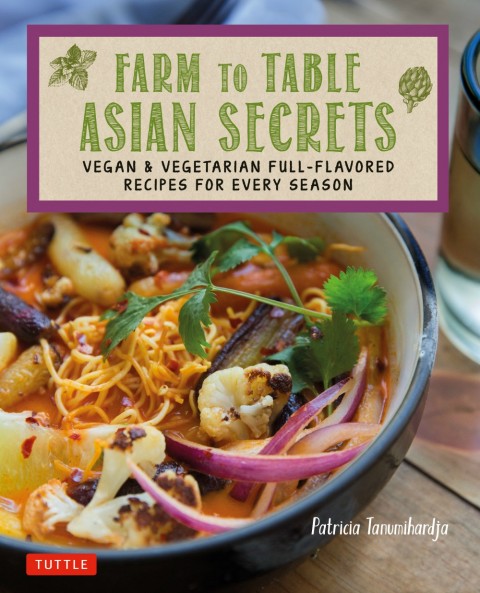 This fine recipe is in a new cookbook, "Farm to Table Asian Secrets: Vegan & Vegetarian Full-Flavored Recipes for Every Season," by Patricia Tanumihardja (Tuttle Publishing; 2017; $15.95 paperback).
Author Tanumihardja shows how to infuse today's bounty of fresh produce with the seductive tastes of Asia — blending flavors, textures, aromas and colors in full-flavored dishes that sport the classic sweet, sour, spicy, salty and savvory flavors. I like that all the recipes are straightforward and don't require exotic ingredients or special equipment.
She offers cooking tips, so if you've never stir-fried, she has your back. There's an absolutely fabulous section at the front of the book called My Asian Pantry, and takes you through the Asian herbs, and pantry items ranging from noodles and rice to miso, pepper pastes and powders, oils and vinegars and tofu, among others. It was smart of her to include actual photos of these items so it acts as a true guide, and I would be comfortable bringing the book into an Asian market to help me locate what I'm looking for.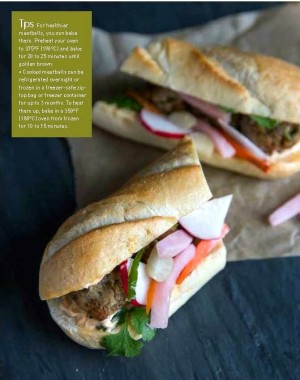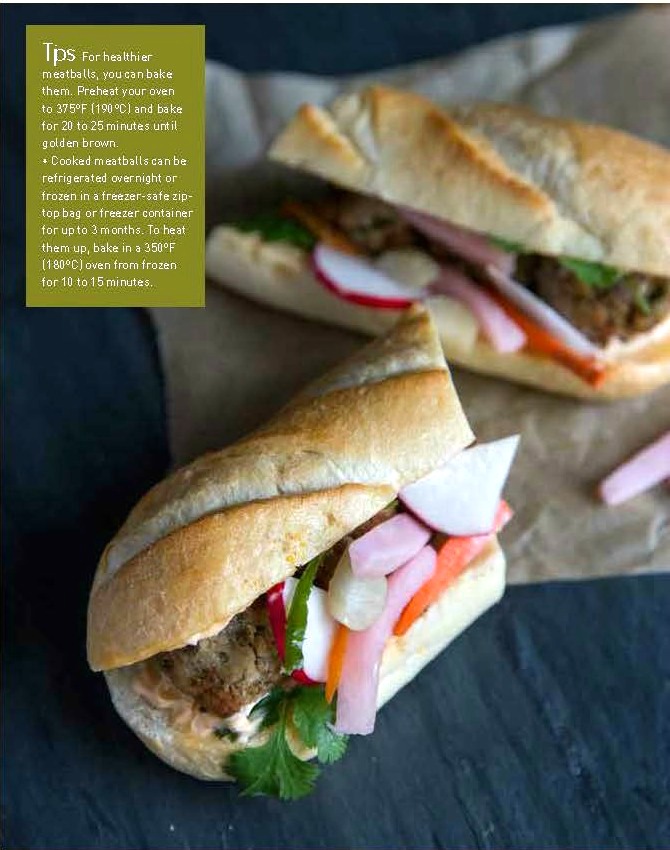 Next up from the book, I'll be making Mushu Vegetable "Burritos" (she uses tortillas instead of making the Chinese pancakes from scratch), Chinese Mushroom Buns (a riff on the popular baked barbecued pork buns called char siu bao), and Eggplant Banh Mi Vietnamese Sandwich (see the photo, right →). I will easily and happily work my way through this book, recipe by recipe. I will get no complaints from my family. 🙂
Pin this recipe for Stir-Fried Cellophane Noodles (vegan pancit) to your Pinterest board using the image below. ↓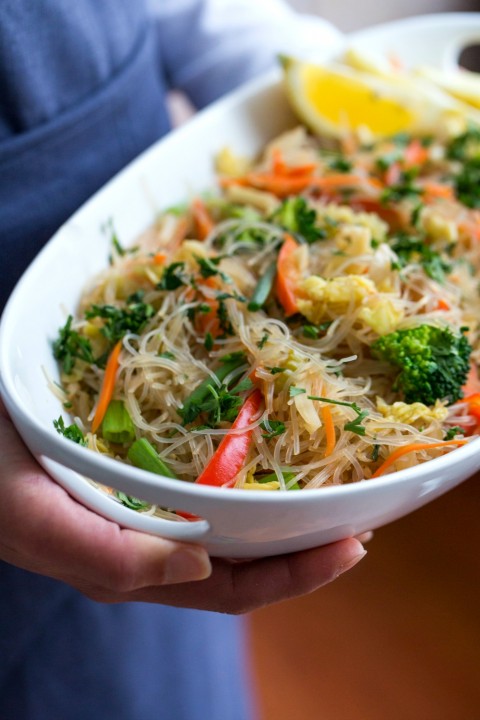 Disclosure: The publisher sent the book for review, and gave permission to publish the recipe and photos.
This post was originally published Jan. 27, 2017 and has been updated, refreshed and republished today.
Thanks for visiting…are you hungry for more? Follow Shockingly Delicious on…
FACEBOOK | PINTEREST | INSTAGRAM | TWITTER
…for all the latest recipes, ideas and updates!
If you're a fan of noodle dishes, try these: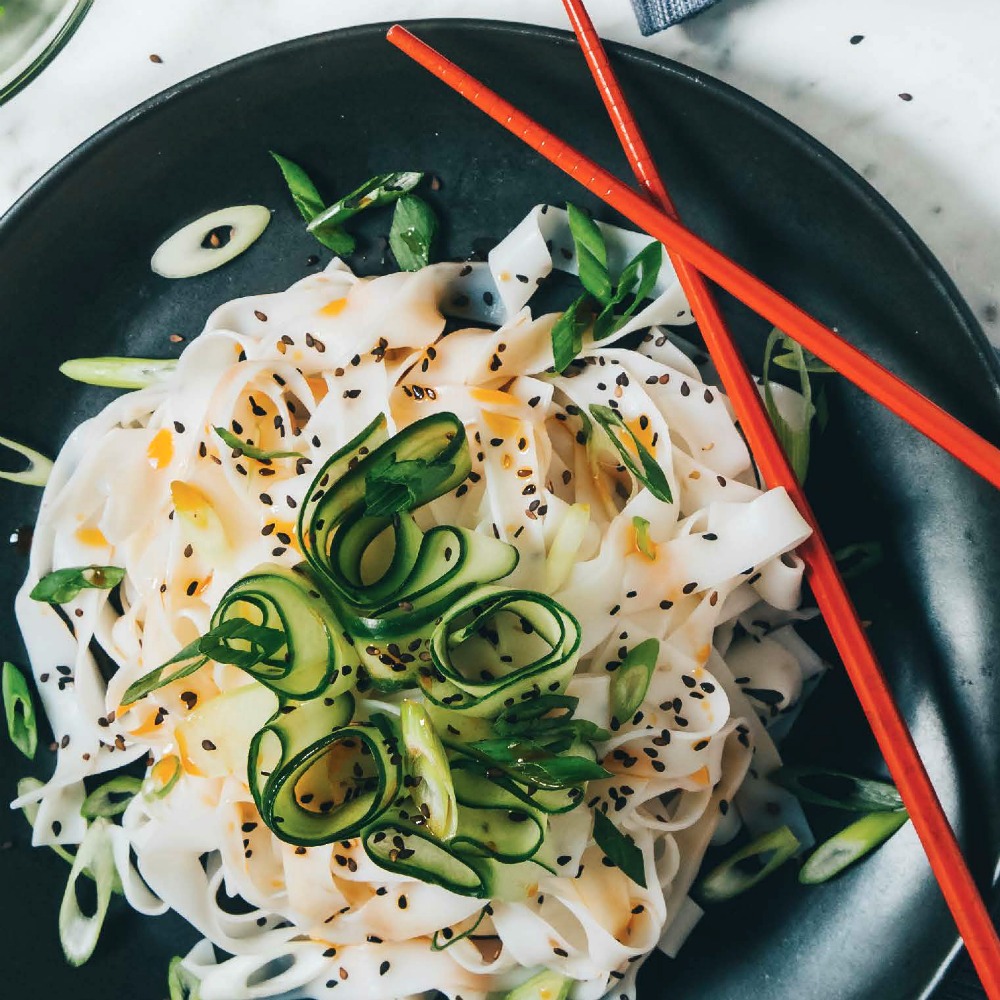 1. Cold Cucumber-Chile Noodles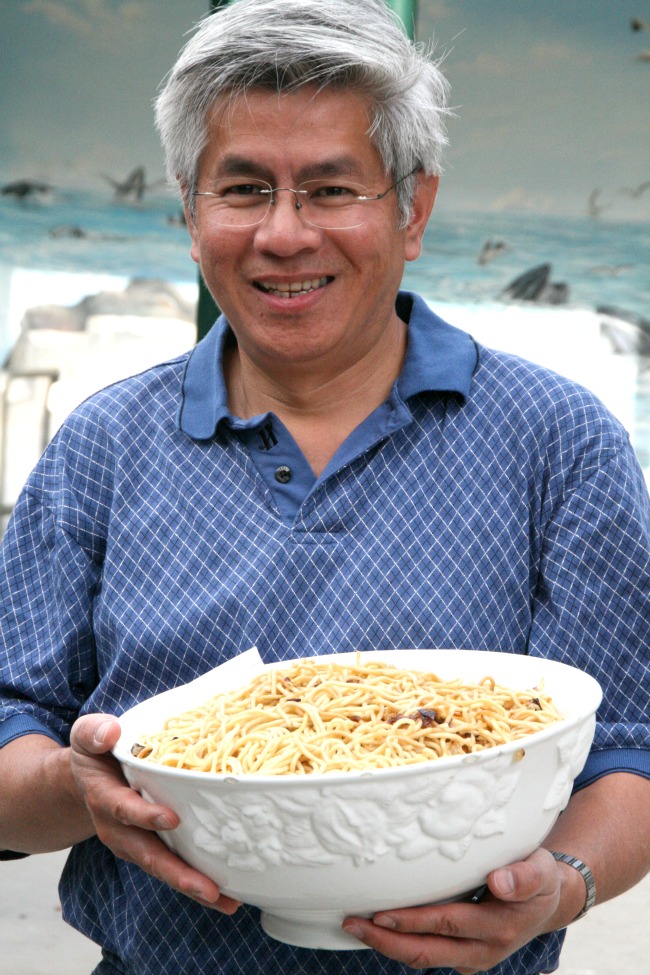 2. Hung Le's Famous Noodles (fried spaghetti noodles)
This post may contain affiliate/referral links. It is a way for this site to earn advertising fees (at no cost to you) by advertising or linking to certain products and/or services that I approve and prefer.


Save
Save
Save
Save
Save
Save
Save
Save
Save
Save
Save
Save
Save
Save
Save