Print This Post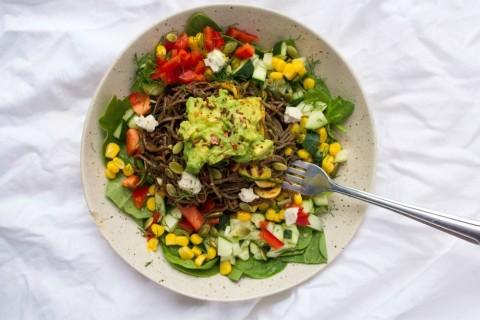 We relish our fresh vegetables in Southern California, and are truly spoiled by the bounty available in our grocery stores.
Bell peppers, zucchini, spinach, cucumbers, and avocados…always California avocados! They're everywhere, and we use them to full advantage. Every meal is better when strewn with fresh vegetables!
We also like to watch our waistlines, and so the bean pastas on the market now are an easy swap for traditional white noodles, with all plant-based protein and lots of fiber. They're gluten-free and non-GMO, too.
They allow us the fun of our summer pasta salads without the extra calories.
This Spicy Southern California Black Bean Spaghetti Salad uses black bean pasta, which resembles regular pasta but has 25 grams of protein and 12 grams of fiber in each serving, so it will fill you up but not bloat you.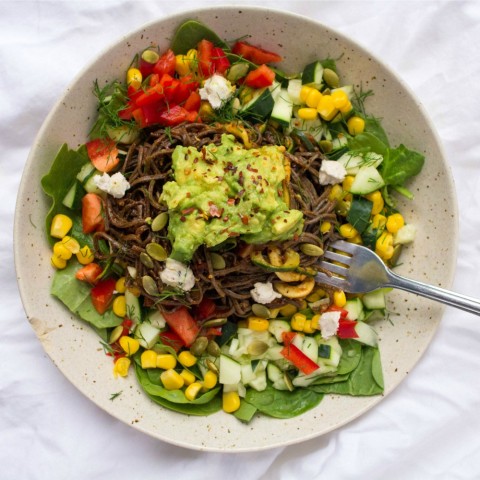 I don't know about you, but my bathing suit appreciates it.
Spicy Southern California Black Bean Spaghetti Salad
Spicy Southern California Black Bean Spaghetti Salad: Pasta made from black beans and topped with all sorts of fresh chopped vegetables makes this a light summer vegan dinner choice. Two kinds of mild dried chiles are the foundation for the spicy sauce that brings out all the flavors.
Ingredients
1 (8-ounce) box Explore Cuisine Black Bean Spaghetti
2 zucchini, spiralized into "noodles"
1 red bell pepper, stemmed, seeded and finely chopped
1 cucumber, skin peeled and finely chopped
1 avocado, mashed with a squeeze of fresh organic lemon juice
1 cup corn kernels (canned in water works fine, just rinse and drain)
8 handfuls Baby Spinach
4 tablespoons vegan cheese (whatever kind you prefer)
.

Adobo Chipotle Sauce

16 dried ancho chiles, seeded and deveined
16 dried guajillo chiles, seeded and deveined
3 tablespoons peeled and finely minced fresh ginger
3 teaspoon ground cumin
2 teaspoons kosher salt
3/4 teaspoon freshly ground black pepper
.

Garnish:

Pumpkin seeds + dill for garnish
Directions
First, start the dried ancho and guajillo chiles softening by putting them in a big bowl and covering them with hottest tap water for about 25-30 minutes. Set bowl aside. Put a big pot of water on the stove and heat it to boiling for the spaghetti.

Prep the vegetables:

While waiting for the water to boil, spiralize the zucchini, chop the red pepper and the cucumber, and set them all aside. In a small bowl, mash the avocado with a squeeze of lemon juice so it doesn't get brown, and set aside. Drain, rinse and drain again the corn kernels (if they are canned; if you are using frozen kernels, simply thaw them), and set corn aside.
Once pasta water is boiling vigorously, add the Explore Cuisine Black Bean Spaghetti and let cook for 6 minutes. Once pasta is done, remove from heat, drain into a colander, rinse under cool water and set aside.

Make the Spicy Adobo Chipotle Sauce:

Remove soaked chiles from soaking water (discard water), remove stems if any of them have stems on, place the soaked chiles in a blender along with the ginger, cumin, salt and pepper. Blend until very smooth. Stop the motor a few times to scrape down the sides with a spatula and give things a stir, just to make sure everything's getting puréed. Don't be tempted to add liquid—you want the final sauce to be thick. Scrape the purée into a small bowl if you plan to use it soon, or into a jar with a tight fitting lid if you want to save it for later. It'll keep in the fridge for up to 5 days, or in the freezer for 3 months.
Next, add spicy adobo chipotle sauce to your cookie noodles and zucchini noodles, tossing to coat. Add just enough to coat them; you may have some left over. (Give it a taste to make sure you can take the heat level. Both ancho and guajillo are considered mild peppers, but each person's tolerance is different.)

Build the bowl:

Add 2 handfuls of baby spinach to each of 4 wide, shallow bowls. Add some noodles, then sprinkle on cucumber, red bell pepper, corn, vegan cheese and a plop of guacamole in the center of the bowl. Garnish with a sprinkle of pumpkin seeds and freshly chopped dill.
Serves 4.
Notes
https://www.shockinglydelicious.com/spicy-southern-california-black-bean-spaghetti-salad/
Copyright Dorothy Reinhold | ShockinglyDelicious.com. All rights reserved.
Of course, if you don't care for one of these ingredients, feel free to sub in something you do like! I can envision diced fresh tomatoes, diced jicama, or some black beans strewn in there for added protein. If you don't like dill, sub chopped fresh cilantro!
If you like this recipe and want to save it, pin the image below to your Pinterest board.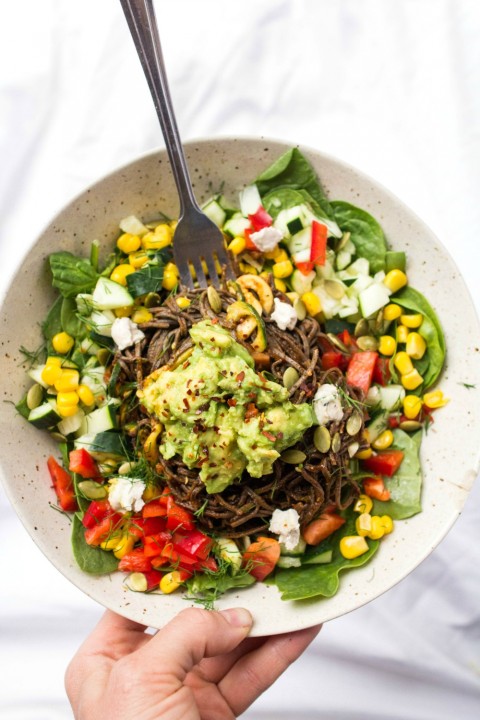 Save
Save
Save
Save
Save
Save
Save
Save
Save
Save