Print This Post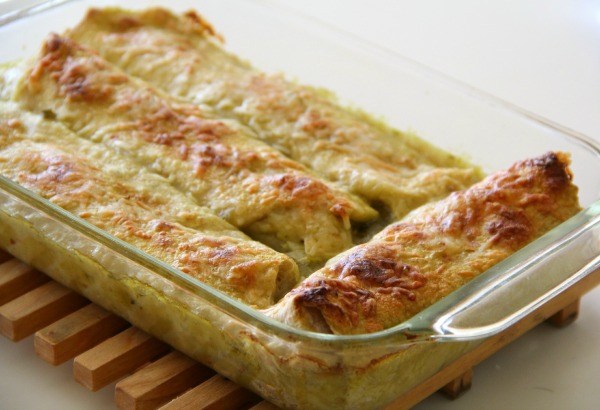 Vegetarian Wet Burritos are a simple grains mix and beans enlivened with Mexican spices, wrapped in a tortilla and smothered in green enchilada sauce. Eat with a knife and fork.
Sometimes the discovery of a new product can spark the culinary imagination just enough to nudge us out of a cooking rut.
I was looking for healthy grains and came across a new-to-me box near the rice in the grocery store. Called Minute Multi-Grain Medley, it is a mix of parcooked brown rice, red rice, wild rice and quinoa, and that's all. Nothing else: no preservatives, no anti-caking agents (whatever that is), no salt, no sugar. Just four grains, and it cooks up in 10 minutes, on the stove or in the microwave. (Sometimes I make this up the day before, so it is ready and waiting for use when the work day is done.) It's gluten-free, as well, in case that matters to you.
Score!
I seasoned it with a few things from my own spice cabinet, and used it to stuff burritos. A can of green enchilada sauce looked good to pour over them, and then I gave them a quick re-heat in the oven to get everything bubbly.
With the addition of the sauce, they became fork-and-knife burritos, as opposed to hand-held burritos. We loved them!
How to make Vegetarian Wet Burritos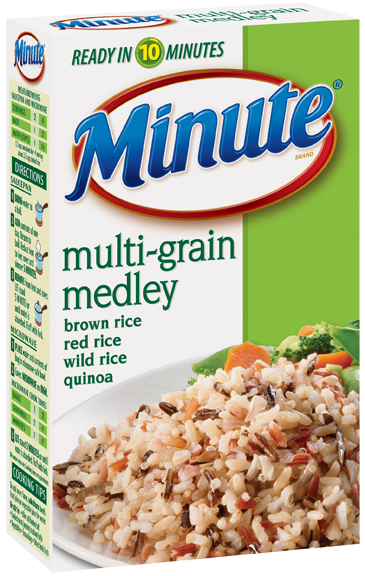 We start with the grains blend. To make this fast, I'm using a Multi-Grain Medley that I discovered made by Minute (the people who make Minute Rice). It's par-cooked, and comes dry in a packet, so you just basically heat it with water to rehydrate it. It has brown rice, red rice, wild rice and quinoa in it. All of those things cook for different lengths of time, so I think they par-cooked them so all would emerge done from your pot at 10 minutes. I find it very useful and nutritious, and it has nothing in it but those grains, so you can take it in any flavor direction you want to go. In today's recipe, I'm amping it up with some Mexican spices.

Once the grains are done, it's a quick assembly. Mix beans into the rice for a more complete protein. Get 4 large tortillas, portion out the rice-bean mixture between them, and sprinkle on some shredded cheese. Lay them in a baking dish, pour over the green chile enchilada sauce, sprinkle with a bit more cheese, and bake until bubbly.
Dinner is served!
How to serve Vegetarian Wet Burritos
–You don't need much else to make it a satisfying dinner. Add some cut fresh fruit like pineapple or mango to the plate, along with a simple green salad, and you're good to go.
–If you can't find that grains mix, feel free to use cooked rice, quinoa, farro or any other grain you like instead. Just use enough for 4 people.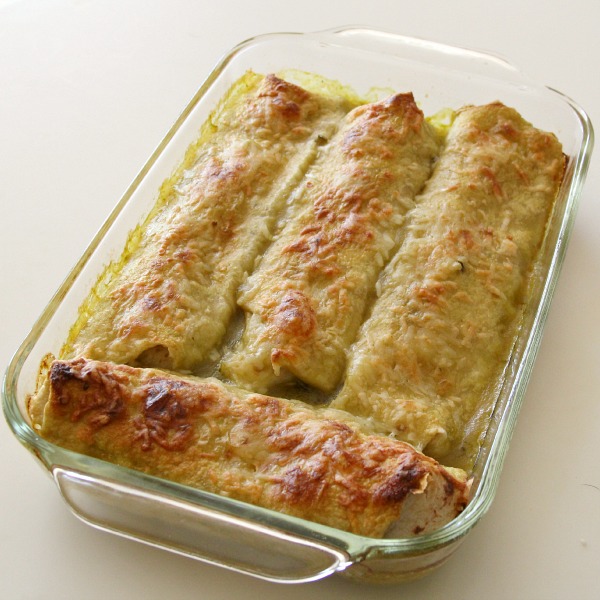 Vegetarian Wet Burritos are a simple grains mix and beans enlivened with Mexican spices, wrapped in a tortilla and smothered in green enchilada sauce. Eat with a knife and fork.
Ingredients
2 packets Minute Multi-Grain Medley (there are 4 packets in a box)
3/4 teaspoon ground cumin
1/2 teaspoon adobo seasoning (such as Penzey's Adobo)
1/2 teaspoon oregano
1/4 teaspoon kosher salt
1/4 teaspoon garlic powder
1/4 teaspoon onion powder
1 (15-ounce) can red kidney beans
4 large burrito-size flour tortillas
1 (8-ounce) package shredded Monterey Jack cheese
1 (10-ounce) can green chile enchilada sauce
Directions
Add grain medley, 1 3/4 cup water, cumin, adobo, oregano, salt, garlic and onion powders to a pot and cook according to package directions (bring to a boil, cover and simmer 10 minutes).
Meanwhile, place beans in a small colander, rinse them and drain. Turn oven on to 375F degrees and lightly mist a baking dish with nonstick spray.
When grains are done, remove from heat, add drained beans to the pot and stir.

Assemble burritos:

Lay a tortilla out on a board, spoon on 1/4 of the rice-bean mixture, sprinkle on a handful of cheese, and roll up tightly. Place rolled burrito seam side down in baking dish. Repeat with the rest of the tortillas, to make 4 burritos, saving a pinch or two of cheese to garnish the top.
Pour enchilada sauce over top, making sure to cover all of the exposed tortillas. Bake for 20-30 minutes, until hot and bubbly.
Remove from oven and serve.
Serves 4.
Notes
Recipe source: Dorothy Reinhold | Shockingly Delicious
https://www.shockinglydelicious.com/vegetarian-wet-burritos-for-weekdaysupper/
Copyright Dorothy Reinhold | ShockinglyDelicious.com. All rights reserved.
Pin the image below for Vegetarian Wet Burritos to your Pinterest board to save this recipe

This recipe was originally published April 30, 2014 and has been refreshed and republished today.
Thanks for visiting…are you hungry for more? Follow Shockingly Delicious on…
FACEBOOK | PINTEREST | INSTAGRAM | TWITTER
…for all the latest recipes, ideas and updates!
This post may contain affiliate/referral links. It is a way for this site to earn advertising fees (at no cost to you) by advertising or linking to certain products and/or services that I approve and prefer. Thank you for using my affiliate link to shop, so I can continue to bring you shockingly delicious recipes!