Print This Post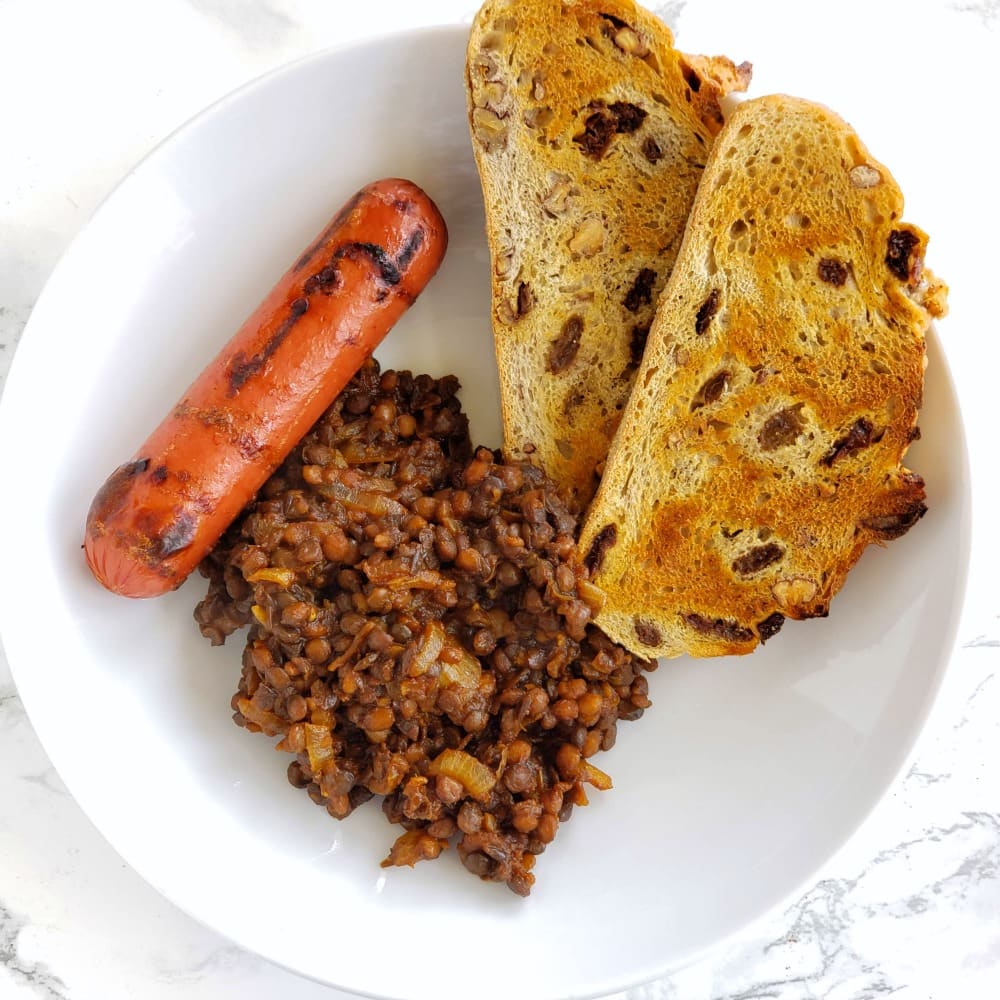 Barbecue Baked Lentils are what bbq baked beans want to be — elegant, sweet and complex and just a little bit fancy.
Baked beans were a staple in our family home, probably for a few reasons. They're relatively cheap (4 kids in my family!), everyone liked them (they're sweet!), and they fit right in with my family's Pennsylvania Dutch heritage. So I've always loved them, and when they're left over, I even eat them for breakfast. Shhh…don't tell the food police.
But I don't need a huge batch o' beans these days, with only 1 kid left in my own nest. So when a craving hit, I turned to one of my favorite healthy convenience foods — packaged steamed lentils. They're so handy when you want to construct a dinner bowl, make a little substantial salad, create a bed for your piece of grilled fish, or, it turns out, make next-level baked beans…err…baked lentils.
I might like these baked lentils even better than baked beans. Try them; they're really easy, comforting and satisfying.
How to make Barbecue Baked Lentils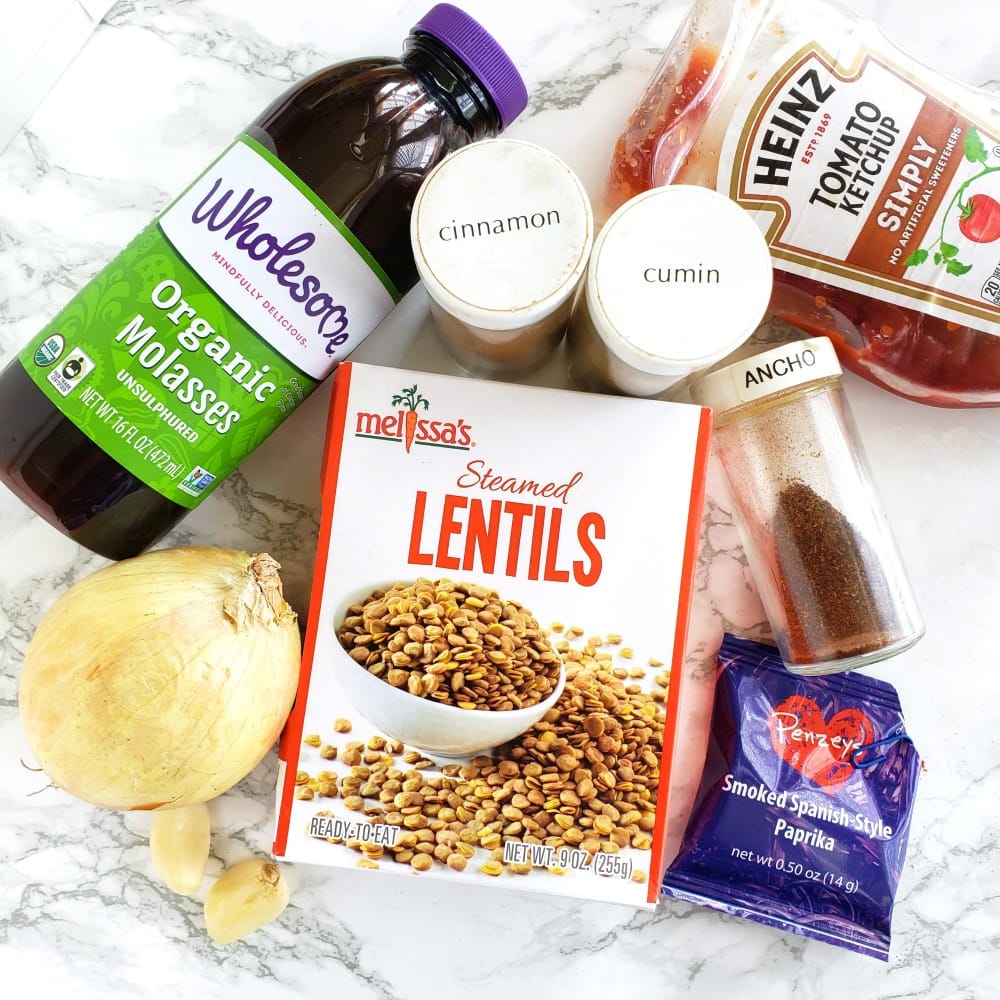 1. Assemble your ingredients. Although there are a few aromatics and a number of spices in this recipe, the whole thing is very fast and easy, so don't be daunted.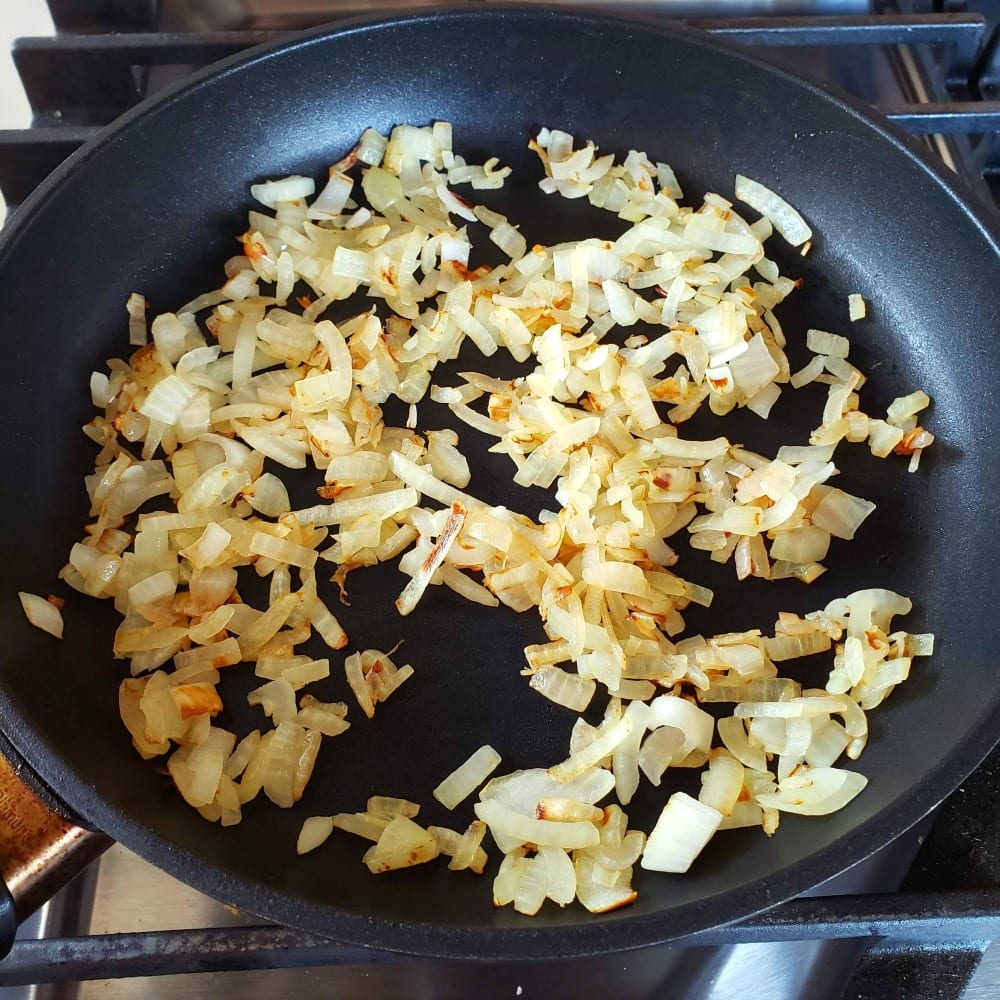 2. All good recipes start with "chop an onion." So get to it, and then saute the onion in your skillet.
3. Add the rest of the ingredients, stir, and let it cook for just a couple of minutes so everything gets nice and comfortable, and then…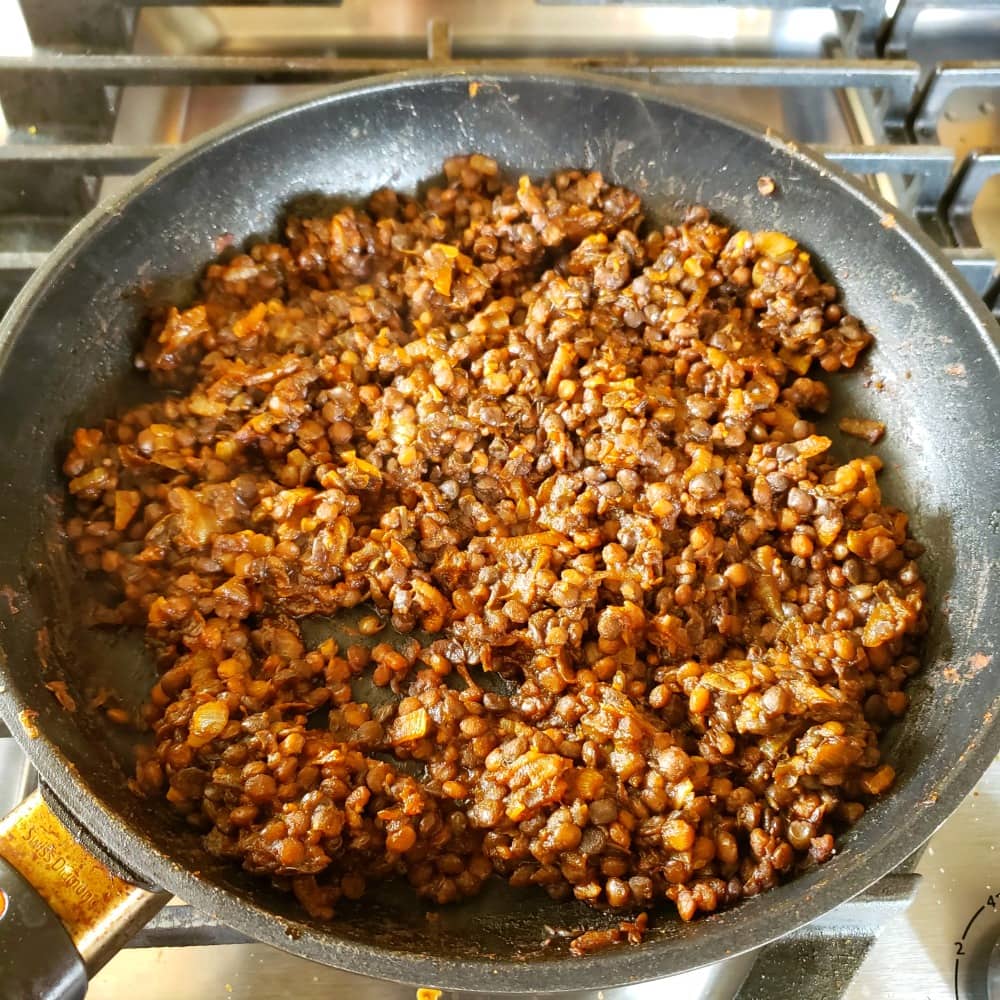 4. Voila! You're done!
How to use Barbecue Baked Lentils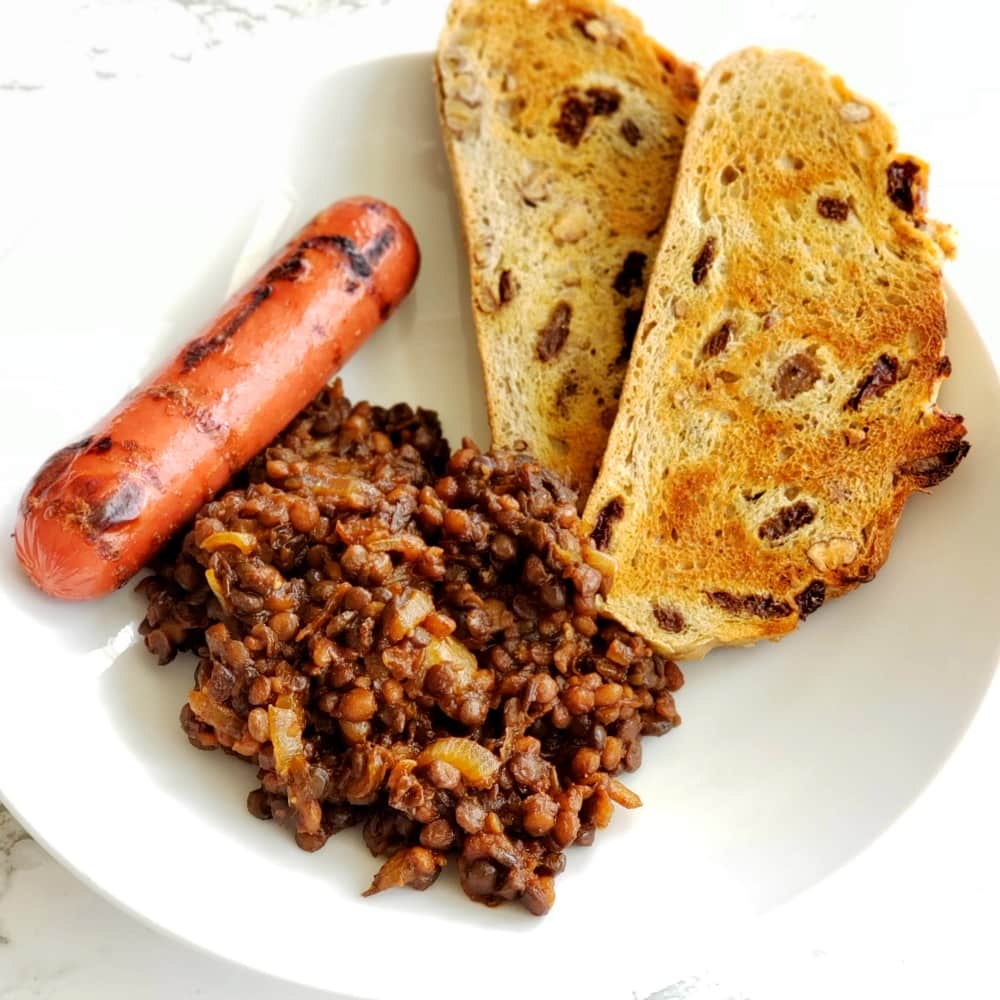 1. Eat with grilled hot dogs or grilled sausage, as in hot dogs and beans. Get a vegan hot dog if you want to keep the whole meal vegan or vegetarian, since the lentils are vegan. I show the Barbecue Baked Lentils here with toast made from raisin pecan bread. You could smear the lentils on the toast, or not, as you like. Or put the hot dog in a bun and spoon the lentils on top, for a baked lentil dog!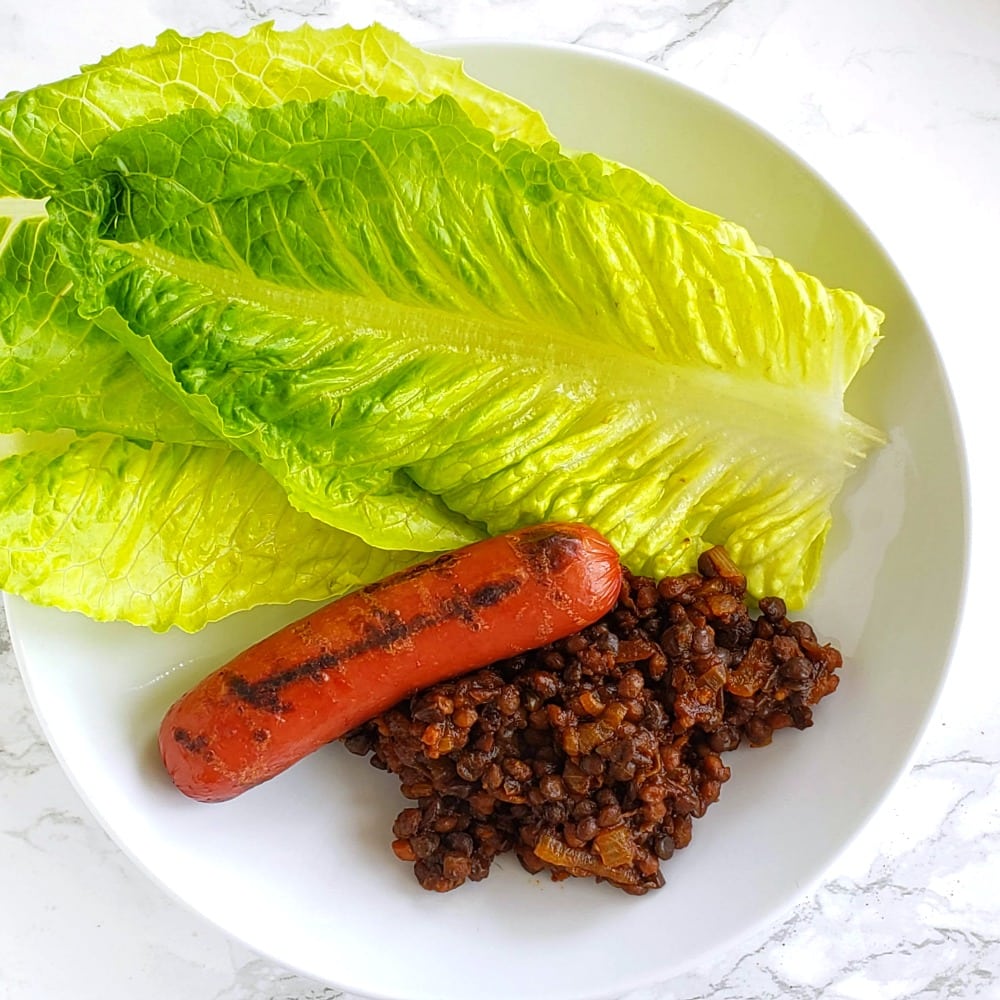 2. Substitute lettuce wrap for the toast, for a lower-carb version. Slice the hot dog lengthwise, and put a strip of hot dog and some lentils along the spine of the lettuce leaf, roll up and eat!
3. You could roll the lentils up in a tortilla.
4. Eat them alongside a piece of grilled or roast chicken or some roast beef.
Barbecue Baked Lentils are what bbq baked beans want to be -- elegant, sweet and complex and just a little bit fancy.
Ingredients
2 teaspoons olive oil
1 small onion, chopped (or 1/2 a large onion)
2 garlic cloves, pressed
1 (9-ounce) package steamed lentils
1 tablespoon ketchup
1 scant tablespoon maple syrup (or brown sugar)
1 tablespoon molasses
1 teaspoon smoked paprika (or use regular paprika)
1 teaspoon chili powder (I used ancho chili powder)
1/4 teaspoon ground cumin
1/8 teaspoon ground cinnamon
Black pepper -- a few grinds from the pepper grinder
Garnish: chopped chives or scallions (if you remember!)
Directions
In a skillet, heat olive oil over medium heat. Add chopped onion and stir to coat. Saute for 7-10 minutes, until onion begins to caramelize, stirring frequently. Add garlic and cook and stir for another minute or 2. You'll smell the garlic!
While onion is cooking, remove lentils from package, place in a colander with tight mesh or holes, and rinse. Allow to drain in sink.
When onion-garlic mixture is cooked, add lentils to the skillet. Add ketchup, maple syrup, molasses, paprika, chili powder, cumin, cinnamon and pepper, and stir to combine. Add a tablespoon or 2 of water if mixture seems dry. Allow to cook on low-medium heat for 5 or so minutes. Stir occasionally, adding another tablespoon or 2 of water if mixture seems dry due to evaporation.
Remove from heat and serve. Garnish with snipped chives or chopped scallions (green onions), if you remember. I didn't!
Serves 2-3.
Notes
Recipe source: I saw a recipe for Barbecue Baked Lentils in the Washington Post newspaper, and theirs was adapted from "Simply Laura Lea," by Laura Lea (Blue Hills Press, 2020). I adapted it even further. Put YOUR own tweaks on it when you make it!
https://www.shockinglydelicious.com/barbecue-baked-lentils/
Copyright Dorothy Reinhold | ShockinglyDelicious.com. All rights reserved.
Pin the image below to your Pinterest board to save this recipe
Another favorite lentil recipe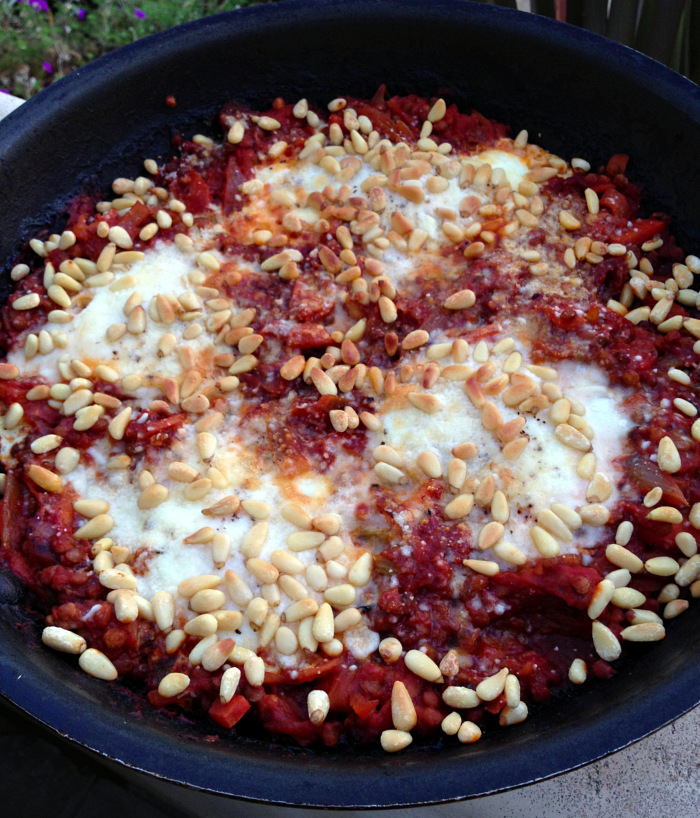 Thanks for visiting…are you hungry for more? Follow Shockingly Delicious on…
FACEBOOK | PINTEREST | INSTAGRAM | TWITTER
…for all the latest recipes, ideas and updates!
This post may contain affiliate/referral links. It is a way for this site to earn advertising fees (at no cost to you) by advertising or linking to certain products and/or services that I approve and prefer.